Storage is always at a premium in a small space, but nowhere is that more true than in the bathroom. There are so many little knick-knacks — makeup, soaps, hairbrushes, toilet paper, and don't even get me started on bobby pins  — that you just have to have it, but where in the world do you put all that stuff? If the clutter in your bathroom is getting a little out of control, it might be time to check out these 10 savvy ways to squeeze a little extra storage into the bathroom.
Drawer dividers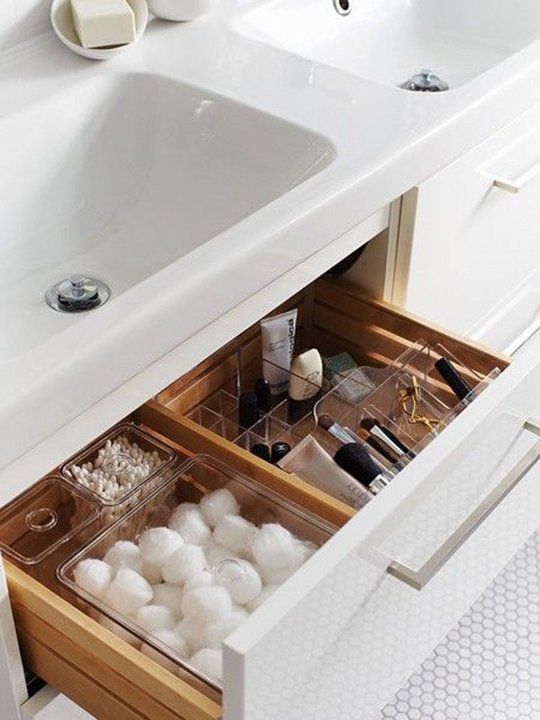 Photo credit: Apartment Therapy
Similar to having dividers in kitchen drawers having them in bathrooms helps to segregate items and reduce the potential for a mess to occur. You can opt to have a separate drawer for toiletries and cosmetics, used and unused items. Dividers keep the trays from getting cluttered. Label the trays so you know what belongs in each tray.
Baskets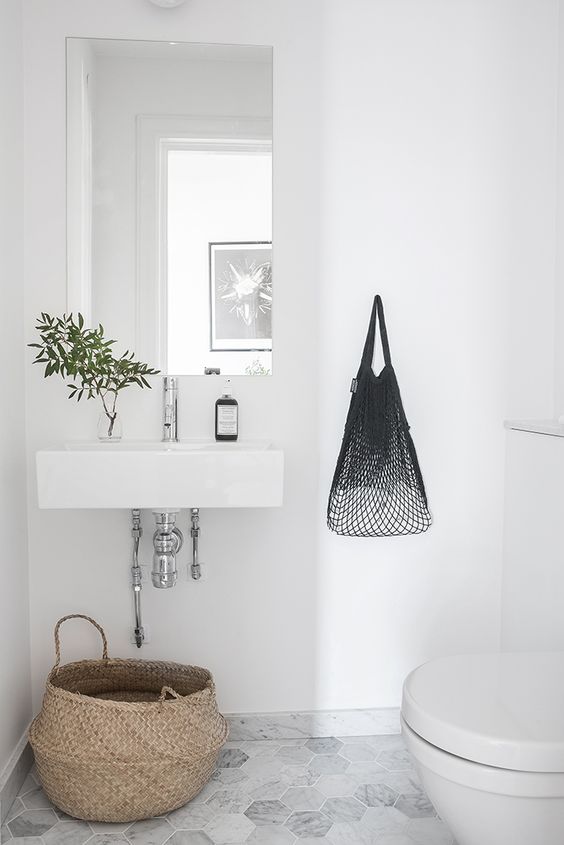 Photo: Scandinavian Simplicity
Baskets, no matter the shape, size or texture are great for bathrooms! They add some warm texture into your space and can definitely set a style in your bathroom! You can label each basket, if needed, to coordinate items in a way that works for you. E.g. a basket of folded hand towels next to the vanity, or kids toys next to the bath.
Wall shelves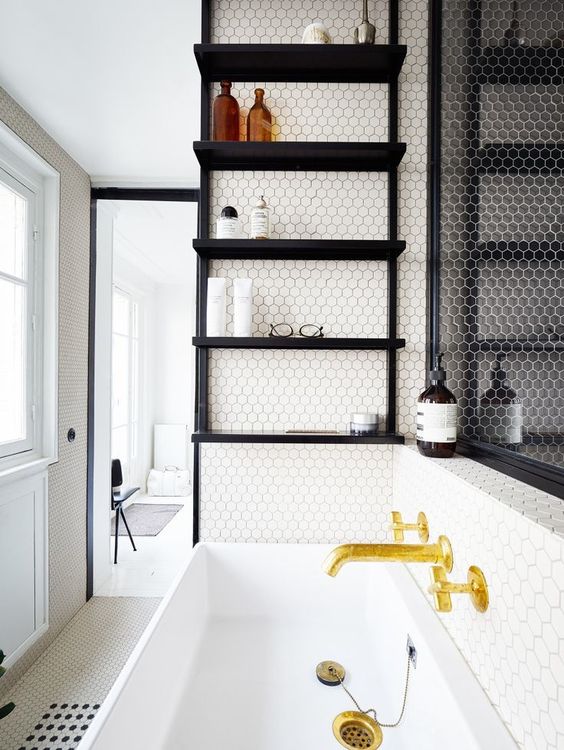 Photo: Home Design Etc
Wall shelves are not only more accessible but stylish in design. They are great to have – especially in small bathrooms to save floor space. It's best to keep everyday items on wall shelves for easy reach. Style accordingly and you have another beautiful bathroom storage option!
Decorative vases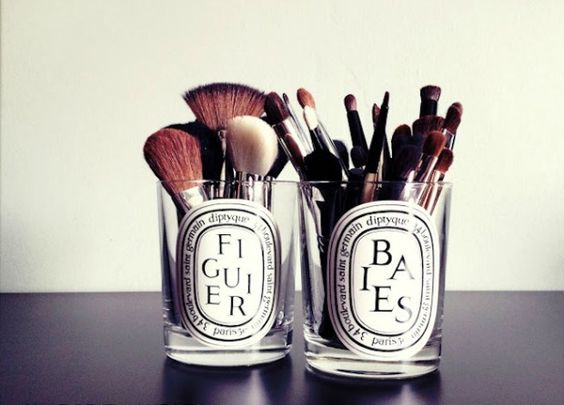 Photo: The Style Cavalry
Decorative glass containers turn storage into decor. Not only glass, but other small decorative containers and vases can be used so you can create a unique style in your bathroom! Display soap, sponges, makeup brushes and bath salts in pretty canisters on the countertop.
Mirror cabinetry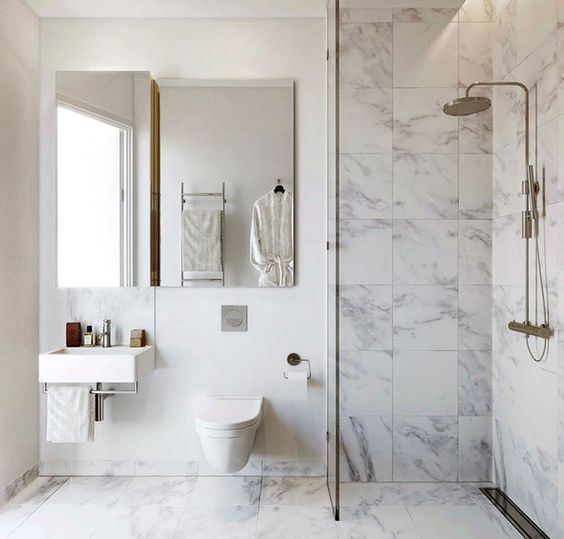 Photo: Nordic Design
Shaving cabinets have always been a popular solution to a lot of storage problems in the bathroom. Some shaving cabinets are thought of as boring and outdated. But, there are so many modern and innovative mirror cabinets available out there! Keeping the staple storage needs in a bathroom is key!
Shower shelves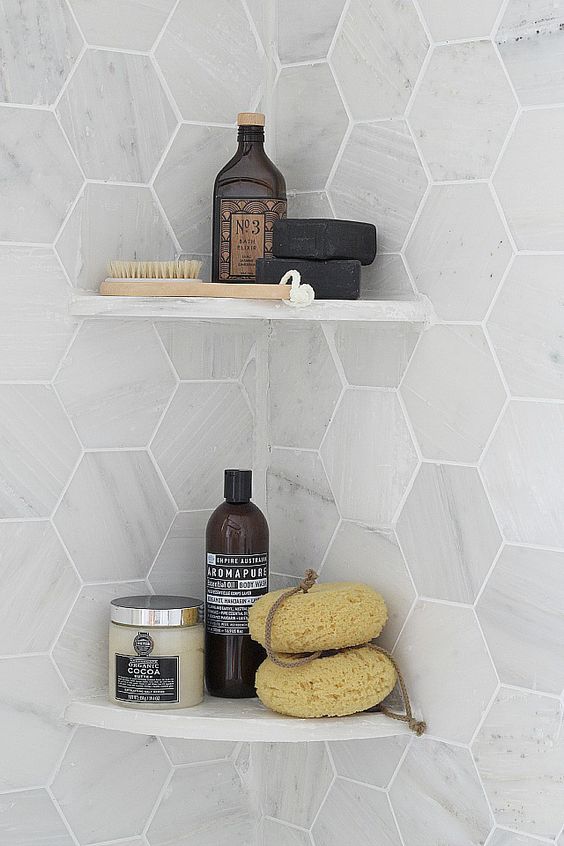 Photo: Bliss at Home
Shower recesses are a modern way of creating storage space for your shampoos, soaps and body scrubs inside the shower. If you are unable to create a shower recess, there are loads of great shower shelf options to keep your clutter off the shower floor! Ranging from glass to timber to metal to stone, there are so many textures and designs that can work in everyone's bathroom.
Ladders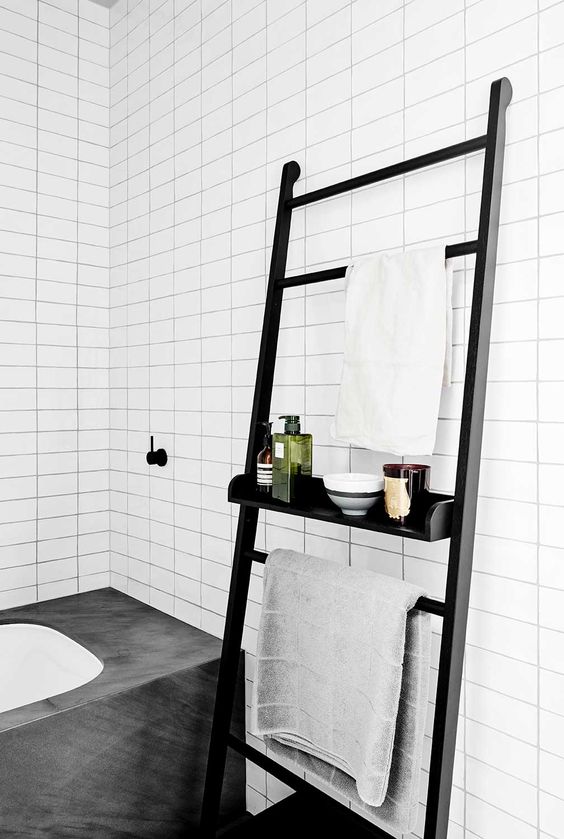 Photo: Callier and Thompson
I love love love ladder shelving! There are so many options you can go for, depending what you need storage for! If it is linen, why not try a timber ladder where you can hang towels and face washers over the steps? If its toiletry storage you are looking for, the step is going to have to be wider, so try a wall ladder where the shelves are wider to cater for your toiletries, flowers, books and candles!
Glass cabinetry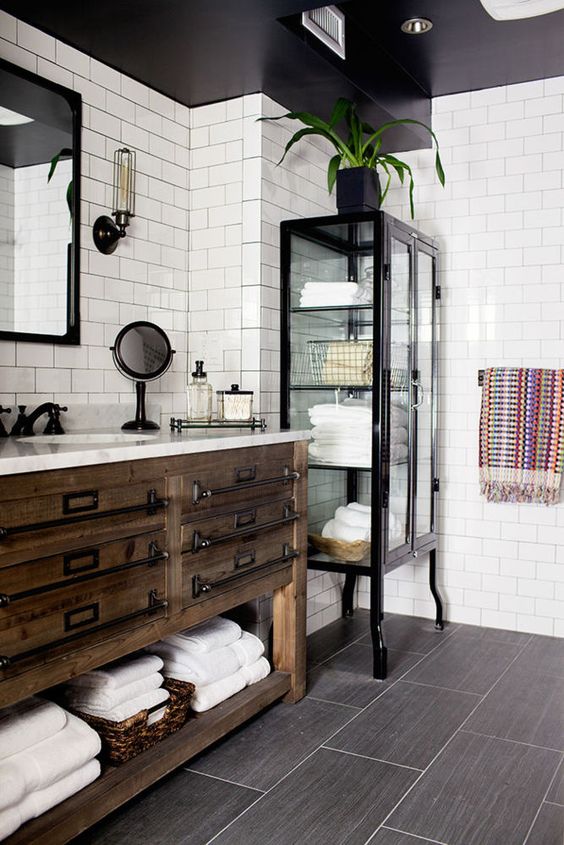 Photo: Domino
A more traditional type of bathroom storage – beautiful cabinets can be placed in a bathroom for exceptional storage. The only point to take into consideration is that your bathroom will have to have enough spare space to cater for this piece of furniture. Luckily, there are so many shapes and sizes in cabinets that can cater for most spare spaces or corners!
Trays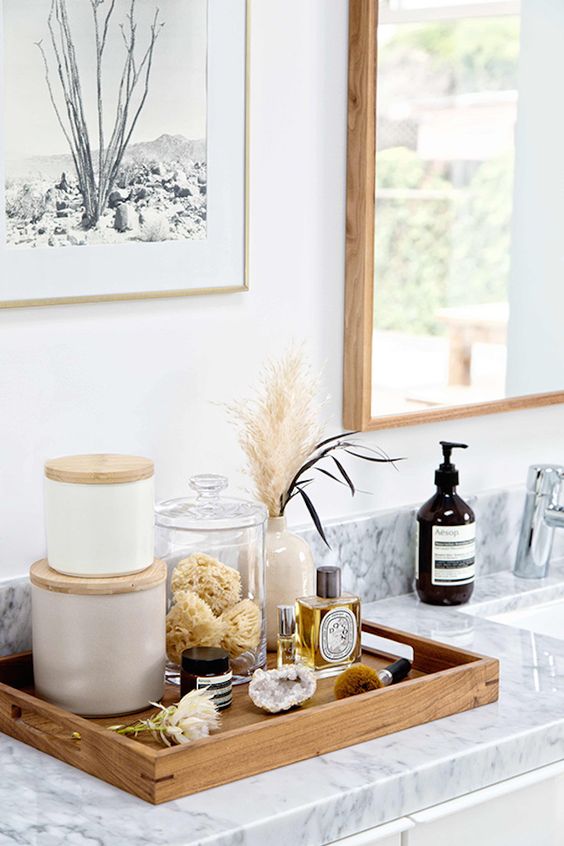 Photo: Maison Valentina
A super cute and effective way to keep your vanity top de-cluttered and looking styled, is to provide a tray to display a beautiful vignette on. This can include anything you use on your vanity (and more!) to keep it looking tidy – e.g. toothbrushes and make up brushes in canisters, hand soaps, candles, flowers and books!
Robe hooks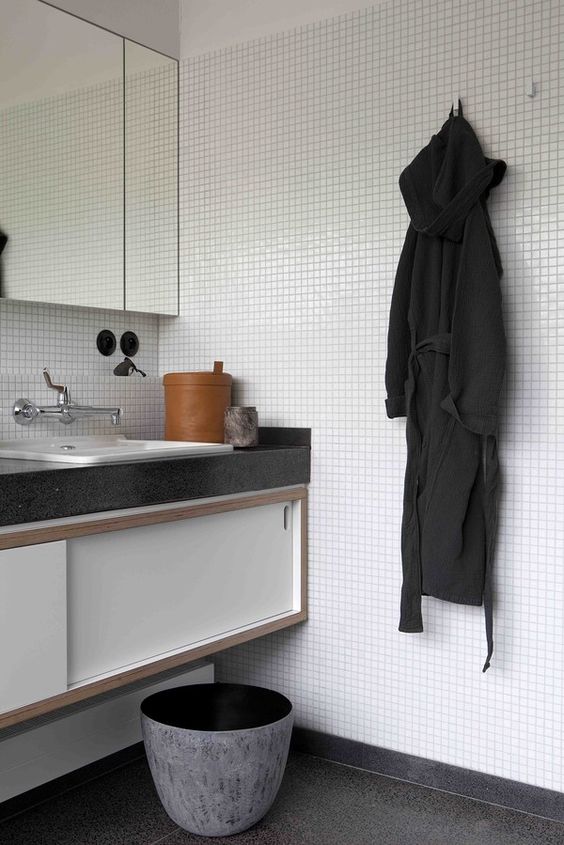 Photo: Blog Lovin'
Robe hooks are a great way to hang your towels if you don't have enough spare wall space for towel rails. Hang your towels on a robe hook for a casual and effective way of displaying them. Towels also help to add warmth to a bathroom so it's a win win situation!
Naomi Findlay is one of our resident experts, principal of Silk Home and founder of the International Institute of Home Staging.