My Bespoke Chair claims to be the world's first 3D online chair design studio.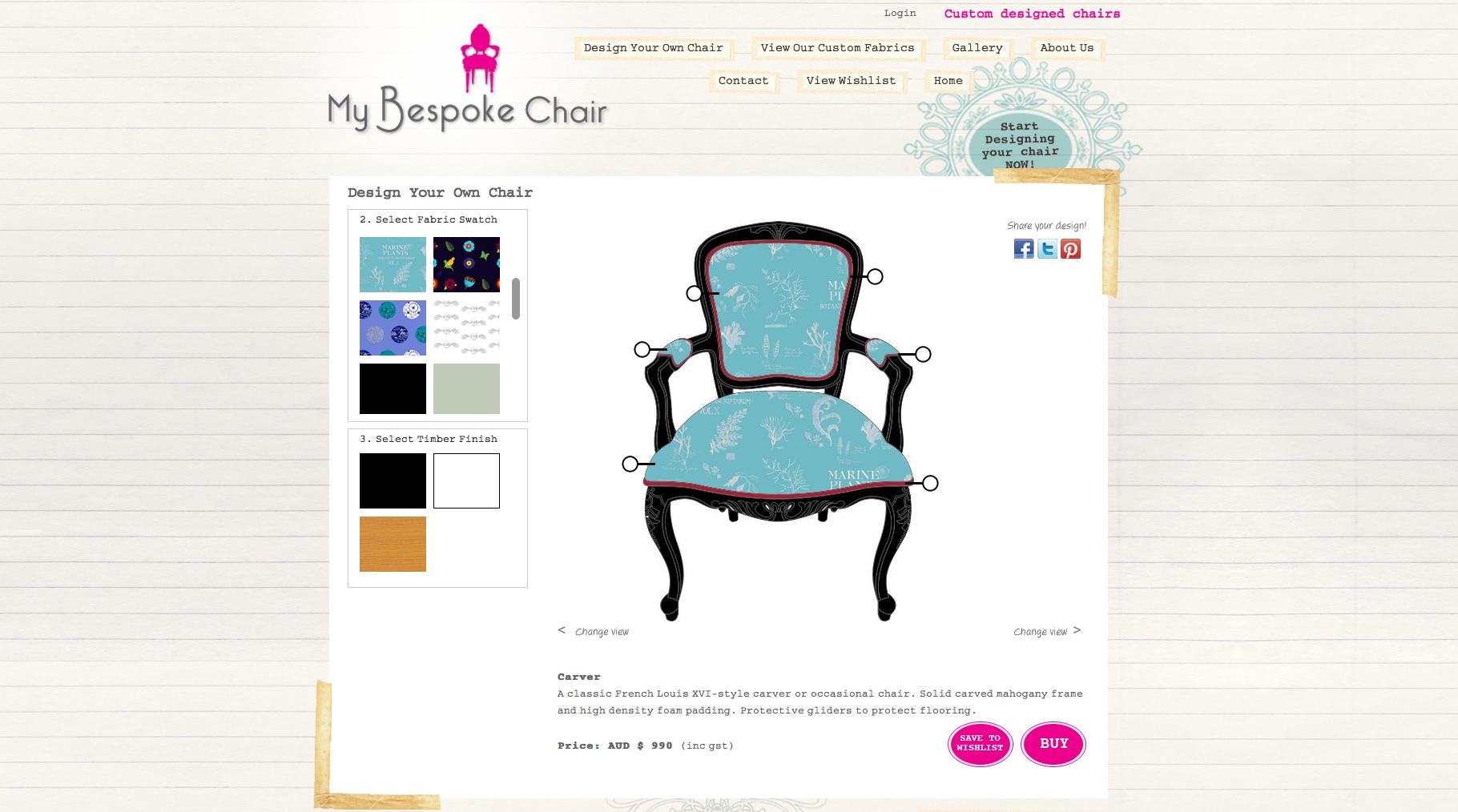 British/Dutch artist Emma Veiga‐Malta, who has a studio in Sydney's Mosman, founded My Bespoke Chair as a natural progression from the parent company Bespoke Art. While creating tailor‐made art and fabrics, she had many clients request specific and unusual fabric combinations for their upholstery. With the internet streamlining business, and the increasing upholstery work at Bespoke Art, Emma put two and two together and created My Bespoke Chair.
"It captures the zeitgeist of social, online shopping and mobile, smart technologies. We have developed an online "point and click" tool which gives the customer total design freedom," says Emma. "All our fabric designs start life as hand painted art, designed in‐house. The fabrics are exclusively ours, printed in limited runs, ensuring that every chair is a work of art."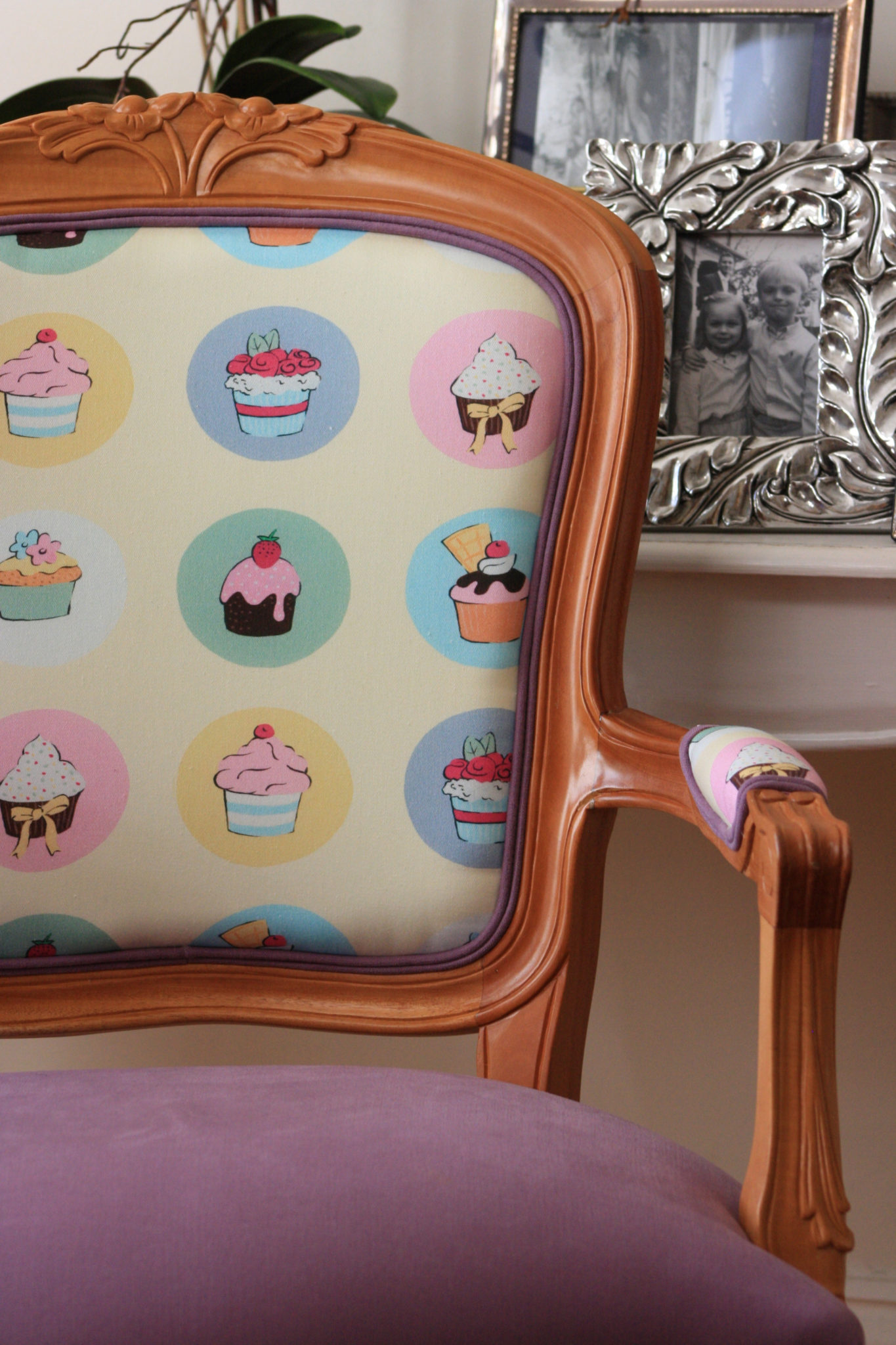 The customer chooses a chair style, then scrolls through the collection of fabrics and selects all the chair's upholstered elements in any combination. They can spin the chair 360 degrees to view their design from every angle.
"We want to give everyone the opportunity to be a designer, pushing the possibilities of ecommerce and challenging traditional design environments. We want to create an exciting way to shop and spark people's imaginations, encouraging them to start a design journey. We want to offer beautifully crafted, well‐designed and perfectly finished pieces of furniture which will be admired, used and cherished for many years."
The chairs start at under $1,000 and have been carefully priced between mass produced chain stores and high end interior design and furniture stores. "Our most expensive item, the $2,200 French armchair, is considerably less at My Bespoke Chair than in some designer furniture boutiques. We offer a premium product at a sensible price."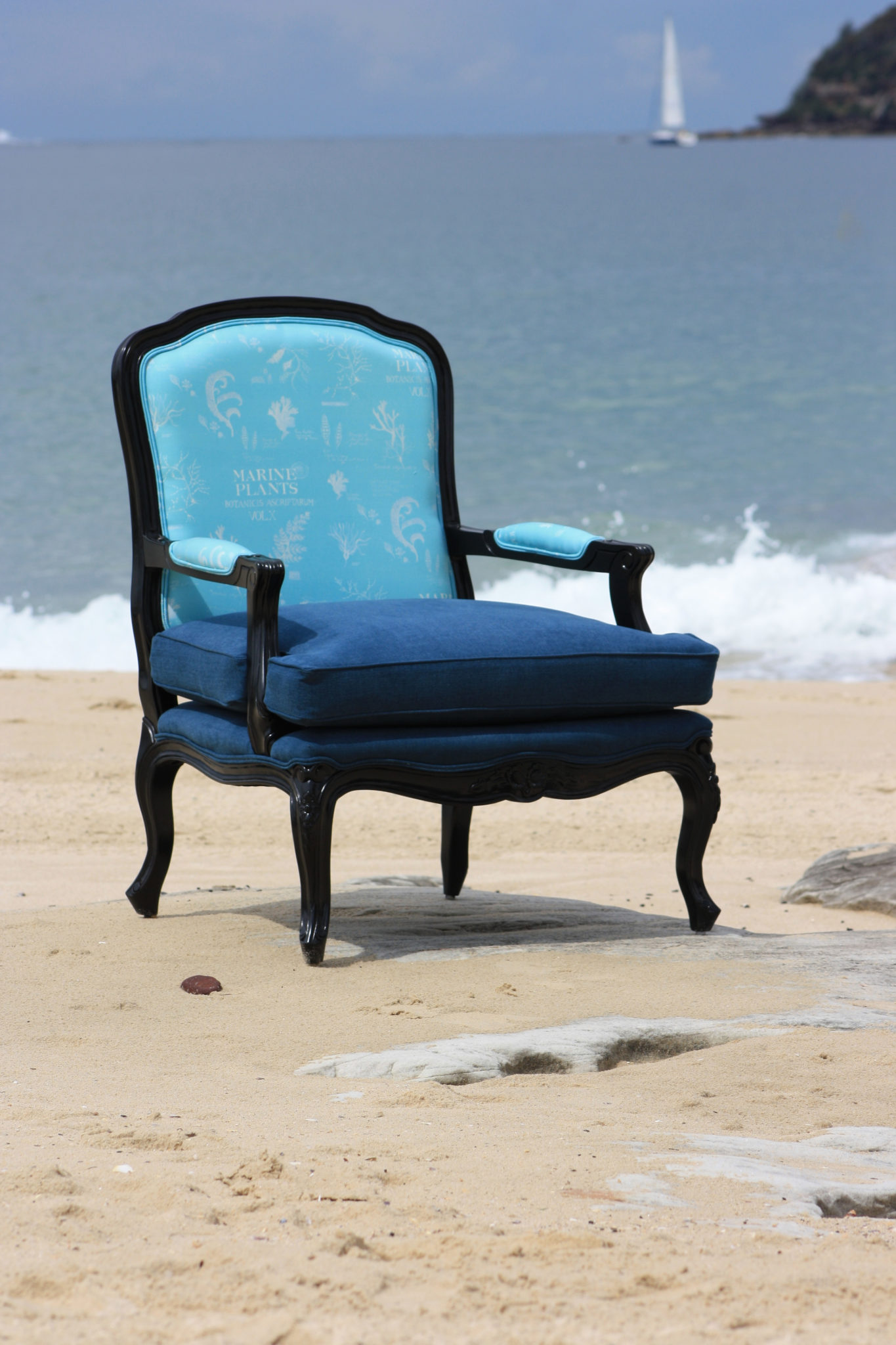 Each chair is upholstered in Australia. The chair frames are either solid carved mahogany, stainless steel or aluminium and imported by companies who supply many of Australia's high‐end interior design shops. The 100% cotton fabrics are designed and produced in‐house then printed in Europe, using the latest digital printing technologies. The solid colour fabrics are supplied by Warwick Fabrics.
Two of the chair designs are replicas, a topic I know many readers have strong views on, so I asked Emma to justify that decision. She said: "Replicas are everywhere and show a distinct lack of imagination. But we cannot ignore that Arne Jacobsen and Mies van der Rohe were master designers and their furniture has stood the test of time. Something about these chairs resonates with us, but it's the cheap, copycat nature we reject.
"That is why we have taken two design classics and added a very contemporary twist; giving the customer the power to customise them and to make them uniquely theirs. Our concept perfectly marries innovative technology with traditional design and our desire to be different. I have done this for a number of clients over the past year and they love the fact they can enjoy a design classic but add their own style to it."