When was the last time you gave your garage door a second thought? We'd say there's a strong chance that you've never really considered it!
The thing is though, when it comes to street appeal, the garage door plays a huge role. As one of the largest doors in the home, it not only helps set the tone for your home's style, but can affect your home's value. To celebrate 60 years as Australia's leading garage door brand, B&D has launched two stylish colour collections for its iconic Roll-A-Door®, guaranteed to add the 'wow-factor' to both traditional and contemporary exteriors.
"People often underestimate the impact of a beautifully designed garage door,"says B&D Marketing Manager, Danny Collins.
"It generally takes up a significant proportion of your street frontage, and can make or break the look of your home's
façade." Up until now, your colour options design-wise have been fairly limited, which often made it difficult to find a style that would complement the unique look of Australian homes and renovations. "With the introduction of these two fashion-forward collections, customers can get the smooth operation and convenience they love in the iconic Roll-A-Doors®, in a variety of finishes that are suited to even the most contemporary of homes," says Danny. Best of all, is the design flexibility these new colour collections give you. "Think beyond standard cream – consider a warm timber effect that picks up on your home's landscaping, a low-key metallic finish that blends in seamlessly with other elements of your home's façade, such as the front door, window sills and eaves, or a go for a striking contrast such as a charcoal-effect metallic set against pale grey paintwork."
The two new collections include the Timber CoatTM Collection and the Luxe DesignTM Metallic collection.
The Timber CoatTM Collection features timber-effect finishes, and is ideal for those who can't go past the warm,
natural appeal of wood. The range is the first of its kind to give you the authentic look of real timber for
Roll-A-Door® garage doors, and is the perfect complement to both classic and modern architecture.
Choose from four on-trend finishes; Japan Cherry, Macadamia Nutwood, Hickory Nutwood and Golden Oak,
all of which have subtle woodgrain effects and tones.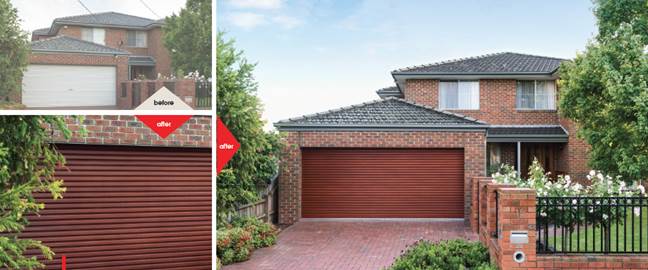 The Luxe DesignTM Metallic Collection consists of six chic, intergalactic-inspired metallic finishes –
think pale grey (Galactic), burnt earth (Aries) and Charcoal (Celestian). Constructed of durable Colorbond metallic
steel, these specially designed finishes boast a subtle, reflective lustre that adds depth and dimension under varying light
conditions. Stylish and appealing, they make an ideal finishing touch to contemporary Australian homes.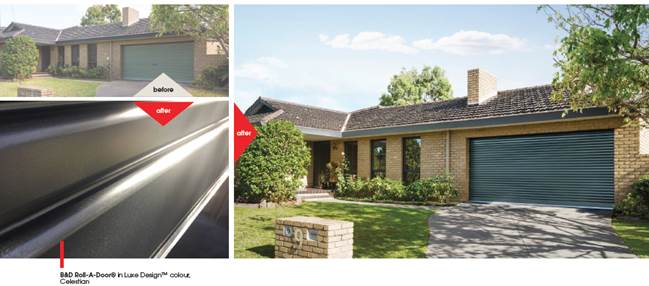 The Timber CoatTM and Luxe DesignTM Metallic Collections are both available on selected B&D Roll-A-Door® products.
B&D Roll-A-Doors® are all custom-measured and manufactured in Australia. To find out more, call 136 263 or visit www.bnd.com.au