I have a problem. Not only am I a bit of a compulsive cushion buyer, I also acquire a LOT of interiors and decor books and it doesn't matter how many I have or how many colour-coded piles there are around the place, there's always at least three more on my must-read list! One of the great things about this blog is I'm often sent the books for free, which does help the bank balance…
Anyway, these are my most recent acquisitions. How many of them do you have?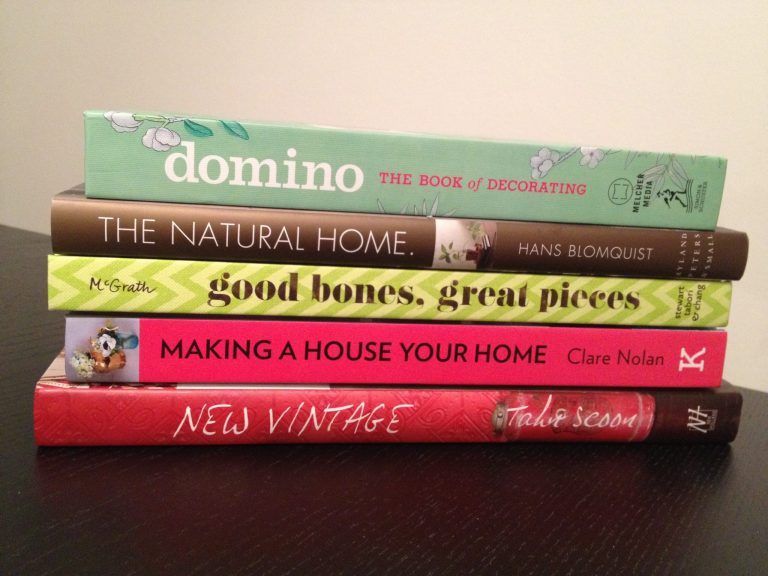 1. domino –The Book of Decorating (a room-by-room guide to creating a home that makes you happy). It's full of all the best bits from American magazine domino. Yes, this one, the BIBLE has been around for years and yes, I did only just get it. OMG it is amazing. How could it not be with a title like that?! I'm only just getting into it but I can already tell it's going to become a firm favourite. Recommended if you just bought your first home, can't wait to make it super stylish and fabulous but have no idea where to start. Equally enjoyable and useful however, at any time in your interiors life.
2. The Natural Home by Hans Blomquist. You could buy this one, which only came out this year, for the photography alone. If you love all things rustic, natural and neutral or you get off on moody greys and rooms full of layered texture that's a bit rough around the edges, this one's for you. That's not my personal style at all but I love seeing it done well and Blomquist's work reminds me of Australian stylist Glen Proebstel's work, which I of course love. If you like a bit of industrial, plenty of vintage glass, hairy string, birds nests, hessian, linen, chipped paintwork and untreated floorboards, go fill your boots!
3. good bones, great pieces by Suzanne and Lauren McGrath. Thanks to my friend Emma for introducing me to this book, which I believe EVERYONE should buy. The subtitle to this book is the seven essential pieces that will carry you through a lifetime. What a fantastic, original idea for a book! In today's throwaway culture where we don't expect to keep anything more than a couple of years before changing our minds, this book talks about choosing seven great pieces with good bones that are coming with us wherever we go. "If you can't see yourself using it again ten years down the road, then it's not worth investing in".  I'm not going to spoil it by telling you what the seven pieces are. Just trust me and go and buy it. It'll change the way you think about furniture forever. It also has gorgeous illustrations.
4. Making a House your Home by Clare Nolan. This is a UK book but I bought it here in Sydney at Dymocks. Nolan is the lifestyle editor of YOU Magazine. A bit like domino, it's a step by step guide to the entire homemaking process including all the little bits like glassware, wallpaper, candles and using colour as well as DIY projects you can try at home, getting the basics right, using pattern and getting the 'feel' just right. Then there are chapters dedicated to the main rooms in our homes including the home office, the bedroom and the bathroom. I'm only halfway through this but I've learnt so much and been inspired no end.
5. New Vintage by Than Scoon. This is another new one by an Australian interiors writer and stylist. It contains easy-to-follow projects like restoring antique pieces, making curtains and cushions and painting. And even if your home is brand new, there's tips on adding soul to it and giving it character and depth. This really is a lovely book for any home maker. Unless that is, you're the kind of person who wasn't every single thing brand new and shiny and not at all personal! (and that's fine too!)
 What are YOUR favourite interiors books and what's next on your must-read list?