Brrrr there's nothing like setting foot in the bathroom on a cold winter morning to remind you that the seasons have changed and that the temperature has dropped! Somehow, hopping onto cold tiles makes the whole prospect of an early morning shower, no matter how steaming hot, hugely unappealing. While heating options for 'wet spaces' have come a long way, there's still very few 'instant fixes' for turning your bathroom from frosty to cosy quickly and easily.
Enter underfloor or under tile heating. It's an option that used to be written off by home owners and renovators due to the high cost which cancelled out the range of benefits. Fortunately, for those of us who enjoy keeping our toes toasty, underfloor heating is now an affordable possibility.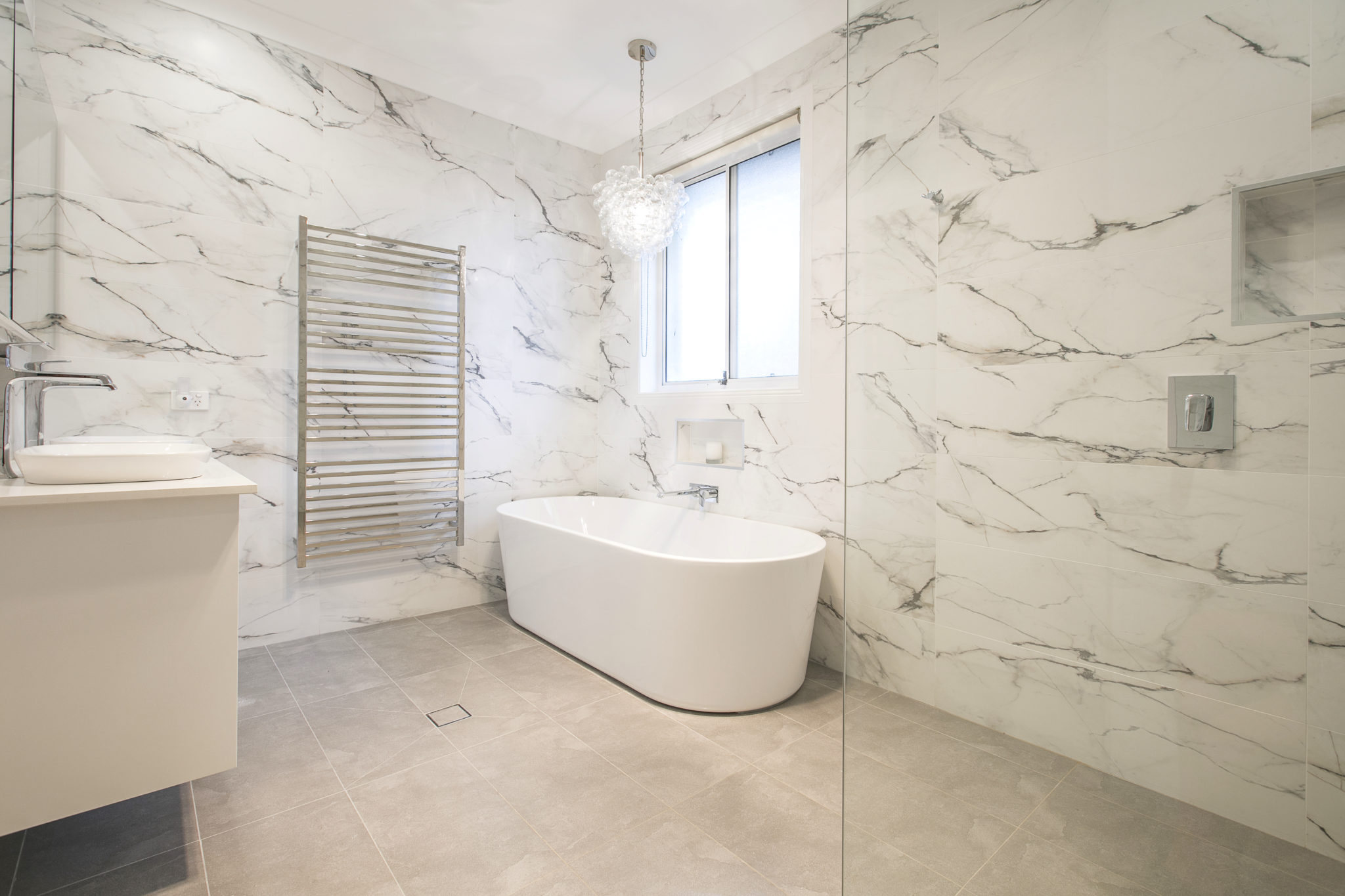 Image source: Supplied by Home by Belle
Should you consider underfloor heating for your bathroom reno?
Sarah Comerford, Director at HOME by belle has witnessed the rise in popularity of underfloor heating with her clients, many of whom are women managing the bathroom reno process. Not just a solution for a warmer floor, the best kind of underfloor heating can actually be a very clever way to warm the entire bathroom. "One reason underfloor heating is becoming more popular is because it is a smart way to warm the bathroom," says Sarah. "Unlike overhead heat and extraction lamps that provide a blast of heat from the ceiling, the underfloor heating is generated from the floor and as hot air rises, the warmth is distributed at a constant temperature more evenly and efficiently." This means that the room warms up quickly and stays warm, without the need for an overhead heating light, wall mounted heater or heated towel rack.
Starting a bathroom reno is the ideal time to consider whether underfloor heating may work for your property. Sarah advises considering your heating options early in the planning phase. "If you're about to undertake a bathroom renovation, don't forget to think about heating solutions early on," she says. "Not only will this allow more choices in the type of underfloor heating options, but electrical elements will require wiring during the build phase and certain types of switches will need to be selected early before the tiling starts."
The elements for underfloor heating are usually installed underneath your chosen flooring, be it timber or tiles. There are two primary types of underfloor heating according to Sarah:
In-slab heating is where the wires are laid within the concrete slab itself and the flooring then laid over the top.The heat from the wires radiates through the concrete slab to the floor surface.
In-screed heating has a layer of sand or gravel laid over the concrete slab (a screed) and the heating wires placed within the screed with mesh and fixing clips.  The floor surface is then installed over the top.
What you choose comes down to the size of your property, your budget and the materials being used for the reno. In-Slab heating is the ideal low-cost solution to heating polished or coloured concrete floors in new homes and extensions and provides gentle background heat and warmth. In-Screed heating is suitable for almost any type of floor covering and can be used internally beneath thick stone floors or externally under pathways and provides constant heat where required.
If you're considering underfloor heating, speak with your plumber as to whether it might work for your reno and what the approximate costs may be. Ins-screed heating kits start at around $375.00 for a 2.0m2 – 2.5m2, 40o watt kit plus installation costs. In-slab heating  costs around $60.00 per square metre based on a minimum area of 120sqm plus installation.