Now more than ever, Australians are looking to take advantage of the increased time at home to practise mental and physical self care. Porter Davis Homes Queensland lead interior designer Janelle Miles shares some styling tips to help you transform an ordinary bathroom into a serene home spa to escape the stress of the day.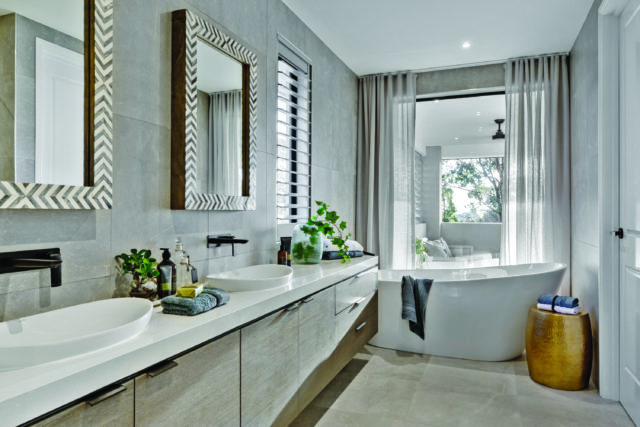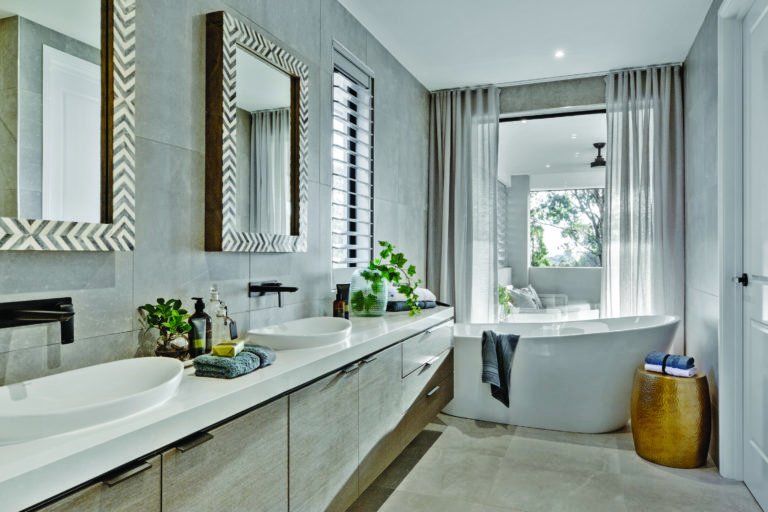 Lighting
Help create a spa-like atmosphere at home, with the addition of pendant and wall lighting to your bathrooms. This will help create a soft ambient light and transform this room to a more relaxed and tranquil space.
Feature lighting in woven rattan, smoked glass or frosted glass will not only create a resort-like feel, but will help diffuse and soften the lighting more than downlights. Remember to not shy away from windows in the bathroom as they help flood the warm and beautiful natural light throughout the earlier parts of your day, and the addition of soft window furnishings can still maintain your privacy while enjoying the morning sunshine.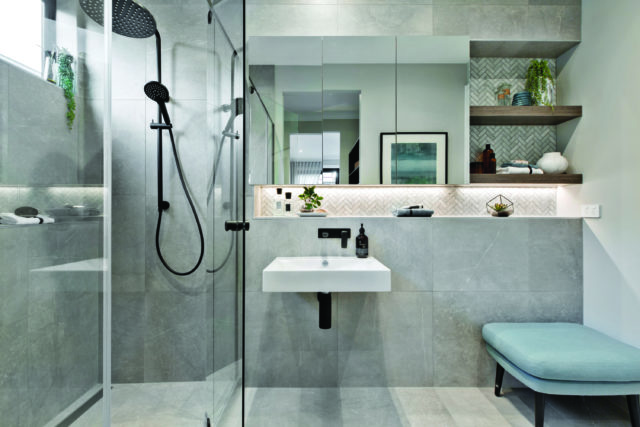 Tiling
Unique tiling options are another great option. Using larger scale tiles for flooring creates the illusion of space and adds a luxurious texture to the room. Be sure to experiment with textures and patterns in feature tiling areas. This simple addition will help build on your chosen design style and add interest to your hard finishes and cabinetry.
The addition of mosaics, terrazzo, textured and patterned wall tiles can convert your bathroom to your own private day spa, whether it be a natural sanctuary escape, a breezy resort getaway or a lush Moroccan day spa, the options are endless.
Colour palette
Colour can also play a role in creating the ultimate spa experience. Bright whites throughout a space encourage feelings of cleanliness and purity and will reflect light effortlessly within the space, whilst the additions of emerald greens, cobalt blues, aquamarines and burnt oranges will play into the Turkish spa colour palete and will create a feature space to remember.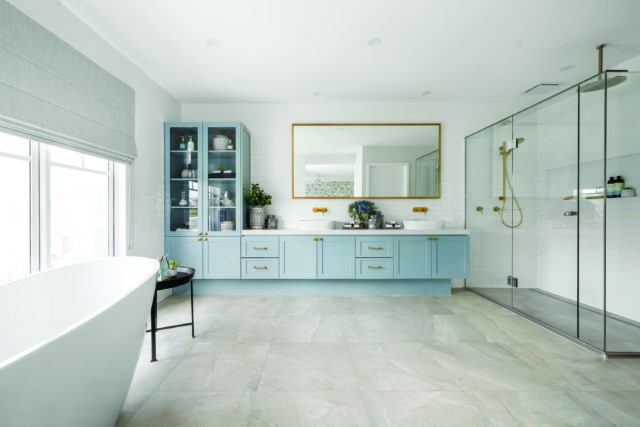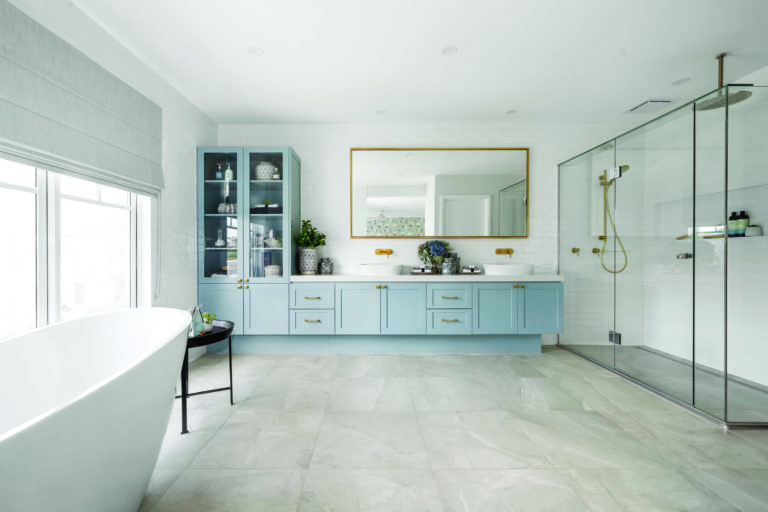 If a natural escape is more to your liking, the addition of neutral earthy tones like sage, fawn, stone and eggshell are a great way to replicate a nature-focused, Australian-inspired getaway.
Textures
Experimenting with the layering of various textures throughout these spaces can create a luxurious and lavish home away from home experience. Rattan and glass lighting and timber framed mirrors sit seamlessly alongside neutral toned linen and cotton towels and bring to life visions of an island spa. Be sure to use complementary colours across your main design style and accompany furnishings in order to create a cohesive space.
Final touches
Adding in those final touches can be the difference between an ordinary bathroom and a perfectly polished spa at home. Incorporating plants into the bathroom is a great way to liven up the space. Dried florals and botanicals continue to be popular across multiple rooms in the home and are another low maintenance way to play with natural textures within a room. Scent is also an important part of a relaxing spa experience, so experiment with scented candles, incense or fresh flowers to relax and unwind in your new at-home spa space.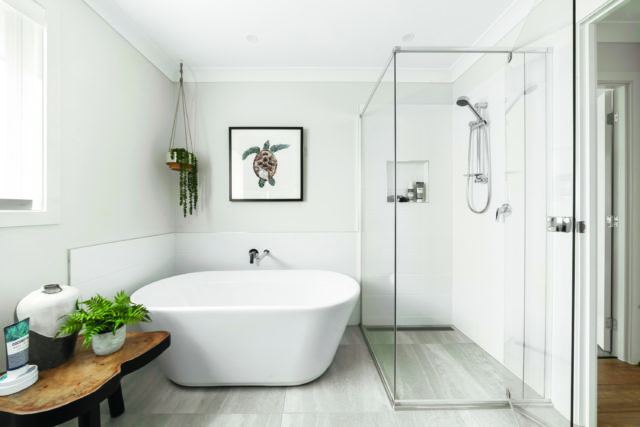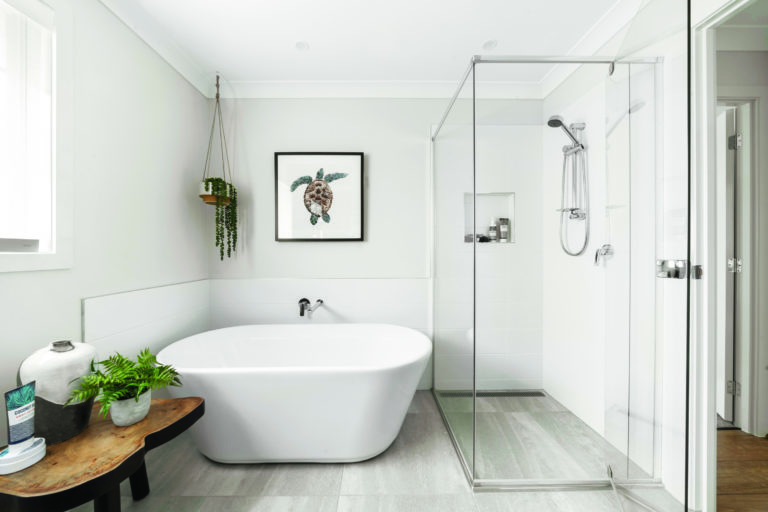 –Porter Davis Homes was awarded the 2019 Housing Institute Association – Australian Professional Major Builder of the Year award, which they have won six times in their 20-year history.