Considering adding a pool to your property? Why not make it a focal point? With the backyard pool taking up a considerable amount of area, homeowners and renovators are always looking for ways to make their standard blue-lined pool an on-trend stand-out.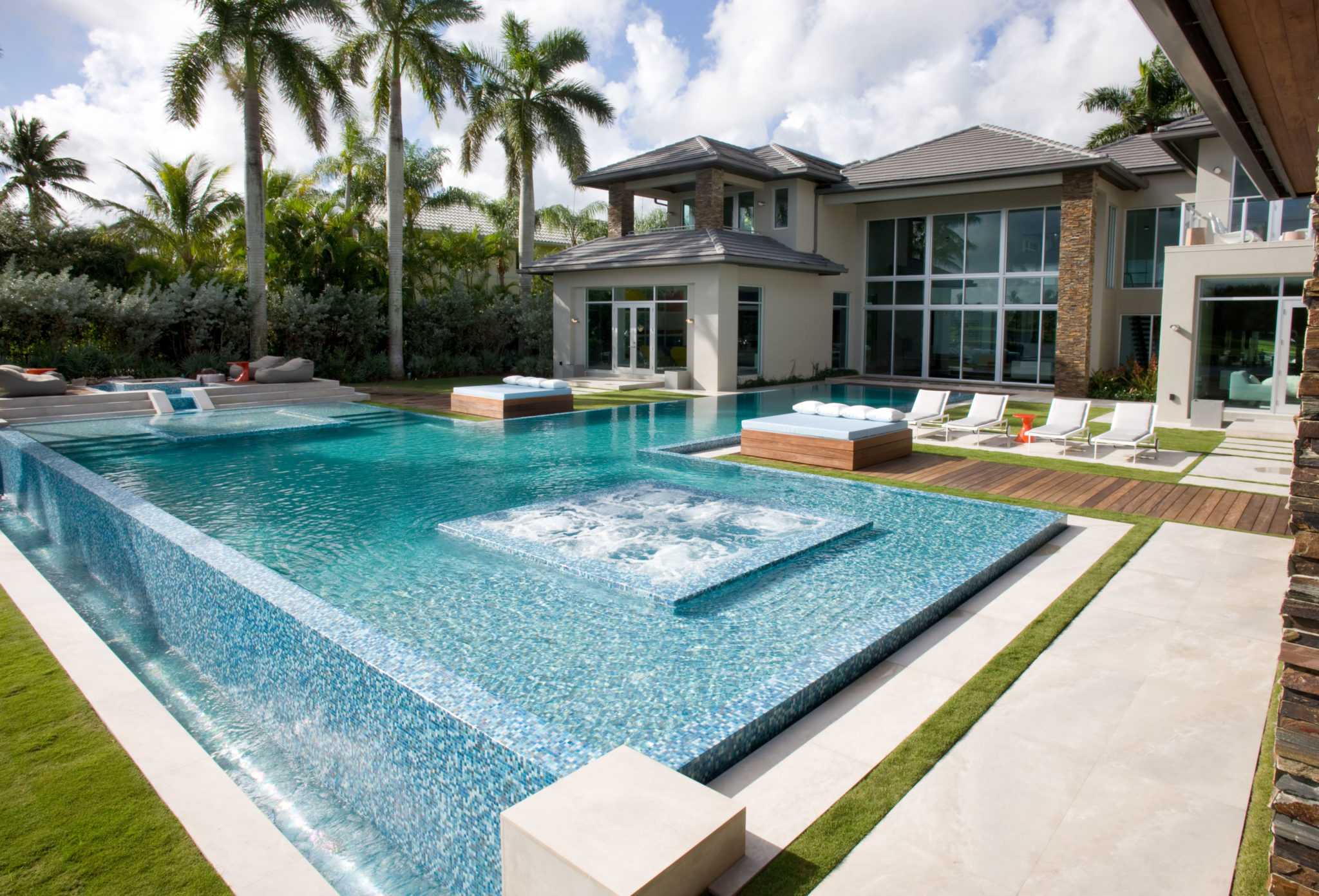 According to Beaumont Tiles design specialist Rachel Gilding, there are a range of trends emerging that can transform any pool into a stylish entertainment statement that will stand the test of time. "This winter, there are some really exciting contemporary trends to consider for your pool makeover that will make it a stand-out," Ms Gilding says. "With summer now a distant memory and the backyard pool retired, now is a perfect time to start renovating it. "Usually people only start thinking about renovating their pool and surrounds as the weather warms up. But these projects can sometimes take a minimum of 8-12 weeks." Get a jump on things by working out the finer details of your pool reno now so that it'll be perfectly prepared for the warmer months.
Looking for inspiration? Ms Gilding says there are three top pool trends which are sure to set your pool apart for years to come: Global Fusion, Minimalist Contemporary and Retro Vintage.
Global Fusion
From the second half of 2017 there will be a transition from the structured Scandinavian style towards Global Fusion. This style combines the textured burnish styles of Morocco, with the forest edge of Madagascar and a functional Australian twist in a self-curated style of the well-travelled."Think an incredible hierarchy of elements spanning handwoven cloth textures, romantic bold patterns, rich colour pallets of deep blues, crimson, and bronze, contrasted with pops of sparkle and warm ambient lights," Ms Gilding says. "Global fusion is all about the indoors meeting the outdoors in a rich expression of exotic far-away lands and bohemian ideals." An infinity or wet edge surrounded by tiles that radially transition into glass mosaics can create an unmissable invitation to 'stop by'. To achieve this look Ms Gilding recommends to styling woven chairs with Moroccan blankets, and oversized green plants in breakout spaces with weathered poolside lanterns to create added layers of interest to your newly renovated space.
Whitewash
Part of the Minimalists Contemporary style, Whitewash is a pure, neutral play on our senses that instantly evokes a calm sense of self, with timeless appeal. In Australia, it may be 'safer' than some of the bolder trends now in vogue – though certainly (when executed correctly) is far from dull. Although the Minimalist Contemporary trend may not be new, it has evolved int he second half of 2017. "Whitewash is all about subtle asymmetrical statements within the white colour spectrum, coupled with conscious decisions to include layers of interest to create spaces that are timeless and elegant," says Ms Gilding. "Think unalike surfaces, alabaster materials and complex textures dancing through indoor to outdoor living zones to capture attention and direct it to focal points throughout the home." Homes styled in this theme are placed perfectly to frame your pool with seamless connection.
Retro Vintage
"Everything old is new again in this fun nod to trends of bygone decades," Ms Gilding says. "Vintage has been building popularity since 2015 with no hint of slowing down. It is all about taking something old and giving it a modern twist and new lease on life." Retro Vintage is the latest evolution of this and it is the perfect balance of innovative style meets mid-century 'cool' to create an interactive piece of art that instantly draws your guests in and ignites conversation. The key to Retro Vintage is selecting key pieces like an orb chair or patterned rug that makes your pre-existing contemporary interior pop and complement your newly renovated exterior. Pool areas are a great blank canvas to incorporate into this style, as spaces throughout the home can each be a juxtaposition to each other in a wonderful mismatch of statements.
About Beaumont Tiles: Beaumont Tiles is Australia's biggest retailer of tiles and bathroom ware. For more info, visit www.tile.com.au