By Lisa Tilse
In the world of interiors — as in fashion — trends come and go seasonally and sometimes with even more frequency. Unlike in the fashion industry though, there are often looks and colours that have longevity. These three trends are ones that I've seen around for a year or more and are continuing to evolve and gather momentum.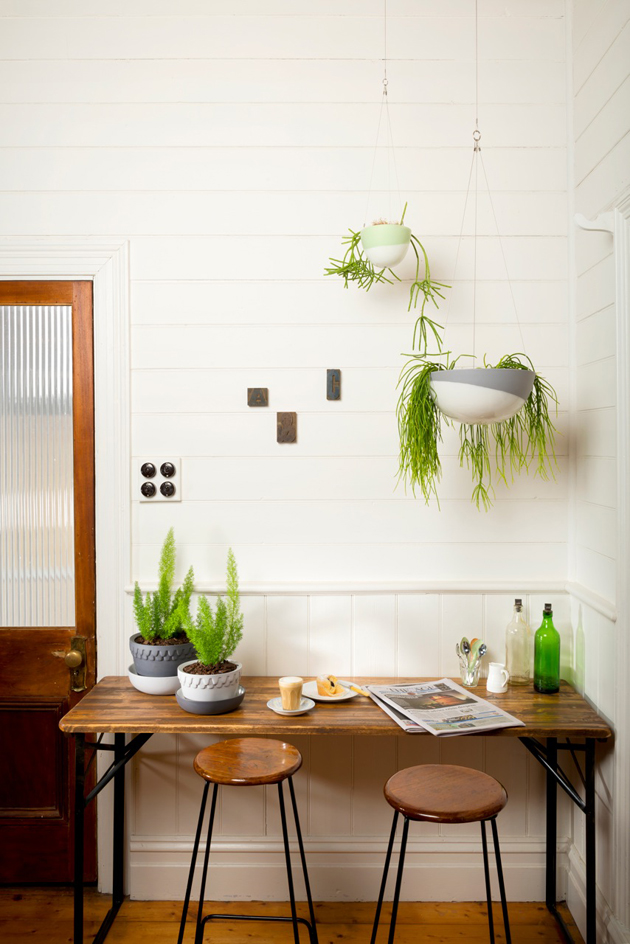 1. INDOOR PLANTS
From succulents to fiddle leaf figs and ferns, this is a major trend that isn't going away. Whether you opt for large or small plants, groupings or standalone pots, the addition of living greenery to your home will soften the edges and make your space seem calmer and more welcoming. A bonus of lush indoor greenery is the gorgeous array of pots, buckets and hanging planters that are now available.
Clockwise, from top left: Minimal Hanging Garden – Angus & Celeste; Brass Vessel – Lightly; Waves Canvas Planter Bag – Elephant and Bird; Romy Northover Planter – Mr Kitly; Hourglass Plant Stand – Ivy Muse; Canvas Bucket – Lumiere Art & Co; Pink Pot of Gold – Pop & Scott.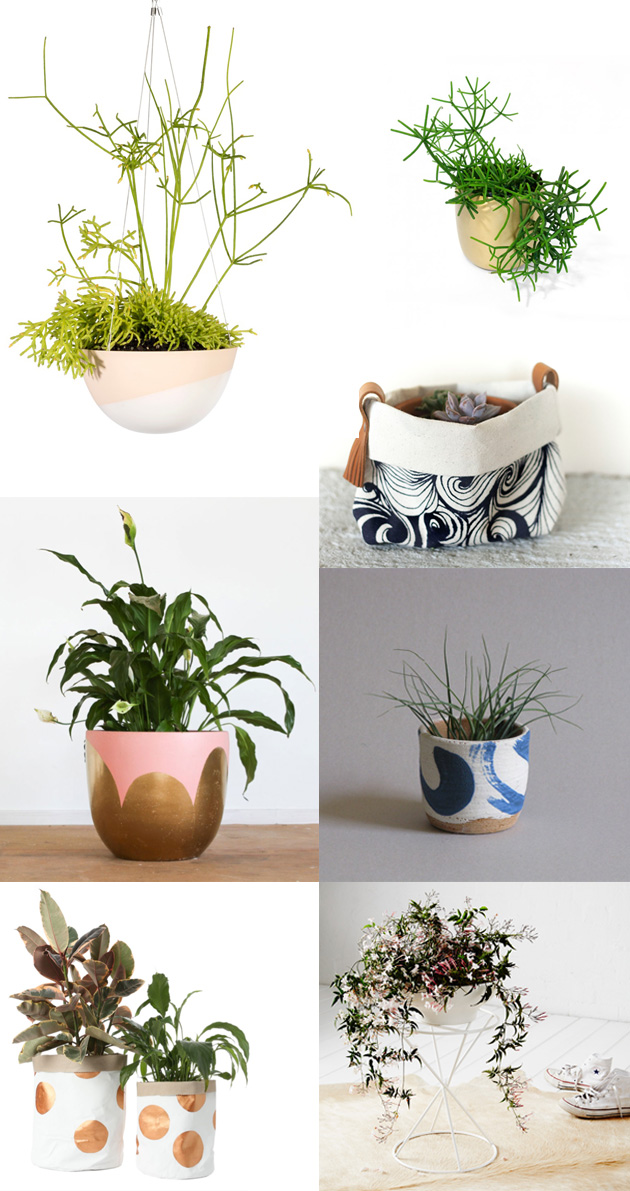 2. BLACK & WHITE
Trends are all about contrast, and this one juxtaposes nicely with other current looks like the softness of pastels and the luxe of metallics. The contemporary simplicity of this monochromatic colour scheme has seen it grow in popularity over the past year or two. You can incorporate the black and white trend into your home in small ways, or be brave and go all out and remove all traces of colour!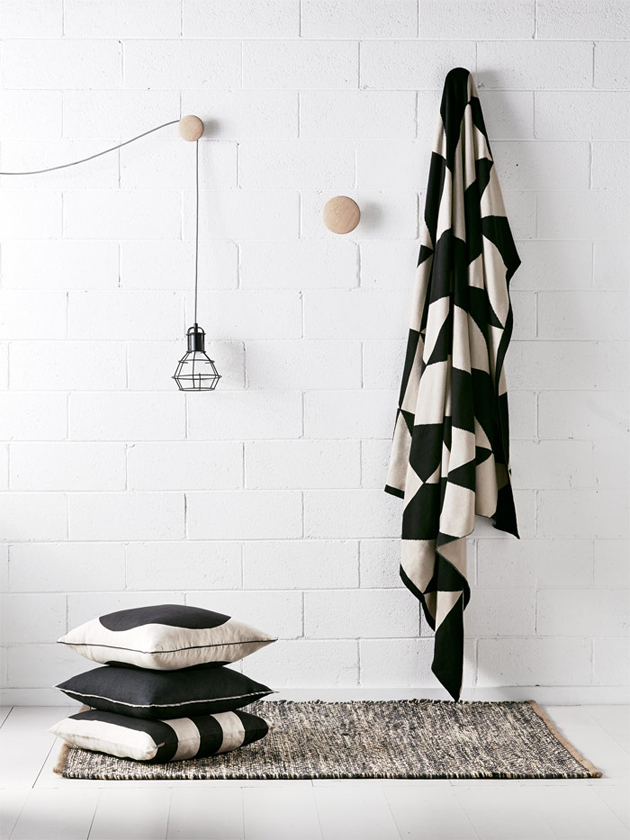 Clockwise from top left: Banyan Cushion – Freedom; Moon Pot – Paterson & Steele; Forever Print – Blacklist; Sea Tangle Blanket – Kate & Kate; Oiva/Siirtolapuutarha deep plate – Marimekko; Chi Pendant Lightshade – Citta; Wire Baskets – Lark.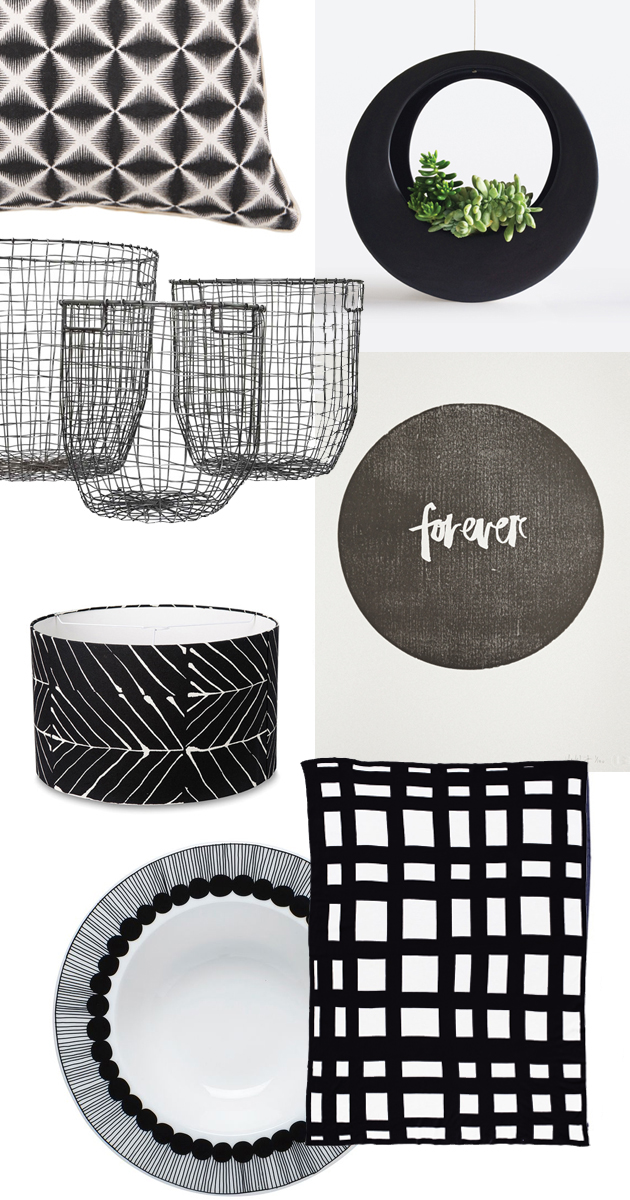 3. GEOMETRICS
This is one trend that's been around for some time now, and it shows no sign of losing its edge — we are still crushing on triangular patterns, grids and geometrics. The versatility and adaptability of geometric shapes and patterns is ensuring longevity in homewares from rugs to ceramics, tea towels to bed linen. A new variation of the geo trend is the Memphis look which is enjoying a revival from the eighties.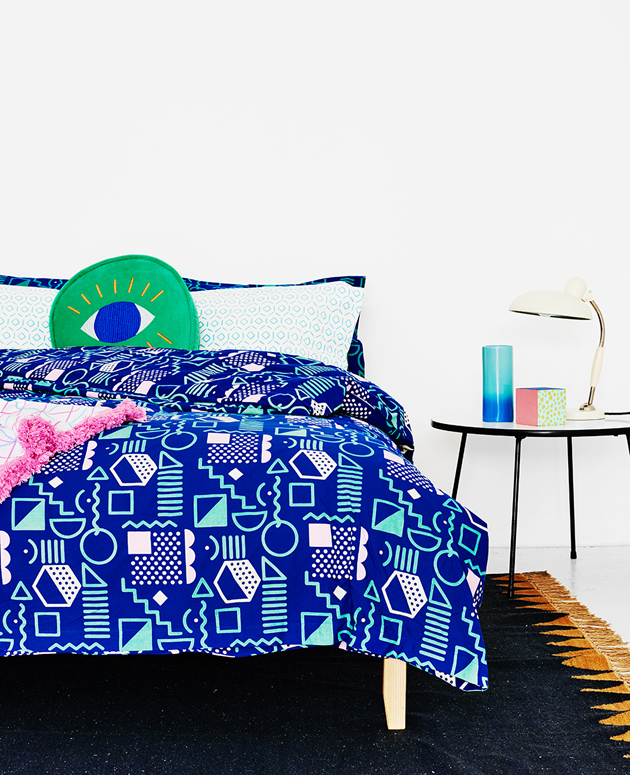 Clockwise from top left: Kaleidoscope Rug – Dan300; Peach Stary Night Cushion – Pony Rider; Luck of the Drawer – Family Love Tree; Oiva/Lamppupampula Spoon – Marimekko; Lovett Side Table – Freedom; Budgie Print – Studio Cockatoo; Lattice Tablecloth – Aura by Tracie Ellis.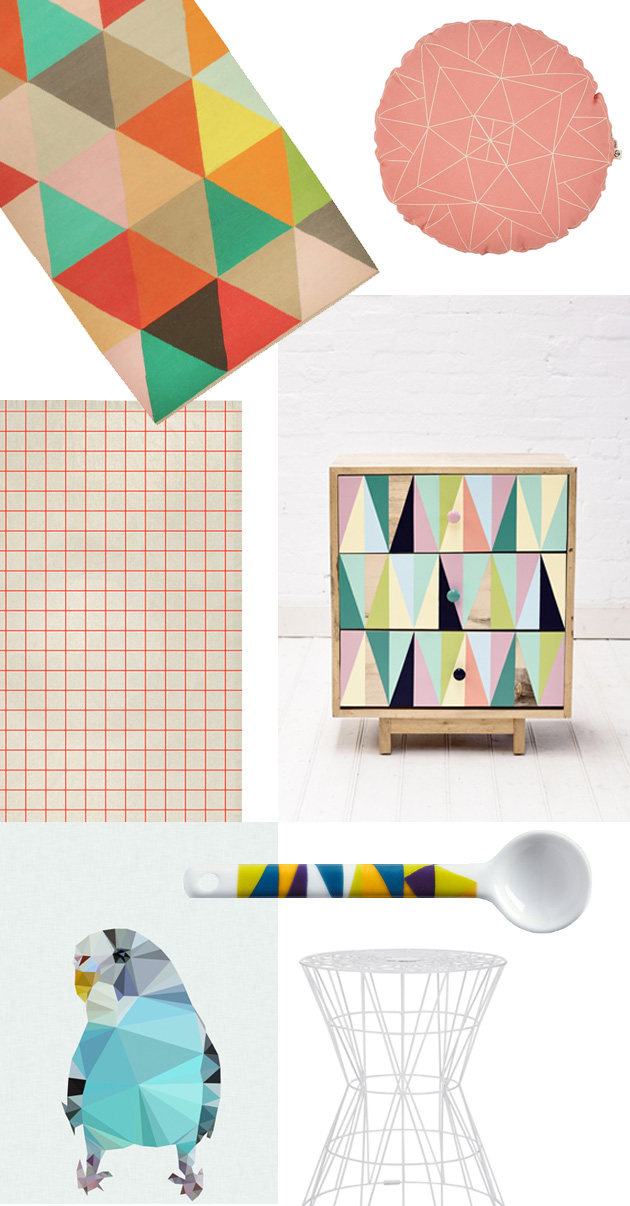 Whether you embrace trends with open arms and transform your living spaces often, or you dabble and mix and match with your existing style, you can have fun with these looks. Even adding a few plants, some new homewares or a key piece of furniture can change up the look of a room and breathe new on-trend life into it.
–Lisa Tilse blogs at The Red Thread.