Lauded for their fabulous renovation projects, Three Birds Renovations recently undertook their biggest project yet – the home of the company's creative director Bonnie Hindmarsh. Located on five acres in Sydney's Hills District, the sprawling self-described 'modern coastal barn' is home to her family of six and brings the designer's love of coastal style to the country.
And while the home boasts multiple swoon-worthy features, its tiles are at the top of the list. Sourced entirely from National Tiles in Melbourne, the lineup includes penny round, subway, ceramic and terracotta tiles laid in random, herringbone, grid and brick fashion. Proving that stunning results can arise just as much from the type of tiles selected as from the way in which they are laid, Bonnie shares her creative tile tips below…
"Many of our previous renovations have been flip houses so when we were tiling we kept the patterns fairly simple so that they appeal to a wide range of buyers. But when you're designing a forever home, you've got license to be more creative in tile choices and how you lay them. At the end of the day you've got to love them because you've got to live with them," says Bonnie.
"You can turn a room from drab to fab depending on the way you lay the tiles and in my forever home, there was no way I was going to be conservative in my choices," she adds.
Herringbone
"The herringbone pattern is a gorgeous way to accentuate a plain rectangular tile," says Bonnie, who chose a subtle apricot gloss tile, laid in a herringbone pattern, for the laundry. "The decision to lay them like that, rather than the stretcher bond pattern we often see for subway tiles, adds so much detail and interest to my over-sized laundry."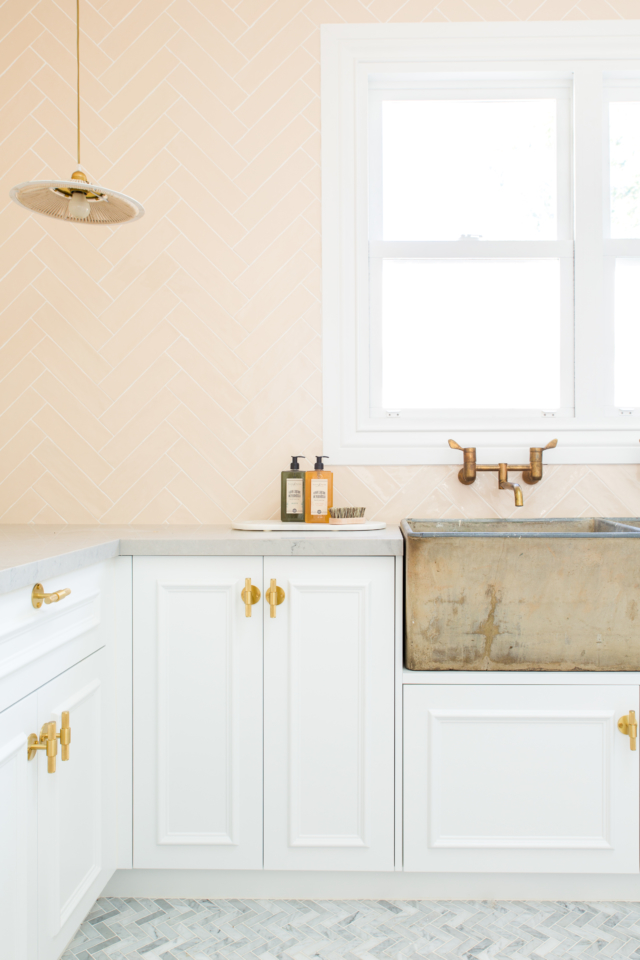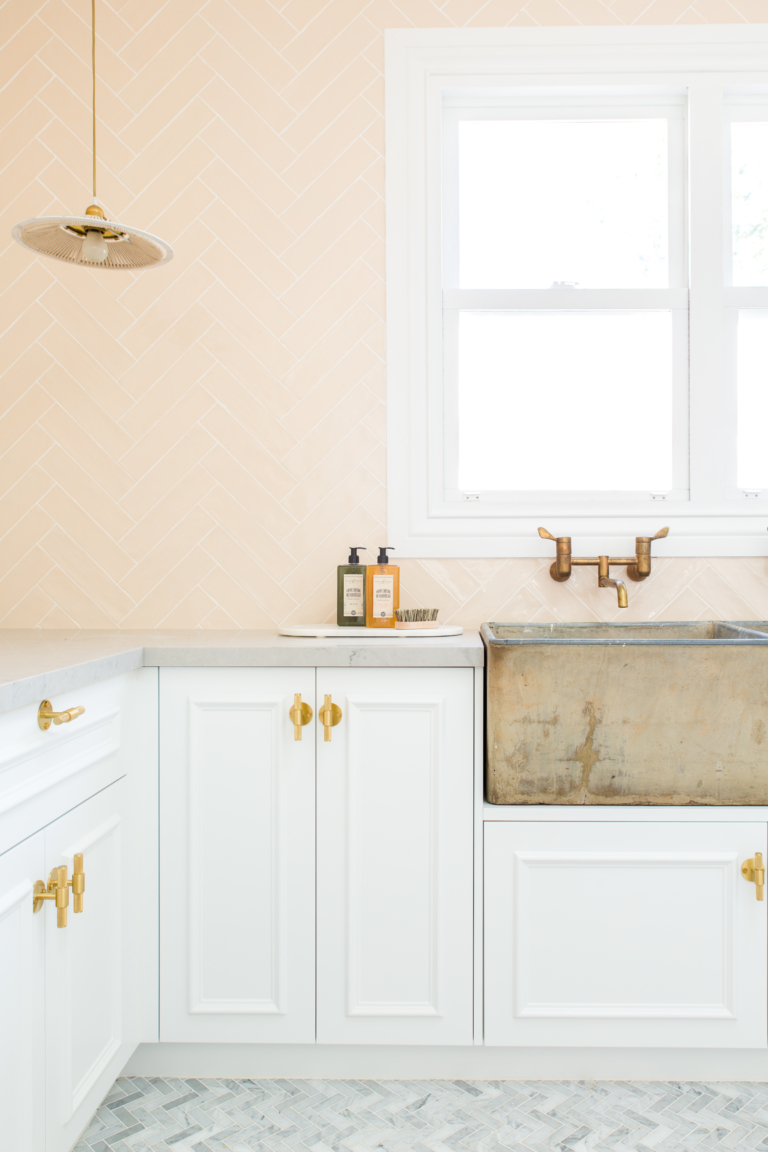 The tiles on the laundry room floor are also herringbone, but smaller-scale mosaics. "The Carrara marble white tiles are laid in sheets so there's no fuss for your tiler to create a perfect herringbone pattern with tiny tiles." Genius!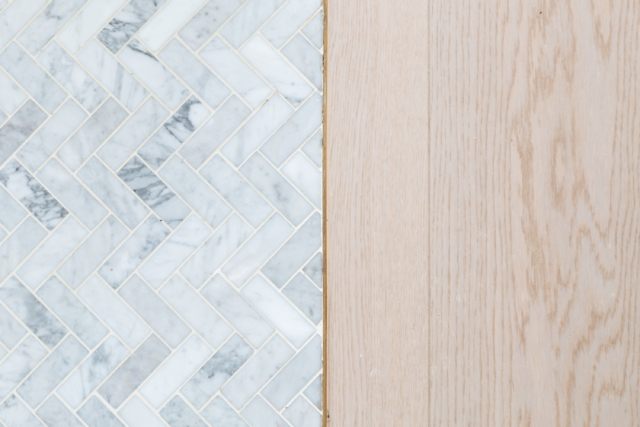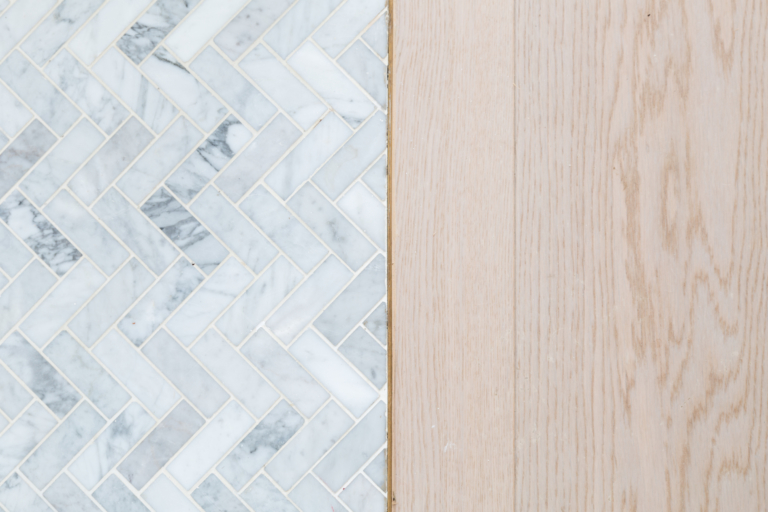 When it came to the gorgeous pale blue powder room, Bonnie chose to lay the tiles in a herringbone pattern again. "The stunning Cotto Glamour Rombo feature wall tiles in the powder room are diamond shaped and could have been laid in a number of ways. I chose to create a herringbone pattern with these tiles too, for maximum detail and impact on the wall."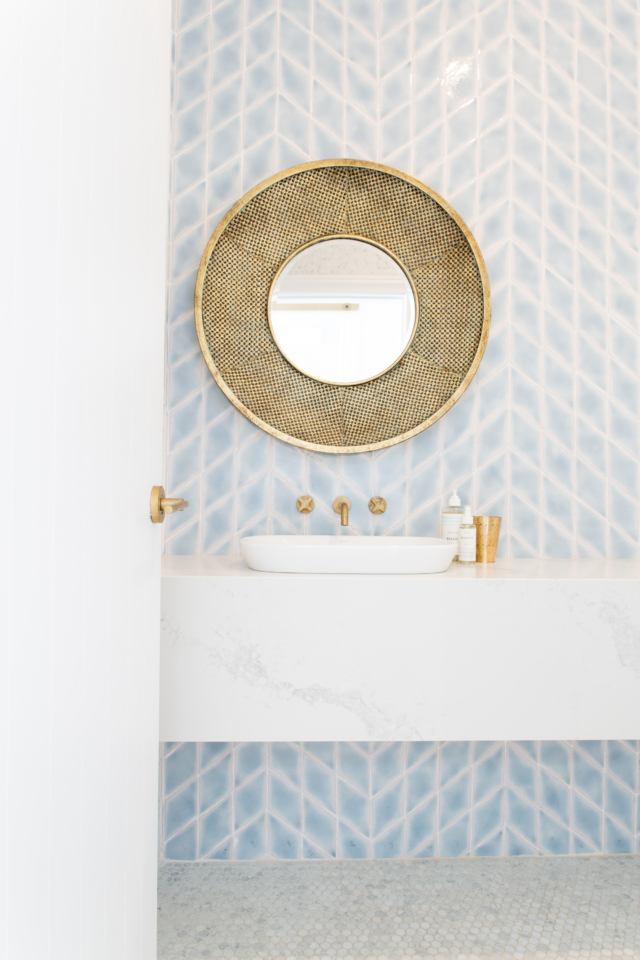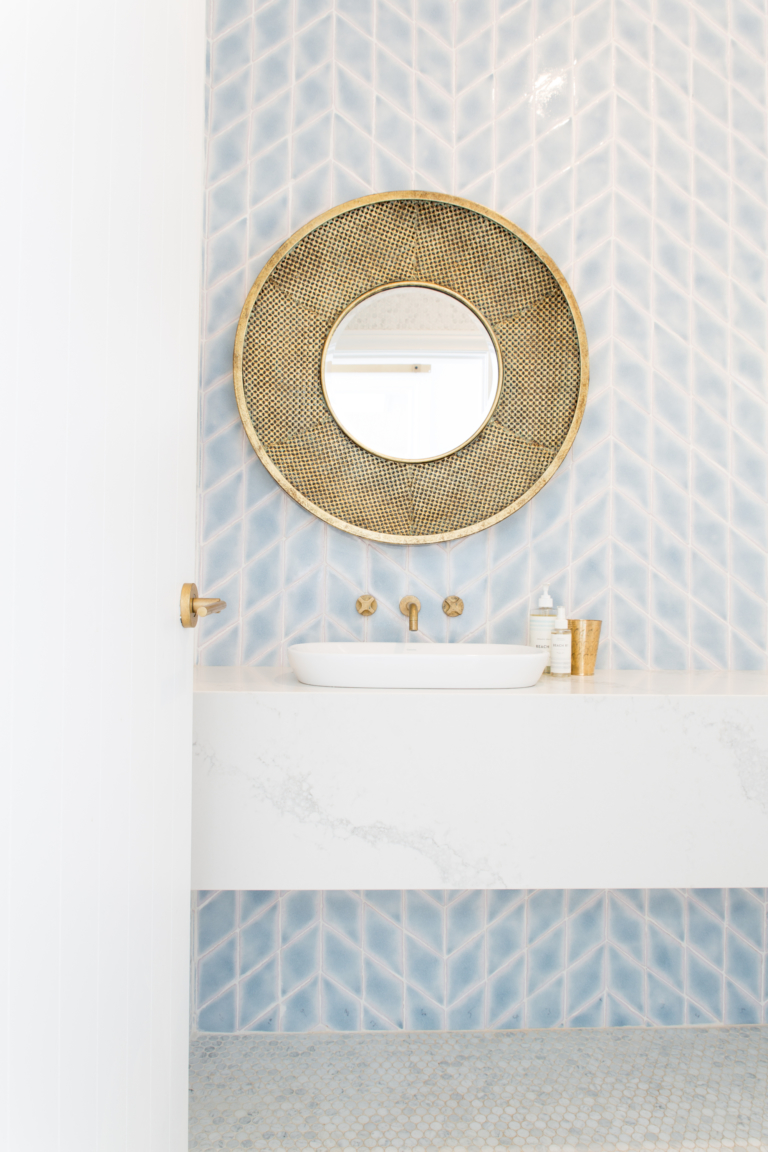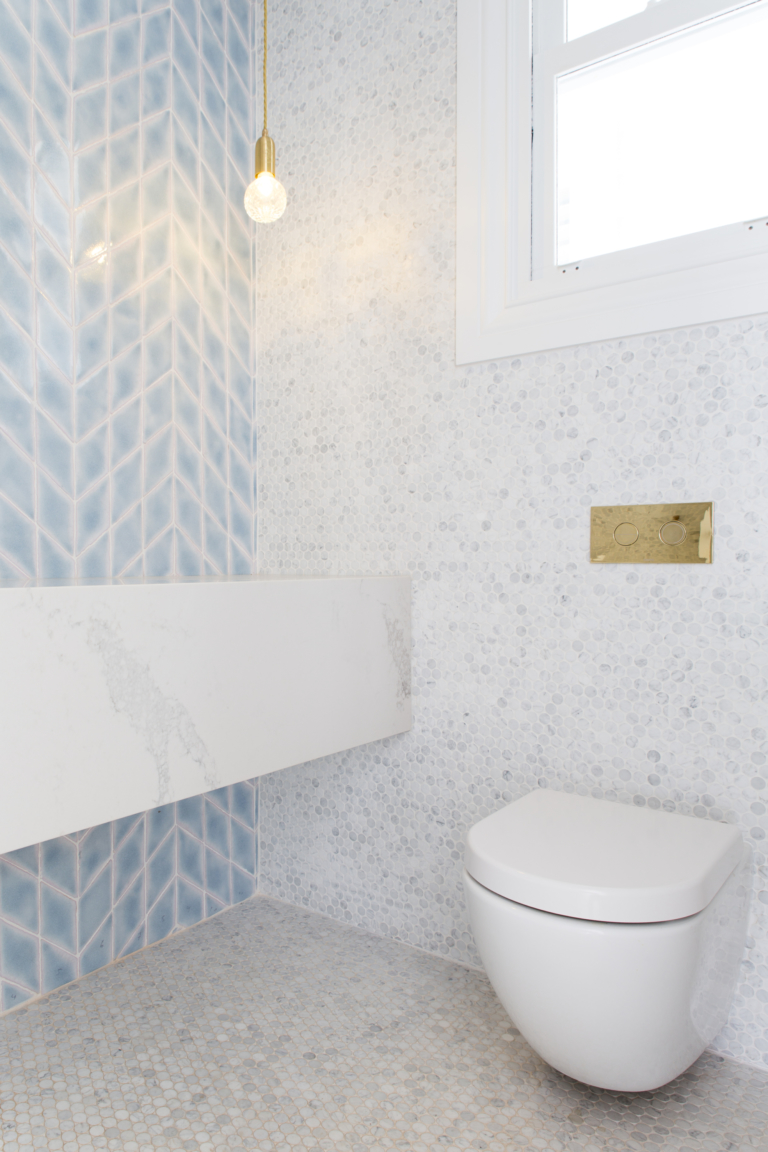 Straight
If pattern isn't your thing, you can always play it straight and Bonnie's laundry tub is a great example of this. Purpose built to wash her beloved dogs, the tub features square tiles in two colours – apricot and greige. "The tub is laid in a straight lay, an almost basic pattern, but the two complementary colours make this feature look anything but ordinary," says Bonnie.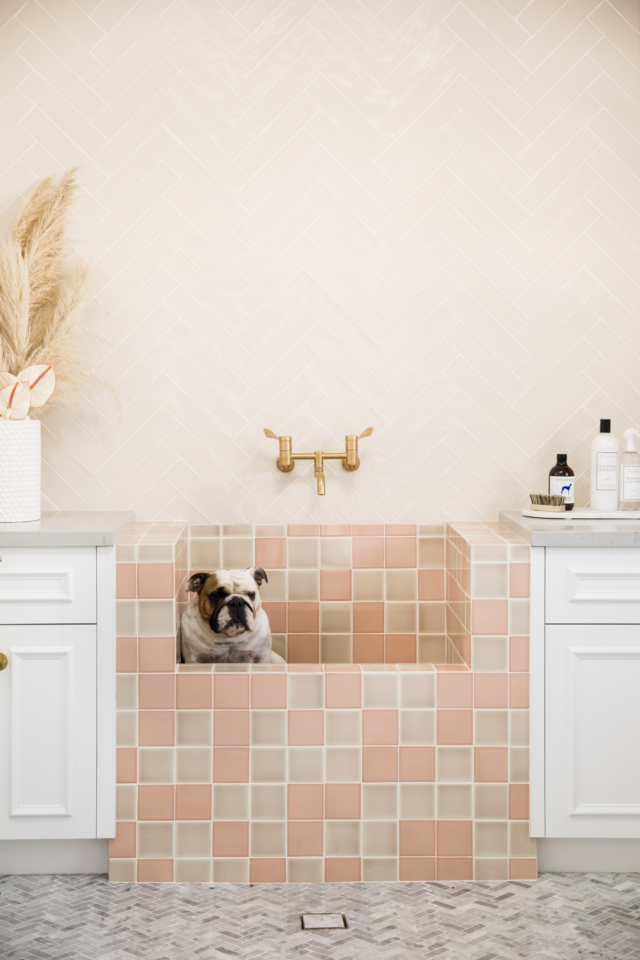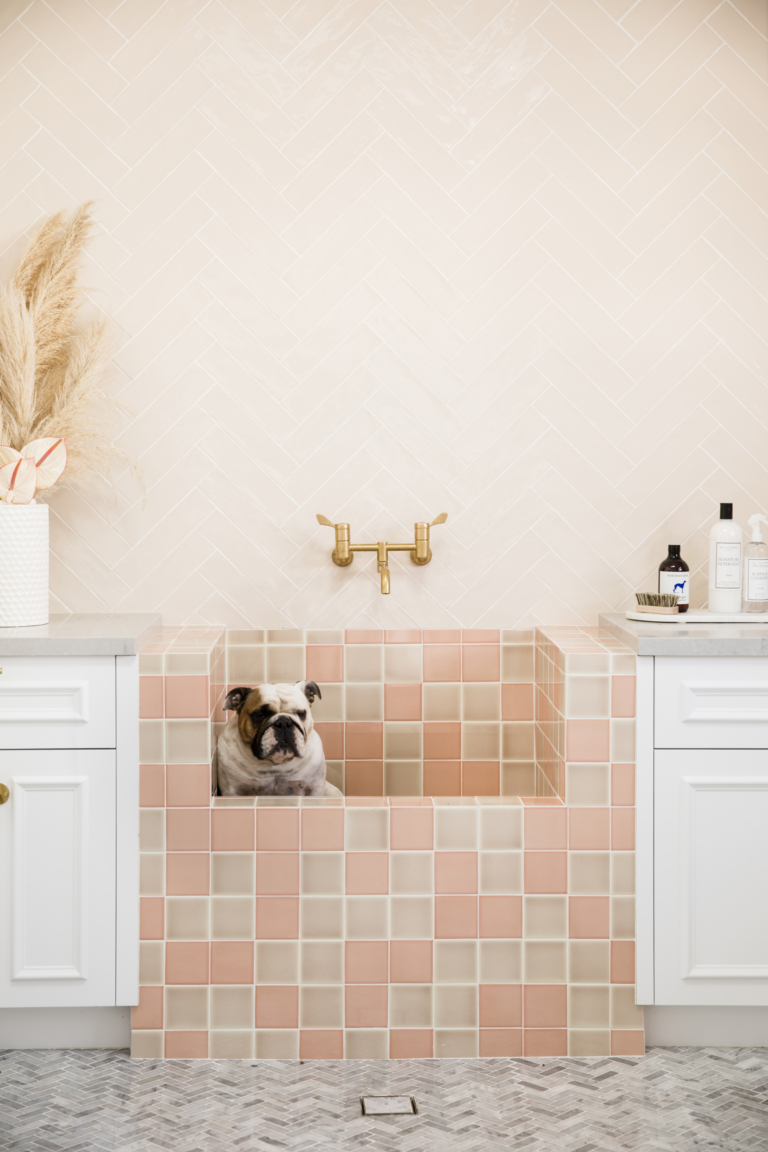 The main bathroom features some straight lay too. "The shower is also tiled in a straight (sometimes called stack bond) pattern, but you'd never guess," says Bonnie of the randomly placed Crayon Bianco Matt and Crayon Azzurro Gloss tiles that combine to create a feature that is truly stunning.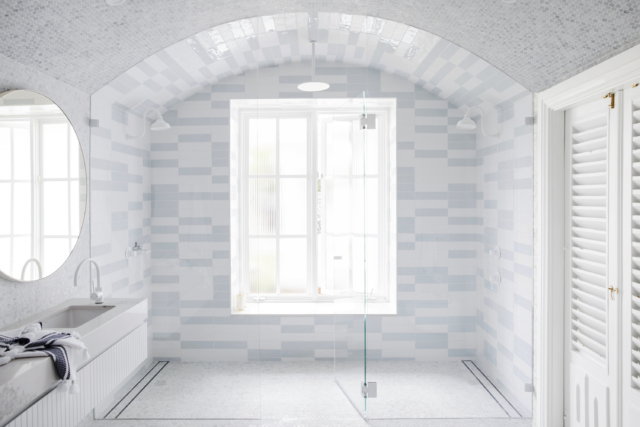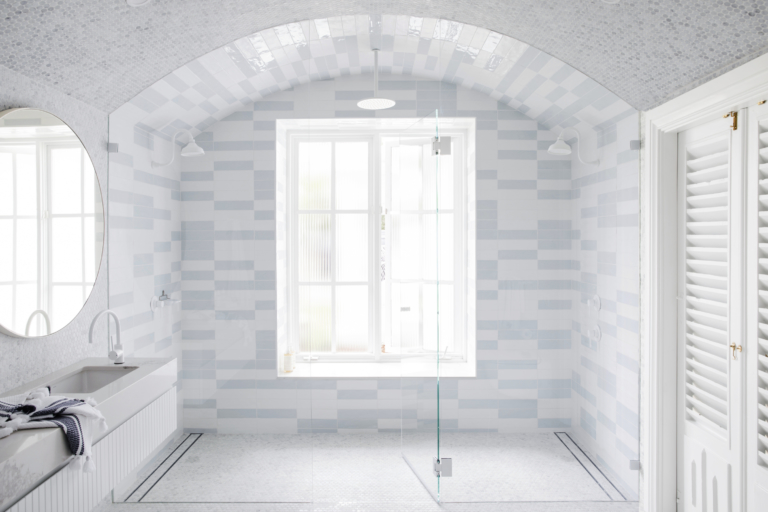 Ceiling mosaics
It's an unusual choice but Bonnie's home features a number of ceilings covered in mosaic tiles, and it works."I immediately fell in love with the pillar of Carrara marble white diamond tiles in National Tiles' Melbourne showroom and knew they'd be perfect to wrap right around the shower in the ensuite, ceiling included."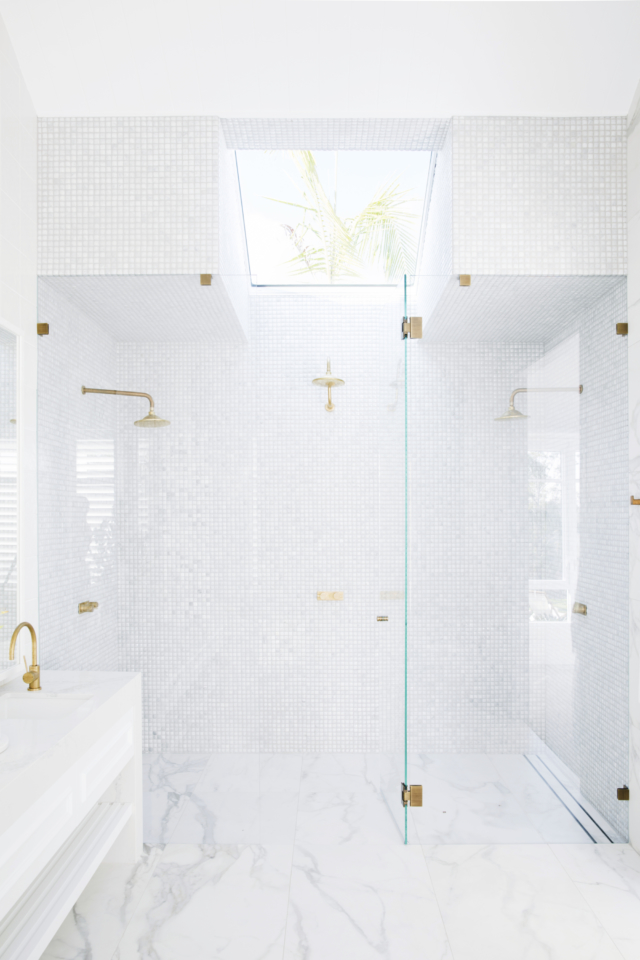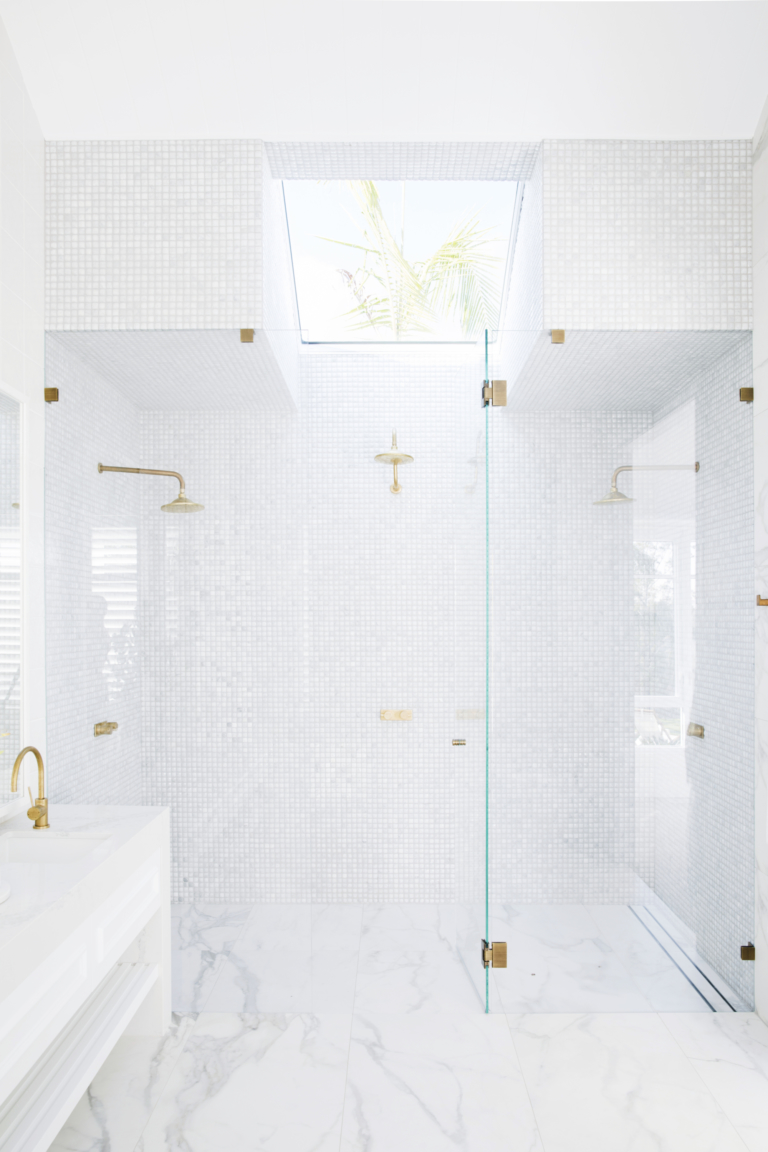 And boy are they beautiful!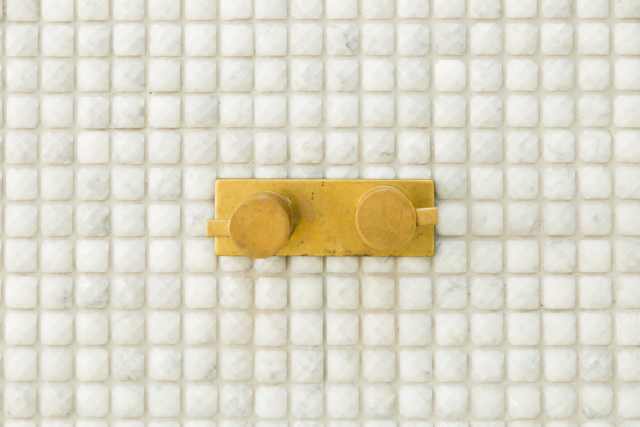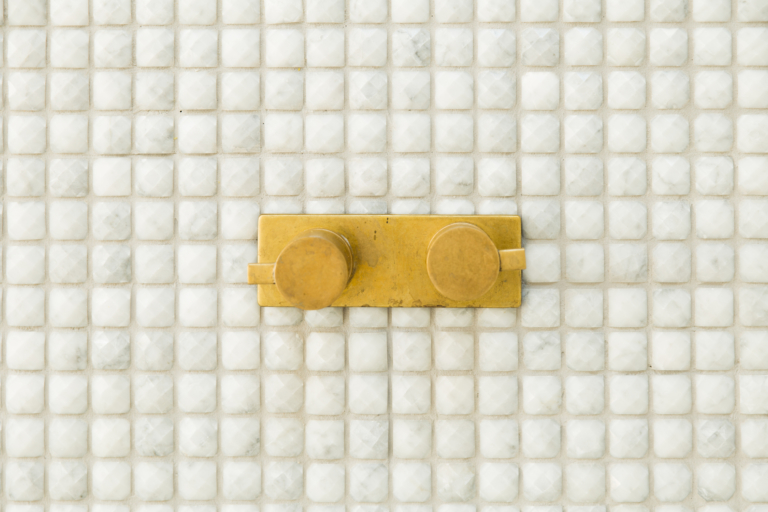 The main bathroom features another mosaic-covered ceiling but this time the adornment is a marble penny round tile. "The vision for the main bathroom was inspired by an underground train station and the Carrara white penny rounds were perfect for covering the huge curved ceiling, walls and floor," says Bonnie.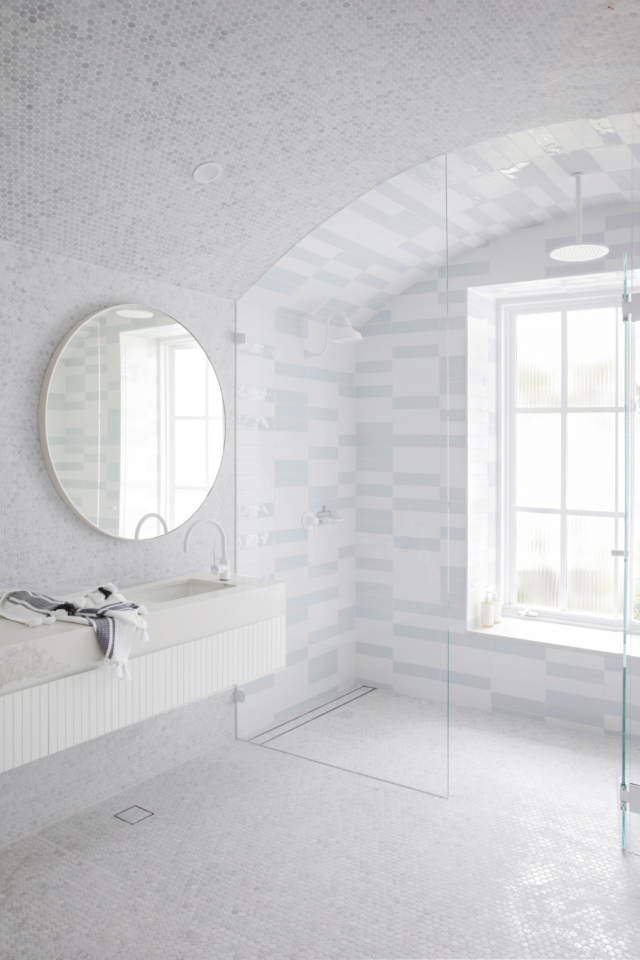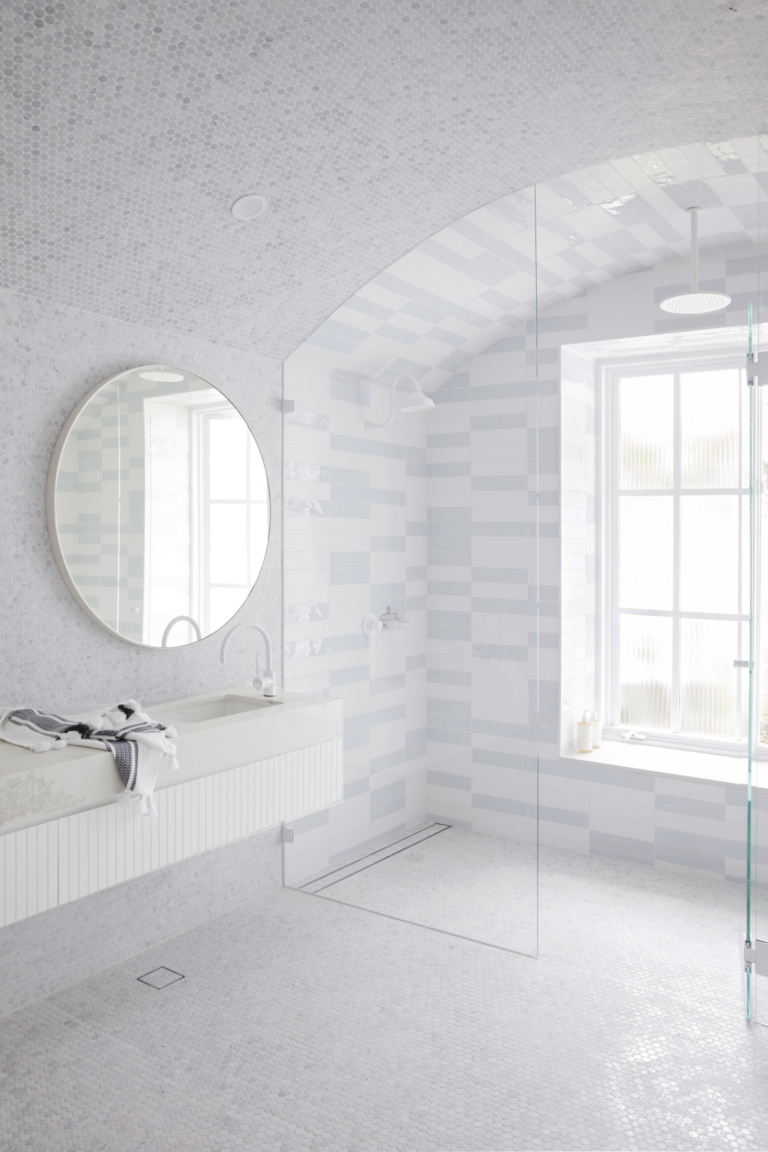 Basket weave
Bonnie chose to use the basket weave tile lay pattern for the first time ever in her boys' ensuite bathroom and it's a gamble that has paid off. It's also a great example of how you can make a simple tile look interesting if you lay it in a creative way. "Get creative! Even if you're on a tight budget, the simplest of tiles can create a standout feature, if laid well."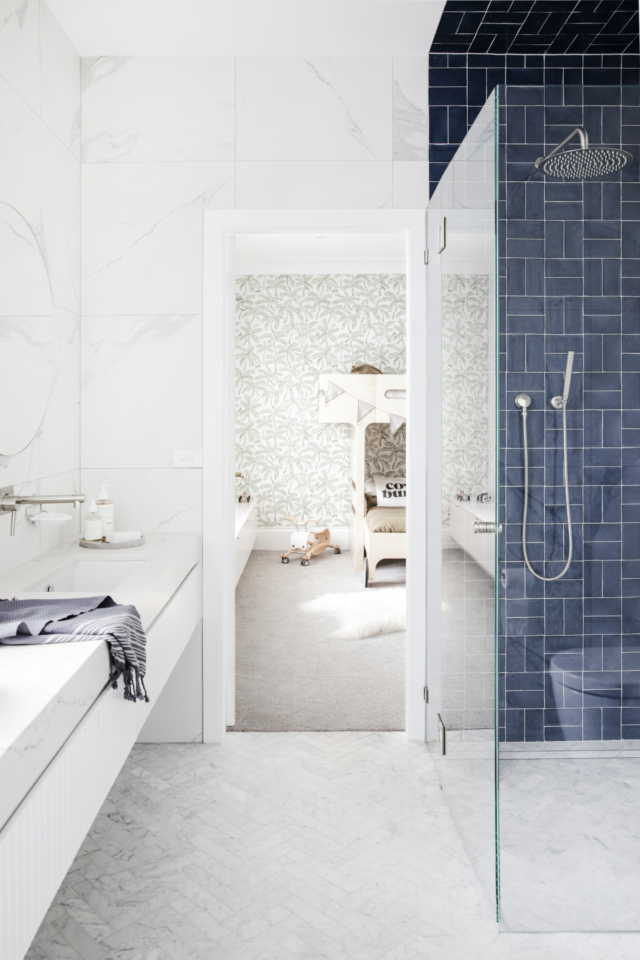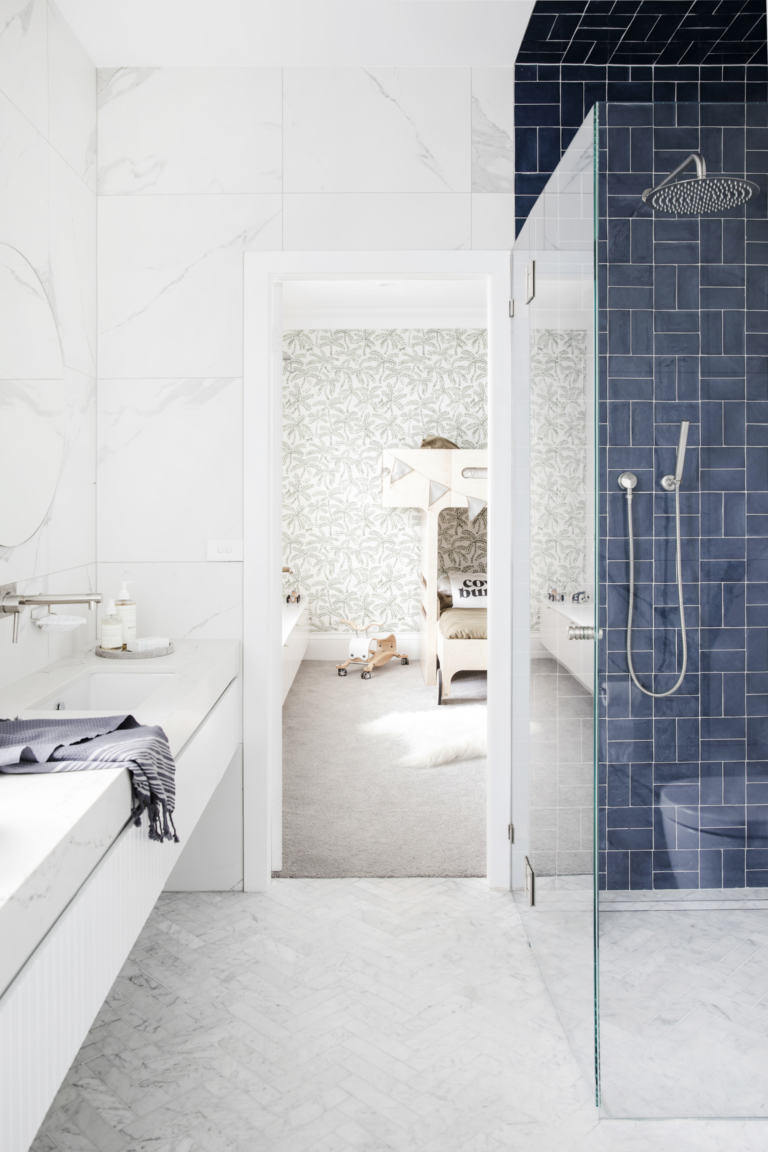 More on National Tiles | More on Three Birds Renovations