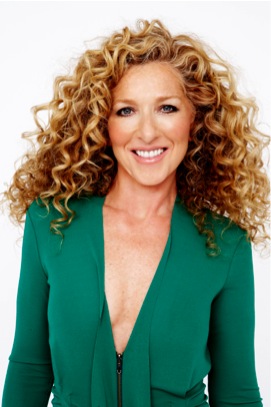 OK addicts, indulge me in this pinch myself moment. I have finally done it! An interview with perhaps THE best known female interior designer internationally, Kelly Hoppen MBE no less. Spending the first 26 years of my life in the UK, she was one of the first 'celebrity' interior designers I became aware of and I love her work as much today as I did then. Kelly Hoppen the brand is now huge with countless books, a design school, furniture and fashion ranges, and even its own app. This month, Kelly was the first international judge on the panel of Australia's very own belle | Coco Republic Interior Design Awards.
I know many of you love her work already, but even more Aussies are sure to become fans soon, as her show Superior Interiors is about to be aired on the Lifestyle Channel. And now, at last, after months of trying to pin down this very busy woman, I give you my interview with Kelly Hoppen! And one massive tick off my wish list of interiors interviewees…
KELLY Hoppen started honing her craft at the tender age of 16. She always loved visiting show homes with her mother, a great influence on her, and can't remember a time when she didn't have a passion for interiors. All these years later, I'm delighted to hear that she still absolutely loves what she does.
She's comfortable with her name now being a brand. "I have a very distinctive aesthetic so people have always referred to the "Kelly Hoppen Look," especially after the release of my first book East Meets West over 15 years ago. My love of neutrals has been well noted in the press. I do love neutrals, but in my paint collections and my range of clothing for Earth Couture this season there is actually a lot of colour!" Known for a look that encapsulates timeless elegance, Kelly says: "I hope my design will stand the test of time, will not date and will always look chic; simple yet opulent, combining the styles of the Eastern and Western world."
Kelly's written a lot of books and works hard to ensure they're more than just collections of photographs of her work. "I always try to convey my design knowledge in as clear and straightforward a manner as possible. I think the books are popular because I want my readers to see them not only as a source of inspiration, but a practical 'how to" guide to transforming their own homes."
She was recently saddened by the death of her great friend Vidal Sassoon, who was a source of inspiration and support throughout her career. "He will be keenly missed but he has left such an amazing legacy and I have wonderful memories of our friendship." Believe it or not, her hair (and it is fabulous hair!) is something Kelly gets asked about more than anything else. ("I get a lot of questions about my hair! I actually had my stylist write a special blog post with tips for all those ladies with curly hair out there.")
Many of you tell me you don't know where to start with your interiors so I asked Kelly for her advice. "I'd focus on one room and if you are on a tight budget make sure you look at your bedroom first," she says. "It is a sanctuary and I think it's the most important room in the house. Declutter, organise your storage and look at a palette of neutrals with luxurious textures to create a space that welcomes you after a long day.
"Lighting and a great room fragrance are important to consider as they take a space to the next level." In terms of simple changes to make your space more stylish, Kelly advises stripping things back because "clutter makes any space uncomfortable". And install some great lights as it can really change the feel and atmosphere in a room. In her own home, she often changes up things like accessories, bed linen and flowers.
(Below: Kelly's own lounge room and kitchen)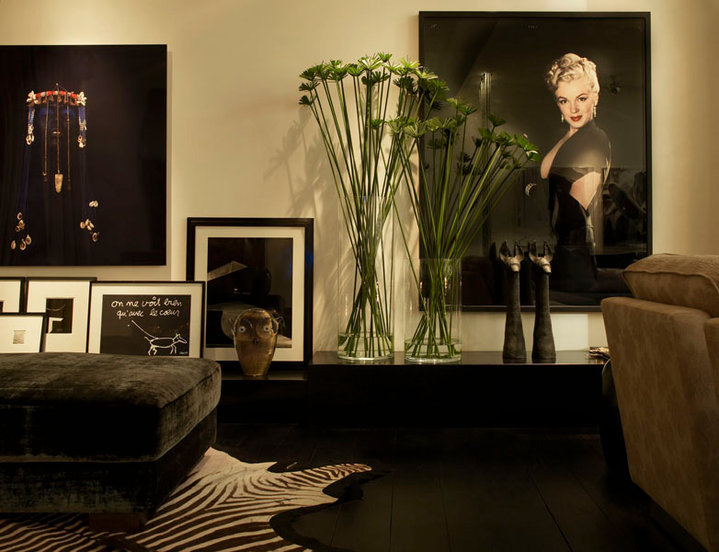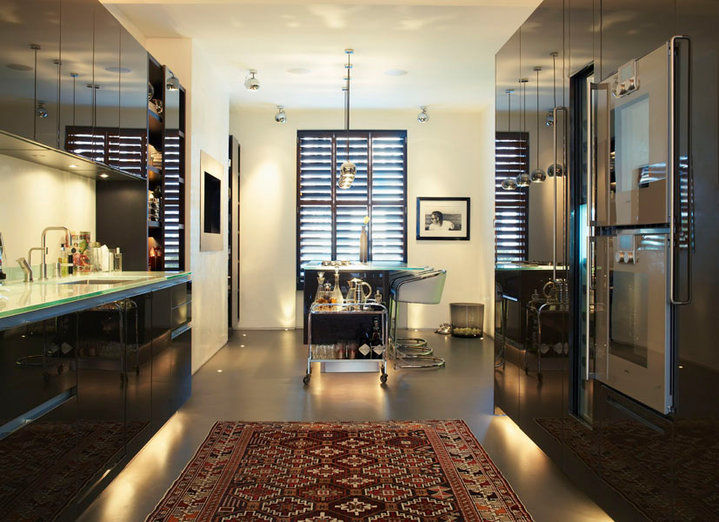 Aside from her many brand Hoppen projects and continuing to design homes, Kelly is one busy woman. This year, she was named an Ambassador for UK Trade & Investment with a special focus on China. "I am always excited to speak at conferences and meet retailers there. It is such a vibrant place to do business. I've also begun working with The Princes' Trust on their Tomorrow Campaign. I'm mentoring a girl and we are creating a special product for QVC UK to show the potential young people have in this country. Sharing my knowledge and helping others is endlessly inspiring. Aside from these special projects, I'm constantly designing and no, I don't tire of doing what I do – I love it! There will be lots going on this summer with the Olympics and the Queen's Jubilee. Hopefully a trip to Australia will be on the cards too!"
Students at Kelly's design school get to learn from the woman herself (can you imagine?) "I love my design school! Seeing the students' confidence and skill grow is so rewarding. I believe in sharing knowledge and helping others feel confident in pursuing their passions," she says.
Superior Interiors with Kelly Hoppen, which airs at 9.30pm tonight on the Lifestyle Channel, is her first TV show. "It was a lot of work but it was really rewarding. I work with five different families with different needs and budgets and help them transform their homes," she says. "There were tears, tantrums and lots of laughs. Be sure to tune in!"
Kelly's Furniture range is available through Coco Republic and at Impressions Furniture in Perth.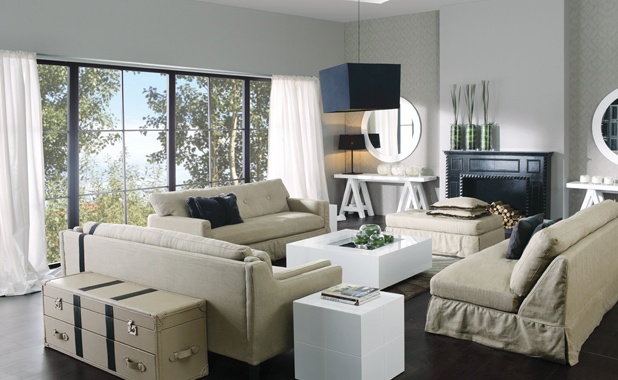 (Above: The Kelly Hoppen furniture range)