I feel a bit embarrassed about how much I love this vacuum. Not just because I have to admit how much of a neat freak I am (you probably already knew that) but because all my reasons for loving it make me seem so downright LAZY. But whatever!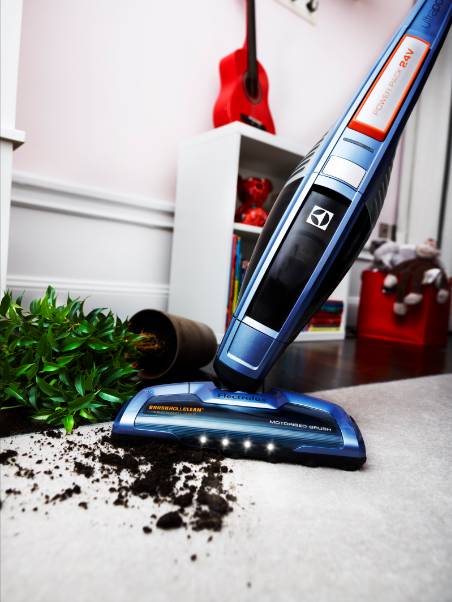 The absolute best thing about it is that it's cordless. I can't believe how much more appealing vacuuming is now I don't have to drag a heavier machine out of the cupboard, pull the cord out, plug it in, do half my open place space, unplug, move vacuum, plug it in at the other end of the living area and start again. Not to mention all the times you push your luck and end up pulling the plug out of the wall on your way!
It's also really slimline and it actually looks nice. If you don't have the luxury of a big cupboard to store your vacuum, this will easy fit in a wardrobe, behind a door, anywhere really. And if you have nowhere for it you could even (neat freak in me doesn't really agree but still) leave it out (shock horror) and it doesn't look ugly and in the way.
But for all its slimline good looks, it's powerful too and very easy to use. It has a tiny dust collector (or whatever you call the part that collects all the crap) and I filled mine in a week (probably because I was loving vacuuming so much and in the interests of a decent review, I probably used it every day). It was really easy to empty without dust going everywhere as it makes its way into the bin. Don't you just hate that? And it's so powerful it feels like when you take an overzealous dog for a walk and it's more like it's taking YOU for a walk, you know? Plus it has a light on the front so you don't miss anything.
Charging it in the provided dock is easy. Just remember to do so because if the battery runs out mid panic clean before guests arrive, you're stuck until it's charged again. You have been warned. That's why they recommend you leave it on charge when you're not using it. Because it's so slimline you might expect it to be more lightweight but it's pretty heavy. And my fiancé pointed out that it suffers a little from oversteer! But it does fit into really small spaces and under the coffee table and all those places a larger vacuum couldn't without taking out the hose. No need for two people to move the heavy, marble-topped coffee table to vacuum anymore.
It retails for $399 and is available at electrical retailer and department stores.
Tech specs
Up to 50 minutes of runtime, offering homeowners the freedom to clean throughout the house cord-free on one charge.
New patented BRUSHROLLCLEANTM technology that keeps hairs and fibres from jamming the brush roll and helps enhance long-term performance. A simple step on the foot pedal on top of the nozzle separates entwined hairs and fibres that are then sucked into the dust cup for easy cleaning and maintenance of the vacuum.
24 volt model powered by a Ni-MH battery. In addition, a specially designed nozzle and an advanced fan system based on gas turbine technology ensures maximum dust pick-up.
Three speed settings including a quiet mode.
Disclaimer: Electrolux gifted me the Ultrapower. If I didn't think it was any good, I wouldn't be writing about it.