There wasn't much in it between the top three in last night's Block bedroom reveals and I really wasn't sure who would win (I have a pretty good track record of picking the winner). My money was on Suzi and Vonni (and seems theirs was too, how awkward was it when they misread the scoreboard and started cheering themselves?! Gah!) but it was Caro and Kingi who took home the 10 grand prize and I was pleased for them.
Caro and Kingi: first place
Although industrial isn't my thing, these two really seem to know how to work it and have stayed true to their style so far.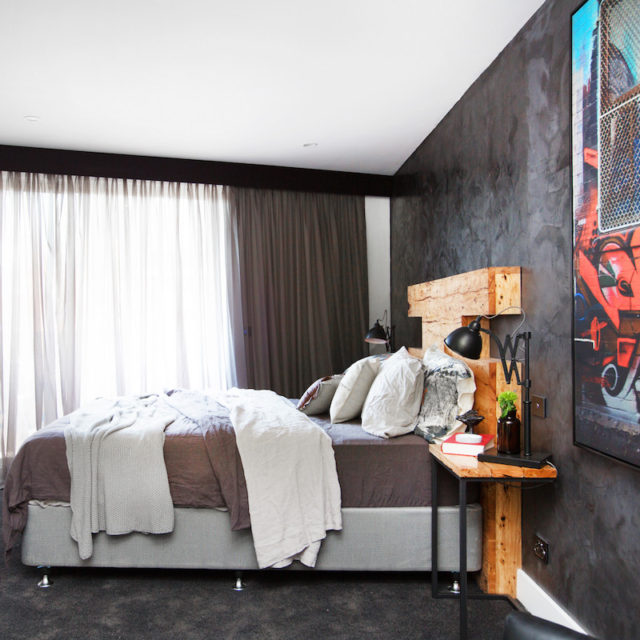 Darren and Neale agreed the knick-knacks (shock horror!) were all good this week and Shaynna said they were upping the ante but not getting lost in their style. The big praise came though when she said she really hoped the pair would do this for a career! Neale noted it was industrial and raw but they knew how to use the style to work for them in the market and at the right price point. Shaynna only picked on the shiny silver feet on the bed sticking out like a sore thumb (or four) and the judges agreed they wouldn't change much.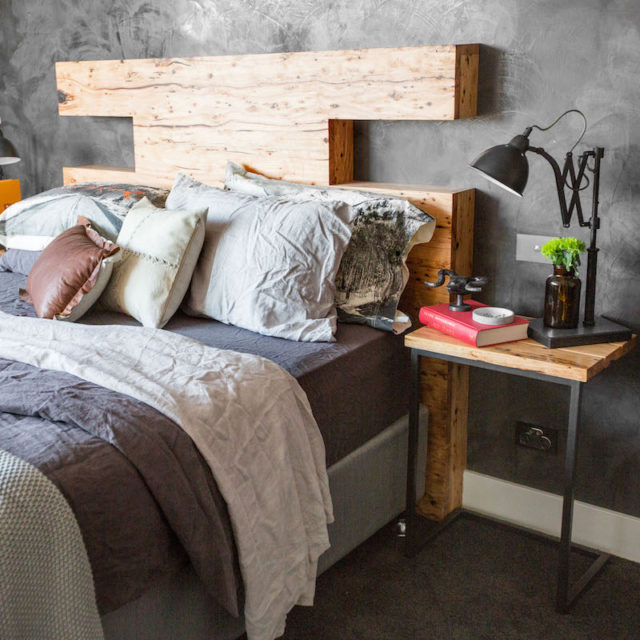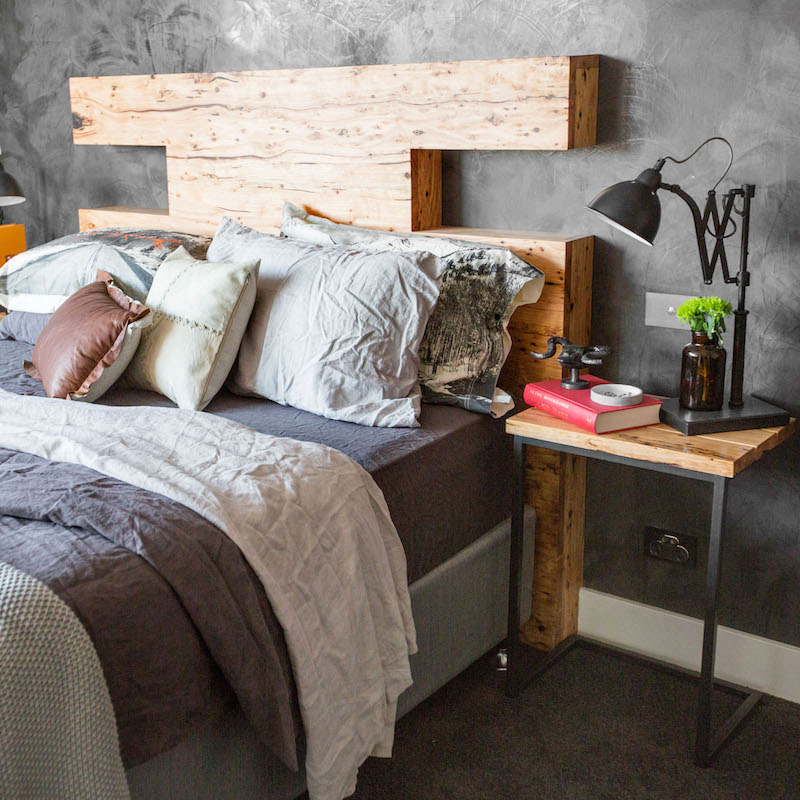 Darren loved the "beautiful" en suite timber door, which he thought was really cool.  Neale loved it; it was a tiny little space but they'd made the most of it. "It feels right. It's been a really good week for Caro and Kingi." Darren said the layout was good and functional.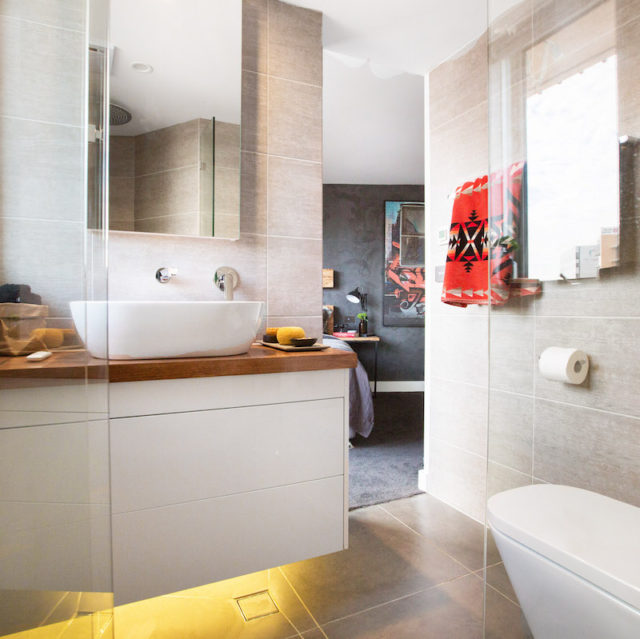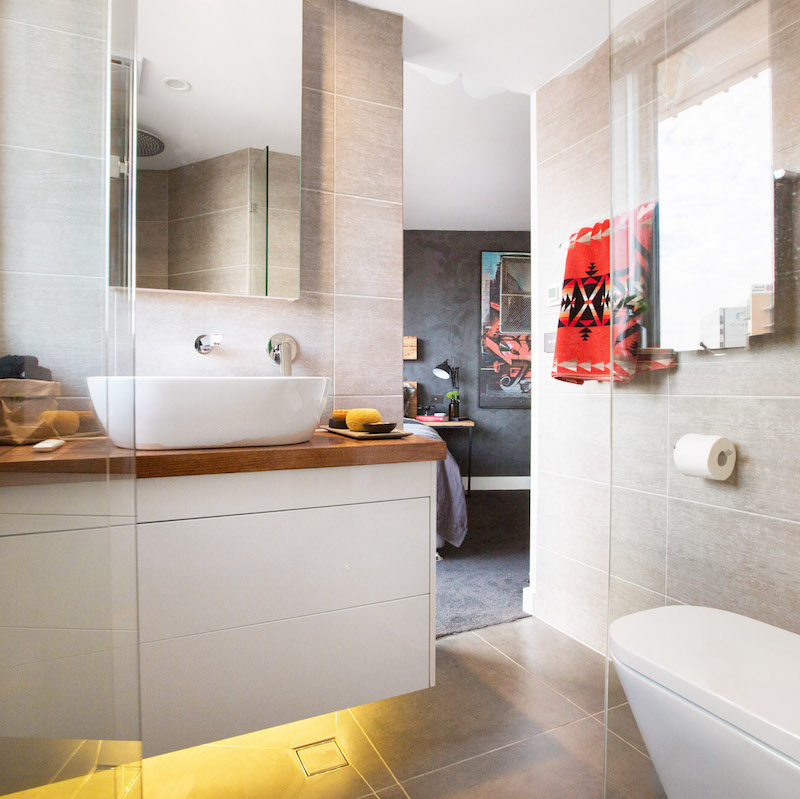 Our pick to buy: Barn door hardware | black vintage style desk lamp | Barcelona plaid blanket throw | mini concrete tray
***
Whitney and Andy: fourth place
Poor Andy was not a happy camper this week, in floods of tears as it all got too much, forcing Dan and Keith to turn Mr Nice Guys and give them some help and support. The fact that they finished their room this week was, as Shaynna said, a good start!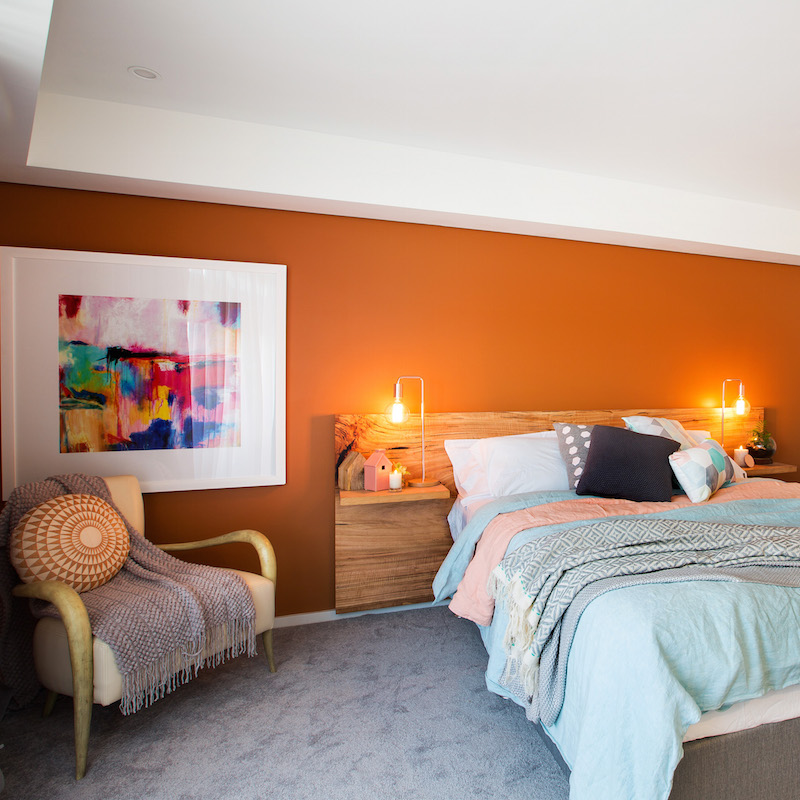 It was a brave move to use a shade of orange after having been canned for it in a previous room! Darren admitted he'd seen the paint on a roller before reveal and thought "dear God, we're in trouble," but on the wall, he admitted it looked great. He added the pastels were the saviour and the 80s palette was really fashionable.
Shaynna wasn't as keen, saying the appeal was to 20-something and not their target buyer. "They don't know who they're selling to."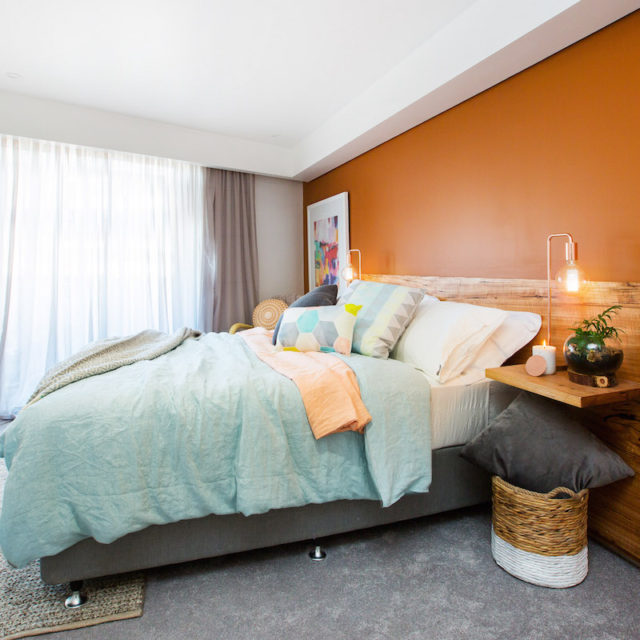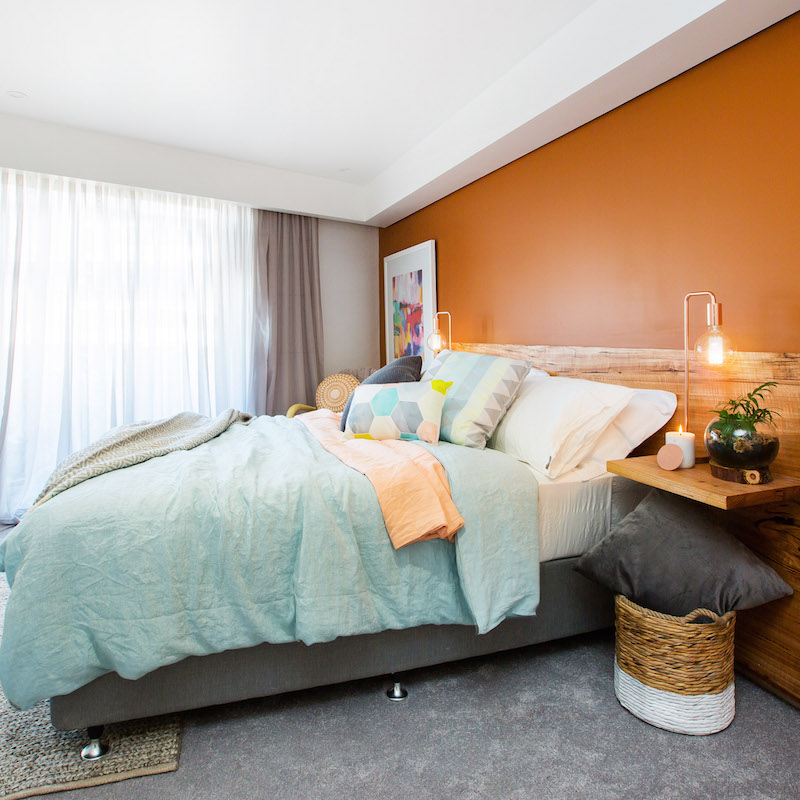 While Neale said it felt a bit like he'd seen it all before, Darren was more enthusiastic, saying he really liked it. The judges were however all very happy with the en suite. Shaynna liked the tapware and mixer but didn't like the white tap set on dark tiles, saying it looked cheap.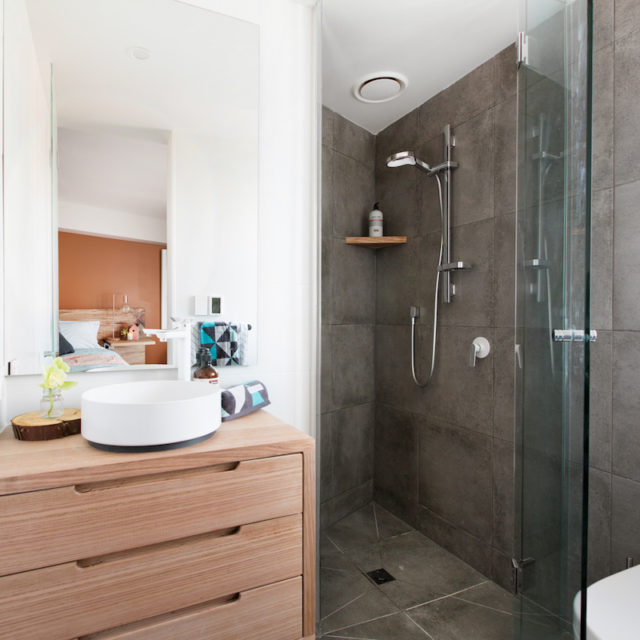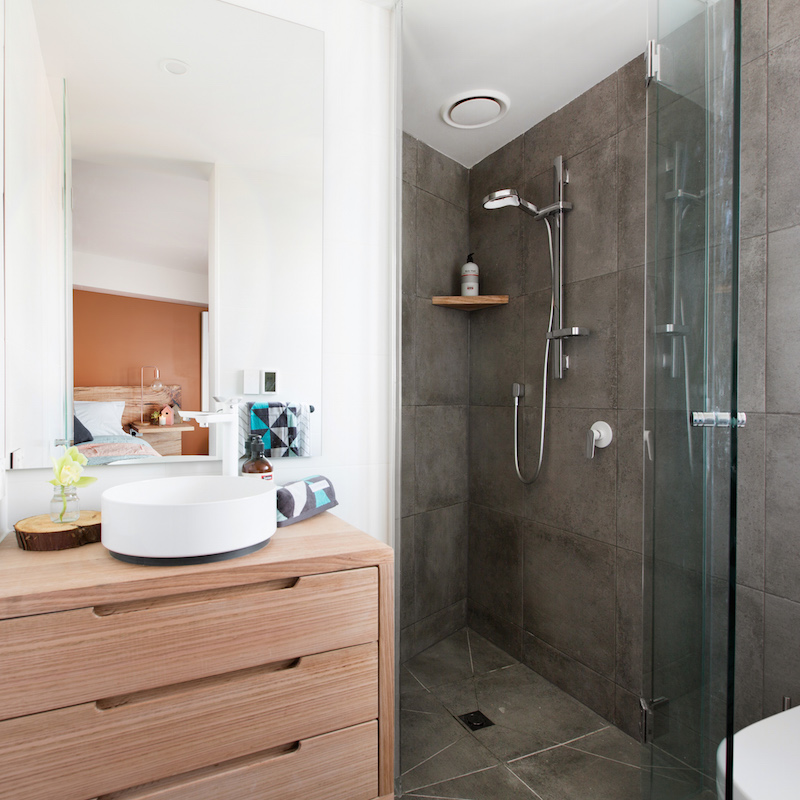 Our pick to buy: Mountain Ash vanity | salted caramel candle | grey knitted throw
***
Suzi and Vonni: second place
I just couldn't get too excited about this room even though I liked most of it, pendants aside (agreed with Neale there).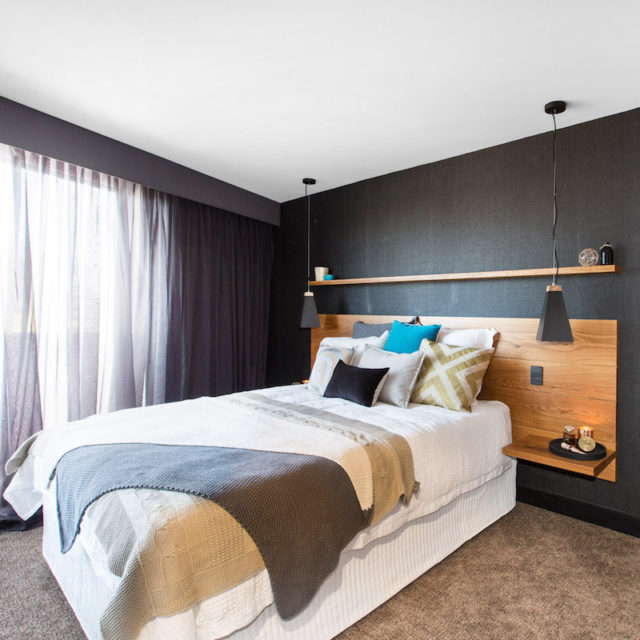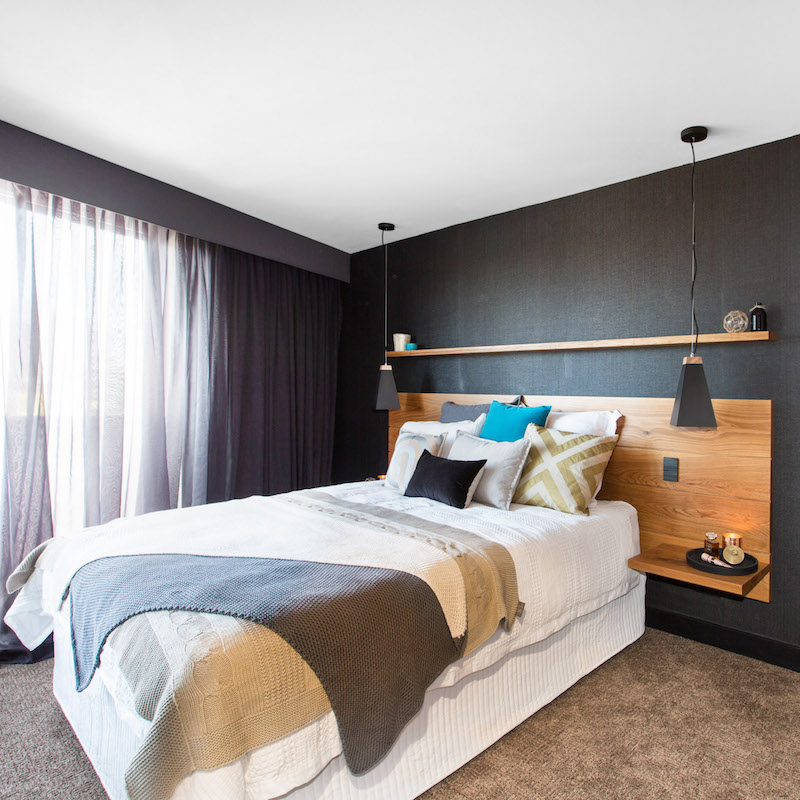 Neale was happy to be proved wrong about the more subtle glass feature wall and said he loved how they'd created a matching pair of rooms showing different aspects of Melbourne on the glass. Darren was delighted to discover the walk-in room and Shaynna said they'd nailed practicality while Neale added that they'd nailed a sense of luxury (anyone else noticed the overuse of the world nailed this series?!).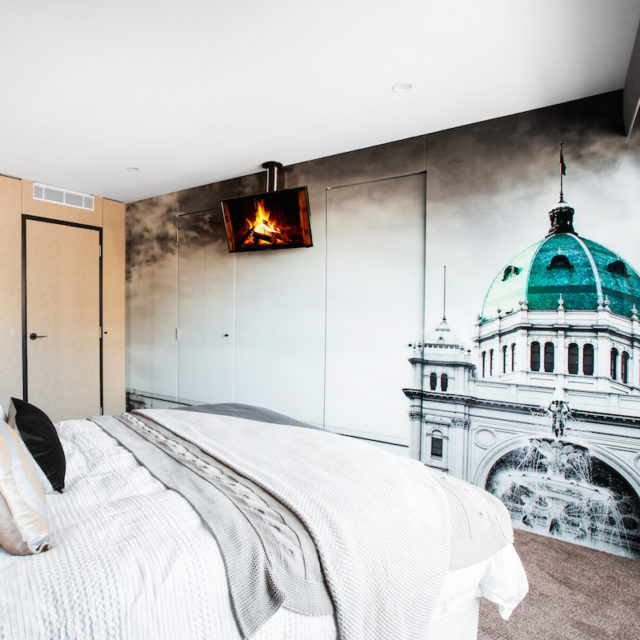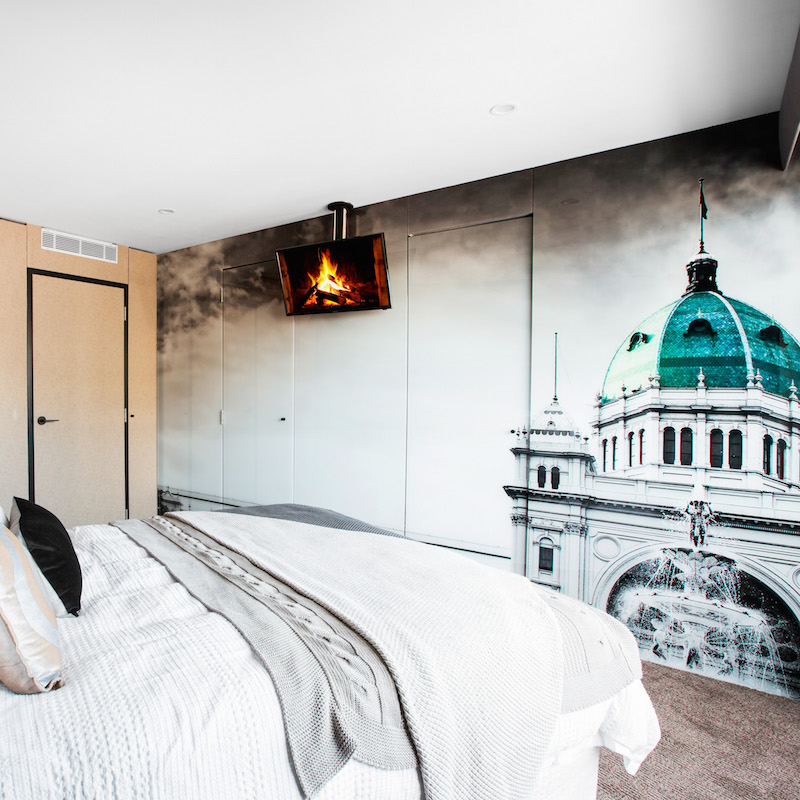 Neale and Darren were very impressed with bedhead. And Neale said they were on their on way to delivering a truly stunning and unique apartment. They found the en suite consistent but with a few rough edges.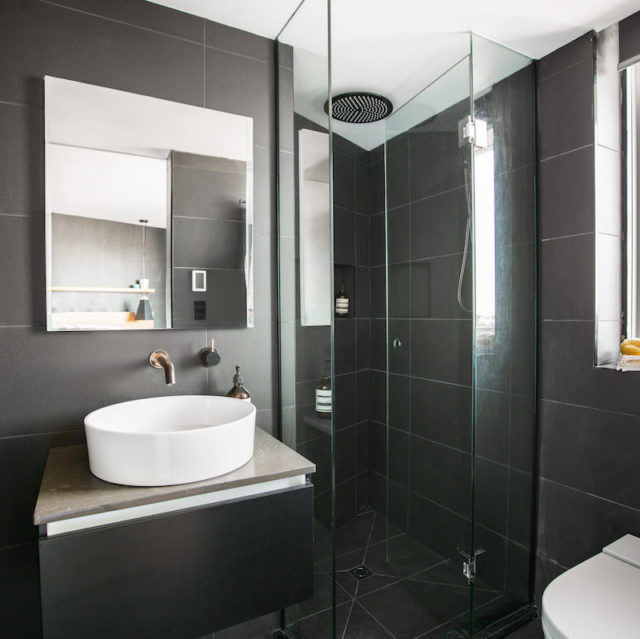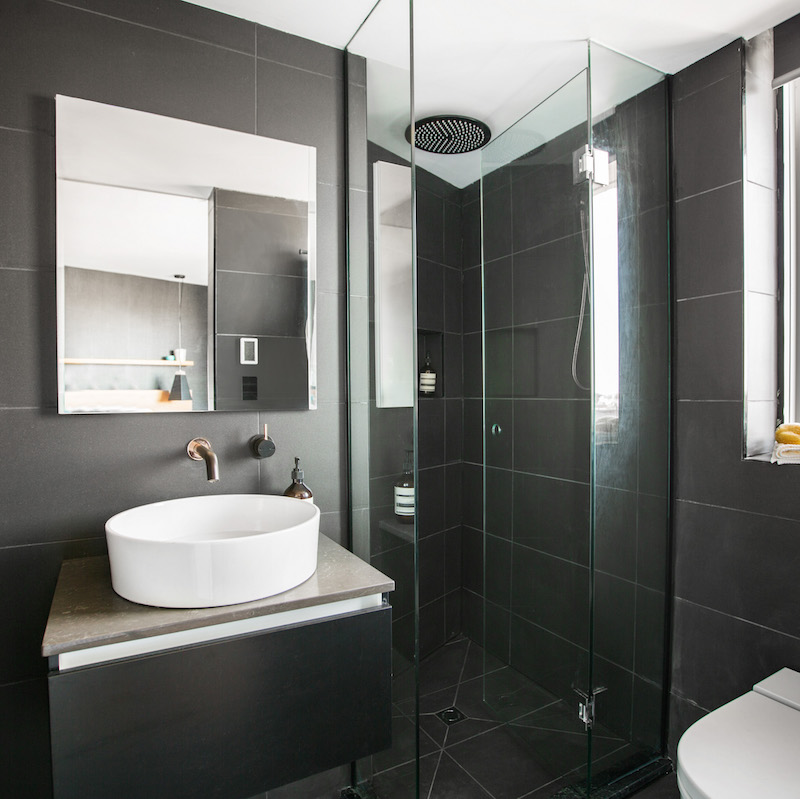 Our pick to buy: black concrete tray | copper candle
***
Luke and Ebony: last place
It didn't start well with the door not opening smoothly! And it just went from bas to worse thanks to THAT Art Deco bedhead from the challenge. Neale said it was just way too dominant while Darren said: "I wouldn't say dramatic, I'd say traumatic!" Ouch!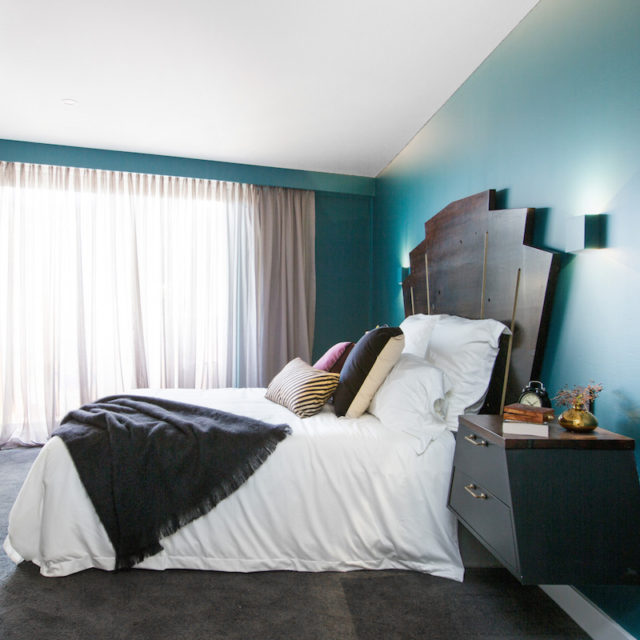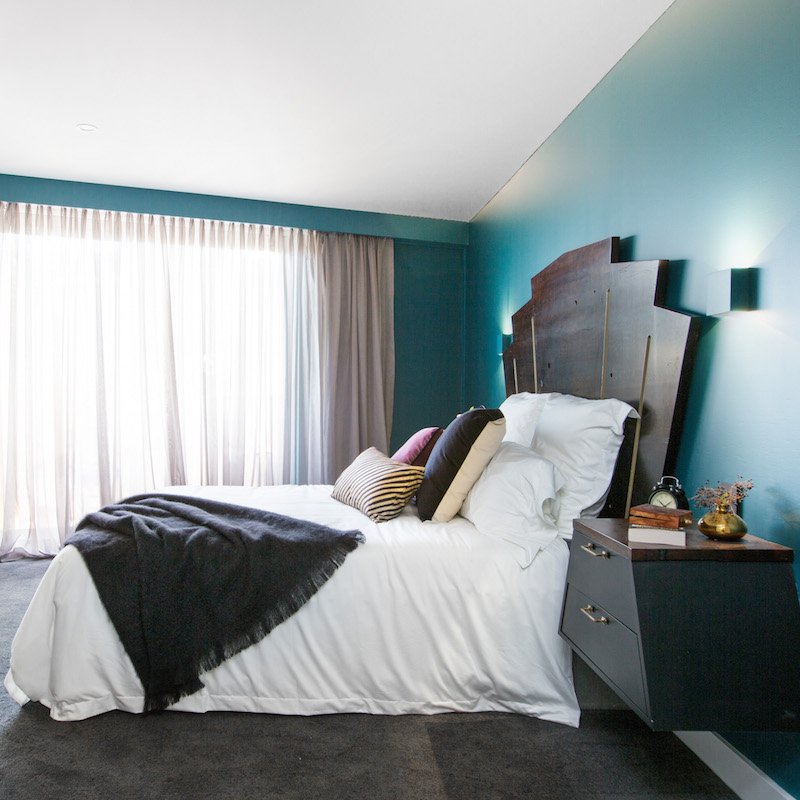 Neale said he hoped this would be the end of Art Deco and that they'd move on with something different. While all the judges liked the wall colour, they all felt the overall look was old-fashioned. Darren said it wasn't uplifting and didn't feel modern. Shaynna said even the floral arrangements felt morbid and funereal!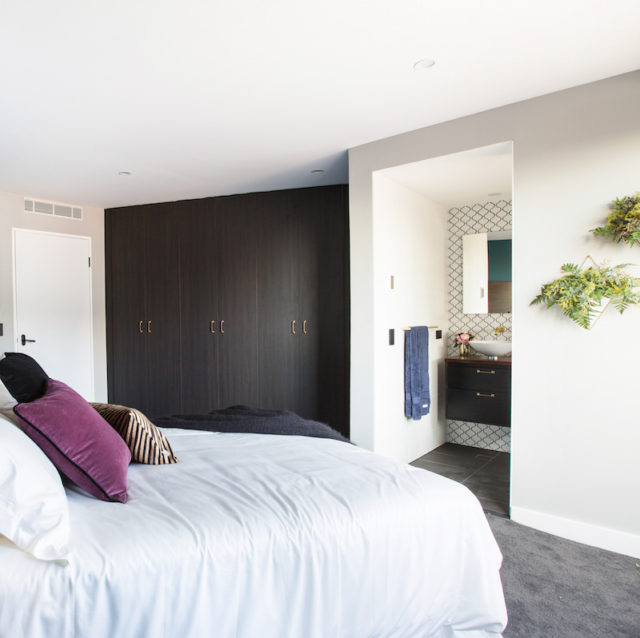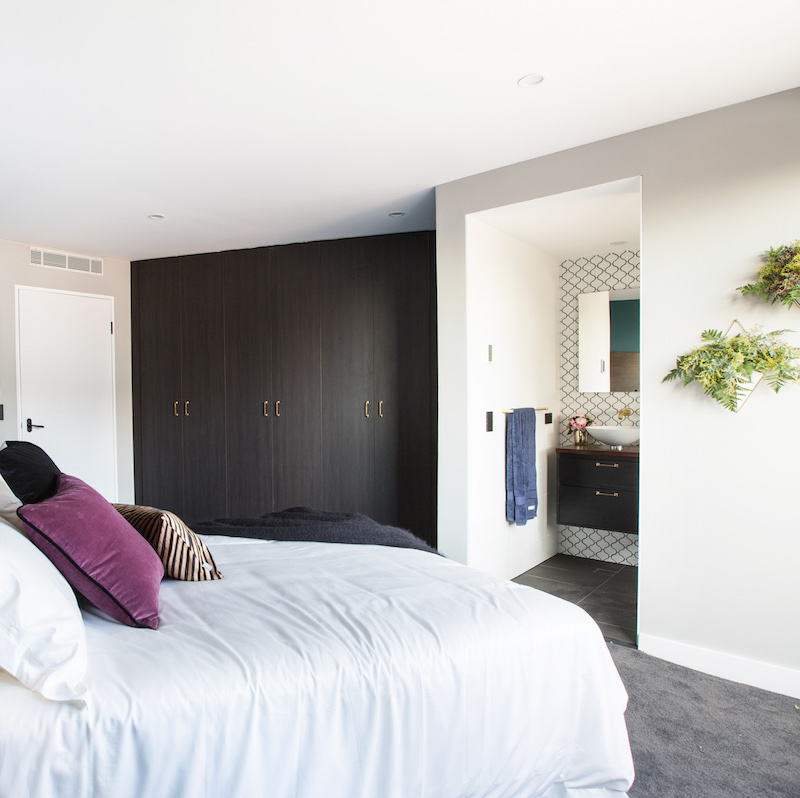 While the wardrobe scored points, the lack of a bathroom door did not! The judges felt the tile choice was dated and didn't speak to the decor in the bedroom at all. Shaynna really liked the tapware though (me too!).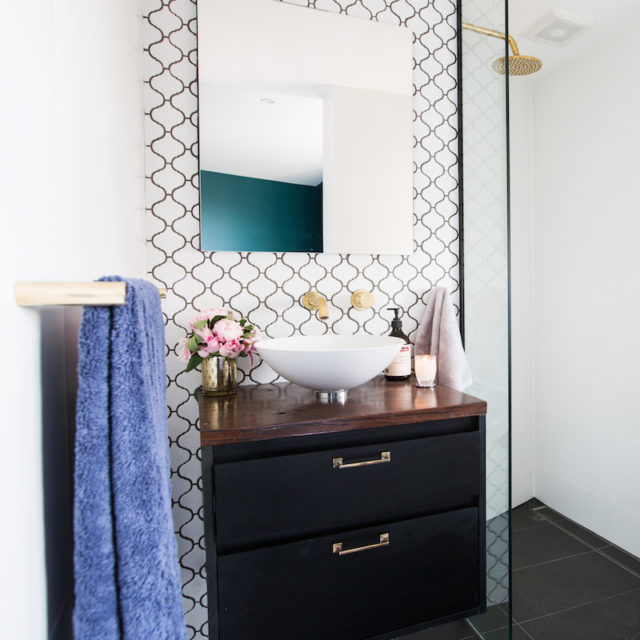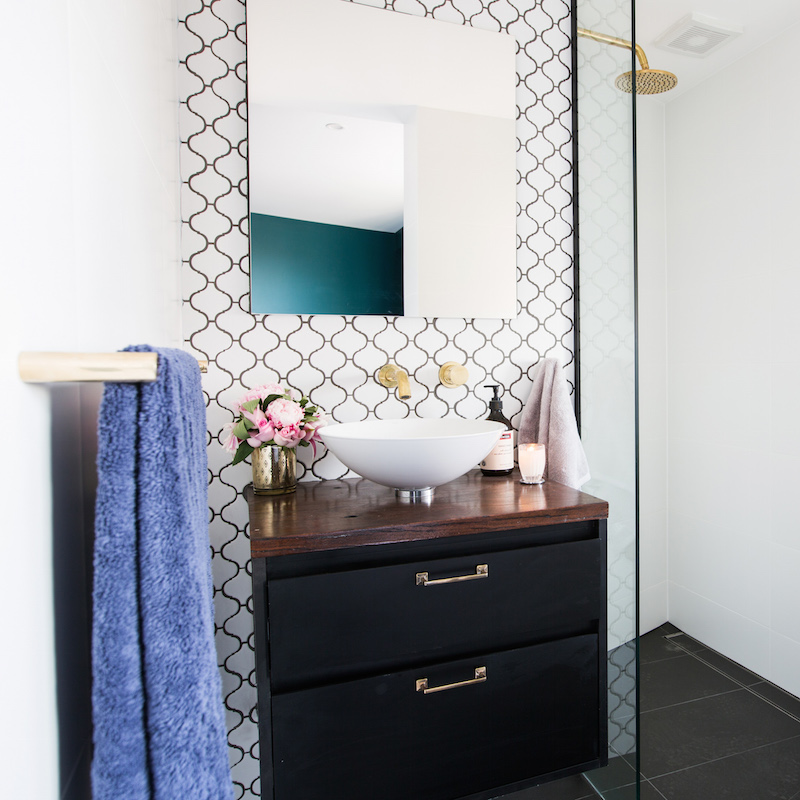 Our pick to buy: velvet plus cushion | Voyager candle | wall planters
***
Dean and Shay: third place
There were a lot of great elements to this room if you ask me. Although they didn't get it all right, I love how unique it was and the en suite was gorgeous!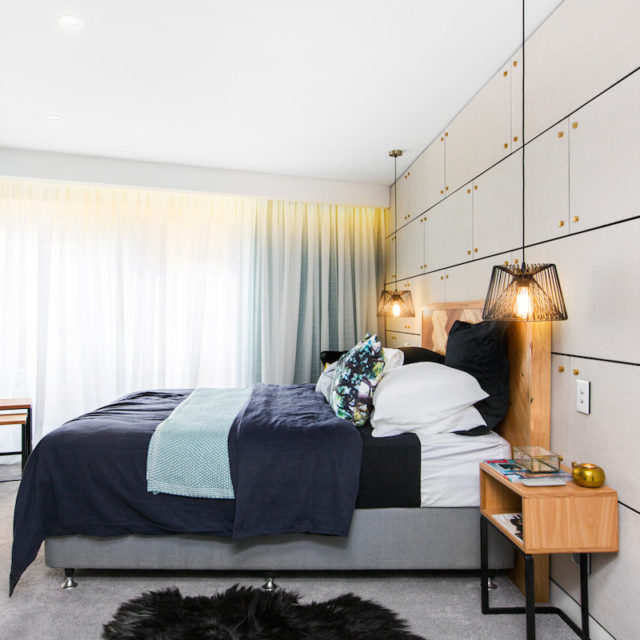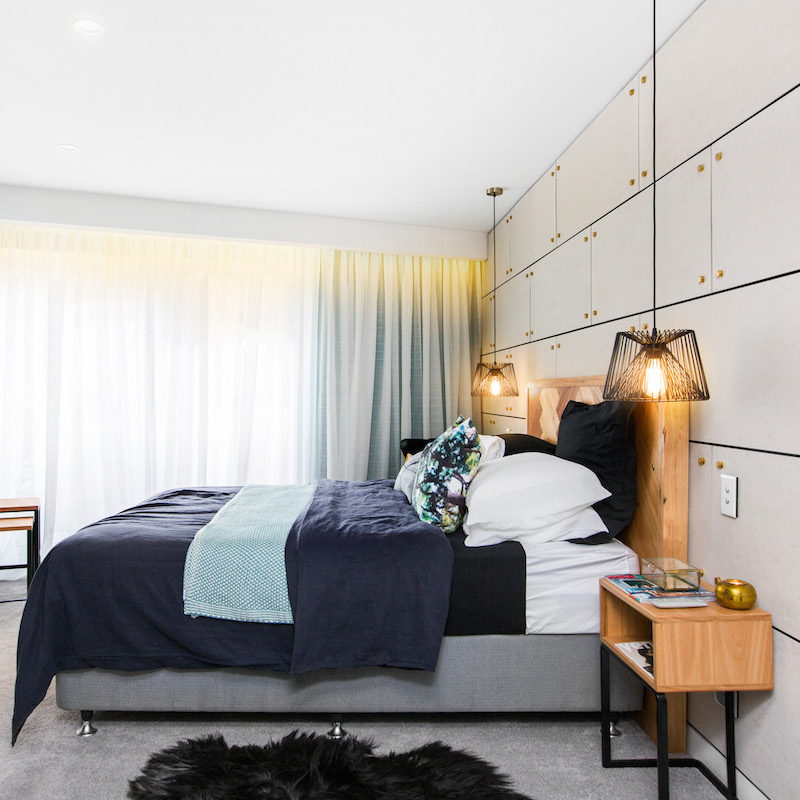 Neale said it was cool And Darren said it pushed the envelope and was doing something different. Shaynna loved the aesthetic, the palette, the chair and the ottoman. Neale really disliked the pendants and would rather have seen table lamps.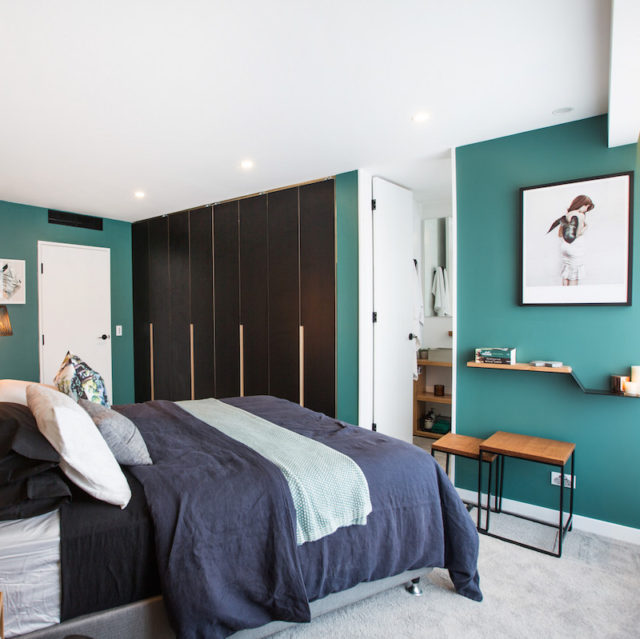 While the wardrobe doors worked a lot better than in the last bedroom, the solo hanging rail was slammed by Shaynna. But overall, the judges thought the room had the sophistication and maturity that was lacking last week.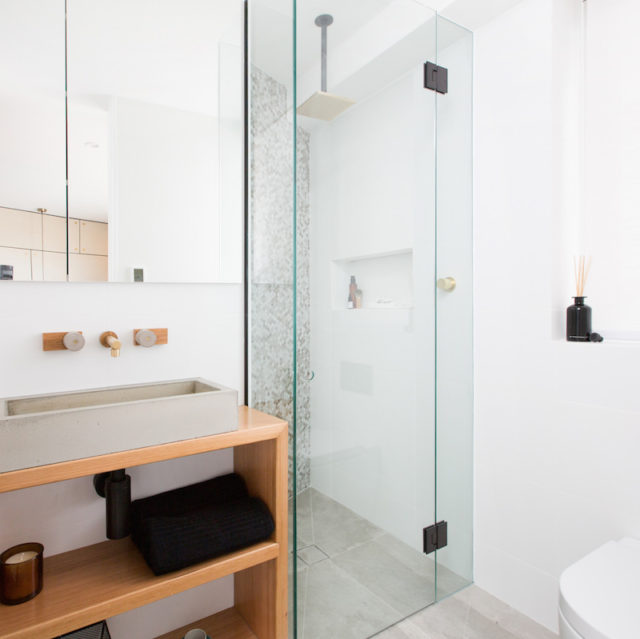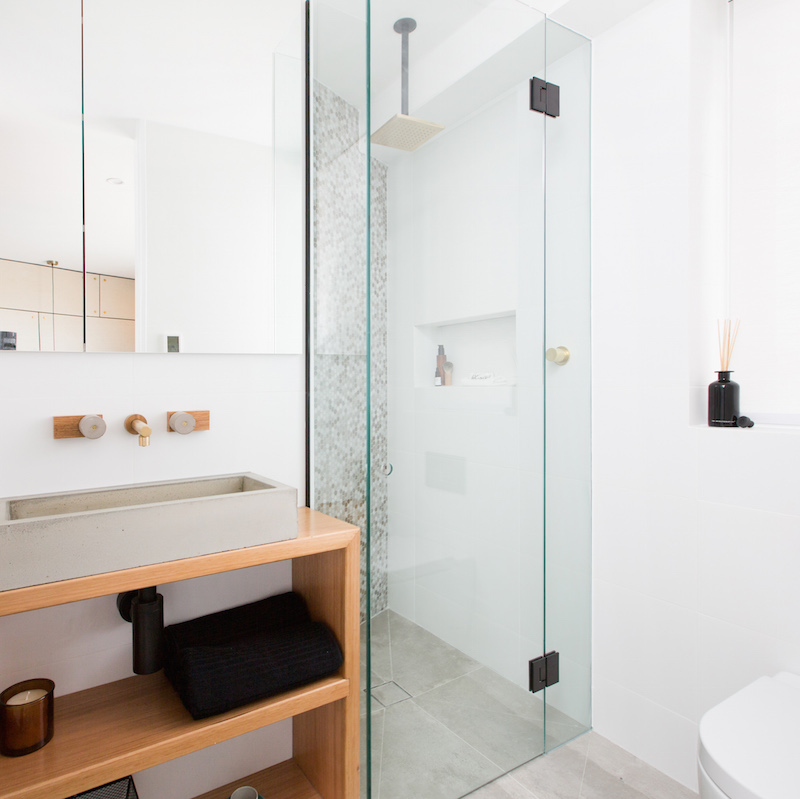 The en suite got plenty of praise and Neale said it would wow the buyer and was very memorable. "This is the penthouse apartment," he added.
Our pick to buy: duvet cover | concrete basin | copper display box
***
Next week, being dubbed the drama-rama week, is bound to be good viewing! And just when we thought they were all getting along so nicely, that burger comment! There's also three rooms to be finished: guest power room, laundry and study!
[contextly_sidebar id="oZmw9vbRiZUxotupEV0zZgoOBCovj2Dk"]