Well, I have to say, I was IMPRESSED by The Block contestants this week. Seriously impressed! There were high scores across the board and deservedly so! My personal favourite had to be Luke and Jasmin's with its curved wall and reeded glass, joint first place with Jimmy and Tam (after the latter used their golden gnome bonus point to tie). But they were all pretty fab, weren't they? And I love how different they were.
Joint second: Harry and Tash | 28.5/30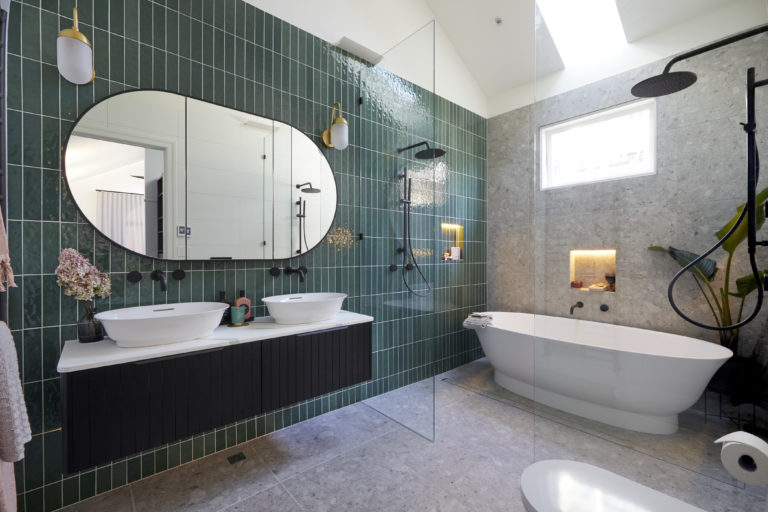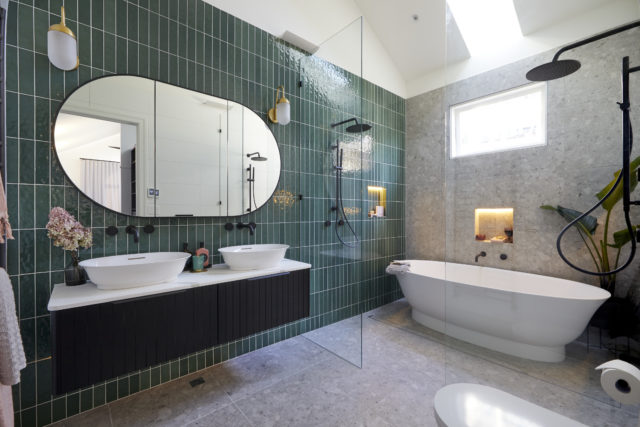 The tile choices were praised by the judges. They said the room was so much better and the opposite of their last bathroom, which was slammed.
Neale said it felt like a contemporary bathroom with definite references of the era. He said he wanted the basins for his own house! And Shaynna absolutely loved the bath, which couldn't be more appropriate for the era!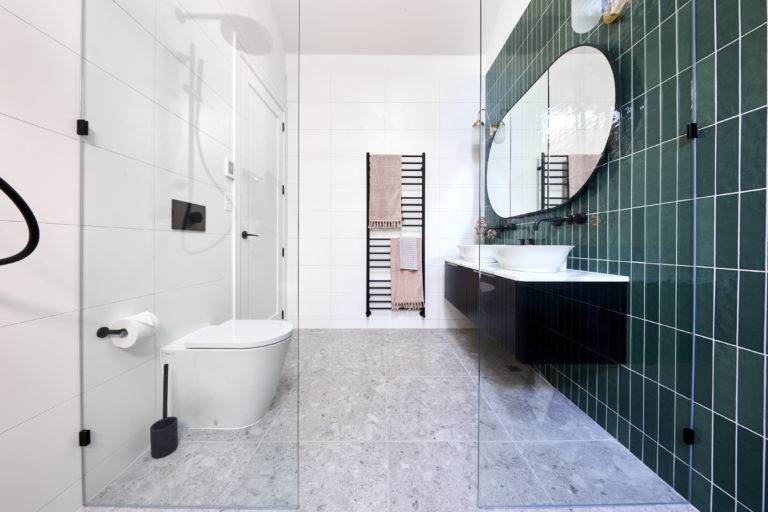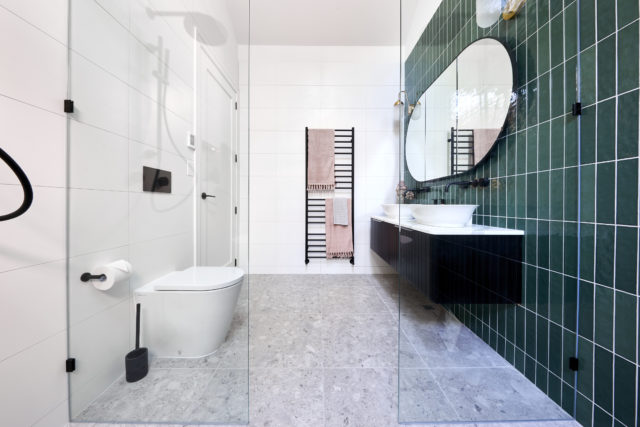 None of them liked the wall sconce right above the tiles. And of course Darren noticed the shower glass being too short again!
They said the styling was superb; pared back and simple.
Darren was so happy he did a little tap dance!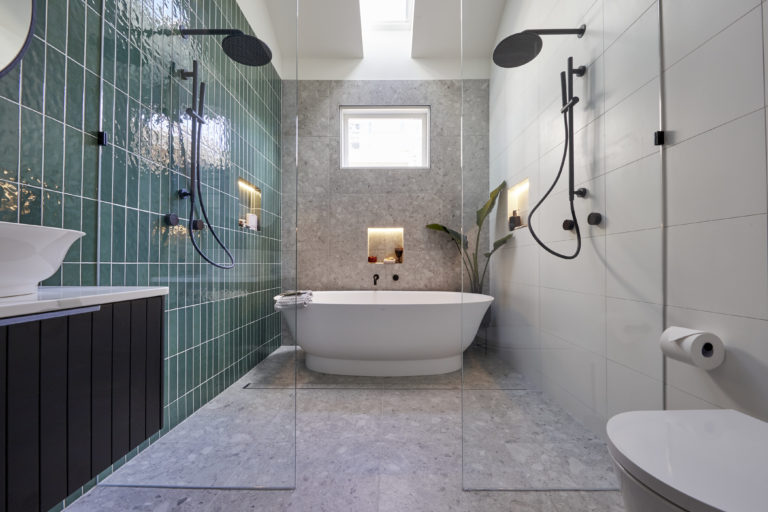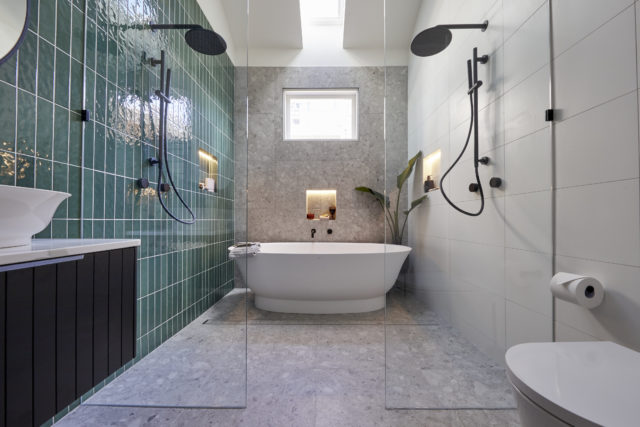 Our picks to buy: Triple mirror shaving cabinet | Leif handwash

Joint second: Sarah and George | 28.5/30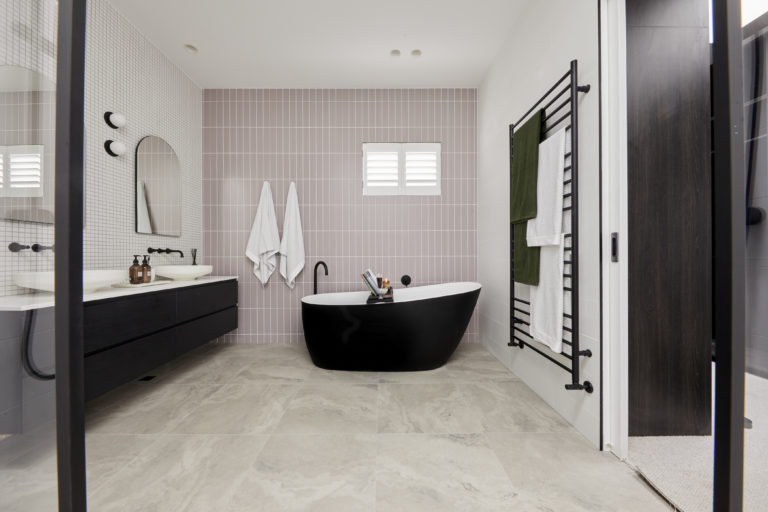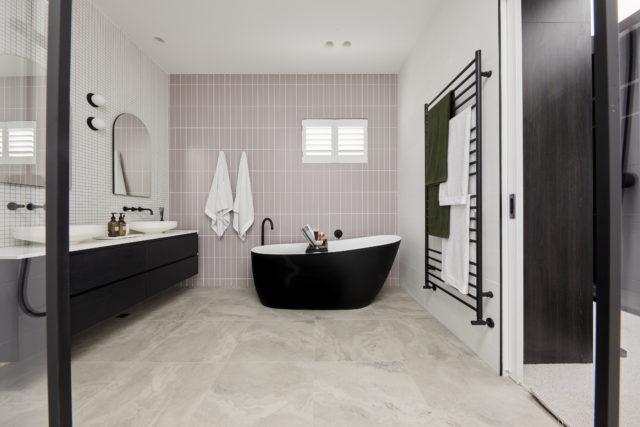 It was a tough week for the couple after Sarah's grandmother passed away. But with the help of their trades, they rallied together to deliver a beautiful and spacious bathroom.
Neale said: "Just when you think it couldn't get any better, wow!"
Darren said it was just as bloody good as nextdoor. "These tiles are so beautiful. It's really impactful and also really calming."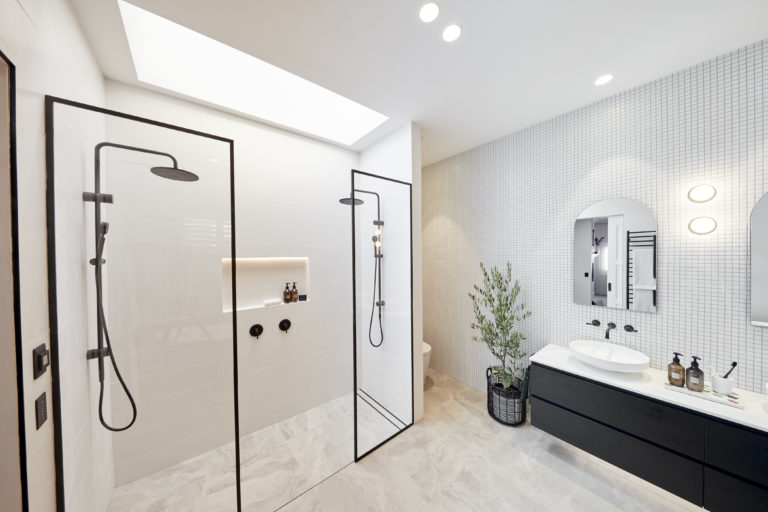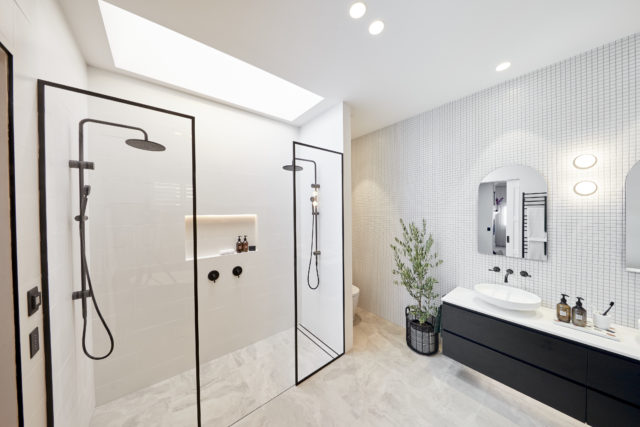 Shaynna said there were technically too many types of tiles but somehow it all blended beautifully. "When you're confident, know the rules and break them." She was worried the splash out from the shower could be too much though.
The judges struggled to find anything to fault. Neale said, after learning about their family tragedy on top of the pandemic, that it was incredible they had delivered what they had.
"I'd be proud if I owned this home; I'd be proud if I created this bathroom," said Darren. "This is exceptional."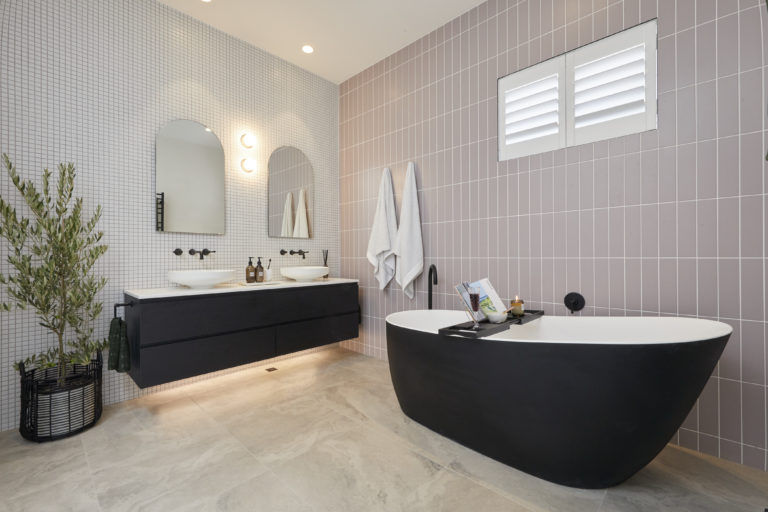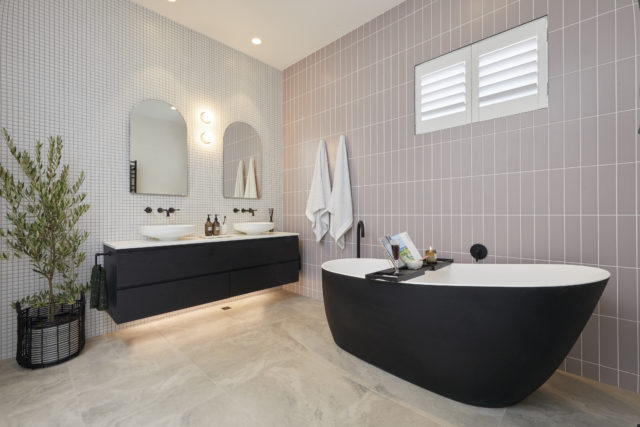 Our picks to buy: Matte black bath | Arch mirror cabinet
Last place: Daniel and Jade | 28/30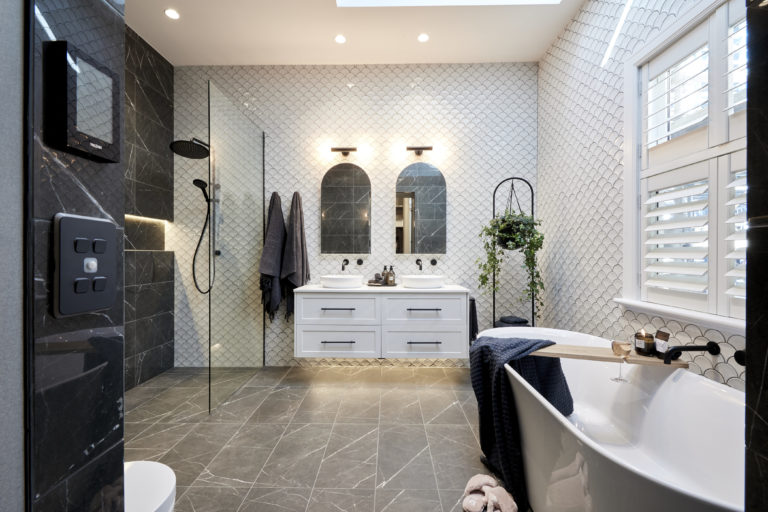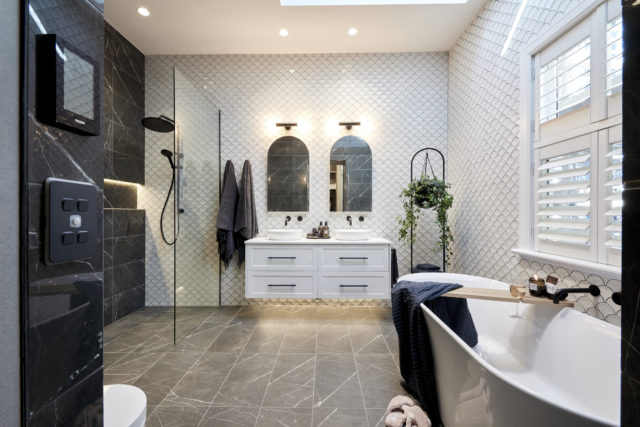 Fish scale tiles on not one but three walls! It was a brave move.
Darren loved the entrance through the wardrobe into the en suite. Neale said the fish scale tiles were beautiful. "I never thought I'd see as much of it and love it!" Darren said they made perfect sense.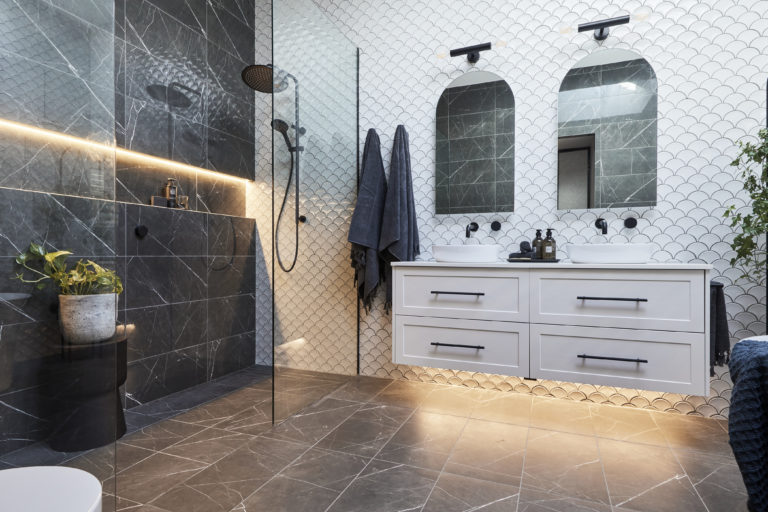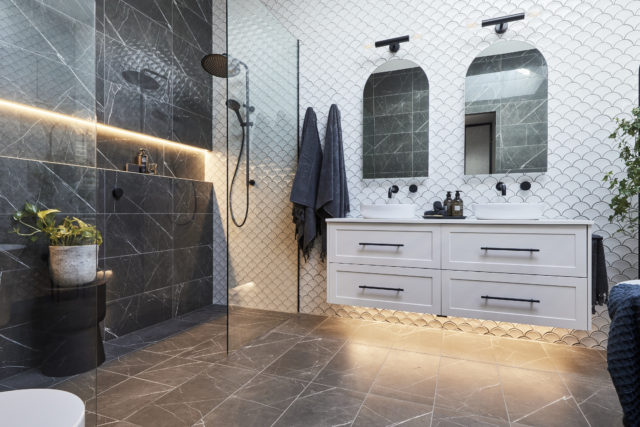 Shaynna loved the layout and the drainage. And she loved the subtle curves, such as the bath, contrasting the hard lines.
Darren thought the vanity could have been a lot bigger.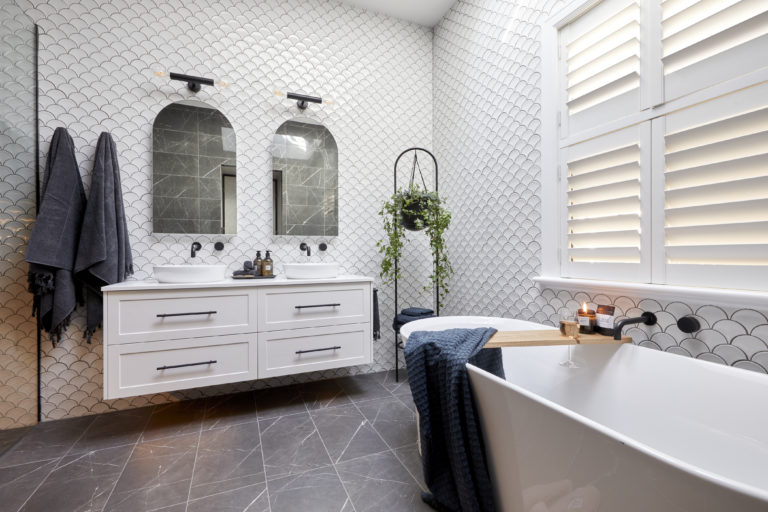 But the tiling was exceptional, and the paintwork was excellent, there was no sense of hurry and it was another fantastic bathroom.
Our pick to buy: Bath caddy
Joint first: Luke and Jasmin | 29/30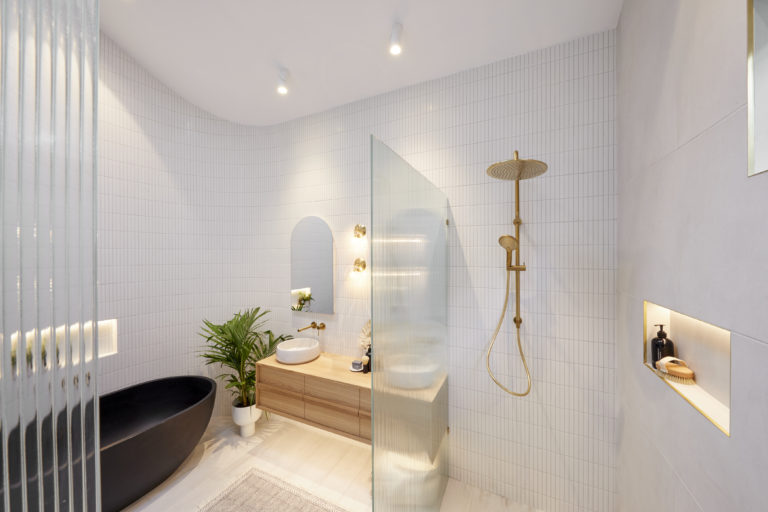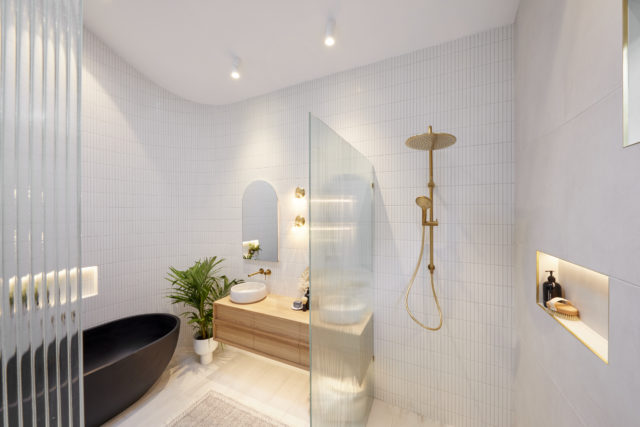 That curved wall! Oh my! This was my favourite, even though it was hard to pick this week.
Shaynna and Darren both said "What?!" as they walked in. In a good way! Neale followed it up with "Wow!"
"It's so elegant, I'm just blown away how beautiful it is," said Darren.
"I would not have expected a black bath but I love it," said Shaynna. Darren said it was the one contrast point that was needed.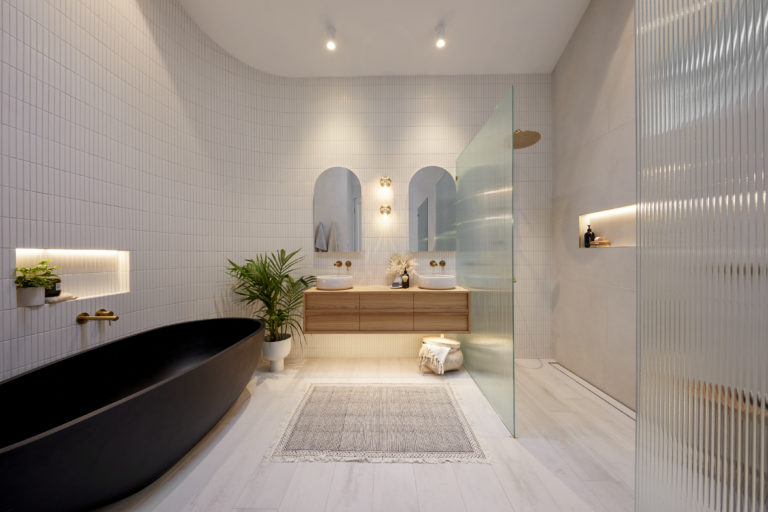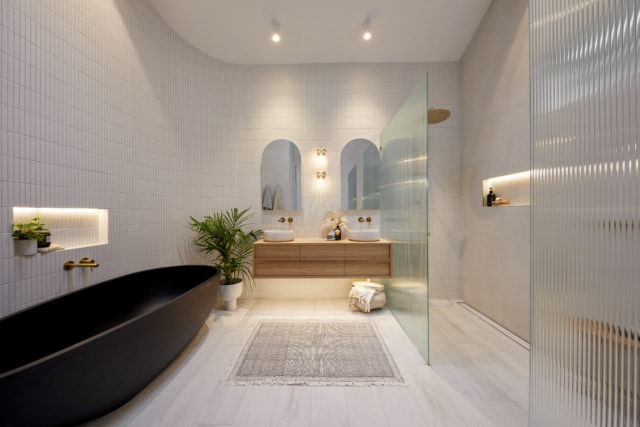 Neale said it was exceptional. "They have give us a very, very modern bathroom but remained faithful to those period cues." He rightly pointed out that one of the vanities was much too close to the shower screen though. And the toilet roll holder was not well placed either.
Minor faults in an otherwise perfect bathroom.
Darren said the execution and craftsmanship was amazing. "They've taken a big risk but it has paid off."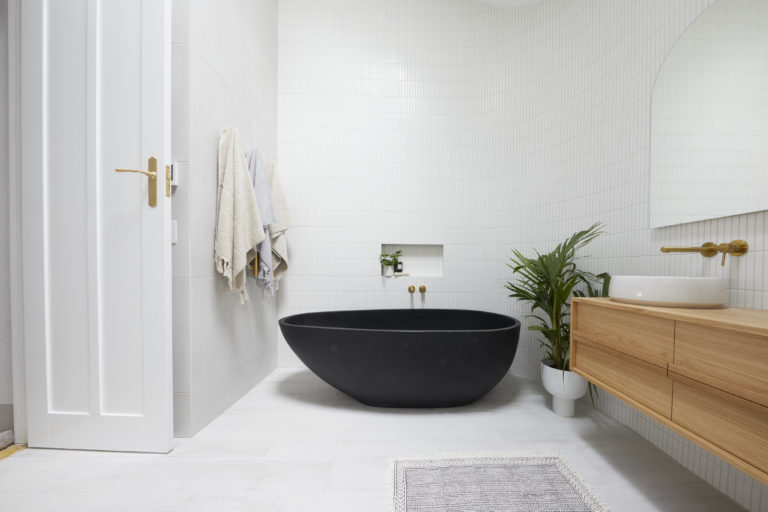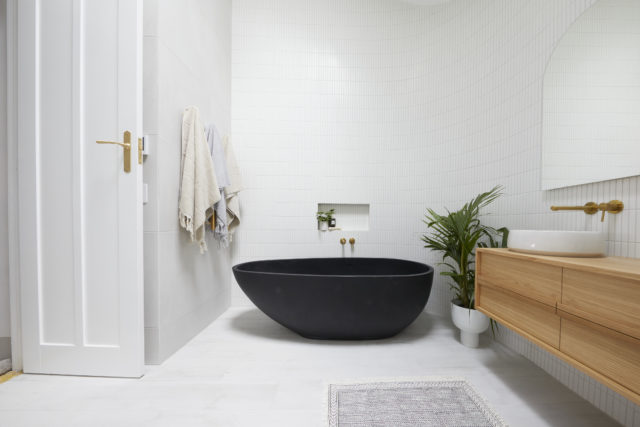 Our picks to buy: Matte black stone bath | Robert Gordon basin

Joint first: Jimmy and Tam | 28 +1 with gnome = 29/30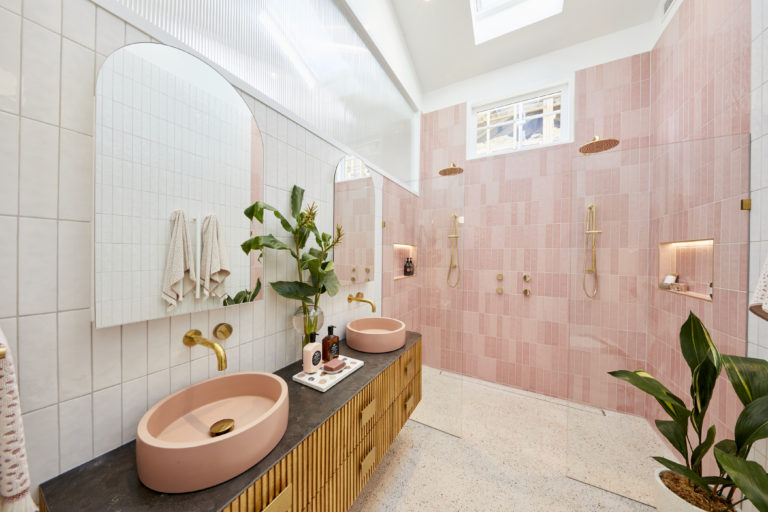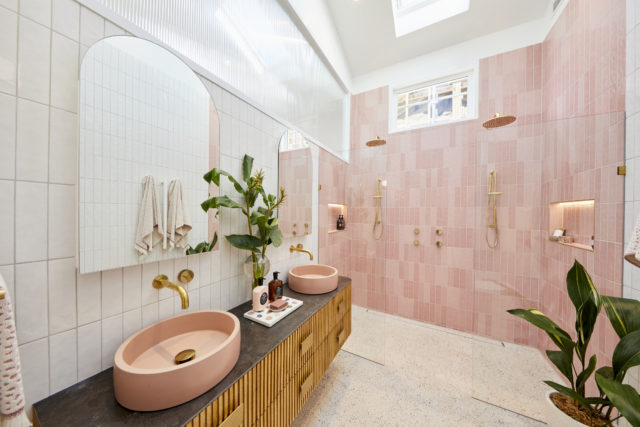 Darren noticed it didn't have a bath tub because it was smaller. But Shaynna said she preferred a bigger walk-in robe. They'd need to ensure they had a bath in their next bathroom though.
Shaynna said the colour palette was divine. Darren said it was a clever move to match the vanity to the bed and bedside tables. "They're interesting tiles but they're not expensive. It's clever."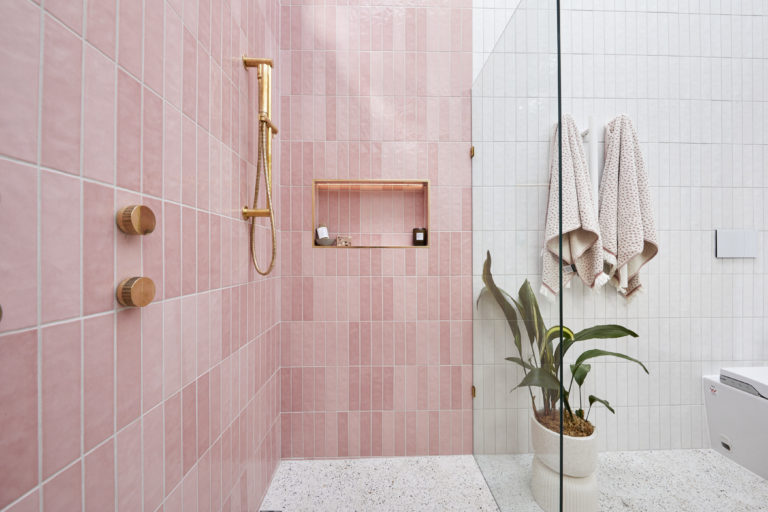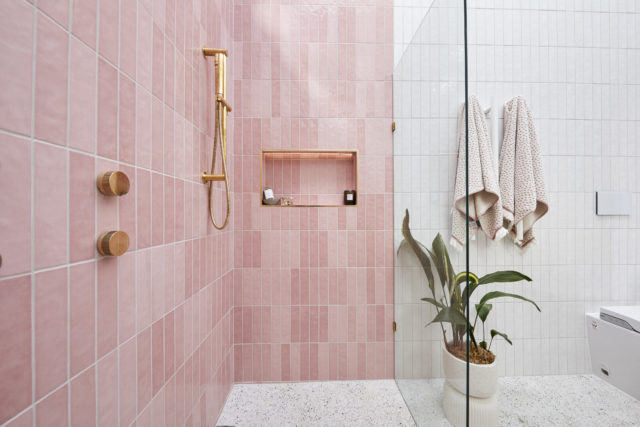 Neale said the sconces were a little disappointing. And Shaynna said the lighting wasn't functional at all. But that aside, the bathroom was great.
"Jimmy and Tam know exactly how to build a space that makes your heart sing; makes you happy," Shaynna said.
Neale said the woman in the Slim Aarons print would be very happy in this bathroom.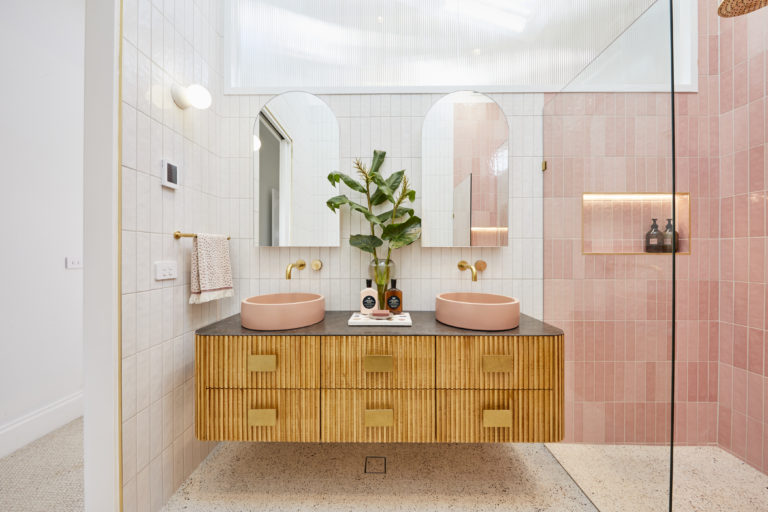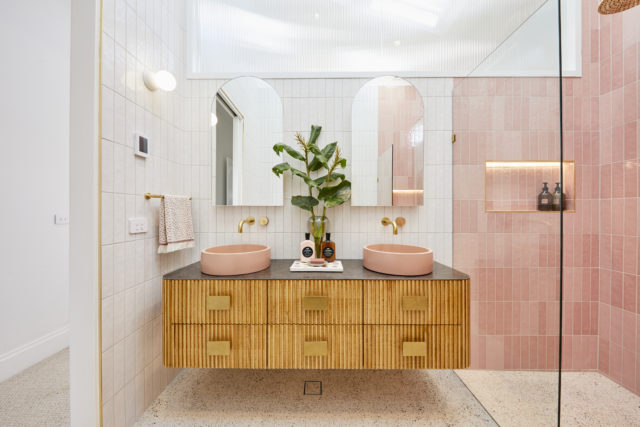 Our picks to buy: Pink concrete basins
Overall, the judges said they felt privileged to have been at The Block that day. "I can't remember seeing five such consistent bathrooms this early on in the compeitition," Neale said. They agreed it was remarkable, especially considering the world was going into lockdown around them and they were away from their families.
Next week: a bedroom and a bathroom!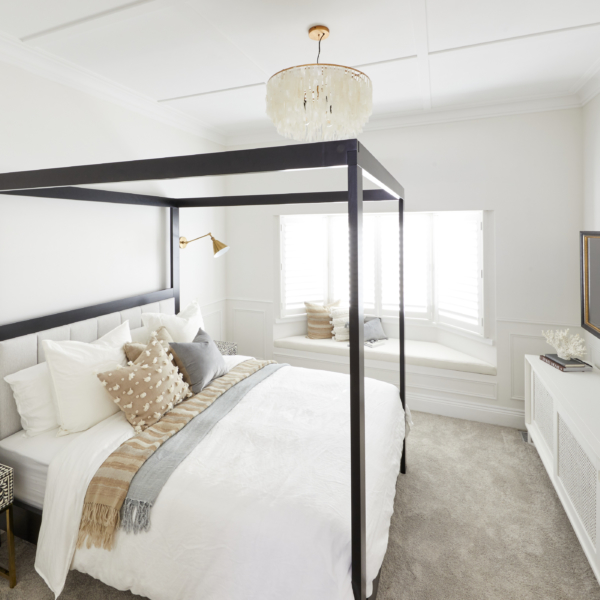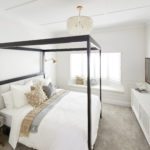 The Block 2020 master bedroom reveals
Let's recap who scored what, the judges' comments and our picks to buy. Winner: Harry & Tash | 25.5/30 The father and daughter duo really needed their first win, especially…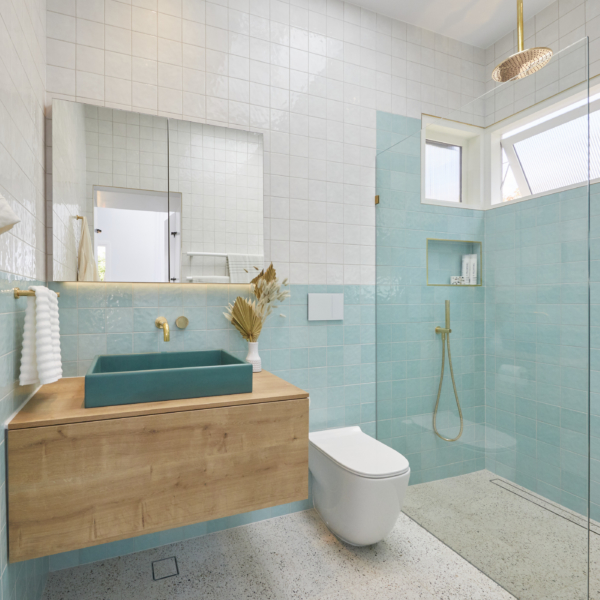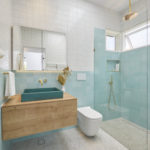 The Block 2020 guest en suite reveals
Jimmy and Tam won for the second week in a row last night. Impressive stuff! And I have to agree their 1950s bathroom (below) was the best. Let's recap what…