By Cherie Barber
Last month, I highlighted two bathrooms I'd renovated for prices that probably drew disbelief from some who might have forked out treble the amount for half the impact. Those two case studies hopefully did demonstrate what highly targeted cosmetic renovating is all about.
This month, I'm shifting the focus to kitchens. The trick, as always, is to zoom in on the obvious flaws, without delving into expensive and largely invisible or unnecessary updates. For example, updating things like old tapware, handles, lighting and power point covers are cheap fixes compared with moving your sink from one end of the kitchen to the other.

If your kitchen layout is perfectly okay, then don't mess with it, short of maybe adding a few additional cupboards or shelves, which won't require plumbing or electrical trades – that always bumps up the price.
Saving graces
If you really do need to install a new kitchen, there are a couple of cost savings worth considering. While I'd consider it design suicide to try and install your own flatpack kitchen and get it looking professional (hire a carpenter or installer for this), there's no reason why any handy DIYer can't assemble the cupboards themselves. If you've successfully pulled off an IKEA brain teaser, then you should be fine with this assembly task.
And if you've decided to project manage the kitchen renovation yourself, be sure you're across the all-important "order of works", which dictates which trades are needed for what stage of the renovation (eg, carpenter, sparkie, plumber, tiler, benchtop installer, etc); otherwise you'll either be waiting on trades that aren't available or paying for endless callouts when a couple would have covered it.
A couple of useful free tools are:
Here are two kitchens I've done that highlight what you can be achieved on tiny budgets if all they need is a few decades stripped away.
The $2300 kitchen
Paint existing kitchen cabinets and rangehood with specialty paints

Paint benchtops, tinted to Taubmans "Viking Gray", finishing with White Knight Bench Top Clear

Install new feature tiles for splashback

Remove old oven and reformat the space to incorporate microwave

Install Gerflor feature panels on underside of the breakfast bar

Install feature light over breakfast bar

Install new slimline venetian blinds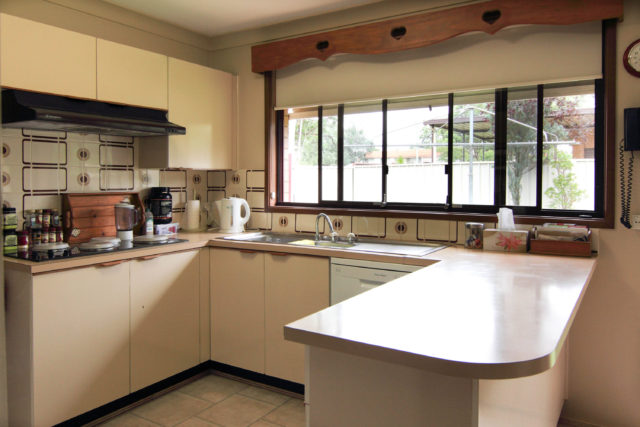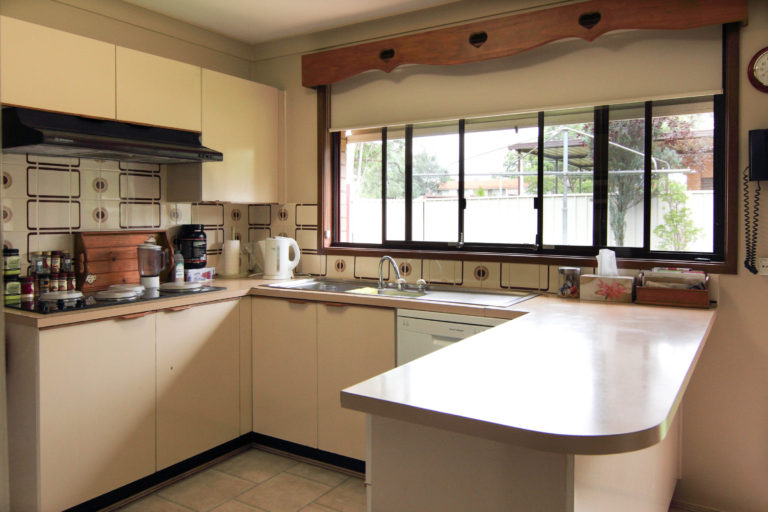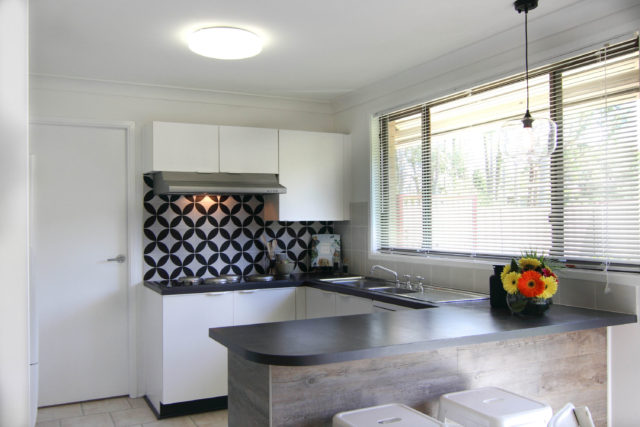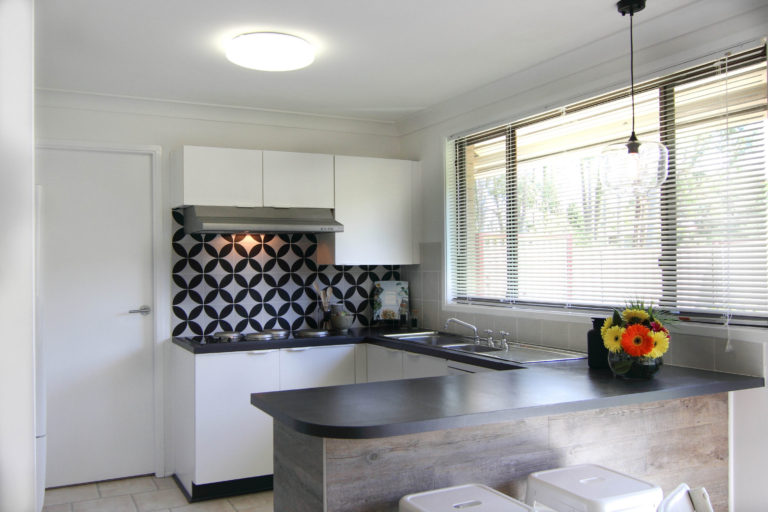 The $4000 kitchen
Reshuffle existing kitchen cabinetry for a more functional layout

Add corner shelving

Create a new large pantry (not pictured)

Install new benchtop in missing sections

Replace handles

Install new kitchen appliances

Install new splashback wallpaper

Install glass panel over wallpaper

Install white tiles around window

Repaint existing kitchen cabinets

Resurface benchtops using Rust-Oleum Benchtop Transformations Kit 

Install micro venetian blind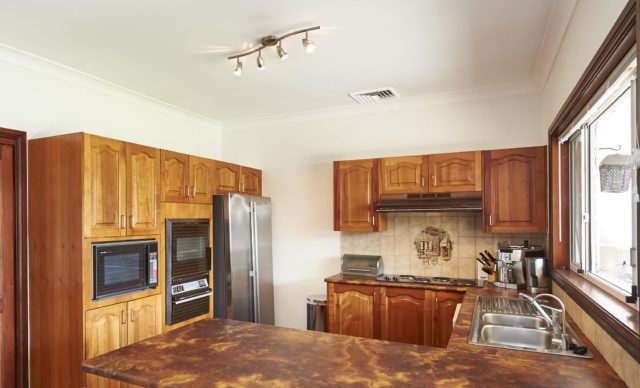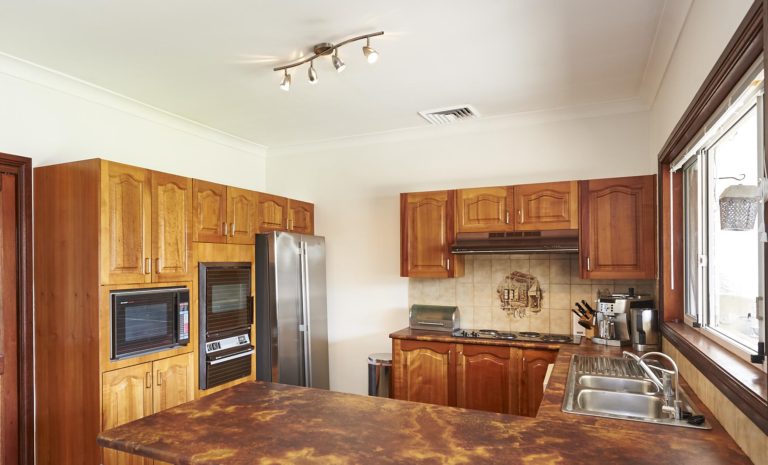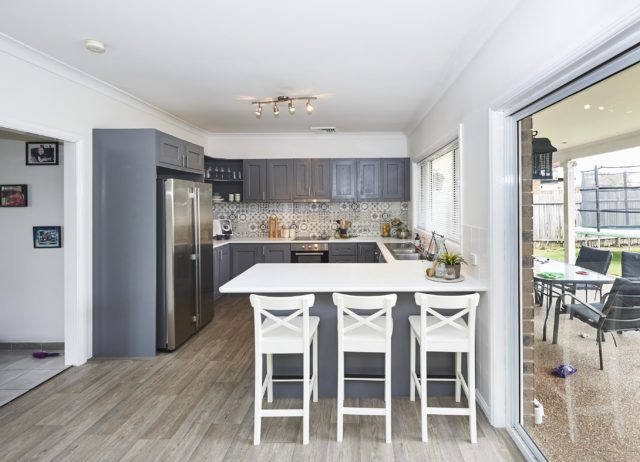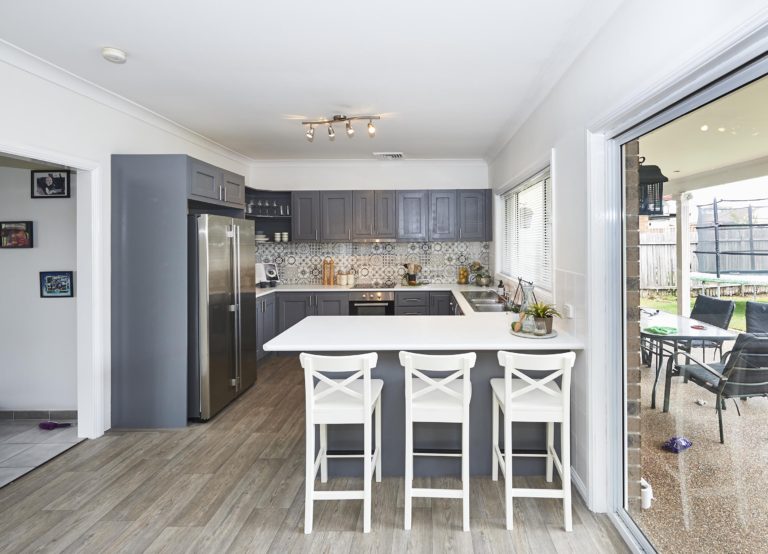 Cherie Barber is the director of Renovating for Profit, a company that teaches everyday people how to buy and renovate properties for a profit.