If there's a cleaning product you want to take care with, other than what you lather on your actual body, it's the laundry stuff you clean your clothes with! Thankfully, there's a whole host of Australian brands offering eco-friendly, low tox alternatives to the more chemical-laden ones. Not only that, they often smell amazing, look good on your shelf and come in recycled or recyclable (or even better, both) packaging. Good for your skin, your clothes and the planet: what's not to like?
Koala Eco's Natural Laundry Wash comes in two delicious fragrances: Mandarin & Peppermint Essential Oil (currently in use at my house and it's divine!) and Lemon Scented Eucalyptus & Rosemary Essential Oil. This biodegradable and eco-friendly plant-based formula effortlessly delivers a thorough and effective wash without the use of harsh chemicals, and is safe for sensitive skin. There's also a Laundry Delicate Wash containing the essential oil from one of nature's most potent antibacterial and antifungal botanicals: the Australian bush lavender, rosalina.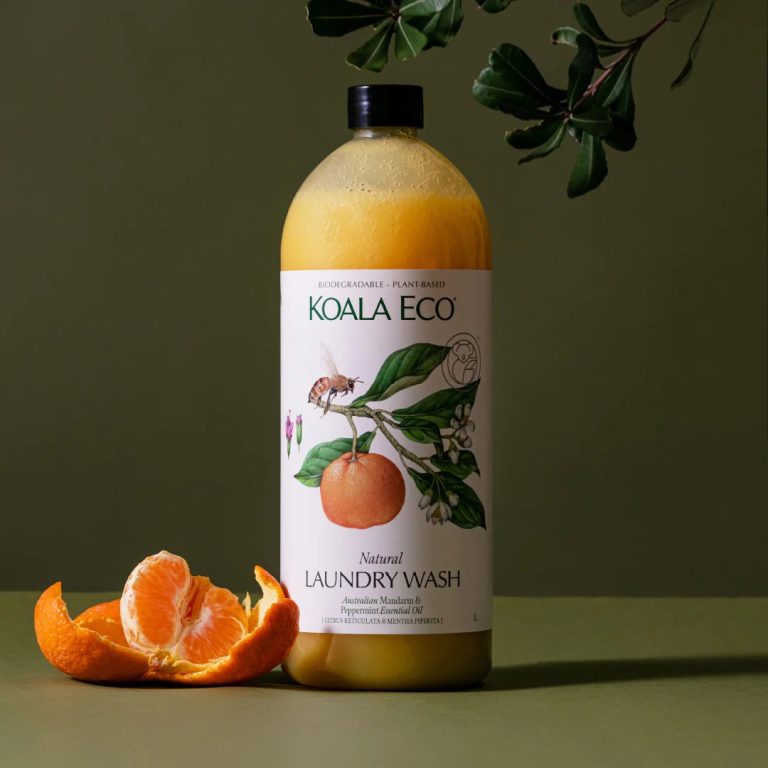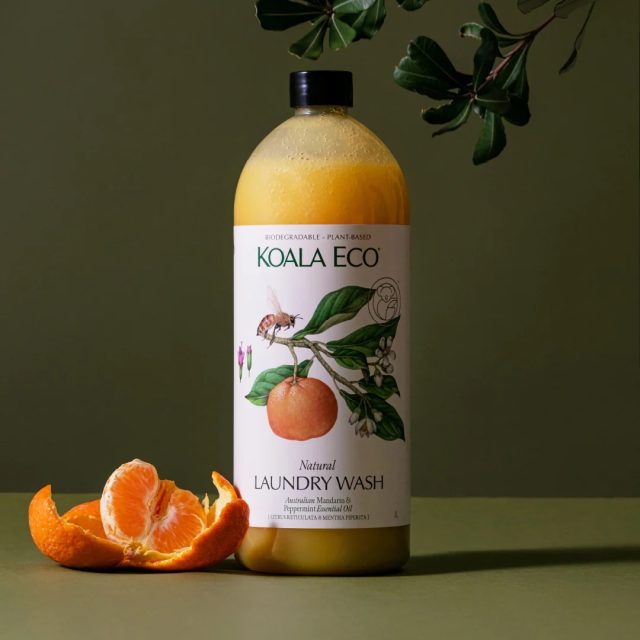 From $17.95 but save 30% if you subscribe for regular deliveries. Larger refill bottles also available.
Hudstone Regular is a 100% pure washing powder containing no additives, bulkers or fillers. It is a delicate yet powerful concentrated laundry powder made in Australia and featuring a blend of premium ingredients including oxygen bleach, enzymes and softeners. Can be used in conjunction with Hudstone's All Purpose Spray and Pre-Soaker to treat extra stubborn stains. 100% Grey water/septic safe, fragrance free, contains no essential oils and is safe for you and the environment. Plus, the packaging is compostable!
From $41.99 and also available in a sensitive skin version.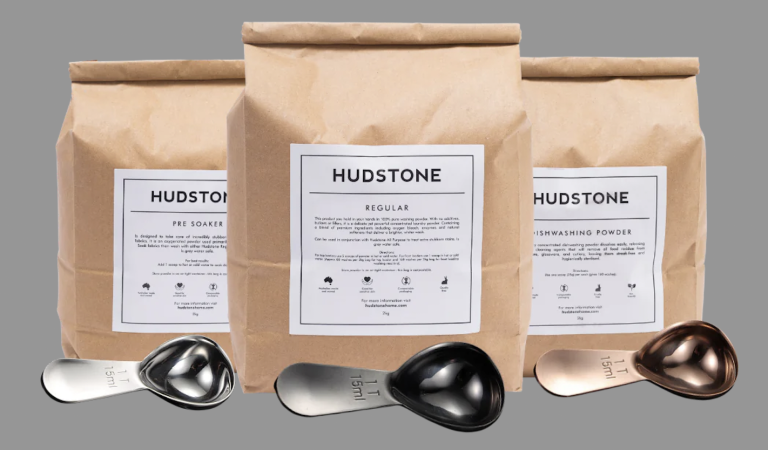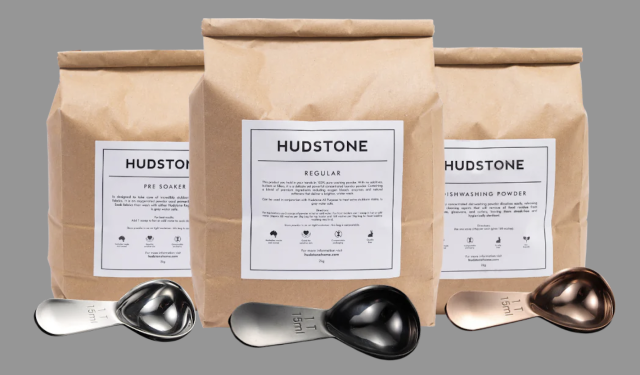 The Dirt Company Laundry Detergent is an 8x eco concentrate formulated with 100% pure and powerful plant-based and biodegradable ingredients, and suitable for all your general laundry needs. Their laundry detergent starter pack is the perfect place to dip your toes, and clothes, into the water. The dispenser bottle is made from glass and drop protected with BPA free silicone bumpers. It has a handy dose-measuring pump to make life easy. And it comes full. The bottle is accompanied by a refill pack, made from a minimum 30% post industrial recycled waste. You can return it to them (for free!) so you're a step closer to a zero waste laundry. There's a wool & delicates wash too.
From $21.95 with the ability to set up a subscription.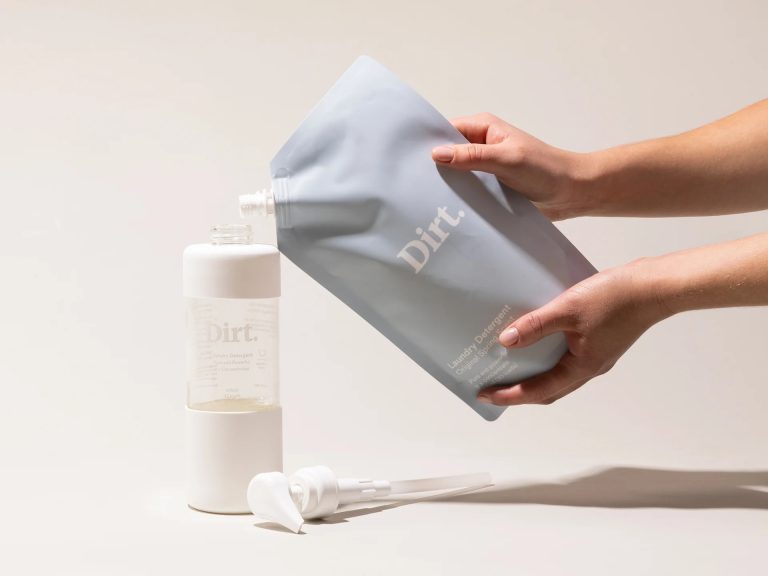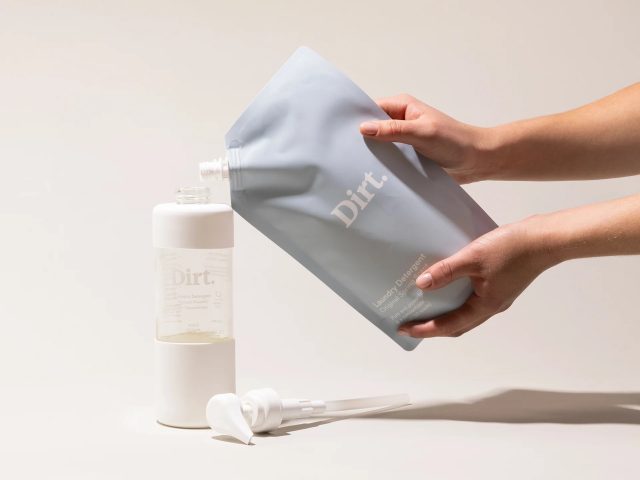 Munch Laundry Soap is a solid laundry bar. Perfect for rubbing on stains, soaking, handwashing delicates, baby clothes or toys, or to take away when travelling. It is also perfect for cleaning reusable nappies. Say goodbye to stubborn stains and wash your delicates the good old fashioned way with this natural laundry soap bar! As if Pacific coconut oil wasn't talented enough already, turns out it's also a secret stain-removing ninja. Rub this bar up into a lather to treat your delicates to a delightful hand-wash – or for especially tricky stains, rub straight onto wet fabric.
Made in New Zealand and costs just $9 in unscented, coconut or lemongrass.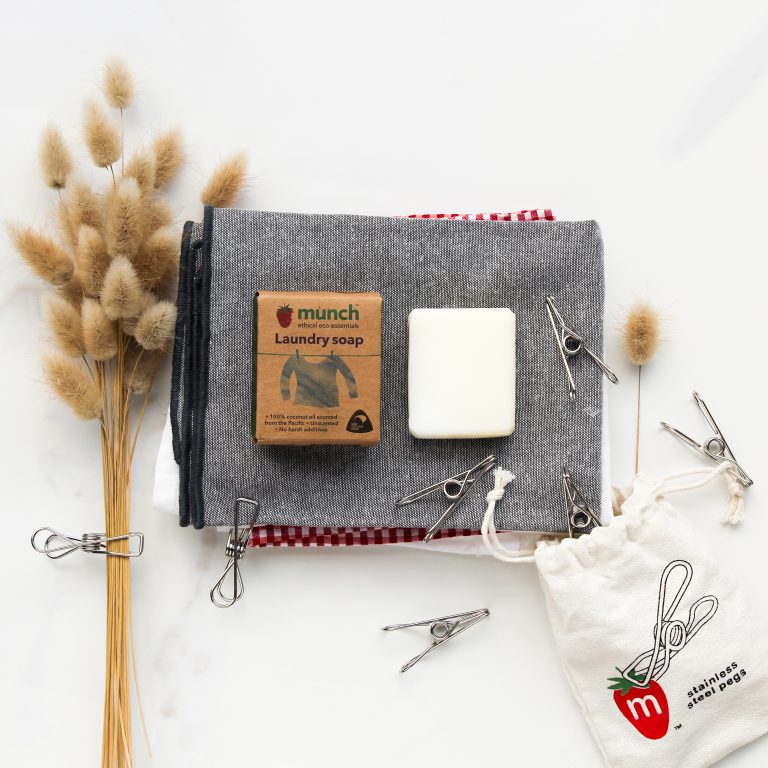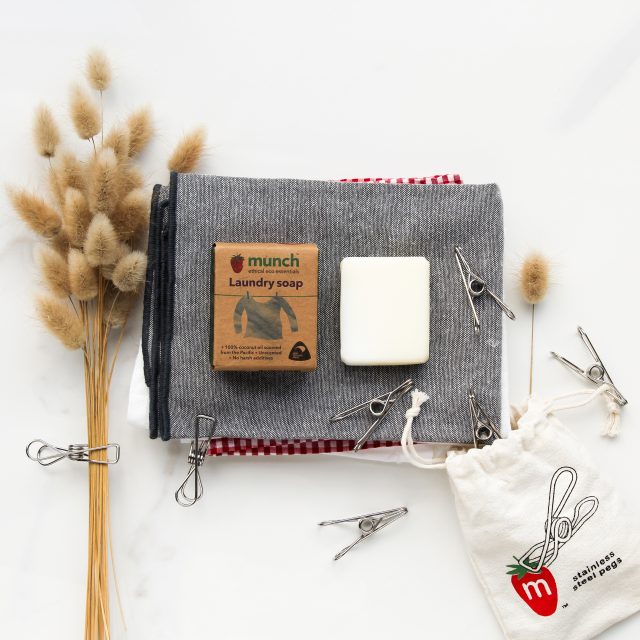 Tirtyl Laundry Detergent Sheets (yes, sheets!) claim to be the most concentrated laundry, ever! Their laundry sheets are the zero mess, zero waste way to wash your clothes. 1 sheet = 1 load (equivalent to 50g of powder or liquids). Dissolves in your hot or cold wash in seconds. Suitable for use in all machines and hand washing. 100% compostable and recyclable packaging. Think of the space you'll save too!
$34 for a storage tin and 60 sheets then from $12 for a 30 sheet refill pack.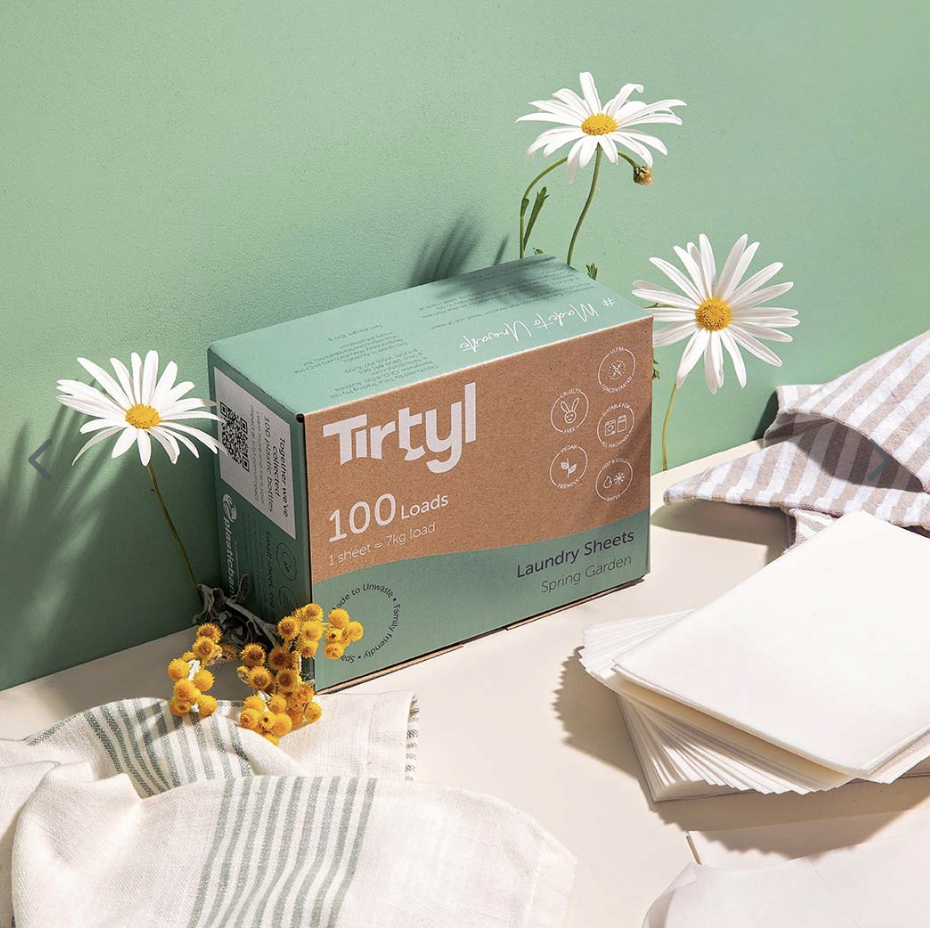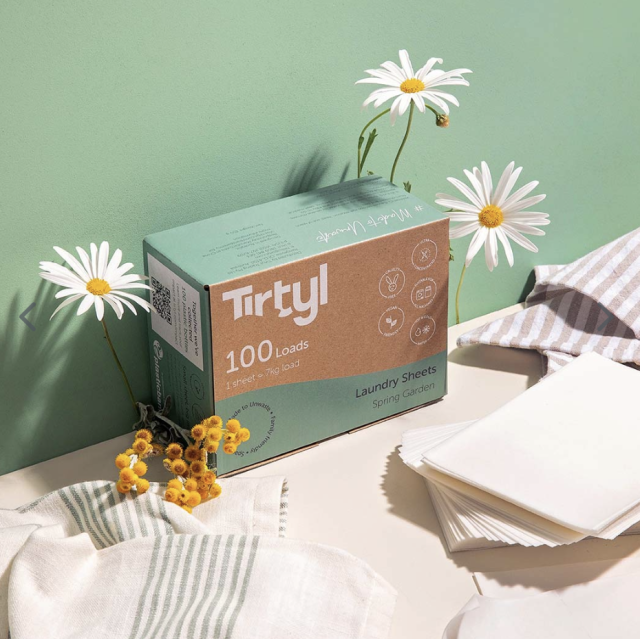 Domenica Formulations Laundry Liquid is a luxurious and amazing smelling blend for all fabric types. Scientifically blended with natural active ingredients enriched with stain and odour removing enzymes and conditioners, leaving laundry sanitised, softened and gently scented. Made in Australia with notes of sandalwood, cedar, amber, leather and violet flowers.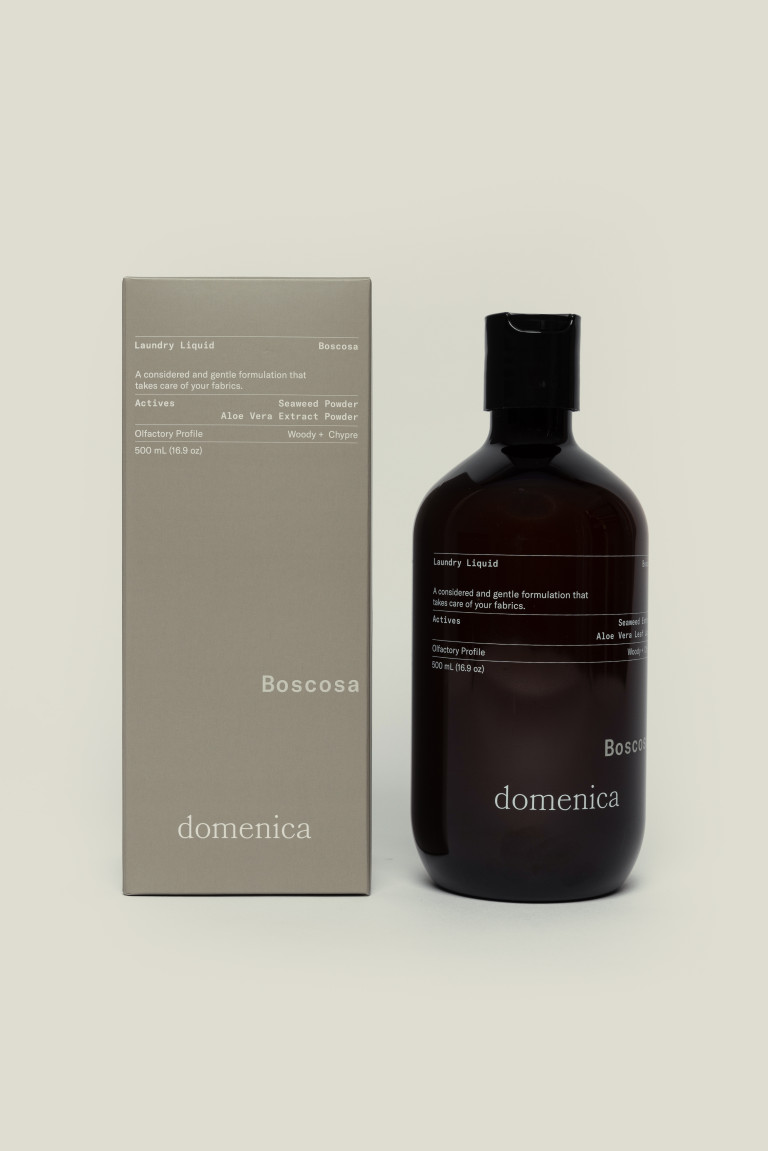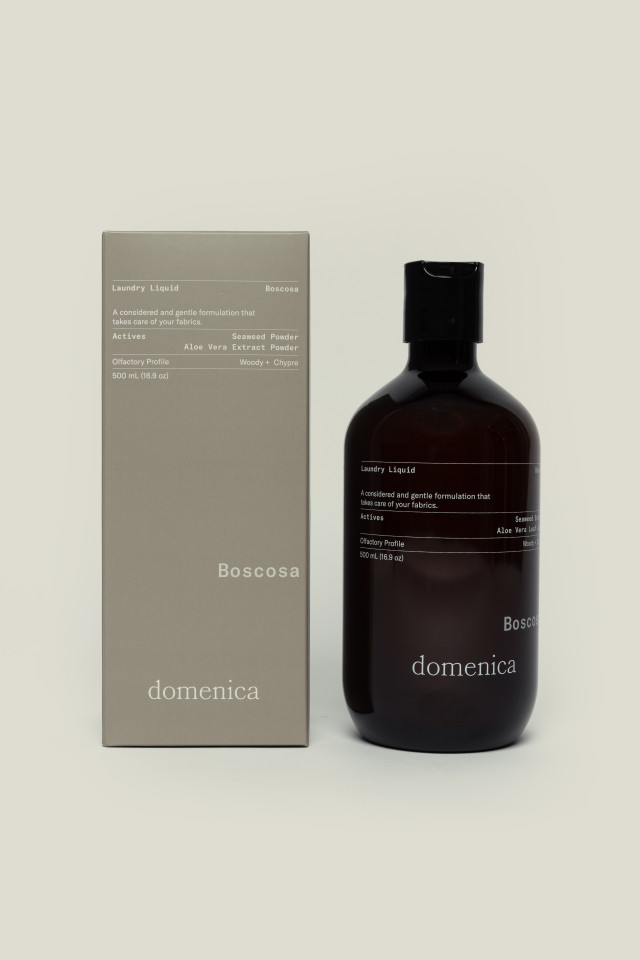 Cruelty free, gentle and non-toxic, free from parabens, artificial colours or dyes. $45.
Zero Co Laundry Liquid is all about getting rid of single use plastic, and making that easier, as well as providing an environmentally friendly and effective product. It looks and smells good too! Your first Zero Co order will arrive at your door including a set of empty forever bottles along with colour-matching refill pouches and a postage-paid return mailer. Simply empty the contents of the refill pouches into the forever bottles and wave bye-bye to SUP (single-use-plastic) for the rest of your life. Pop the empty refill pouches into the mailer and send them back for free. They then clean, refill and reuse the pouches.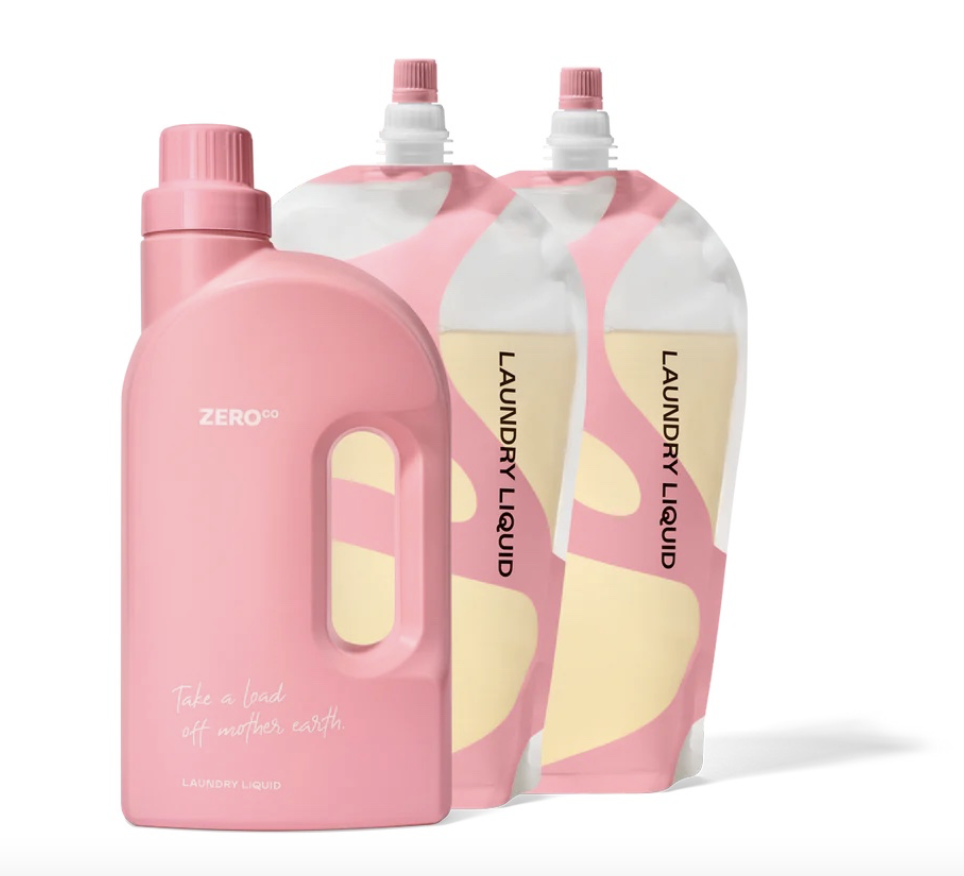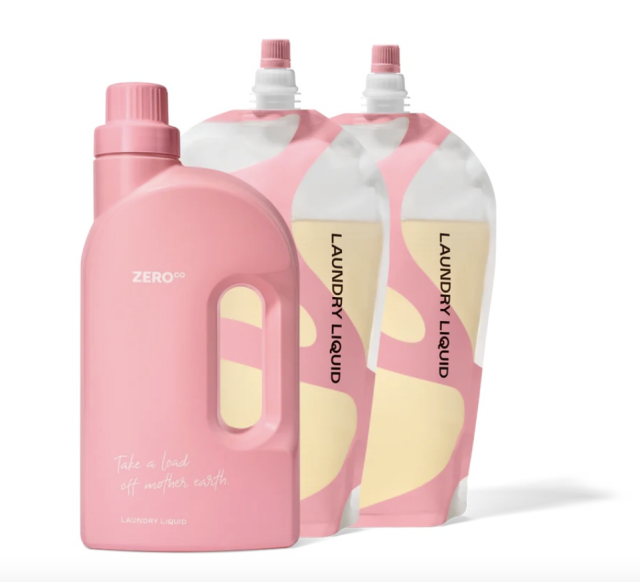 $42 for a starter pack including Forever Bottle and Refill. 10% discount when you set up a subscription.
Nontre's Laundry Liquid Concentrate is gentle on fabrics yet tough on stains, and lasts up to 64 washes per 1 litre bottle! The concentrated formula leaves behind the fresh aroma of Rose and exotic White Blossom. Suitable for top and front loading machines and effective in cold and warm water, this concentrated liquid cleans your whites and colours. Its plant derived ingredients are grey water safe.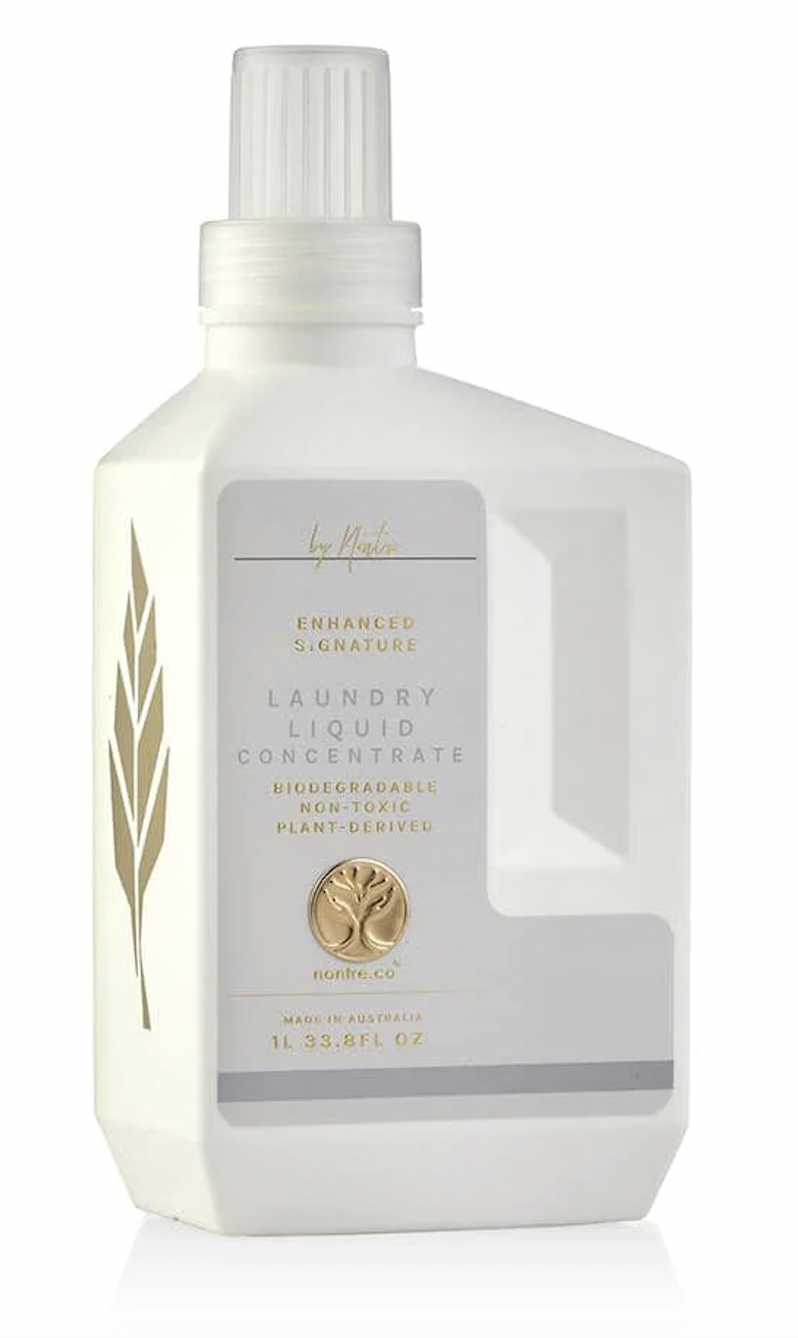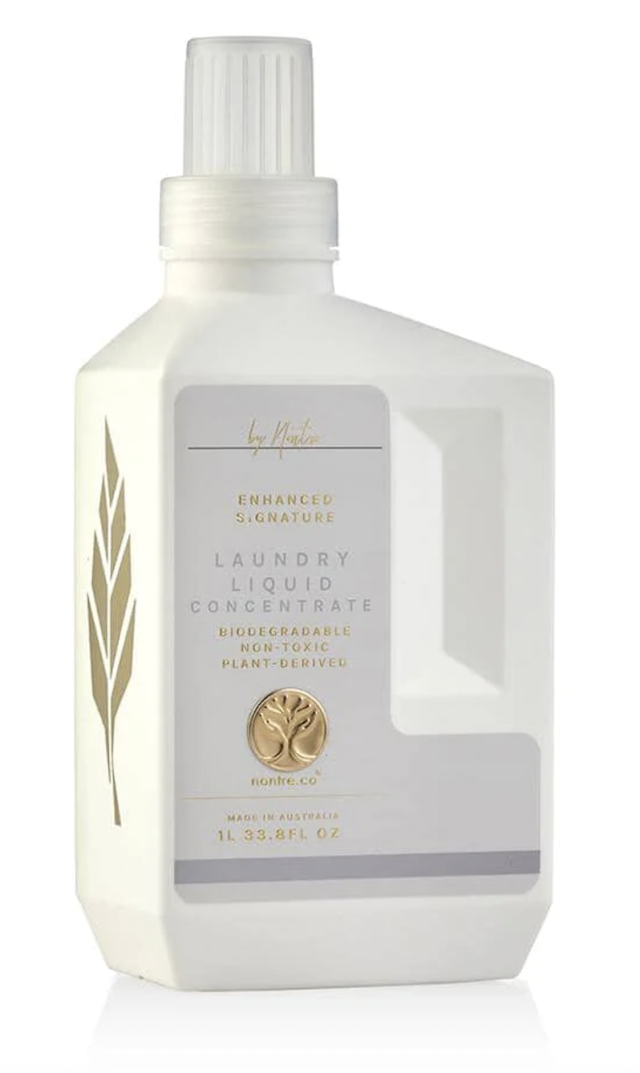 $22 and also available in fragrance free, baby, sports active and wool & cashmere versions.
Bondi Wash Laundry Wash is good looking, great smelling and 100% plant derived. With its high pH, it's a superior cleaner. A gentle, non-toxic formulation with no sulphates, synthetic fragrance, petroleum distillates, PEGs, enzymes, optical brighteners, bleach, EDTA or quaternium, it's made in Australia and enriched with natural enzymes. We love the fragrance: Tasmanian pepper and lavender.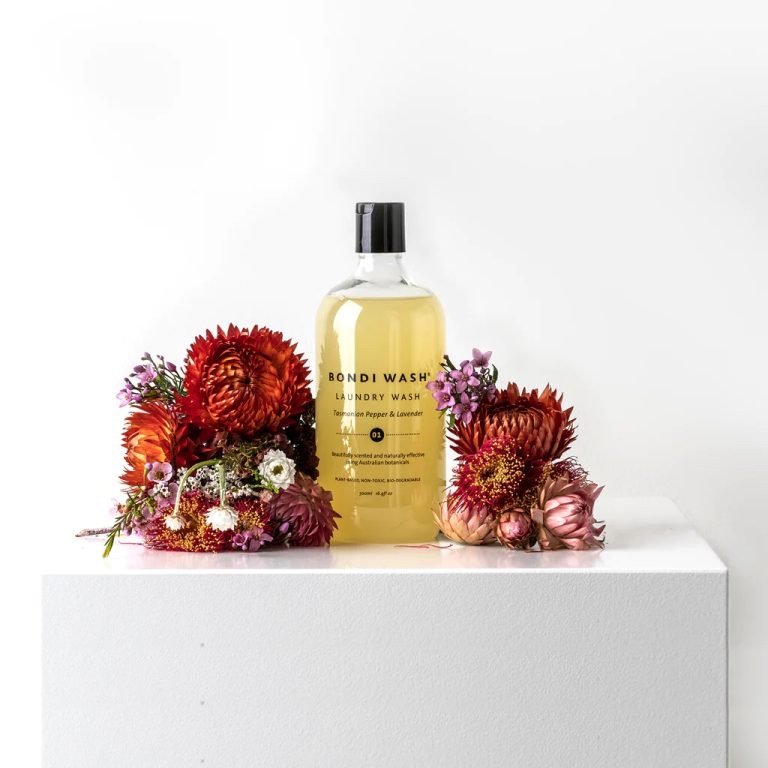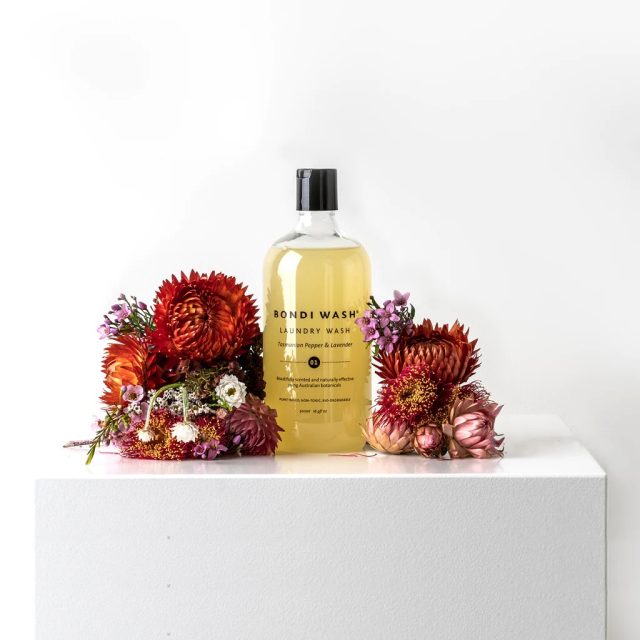 From $25 for 500ml. There's also a delicate version for fabrics which requite a neutral pH.
Lemon Myrtle Laundry Powder by Simply Clean from The Wholefoods Refillery is filler free, which makes it so pure that it gives you 50 washes per kg. That's twice the number of washes of Australia's leading brand. Not only is this good for your pocket, but it's good for the environment as well.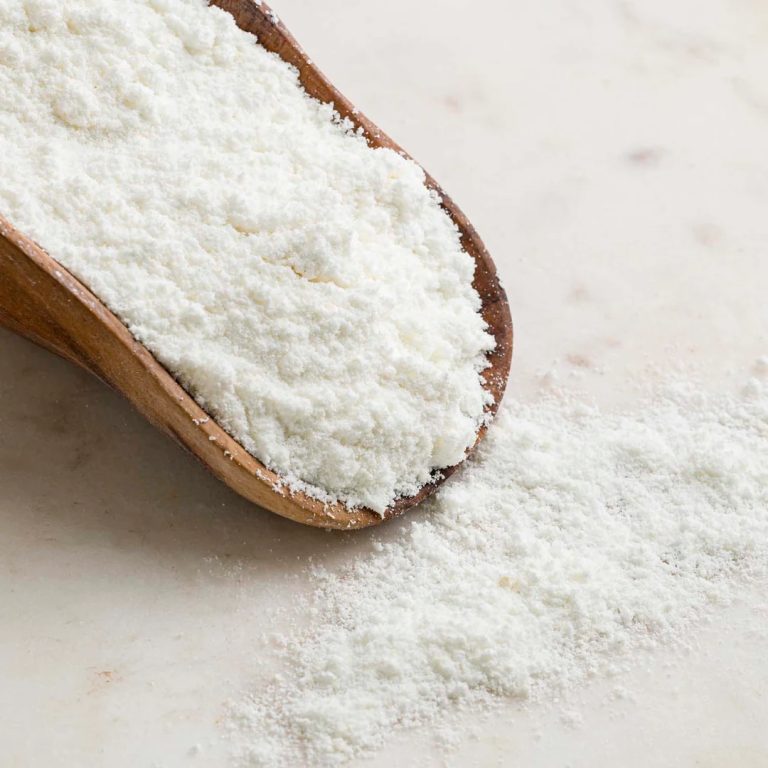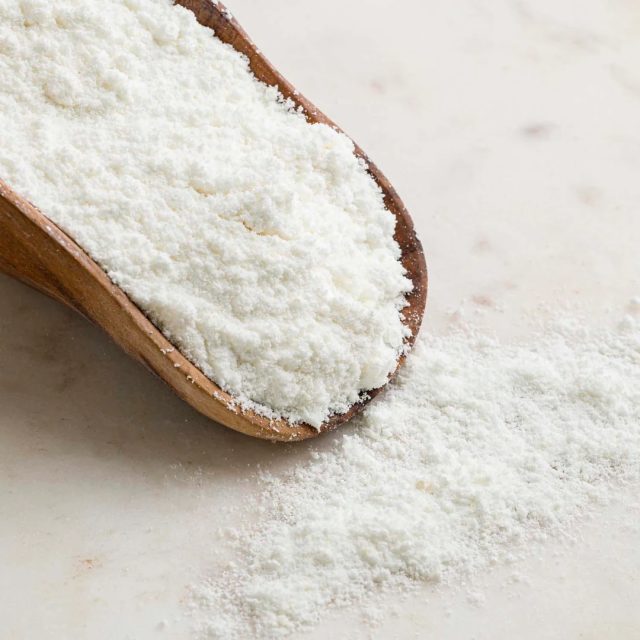 Coloured and fragranced only with pure lemon myrtle oil, great for front and top loaders, no phosphates, enzymes or synthetic perfumes, cruelty and palm oil free and grey water and septic safe.
$14.50 for 1kg.
What did we miss? If you have another favourite not mentioned, please let us know in the comments!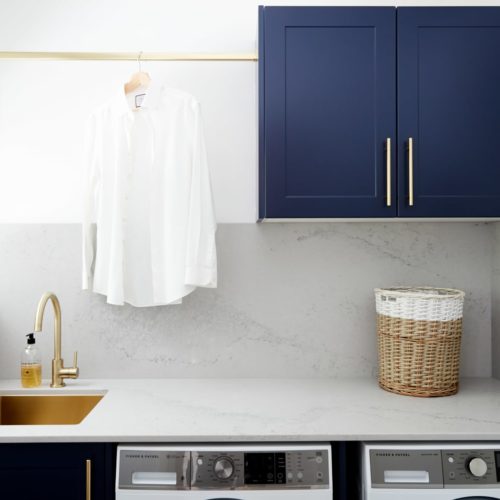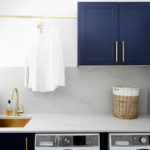 My new navy and gold laundry revealed: before and after
Our kitchen was the very first room we renovated in this house, almost four years ago. It was a case…