Stylist Jessi Eve Deakin is living proof that her job really can be done remotely and via email. While this beautiful project was completed before the world changed due to Covid-19, the fact remains that much of an interior really can be created by an expert without them having to physically visit the space.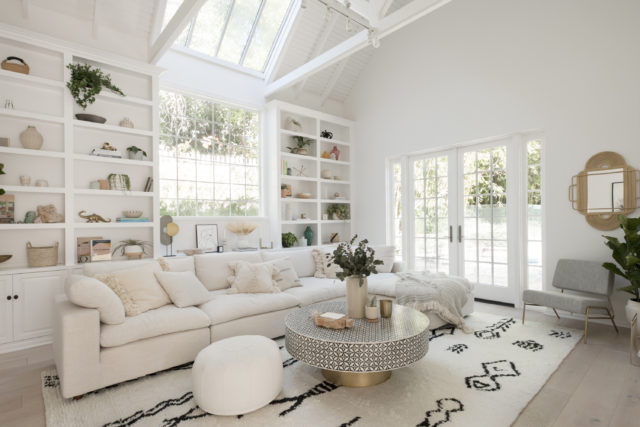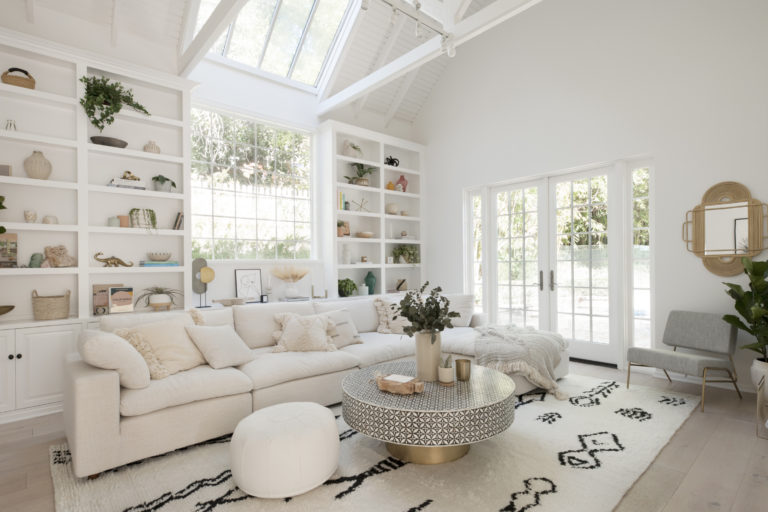 "I had helped this client with some decorative elements for their previous home via my eStyling service, so when they moved, they hired me again to do the lot," says Jessi, of Jessi Eve. "I have set up my Wollongong-based business in a way that allows me to work with clients all around the world and before Covid-19, I was already doing about half my work this way."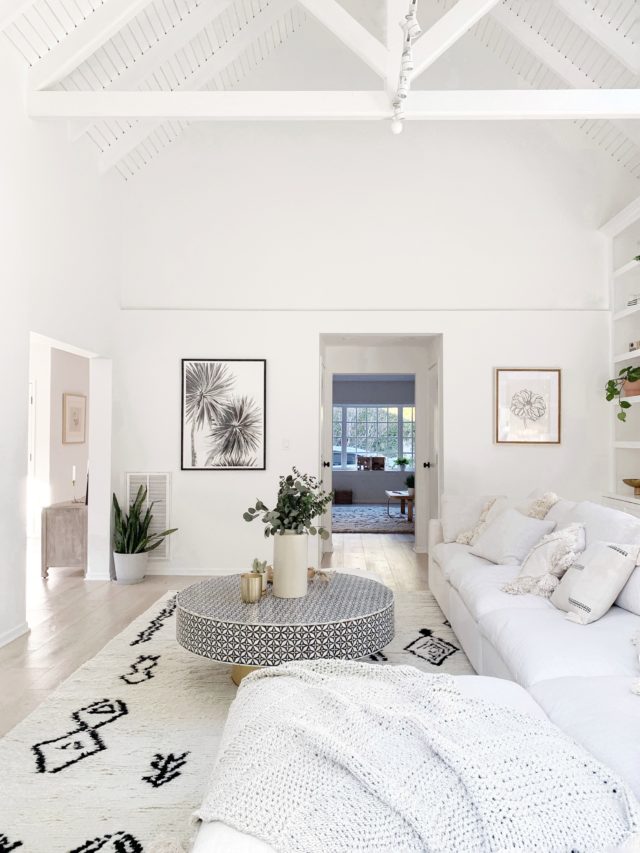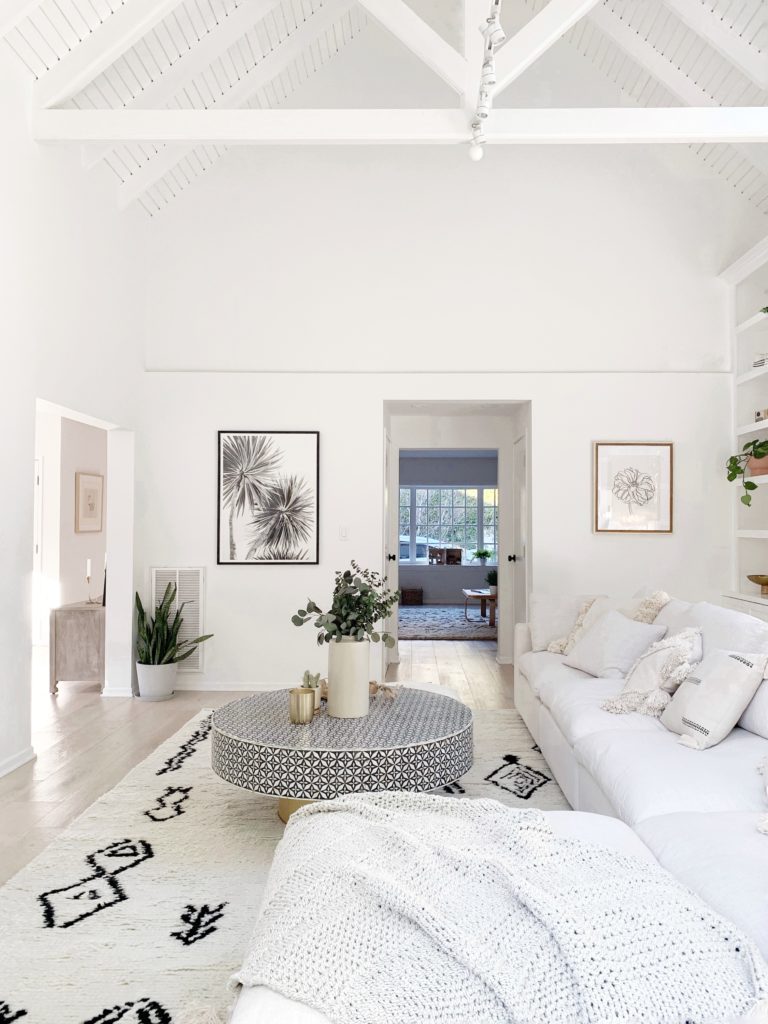 The stunning project was created for a young, busy family. The clients entrusted Jessi with transforming their house into their dream home. While she completed most of the sourcing remotely from Australia, she was thrilled when the clients opted to fly her over for the installation!
"I spent three weeks in LA sourcing final touches, installing all furniture, art and decor (as well as exploring all the tourist spots, of course)! I was given an entirely blank canvas to work with and sourced everything from the furniture right down to the cutlery!"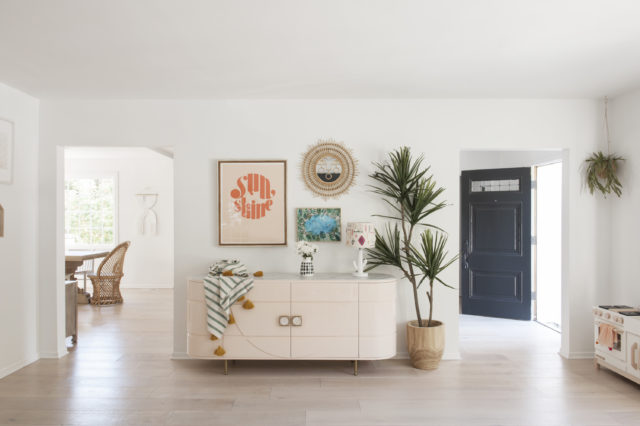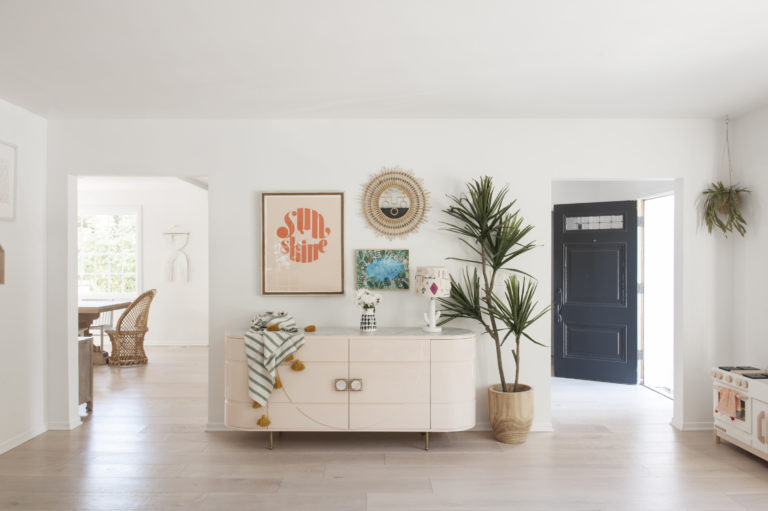 It was a great blank canvas however, with oak floors, white walls, pitched ceilings with exposed beams and French doors. "It was everything I could have ever asked to work with really! It really was a dream come true! I feel very grateful for the opportunity and had to pinch myself at many points throughout the project."
Jessi developed an aesthetic which was a balance of what she calls California Cool blended with her signature coastal-bohemian-luxe style.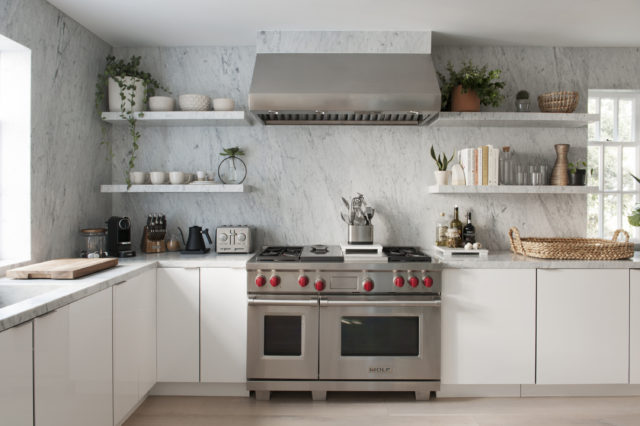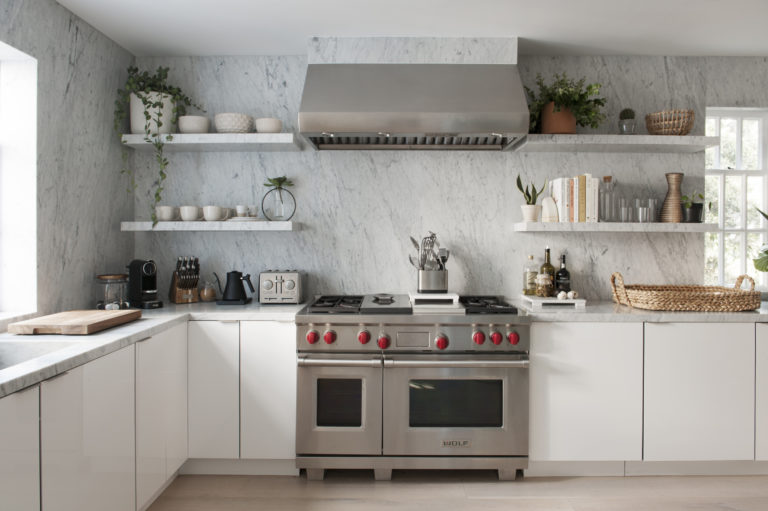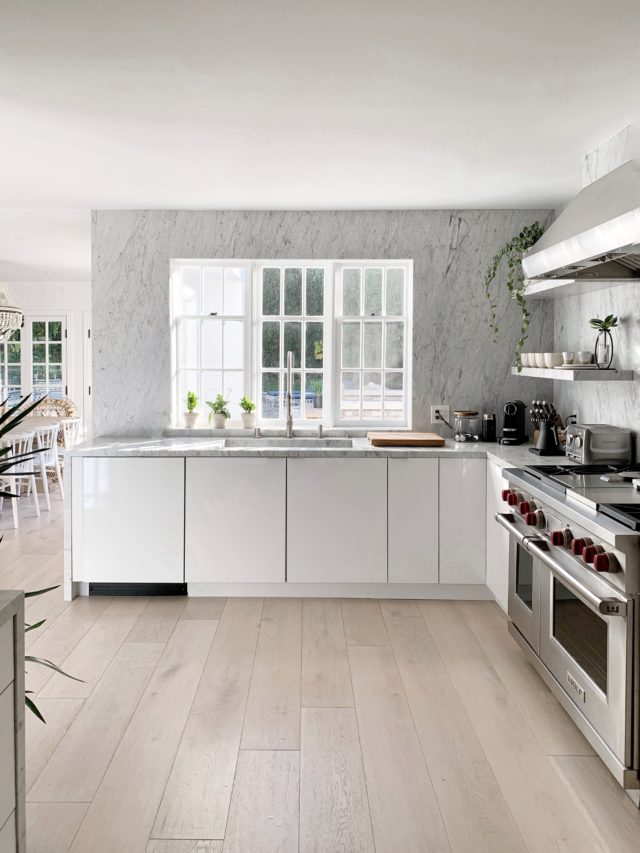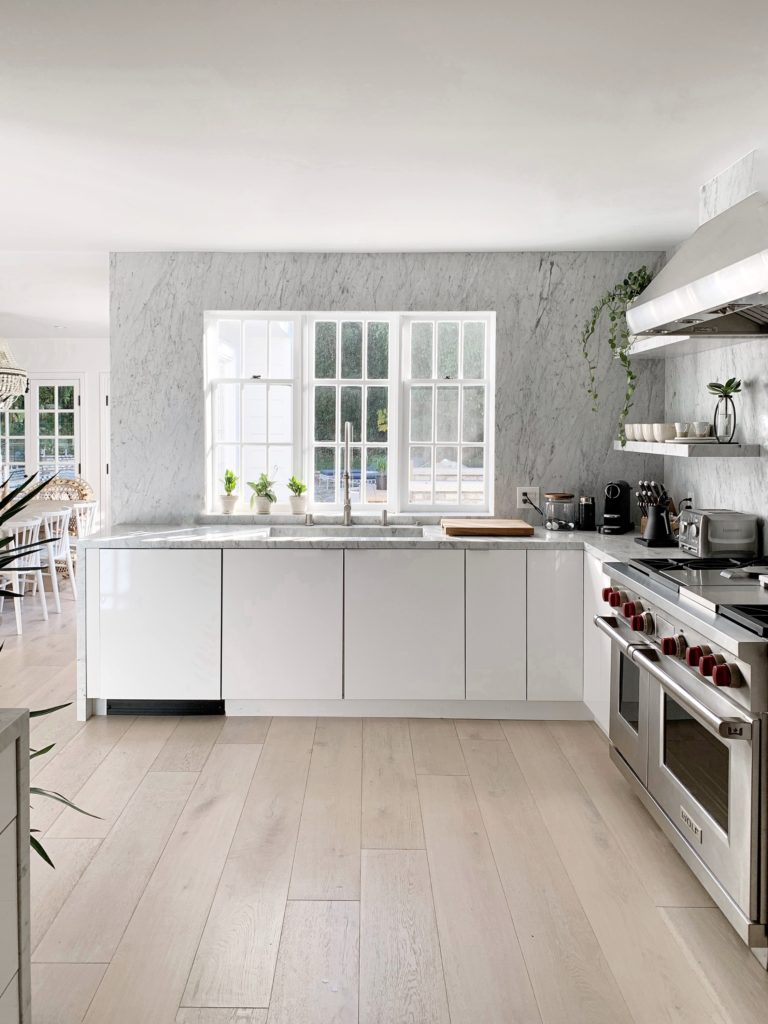 "To me, California Cool refers to an eclectic mix of casual coastal and boho vibes in a light and sunny palette," she says. "My signature style is a blend of luxe bohemian and contemporary coastal done in a very relaxed, Aussie way which I think complements this well.
"The colour palette I chose had lots of white and light natural elements with pops of muted candy colours such as pink, orange, yellow, teal and blue, offset by luxe brass accents. The bohemian style is woven into the spaces through layered textures such as the vintage rugs, cushions and throws, rattan furniture, floor cushions, soft linens and live greenery."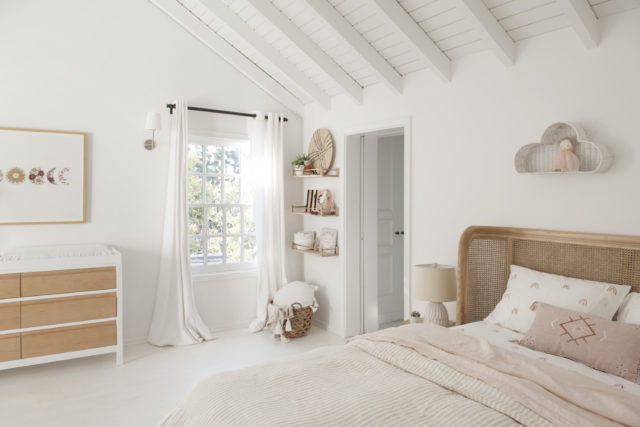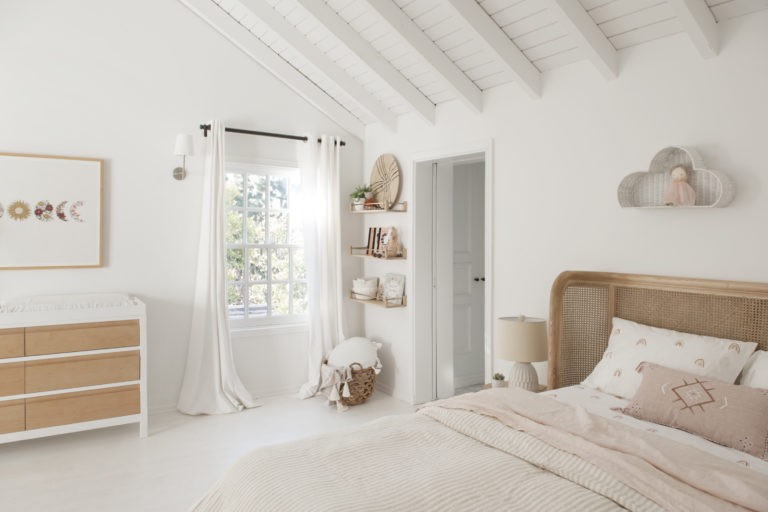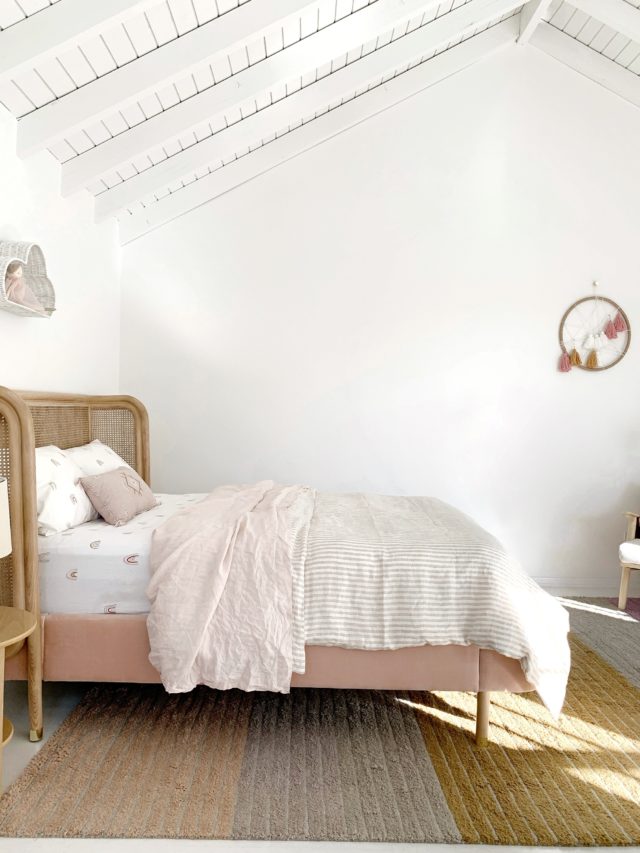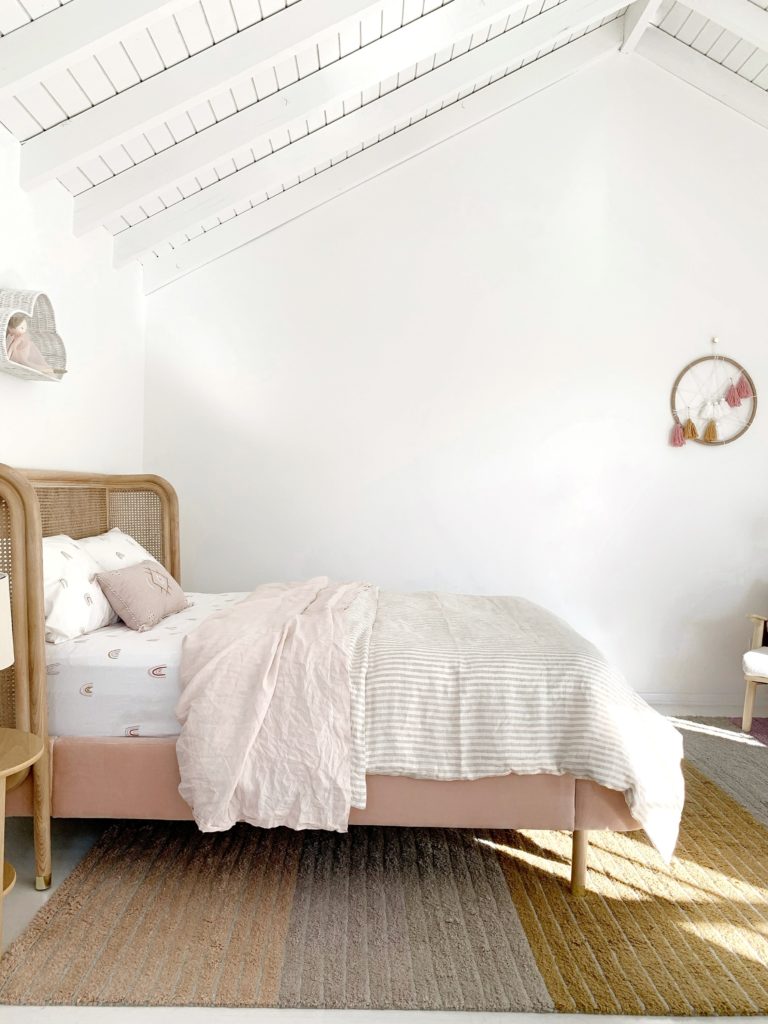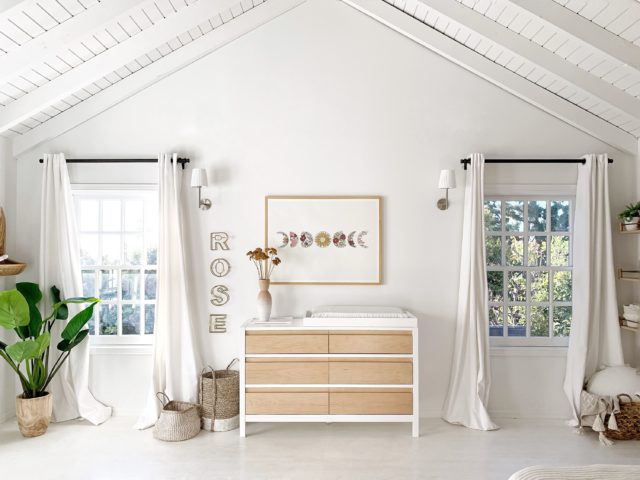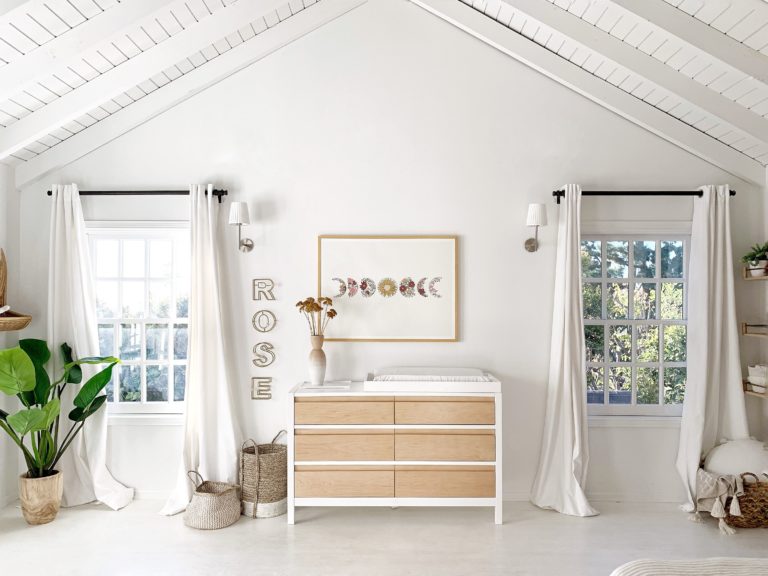 The same theory applied to the entire wall of open shelving in the living area. She kept the palette light and simple and positioned the visually heavier objects and vignettes in a way that draws the eye up to the ceiling. "It was important to ensure the spaces felt cosy and homely whilst still maintaining the sense of abundant open space."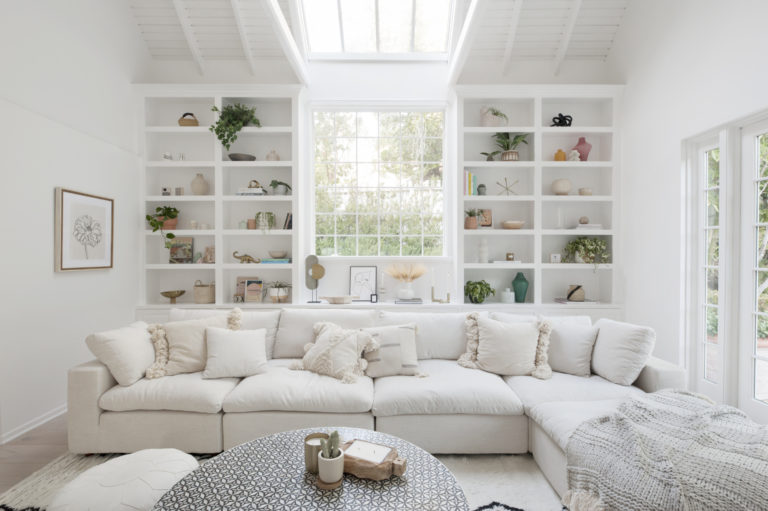 To anyone who thinks eStyling can't possibly be as good as in-person styling, Jessi says it's absolutely possible with accurate floor plans and clear photographs of the spaces. "This allows me to get a really good idea of the space without ever physically visiting the home and also allows me to plan layouts, determine ideal furniture sizing, artwork placement options etc.
"In terms of the creative process, I tackle eStyling projects in the exact same way I tackle in-person projects. I build a concept first, based on my client's brief, and then source the elements required to achieve the desired look, functionality and feel. Instead of visiting the site to measure up my own plans, this is provided by the client. Once the client is happy with the items I have specified for the home, they are free to go ahead and place the orders direct with retailers, as they please!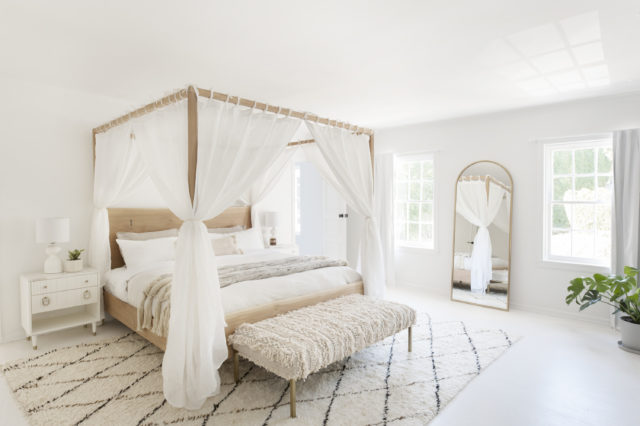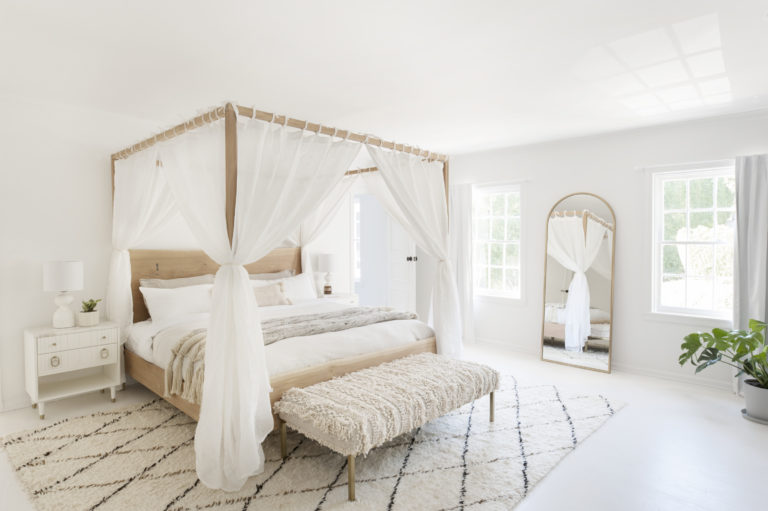 Our current social distancing requirements aside, Jessi says eStyling is a great, affordable option for people who need creative direction but are happy to take on some of the more logistical elements of a decorating project such as measuring, order placement and installing deliveries as they arrive.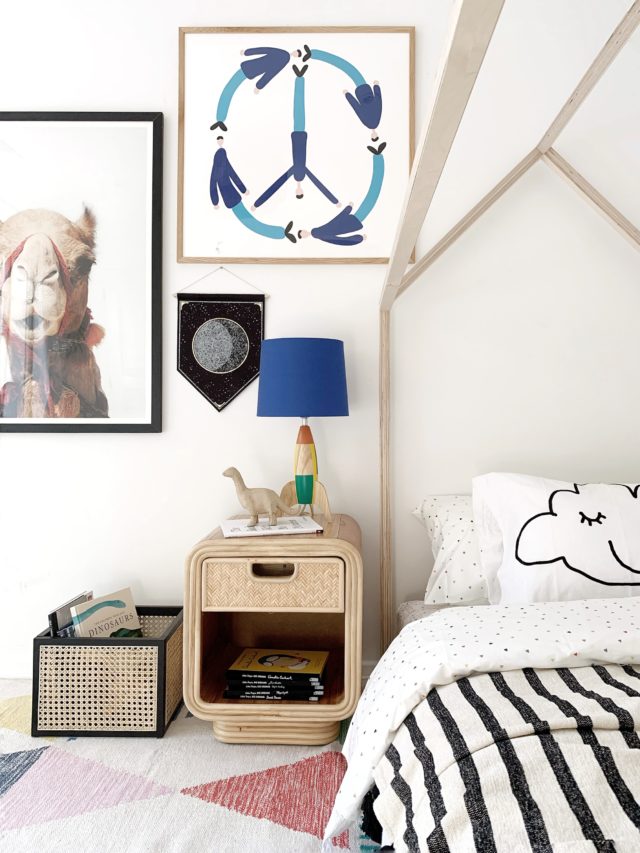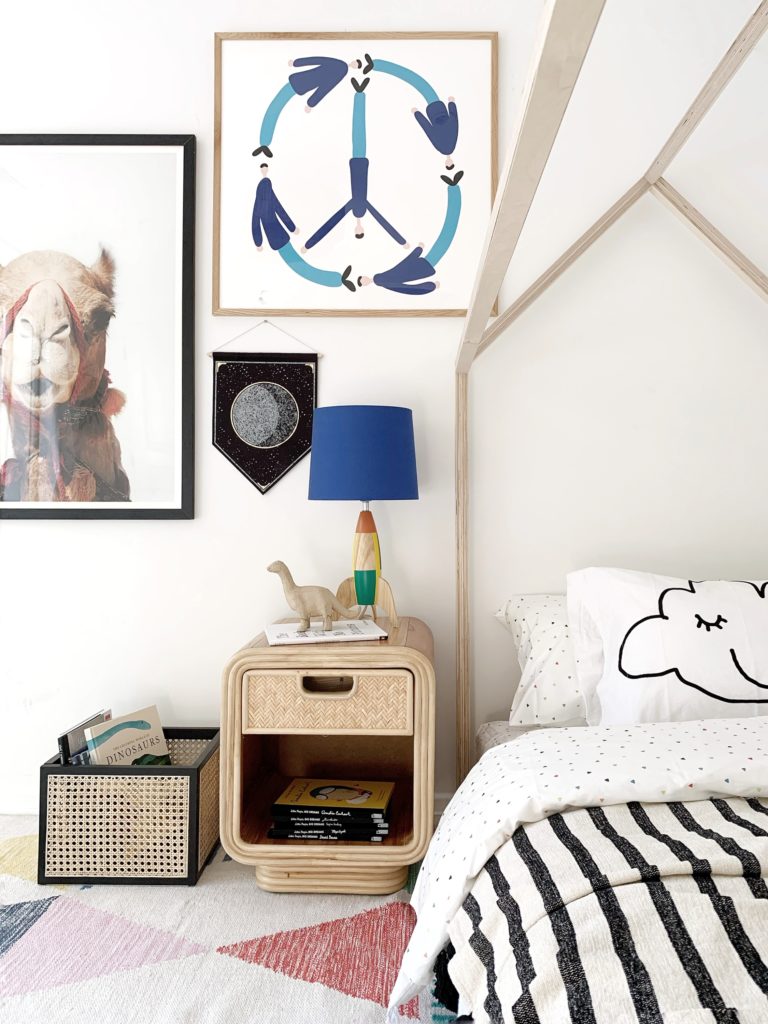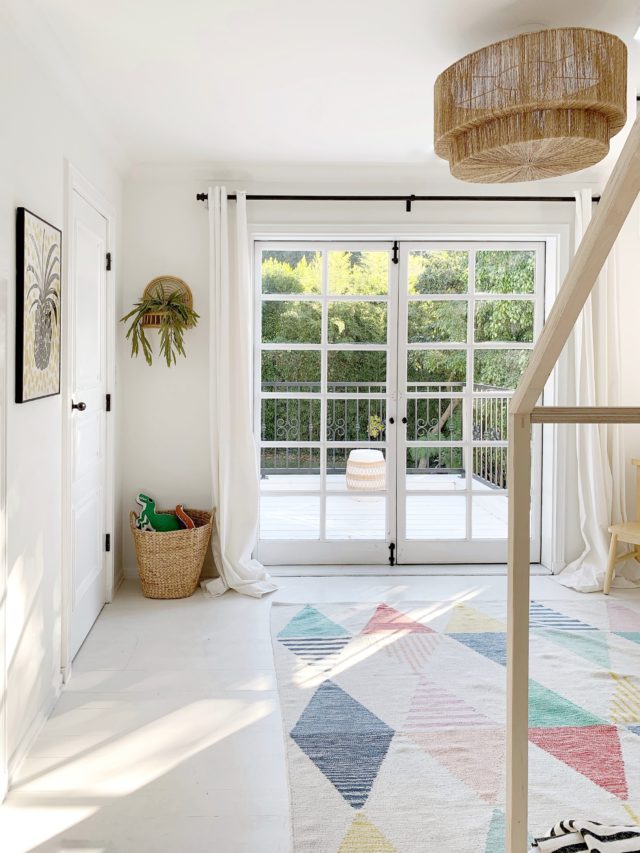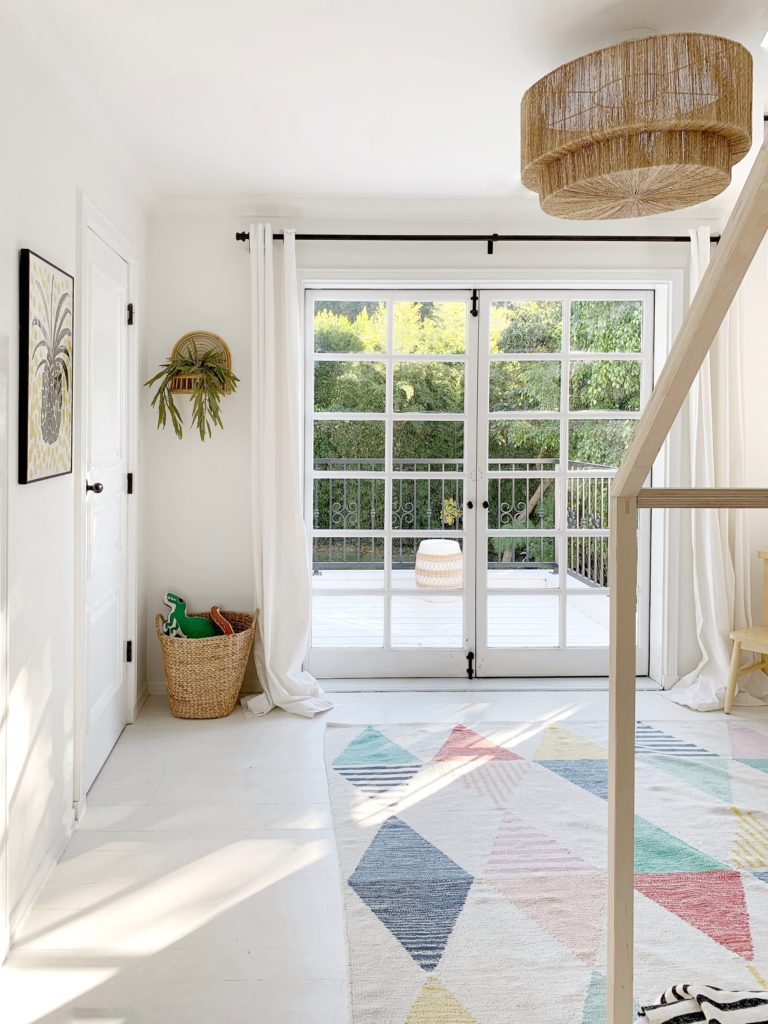 "We've never before seen a time quite like this where having a positive and uplifting home environment has been more relevant and although it's not a priority for everyone, I think those who are in a position to make some changes will perhaps start thinking about investing in the industry whether that be now via eStyling services or in the future when in-person interactions can resume as normal," Jessi says.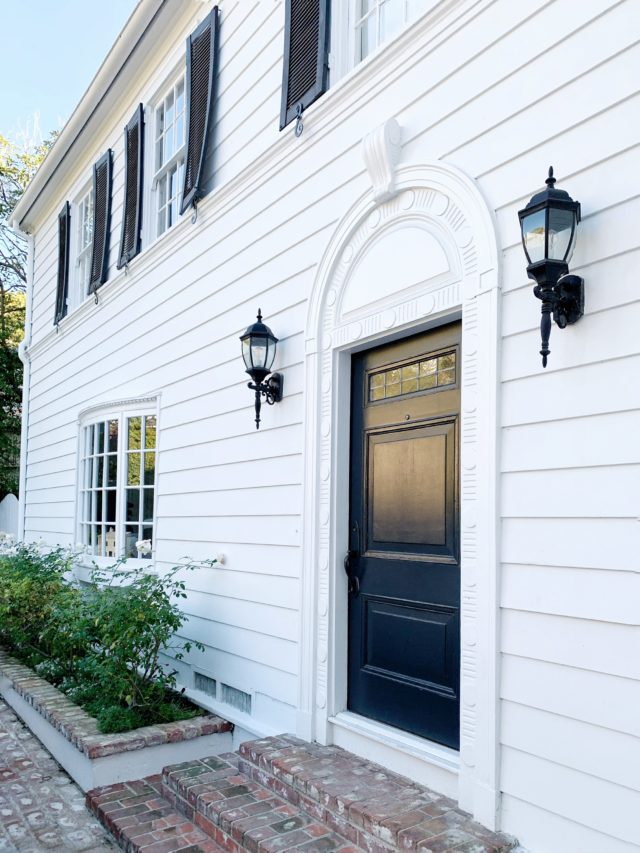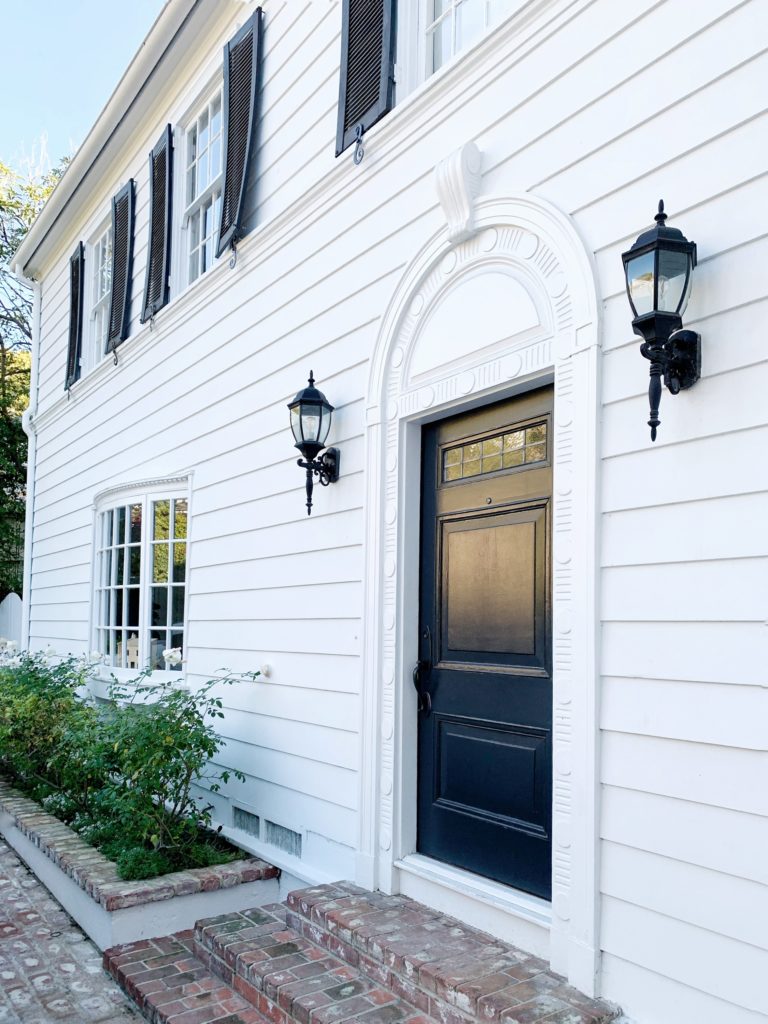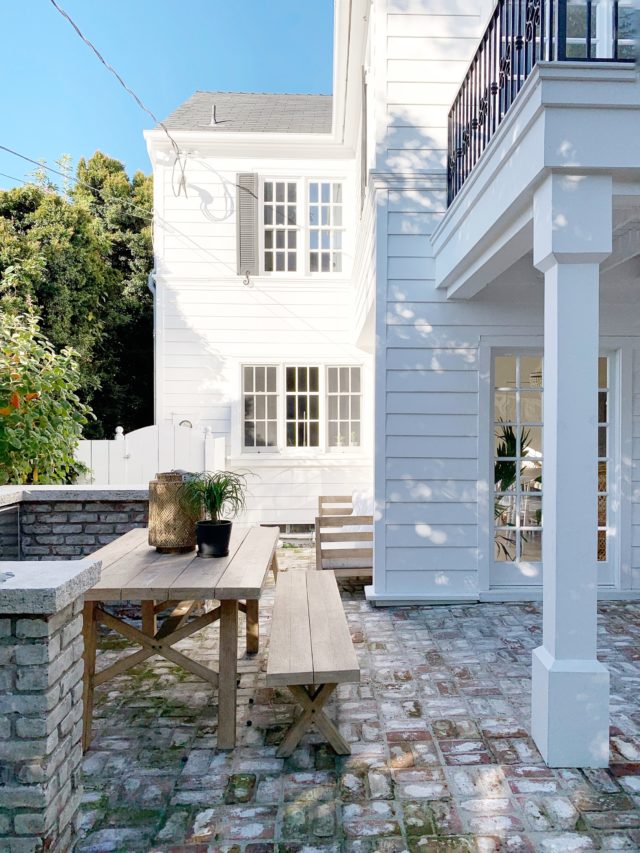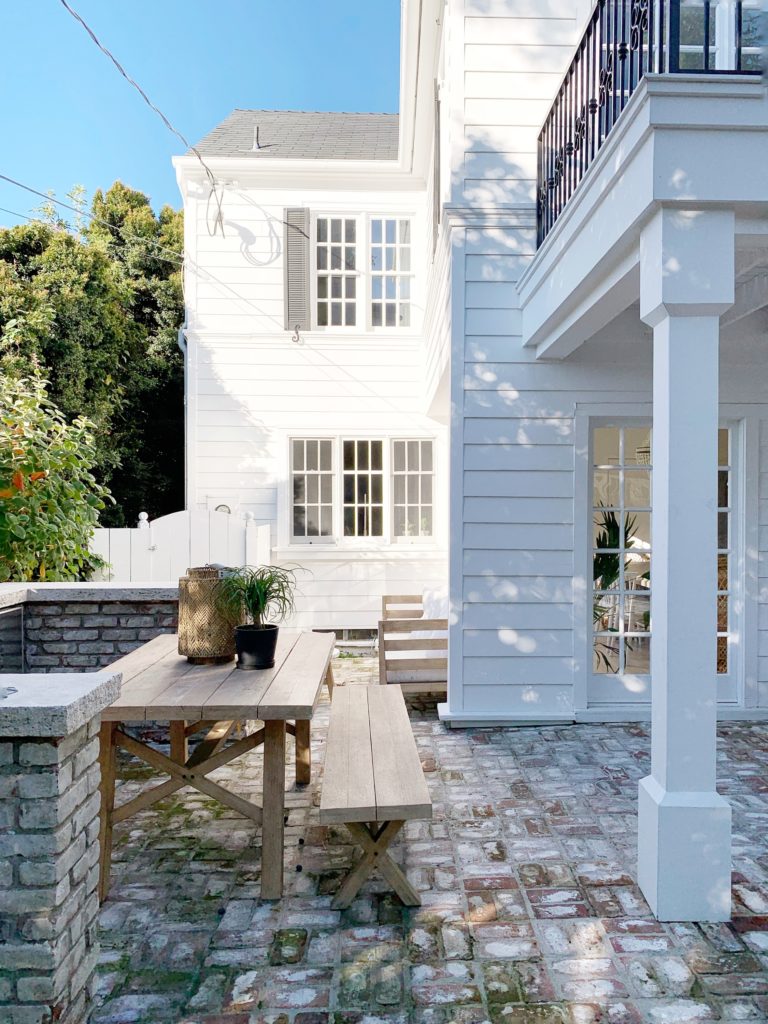 "I think if businesses can adapt to the changes we're facing and find ways to offer variations of their more traditional face-to-face services by embracing technology, they will hopefully be able to continue during this time."