Throughout the country, people are pulling the plug on planned renovations and for those mid-project, the panic is real. But is it wise to continue in some circumstances and can we be using this time at home to plan, plan, plan?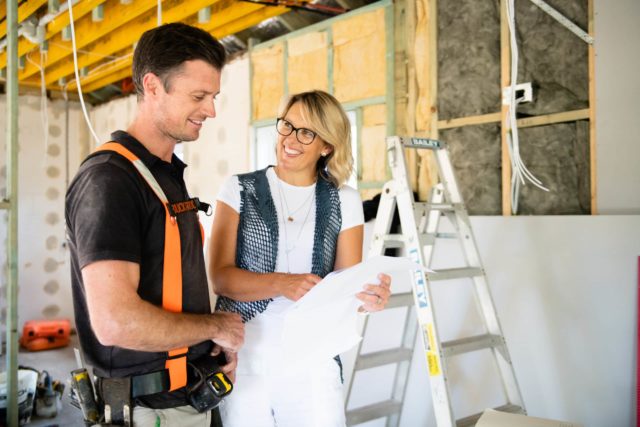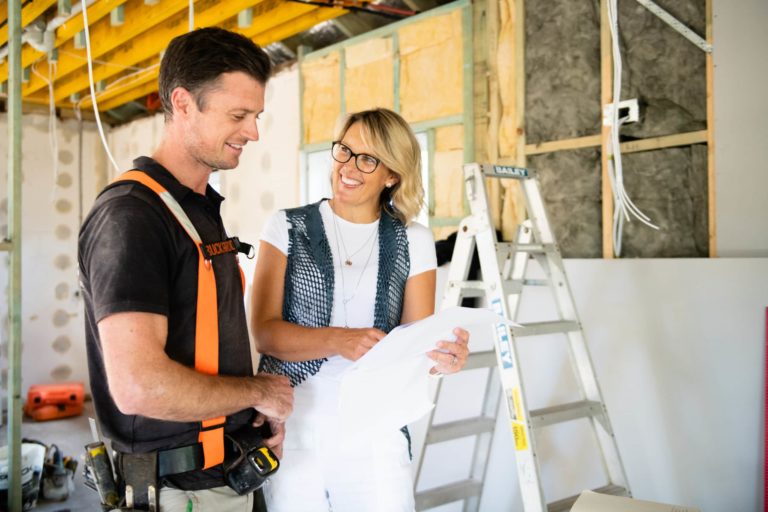 Anna Williams is the owner of Your Beautiful Home in Sydney's Northern Beaches. Her and her team help people with every aspect of their reno from drafting, building design and management of council DAs to interior design, project management and decorating. She says the decision for many depends on what stage they're at.
Mid demo? Keep going…
"For many people, their house has been fully or partially demolished already, so at this point you are 100% committed. You need to ensure your builders are practising social distancing and then we all hope that the Government will allow construction to continue as long as safe practices are in place for your building team.
"To these people I would suggest being as organised as you can with all your fixtures and fittings. Have everything specified and ordered as we are starting to experience delays in some areas such as tapware and appliances. One of our projects is waiting on a shipment of tiles out of Italy and now the docks are closed there for four weeks. The sooner you get everything chosen and delivered the better."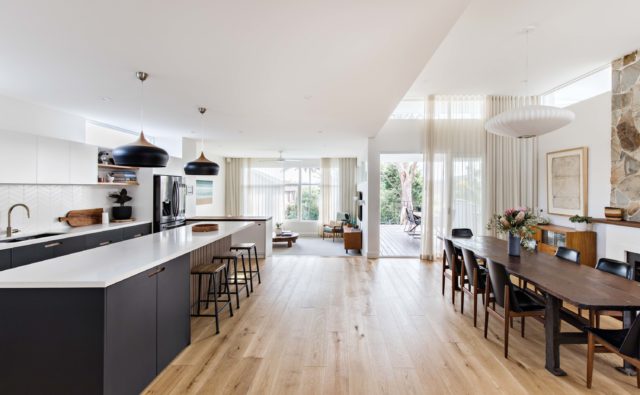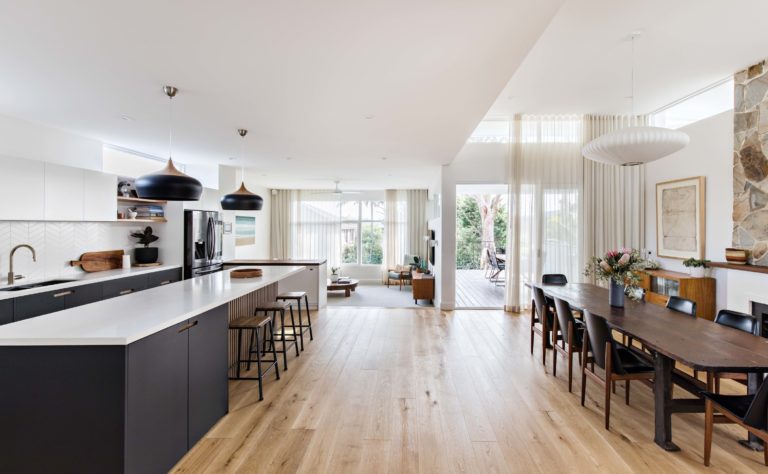 Make savings on things you can easily upgrade later
If your income is reduced and you need to cut back, Anna suggests trying to save on items that can be easily replaced down the track. Taps and door hardware for example, can be more easily changed down the track for something more expensive, than basins, toilets and lighting. "Built-in joinery can be put off and replaced with temporary cheaper storage solutions from IKEA or similar. Air conditioning can be provisioned for but not fully installed until a later date.
"Your flooring, kitchen and windows are all items that cannot be easily changed later and if possible I would recommend that you try to still preserve a level of quality there as these directly impact on your home's value in the future."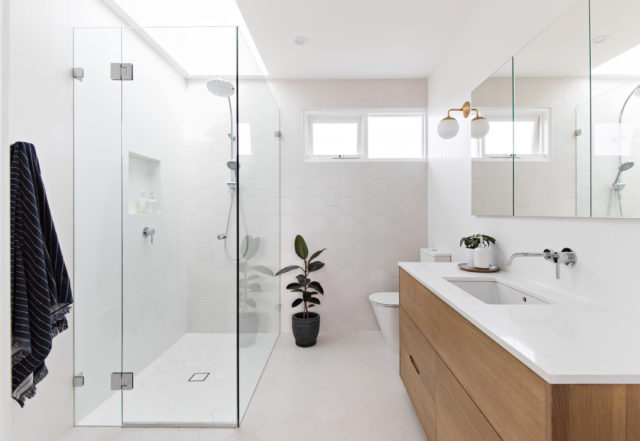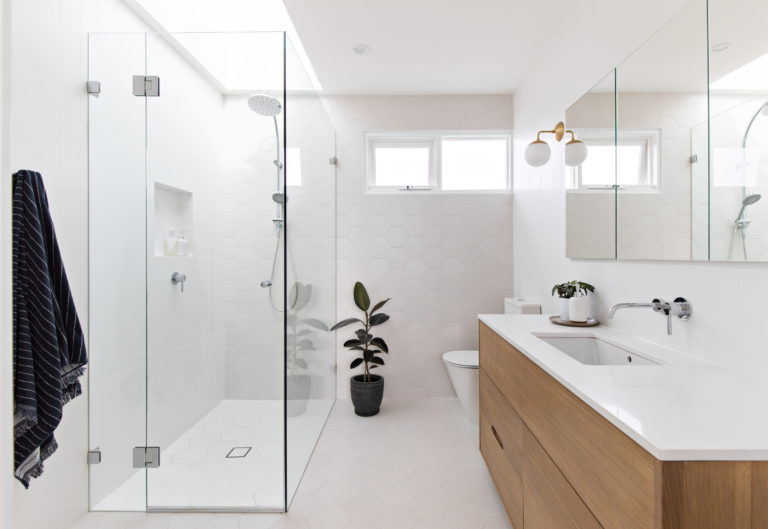 Some renos can be paused
If you haven't already started planning a renovation or new build, but it was on the cards, now could be a good time to start planning and talking about it.
If you're in the midst of a smaller renovation to a part of your house (like converting a guest room to a living area or removing a wall to open up a space), Anna says it may be wise to halt this if your income looks uncertain.
"If the builders have started work already, they will have to pack down the site and re-set up again at a later date. This may incur a bit of a premium over the contract price you'd agreed on, however my experience at the moment is that builders are being as flexible as they can, understanding that these are unprecedented circumstances. For some, the inconvenience of not being able to use that part of your home will be outweighed by the need to stop expenditure."
Use the time to get through council
If you are in the early stages of planning a renovation, she suggests that, if budget permits, you still move ahead with getting your plans submitted as there can be considerable time in getting approval from the certifier or council.
"We will come out of this Covid-19 crisis at some point, and then if money is still cheap to borrow, I believe the building industry will be very busy due to so many people putting back their plans. Councils will likely have a huge backlog of plans to review too. At that point, I believe it will be a huge advantage to be armed with approved plans, completed specifications and be in a position to start building straight away."
Bear in mind that once you have approval on a DA (development application) or CDC (complying development certificate), you have five years to start work before the approval lapses. You only have to start the work in this time (i.e. commence demolition or similar) and once works have commenced, the approval will not lapse at all.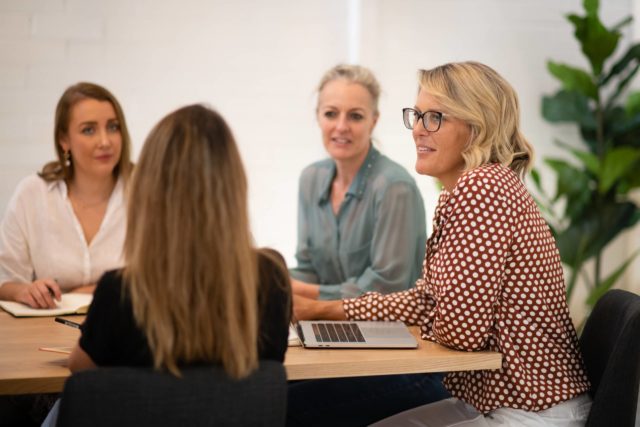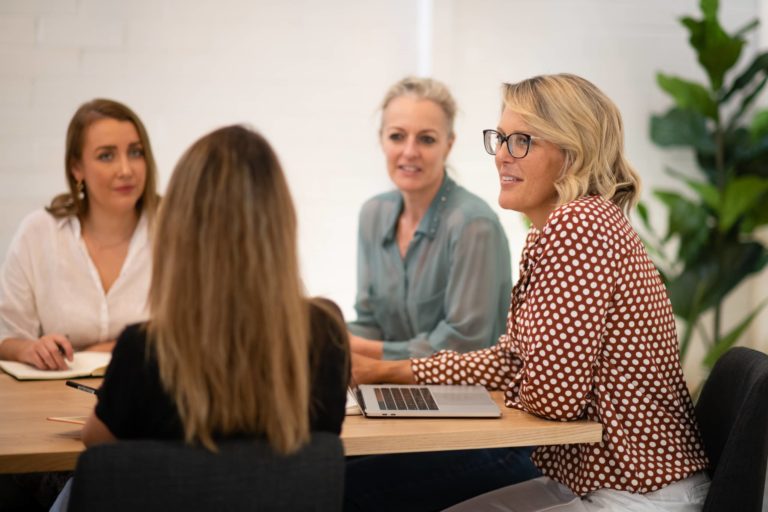 No shortage of Aussie materials
"Many people have been concerned about supply of materials," says Anna, but so far this hasn't been too limiting. "We have had to change the spec on certain items for clients but nothing too drastic. Most of our key building materials – bricks, gyprock, metal roofing – are manufactured here in Australia so supply has been fairly consistent to date."
A key concern for most is whether the builders will be made to stay home and construction will have to halt. "We've been communicating this to all our trades to ensure they are vigilant about the social distancing, as this is what the Government is keeping a close eye on. We are doing all we can to avoid the 'Bondi Beach' of construction!"
What can you tackle yourself?
With all this time at home, is it a good idea for people to proceed with DIY jobs themselves? "If you're legitimately handy then by all means I'd recommend getting on with smaller upgrades around home such as repainting, upcycling a piece of furniture, landscaping or construction of a small deck, for example. I would caution against taking on more complex DIY projects that you're not really qualified to carry out. Please avoid anything electrical!"
With all the extra time at home, Anna believes many will be frustrated with issues around the house that they've been meaning to get to for a while. "This may well be a good time to get to them, either yourself or by employing an expert. Handyman services are still operating at this stage and it may well be cheaper to get a qualified person to address these problems quickly and efficiently, rather than tackling them yourself and then potentially paying to undo that work later."
But think long term too
If you do decide to take on minor renovations while stuck at home though, Anna says make sure you have considered the end plan for your house. "It may make sense to do up a bathroom now but in a couple of years, when you want to extend the house, that bathroom may be in the wrong spot and then your investment has been wasted. We see this all the time. If you are considering interim works or renovating your house in stages, then it is essential to have the end plan worked out first – even if this plan will be completed over several stages and a long timeframe. This avoids you making mistakes along the way that need to be undone later; a frustrating waste of money."
There's still a lot of positivity
She adds it's still early days for us in Australia to know how the design and building industries will manage through this. "At this stage, we are getting a great sense of positivity from our clients that they will continue for as long as they can. Across the board we have people still buying and selling properties and keen to move forward with plans as soon as possible.
"I hope, like we all do, that this crisis ends up challenging us as designers rather than bringing us to a complete halt. As many others have done, we have now quickly adapted to working from home, dropping samples on doorsteps, visiting sites outside of building hours, looking around clients' homes via Facetime, and presenting to clients on video calls."
Compared to others in many industries, Anna maintains they are lucky. "We provide a service that can be completed from almost anywhere, and people's home comforts are becoming more important to them than ever. At this stage, we're taking it day by day as things continue to evolve but we remain positive that we will get through this, and learn a lot from it too."
–Anna Williams is the owner of Your Beautiful Home in Sydney's Northern Beaches. They create your house plans, arrange the approval, design the interior detail and project manage. Now you can work with one team on all aspects of your build. They're currently fully operational and conducting all their work online.