Shaynna Blaze is passionate about colour and how it can transform the home. In her role with Taubmans, she is committed to helping Australians unlock their personal colour stories, by using inspiration from their day-to-day lives and creating interiors that reflect their personal style. Here, Shaynna shares her top 5 tips for drawing inspiration from everyday life — the colours you love, the places you go, the style of your home and the accessories you already own – to create a personalised interior colour scheme you love.
Be inspired by nature
Spring is a natural time to draw inspiration from the botanic world, but I'm encouraging people to look at the colours and textures of all the seasons and climates to get inspired and create a personal theme.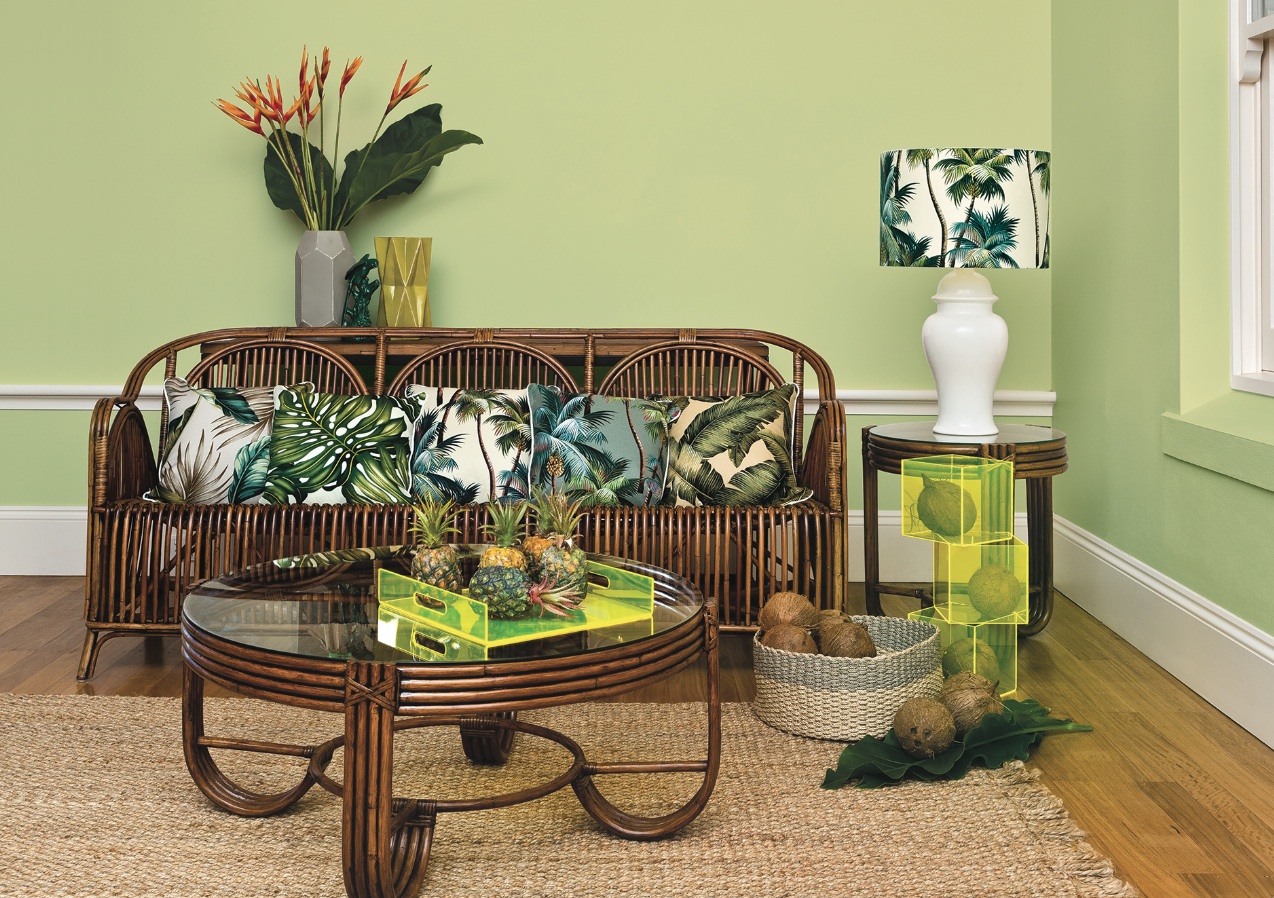 For this look I was inspired by the sense of calm and relaxation from holidaying in the tropics, and wanted to bring the same energy to the living space. Green is known for its relaxing qualities, and I layered the greens from a dark shade down to a light yellow to give the interior a feeling of summer and holiday. Using pops of bright yellow adds an extra layer of energy to a room, in contrast to the calming green.
Walls: Taubmans Endure in Make Believe
Be inspired by your favourite colours
Don't get caught up in trends — they come and go and often don't do your home or personal style justice. Look at your wardrobe and your accessories for inspiration, and determine what colours you're most drawn to. This will help you settle on a colour scheme that suits you, and this is the hardest part! The fun bit is finding ways to bring this scheme into your home, whether it's a bold feature wall or smaller accents of your favourite colour in furniture and accessories, complimented by a wall colour in a lighter shade of that colour.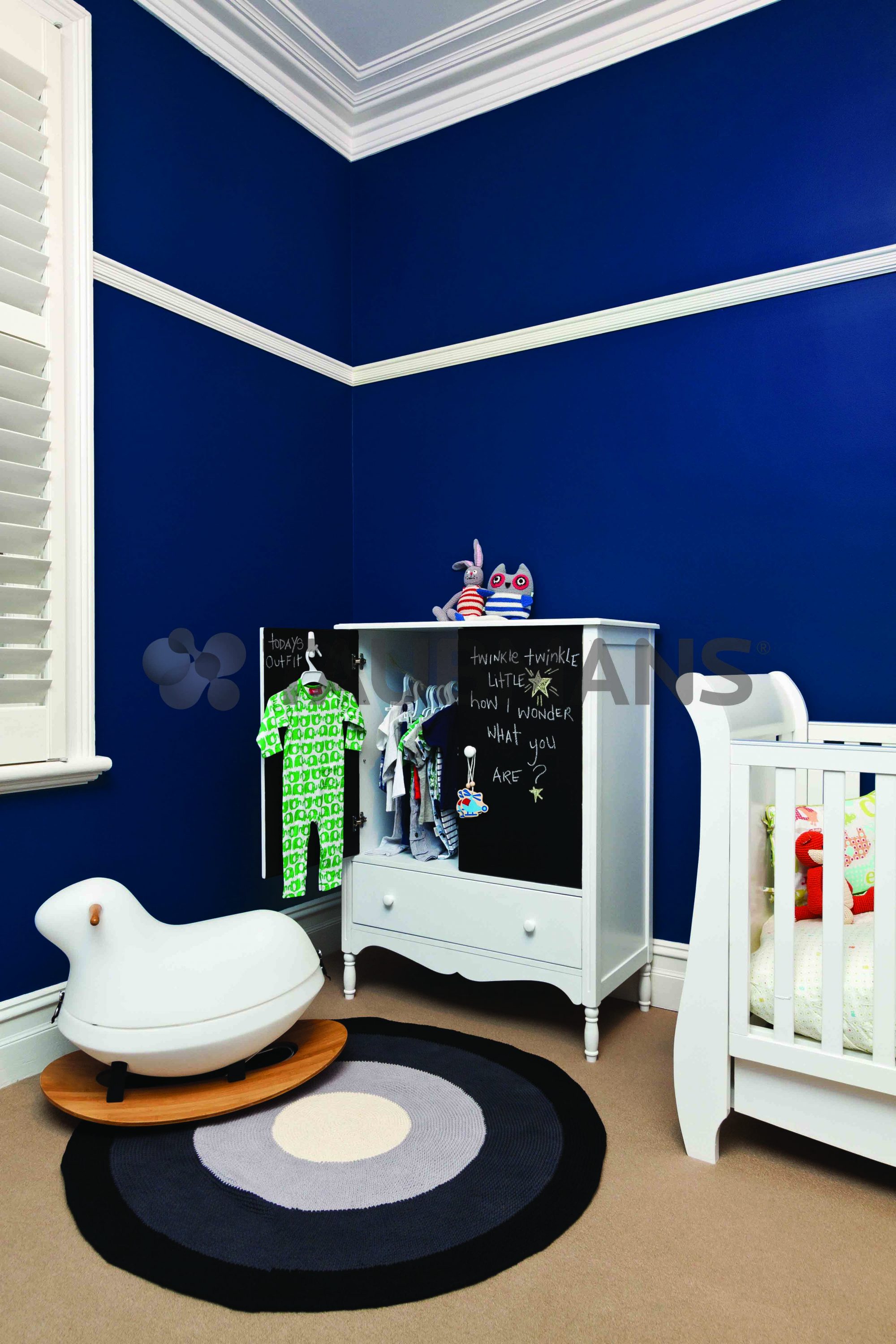 I love navy blue, and in this look I've used it to make a bold and regal statement for a child's nursery.
Walls: Taubmans Endure in Starry Night
Think outside the box and draw inspiration from animals
It might sound wacky, but a lot of interior designers look to the natural world, both flora and fauna, for colour inspiration to achieve different styles and looks. It's not about getting caught up in literally recreating a scene, but looking at certain elements for inspiration, such as the layers, shapes, textures and colours that make up the animal and their natural habitat.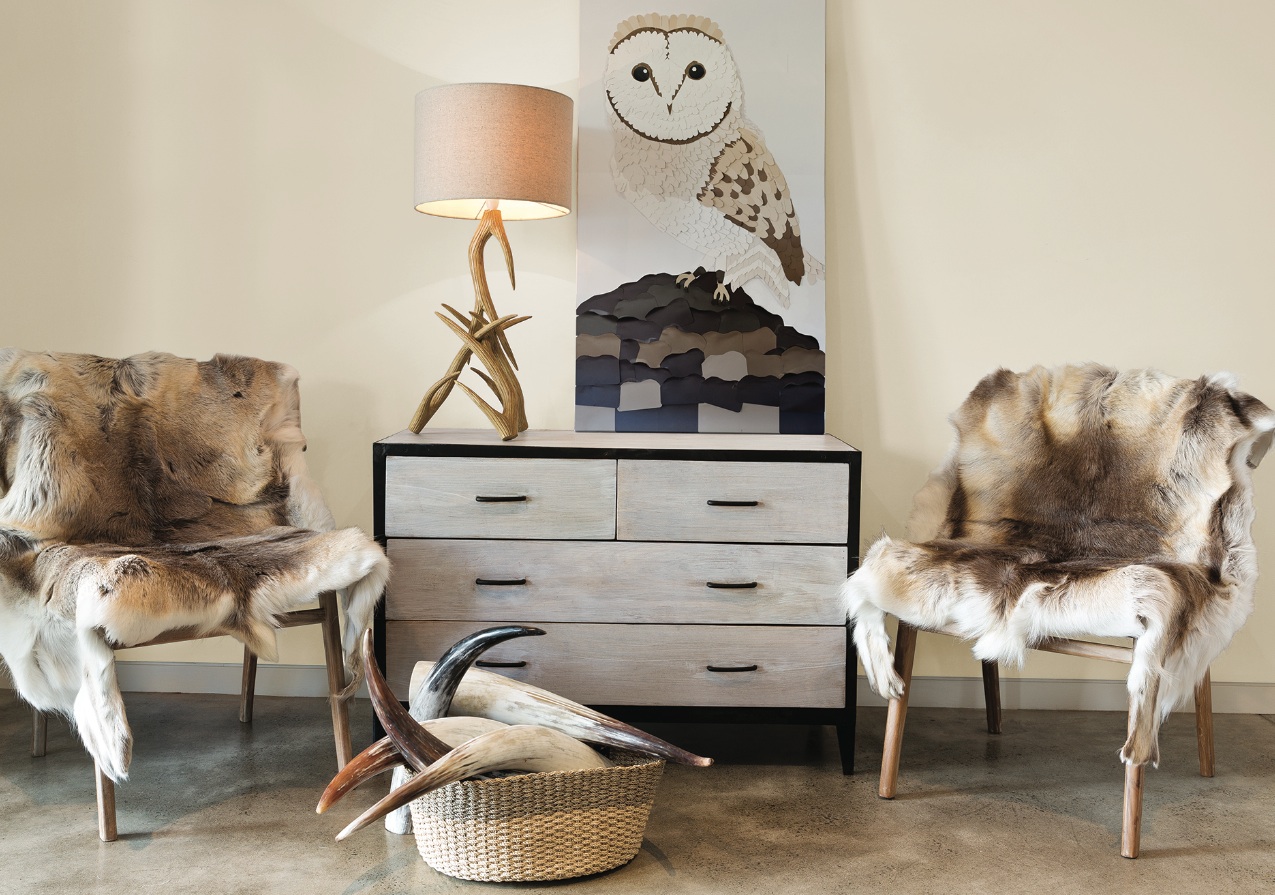 This look takes inspiration from the Australian Barn Owl. The softness of the feathers along with the bird's white and neutral palette provide an enveloping winter scene that is warm and cocooning. The Taubmans Endure walls in Bedford Road give a soft canopy effect, while the stark Taubmans Endure Akimbo on the chest of drawers sits proud like the puffed chest of the wise owl. To bring to life the texture of this animal, I've used the animal throws, deer antlers and lamp in varying shades of brown and white, further adding to the rich and soft space.
Walls: Taubmans Endure in Bedford Road
Be inspired by your artwork and furniture
One of my favourite methods to develop a colour scheme for a room is to draw inspiration from the artwork in the space. Most artwork has a'base colour' and this is a good indication of the tone of wall colour that would compliment it well. You can of course go lighter or darker within the hue. Then look at the contrast colours in the artwork as inspiration for the accessories in the room, but only pick one or two colours, otherwise the overall look will feel too staged. 
Strong contrasts of red and orange work really well with dark grey, and this is one of my favourite pairings. The combination works because they have a similar depth in tone and sit well together with an even value in intensity. Accessories like cushions and artwork in these hues will pop against a dark grey backdrop, and this will tie together all the elements in the room for a clean and punchy vibe.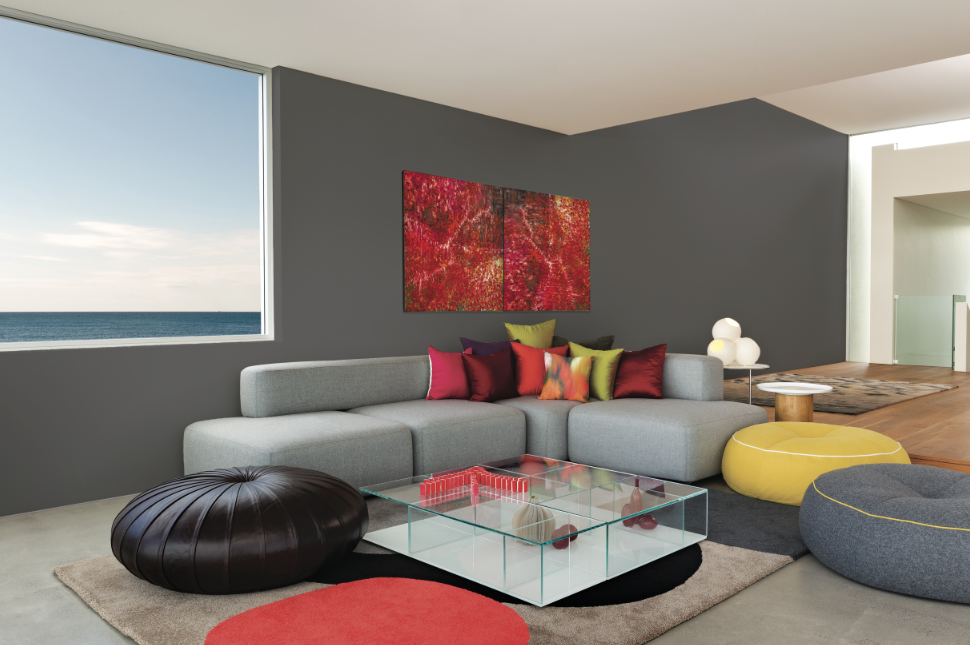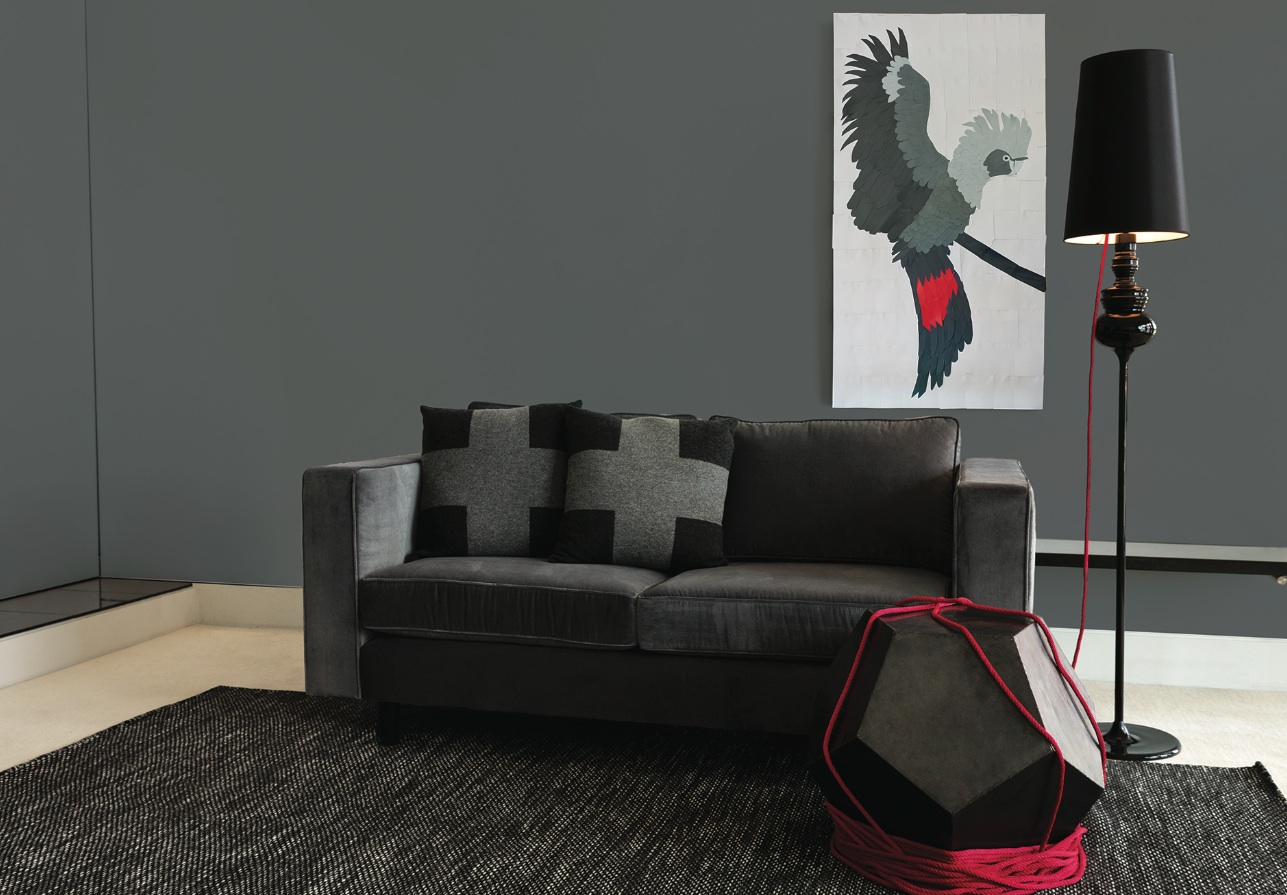 Walls: Taubmans Endure Interior in Beaver Creek and Ink Well.
Be inspired by the characteristics and style of your home
If you're sitting at square one and don't know where to begin, I recommend looking at the various architectural features comprising your home, both interior and exterior, and draw inspiration from these. This could be a fireplace, cornices and other interior architectural features, exterior trims, the materials your home is made of and even the colours and style of your garden. Look at these elements for inspiration to develop a colour scheme that plays off existing colours, styles and themes.
For example, if you have a weatherboard-style home, play off the romantic and nostalgic feel with a gentle palette that highlights the unique trims and rooflines. My favourite fail-safe combination for a weatherboard home is Taubmans Endure Exterior in January Dawn (walls), Grey Moth (trims) and Elegant Evening (door and stairs).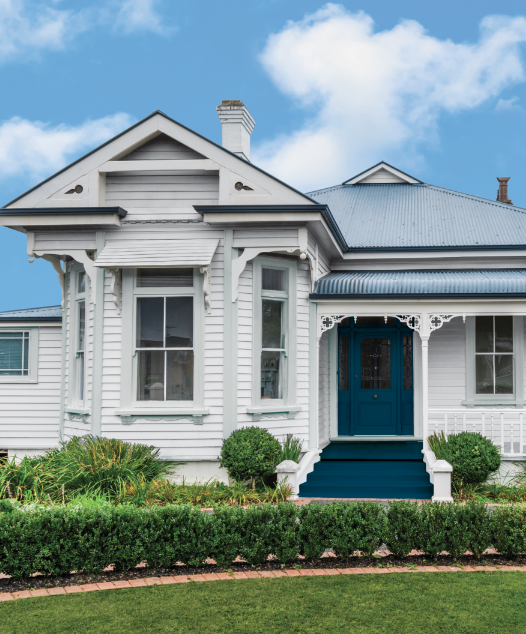 For this look, the soft mint green walls create an unexpected freshness in the room, and work to compliment deeper shades of the colour used in furniture or other accents. I've chosen the mint green to compliment the deeper green in the tiles, making the tiles stand out and creating a sense of harmony in the space.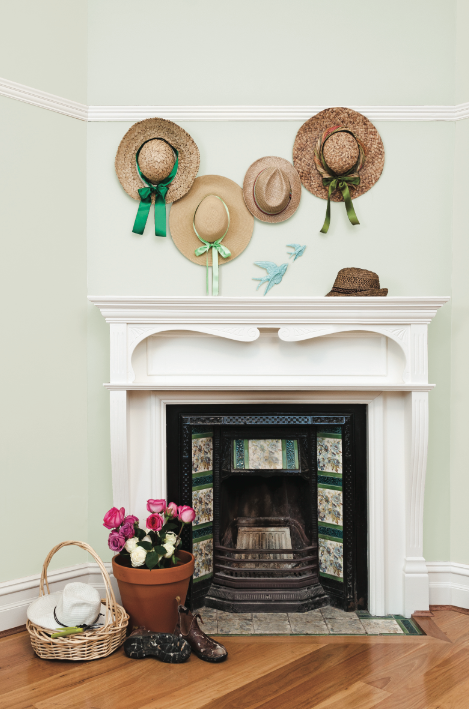 Walls: Taubmans Endure Interior in Rain Cloud
Embracing colour allows you to add your own personality to your home, and creates depth and layers to your interior in a simple and inexpensive way. For more ideas on how to bring colour into your home, you can find Taubmans new Colour Look Books at Bunnings and all leading paint and hardware stores or online, with plenty of colour ideas and looks to inspire you.
Shaynna Blaze is creative director for Taubmans, judge on The Block and presenter on Selling Houses Australia.