Creating beautiful things is second nature to jewellery designer Samantha Wills, who lives between Sydney and New York. And it's no surprise she loves her own homes to be gorgeous too. I was so excited when she told me recently that a move into homewares is on the agenda, following the success of her divine mirrored jewellery chest.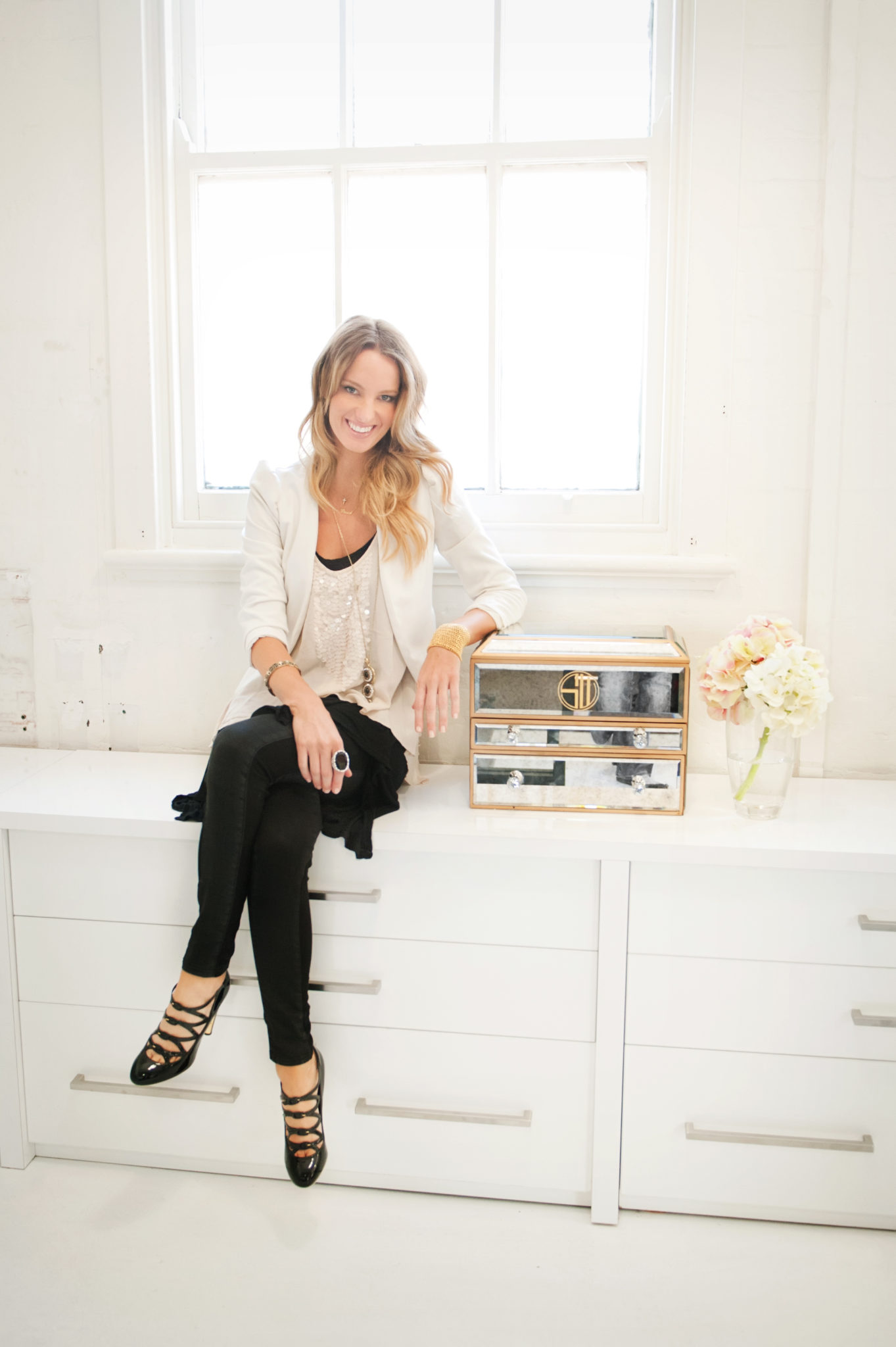 (Above: Samantha's first foray into homewares has been this beautiful jewellery chest)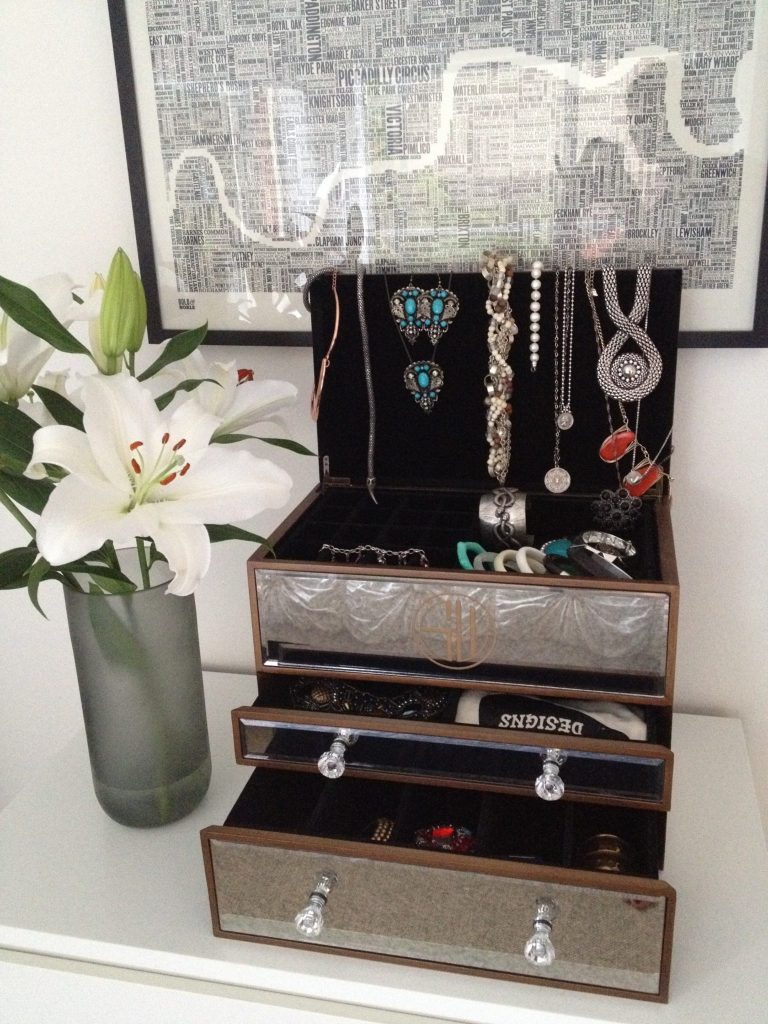 (Above: My very own chest, which I was lucky enough to be gifted)
SW loves nothing more than creating little vignettes in her homes, which are full of fresh flowers and candles. "I think my style is a fusion of bohemian meets luxury, so my interior reflects this. Mixing French mirrors with carved Balinese wood, flowers and faux furs with skull prints and sculptures!"
Living between two amazing cities, it was hard at first for her to feel at home in either of them. "For about two years, I could truly say I did not know where home was. This sounds stupid but I was travelling so much, I didn't really have an anchor to a place. It is not good for the soul when you feel most at home in an airport lounge! So I made a conscious effort to  invest time, money and energy into both my NYC and Sydney homes to ensure they did not feel like a hotel room, but very homely.
"I have mementoes in both homes. I know I won't have two apartments forever, but I don't think about this when I'm decorating otherwise I wouldn't be true to my style. I'd also be thinking, 'I love this (say a piece of furniture) but if I have to ship it around the world in a few years, that's going to be difficult'. The way in which I build my home now is very much in the moment and I think there is importance in living that way, rather than assuming what you think might happen in the future." (Having moved to Australia from the UK myself, this really resonates with me. I remember the time I decided to sell everything I had in storage in London and start spending money on Sydney furniture, it was a big deal psychologically.)
And now for a bit of an exclusive! Samantha revealed to me she is going to be making a move into homewares. "Absolutely! Jewellery just happened to be the medium I worked with when I launched the brand, but my love of all things creative is the passion behind it. SW STYLE  (her new online magazine) is a very good example of other creative projects I enjoy doing and an extension of our signature style. I'm currently working with my team on both a homewares offering and a small leather collection that will look to be released early next year. The homewares category is one I am very excited about. I think our homes are such a canvas to portray our personal style."
The ridiculously gorgeous jewellery chest was 18 months in development. And before you say $399 is too expensive, you want to try carrying this thing. It is heavy and huge (there's a story about me trying to get it into a cab with one arm while opening the door with another, but you don't need to know about it) and mirrored, lined and BEAUTIFUL. It's almost a piece of furniture in its own right. You can even fit your wooden SW boxes inside it.
"As all our pieces come in hand carved wooden boxes, the response to this was, and continues to be, overwhelming. I was receiving loads of photographs of how SW fans would display their boxes. Some had so many they were playing life size Jenga with them, some burning candles in them, it was just really inspiring to see the packaging playing such a large role in people's homes," says Samantha. "I personally like the concept of a woman's dressing table looking like a display from an exquisite boutique. I also love a vintage/smoked mirror so thought that an oversized chest would be a great extension for SW lovers to not only house their growing collections, but also as a beautiful addition to their homes."
Samantha wanted the chest to be both functional and a beautiful piece on its own. "I'm currently working on some new designs with the original mirrored one in mind and designed to be displayed all together. I am looking at incorporating new materials that really personify our signature bohemian luxe style, mixing wood with mirror, turquoise embellishments with gold metal overlays and mother of pearl inlays. I cannot wait until they are finished to show you!"
WOW. How gorgeous do they sound?!
Would you like one for yourself? Seriously! It's currently sold out but Samantha is giving one away to a very lucky Interiors Addict reader in a Pinterest competition I'll be announcing tomorrow. Perhaps even more exciting, Samantha has promised Interiors Addict the first glimpse inside her New York apartment soon!
Check out Samantha's jewellery collection at her website.