If someone told you that you could get an original piece of art and spend a fun morning getting creative and learning a new skill, all for the grand total of $220, would you believe them?! Well, it's true! It's called Little Lane Workshops' resin wall art workshop, which I was invited to try for myself recently. Now, I'm not the most artistic person. Yes, I love interiors and have a half decent eye for what looks good in a room, but as for actually creating things with my hands? Not so talented! And that's putting it politely!
But look! I made this piece of art!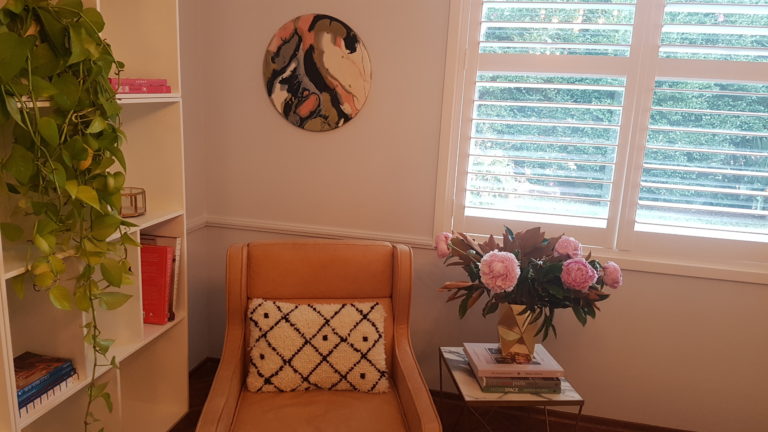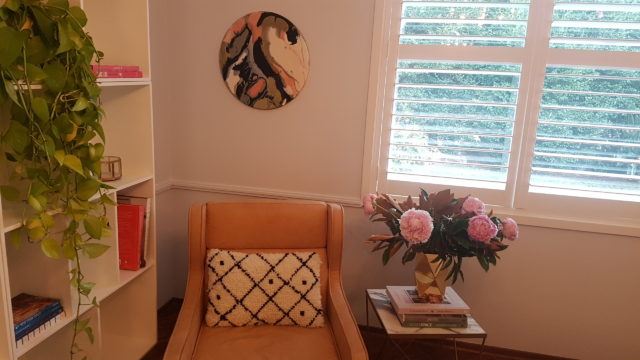 I thought this class sounded fun and it's rare, as a mum, that I spend weekend time doing something just for me. I also find that whenever I do do something with my hands, however mediocre the outcome, I find it really therapeutic and relaxing.
I'm not sure why I took along my most creative, crafty friend Ange, because that was just asking to be shown up, but I knew she'd love it too. A fellow mama, Ange agreed we deserved a bit of time out to do something creative and fun.
We arrived at the seriously stylish workshop space in Warriewood on Sydney's Northern Beaches, which is run by the lovely Sonia Stackhouse, who I met through blogging. First, the class watched Reba from Pretty Burd show us the ropes. She is a seriously impressive resin artist so of course she made it look easy as. Even though I was getting more nervous by the minute about how terrible my own 'masterpiece' was going to be and how I was about to embarrass myself, I must admit I secretly couldn't wait to get stuck in, choosing colours and mixing pigments. It looked so fun! Luckily, I can laugh at myself, so I was happy to give it a go, whatever the final outcome!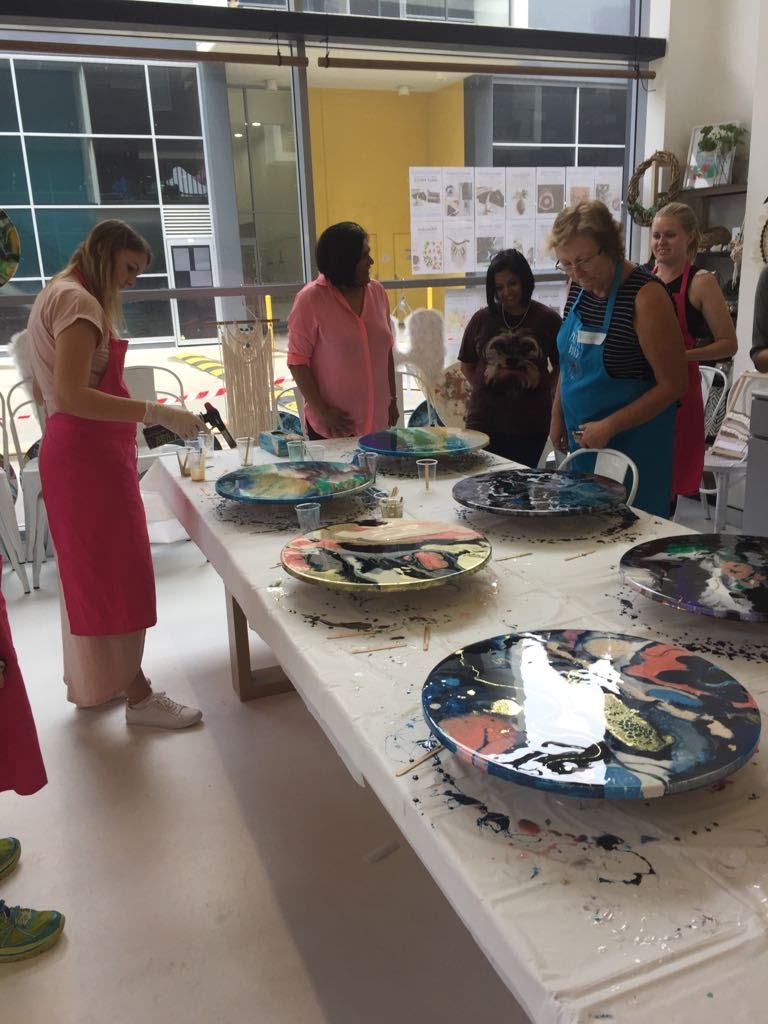 Then we were let loose with our round boards, jugs of clear resin and a huge choice of pigments, looking so appealing like those vibrant eyeshadow powders! Reba explained that we only had about 40 minutes to work with the resin before it would get too hot and start to become too hard to work with. No pressure. She also showed us a variety of techniques for creating different effects with the resin. There is way more to it than I imagined.
It started badly. I looked at my board with a big smear of almost-black (which I intended to be navy) across the middle and thought there is no way I'm even going to fill this board, let alone make it look good. But do you know what, I just kept going and before I knew it, I had something resembling an artwork! As we got near the end, my resin was getting all stiff like treacle and I was in trouble. I needed to speed up, so I sploshed on gold wherever I had a 'naked' spot on the board. You can't go wrong with gold and, well, it was the only one of my colours that still had some movement in it! It really was that…artistic!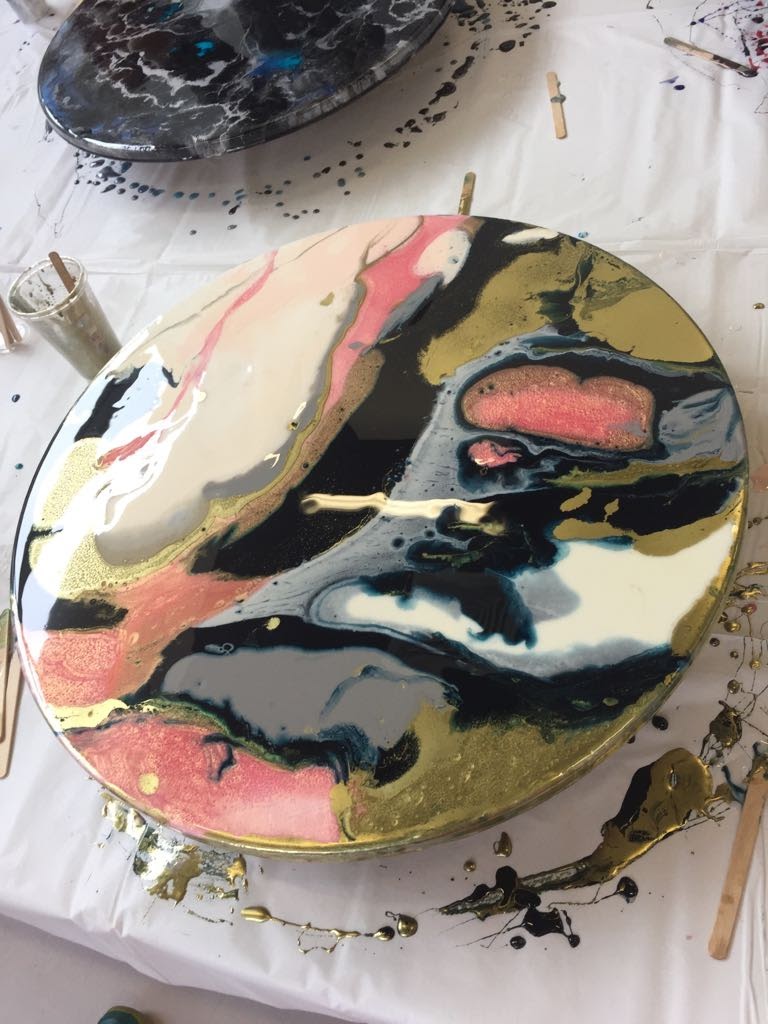 Reba moved around the room, offering advice and helping us out when we started to panic about being out of time. She was super patient and approachable. Once we were done, we got to take a blowtorch to the artworks to cure them. This was fun (and also terrifying, I thought mine was bound to be the one that caught fire!) and gave the boards a lovely even, high gloss finish.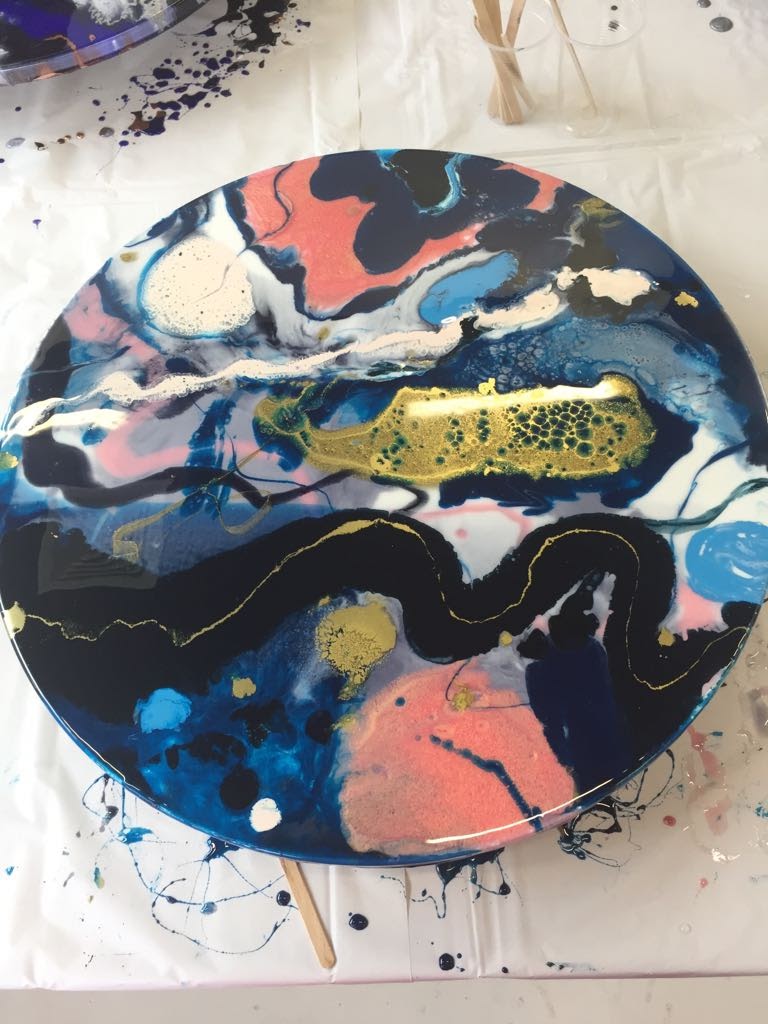 I must admit, when I stood back and looked at my finished piece I was slightly smug. It actually looked good, and I had really enjoyed myself. I would have paid $220 for the experience, but getting to take a piece of art home too* makes it great value if you ask me. No, the colours were nothing like I planned in my head before I got started, and yes, my friend Ange's looked way better than mine, but I was nonetheless very happy!
The next resin wall art class is on 29 July and I wholeheartedly recommend it! Book your spot. Other upcoming workshops include macrame, brush lettering basics and ceramics. There are also a variety of school holiday workshops for kids.
Disclosure: Ange and I attended the workshop as guests of Little Lane Workshops.
*Finished artworks need to be left on the premises for 24 hours to dry properly and then you can either choose to pick them up later or have them posted to you for a small fee.