Presenting Part 2 of the tour through our six-week transformation of House 4. Before we begin, did you know that a combined kitchen, living, dining space is called a Great Room? I only learnt that the other day #thanksgoogle.
So here is our Great Room …. plus a staircase!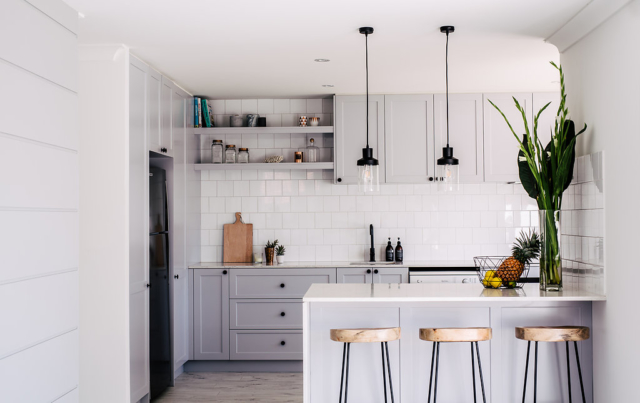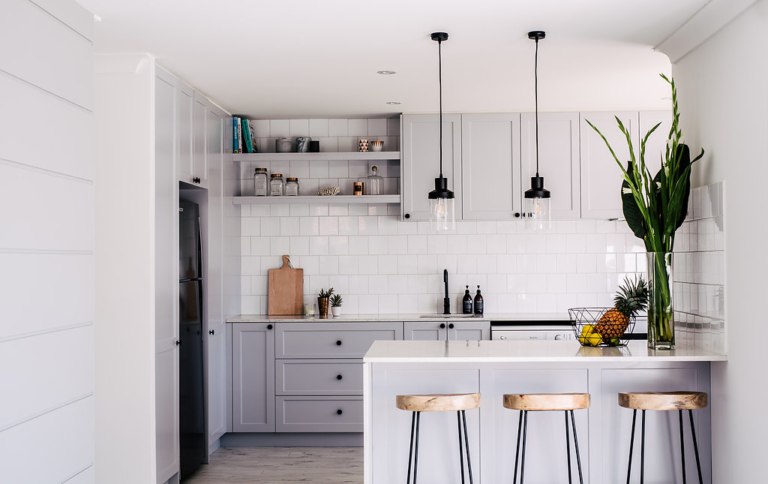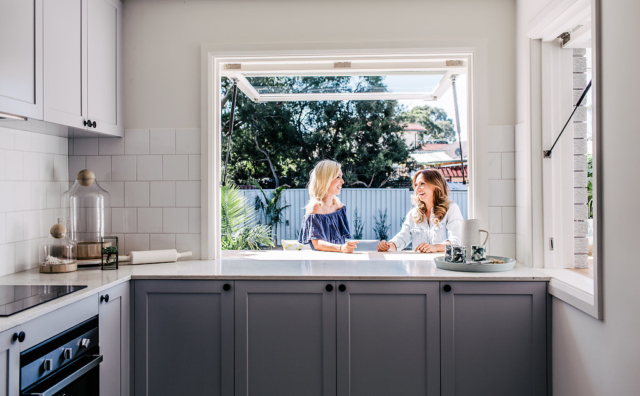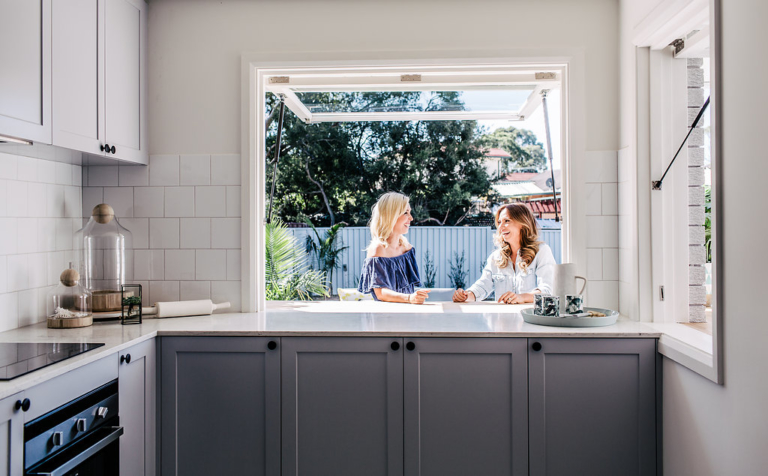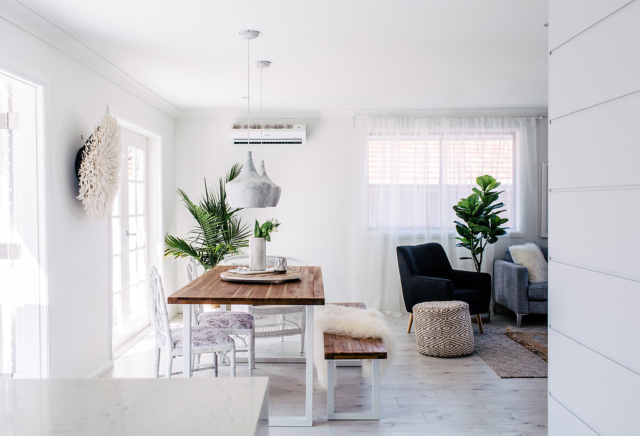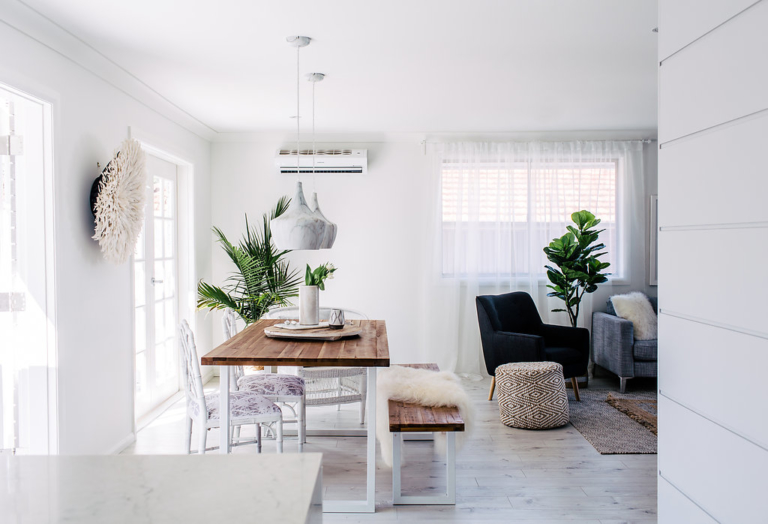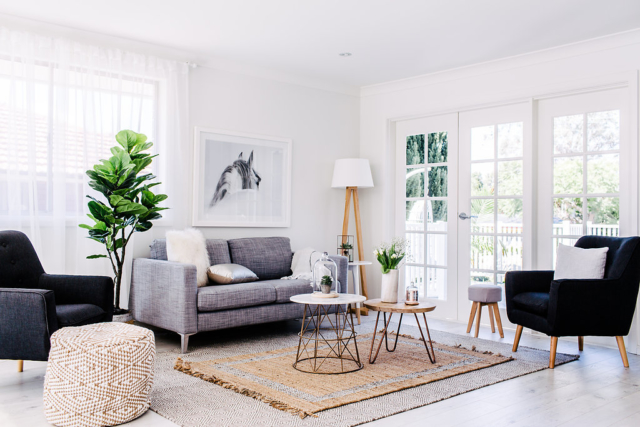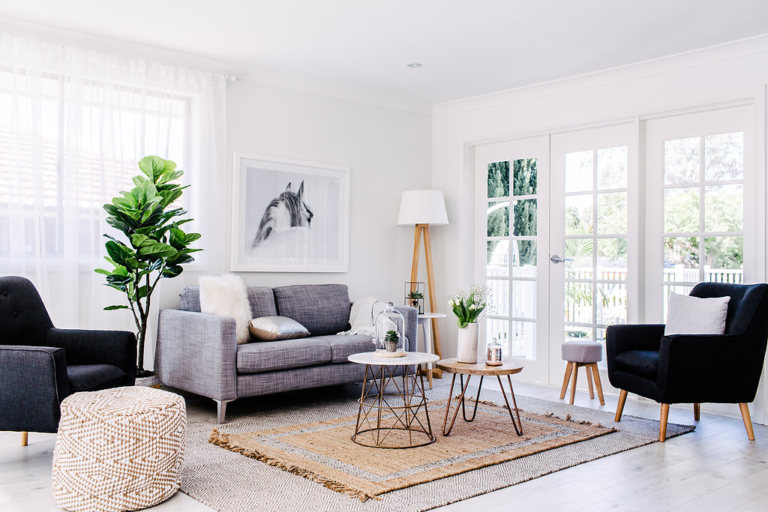 KITCHEN
How did we make it so much bigger? There was an external laundry sitting on the other side of the wall with the cooktop on it so we knocked through it and stole that floor space to make it part of the kitchen with our trade mark gas strut window.
Where are those stools from? Those Oz Design tractor stools set our social media on fire when we shared the pics.
Why is the bottom shelf not aligned to the bottom of the overhead cupboards – was it a mistake? No that wasn't a mistake. It was a design choice we made to give the kitchen a slightly more open and relaxed feel than if the shelf was aligned with the cupboards.
Budget buy? The picked up the pendants from our local hardware store.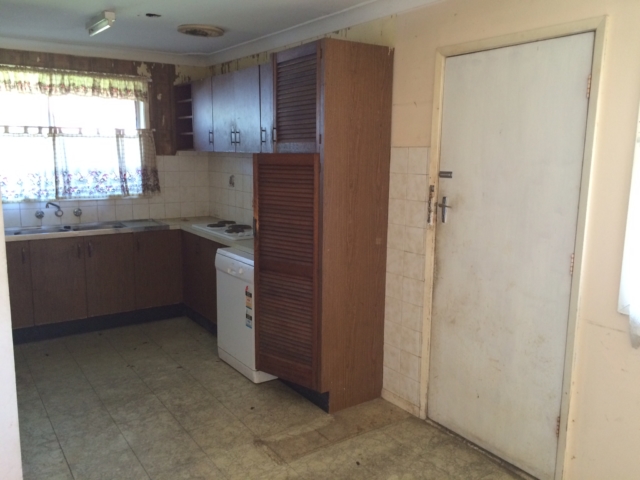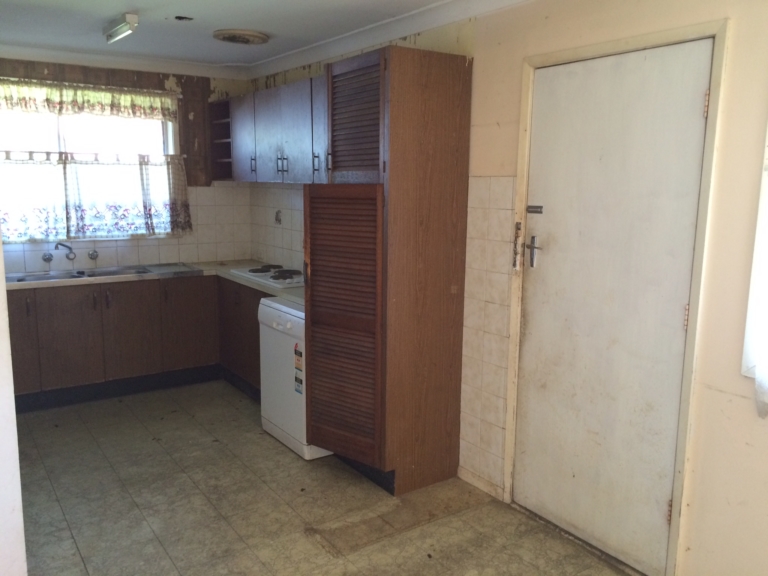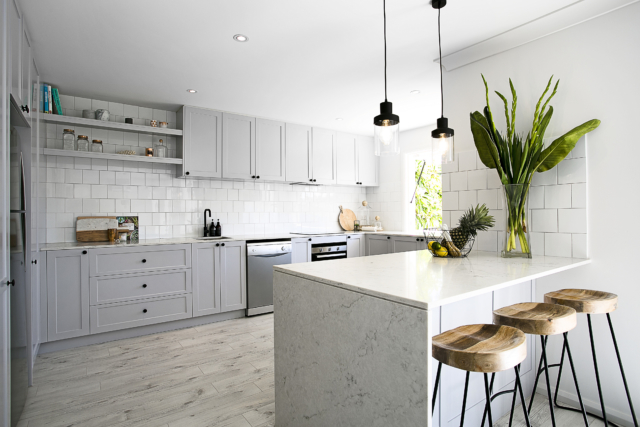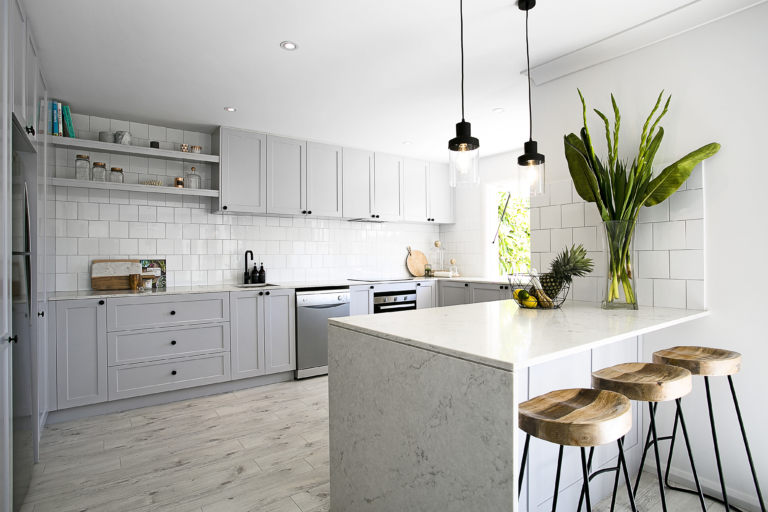 LIVING
What transformed this room the most? You can see from the pics that we didn't change the shape or size of this room, but it looks completely different as a result of the fresh white paint (our staple – Taubmans Snow Drop) and white-wash laminate flooring (from our local hardware store). The styling also helped a bit 😉
Is that a double rug? We're loving this trend right now. On face value it seems a bit silly to put one rug on top of another, but forget about the practicality of it – it looks divine and brings a warm, layered feeling to the room.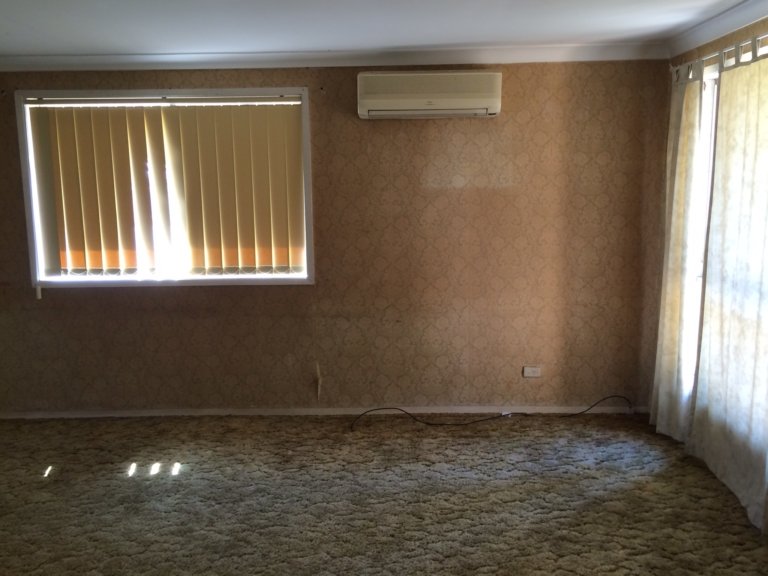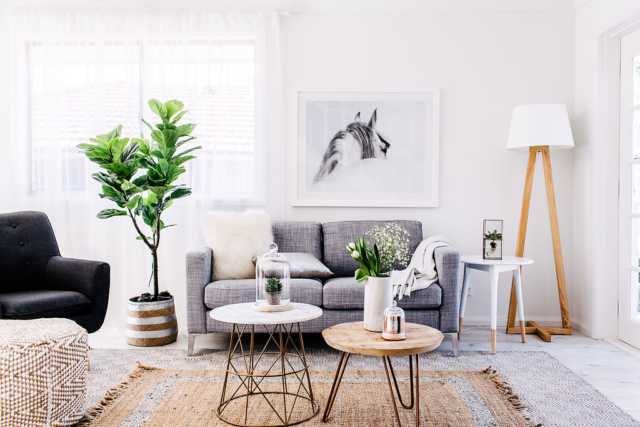 DINING
How did we make the space so much bigger?  The original wall on the left ended up in the skip bin and this allowed us to stretch the dining space across two rooms. The double set of French doors allowed an abundance of natural light to fill the room and we spent a lot of time looking for a dining table that was not too big, not too small.
Where are those matching dining chairs from? Those Chinese bamboo chairs belong to one of our Instagram followers. We ran a competition to find a piece of old furniture to upcycle and feature it in our house. We painted and re-upholstered them and the best bit was giving them back to their owner, Fiona, once the house was sold.
What type of flooring is that? White wash oak laminate.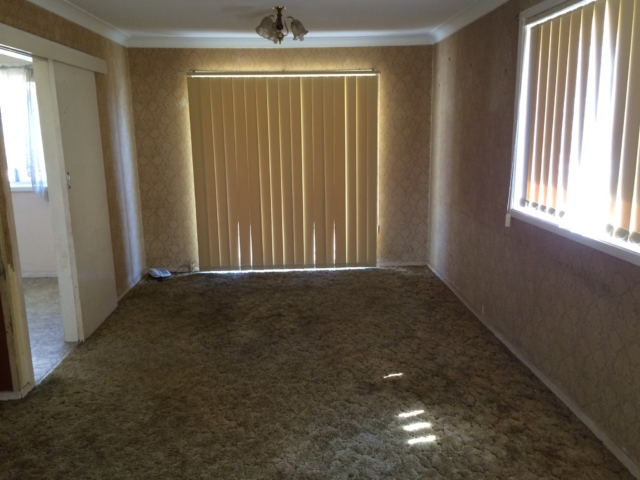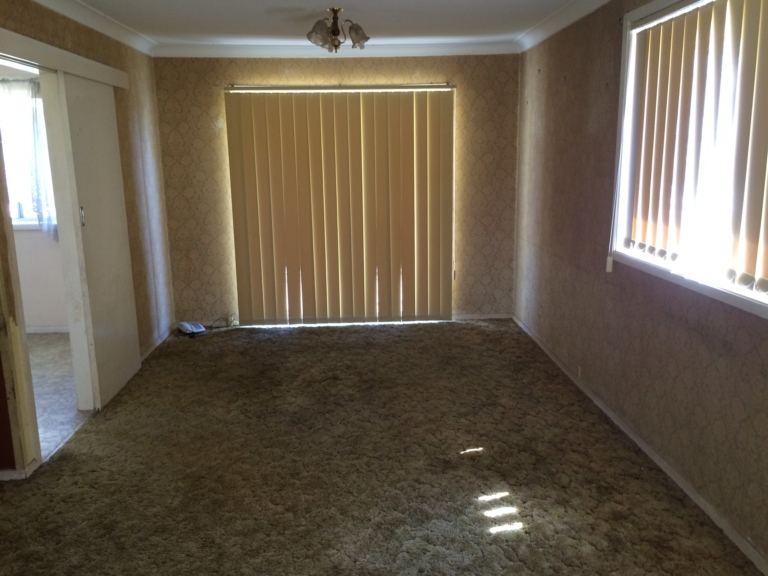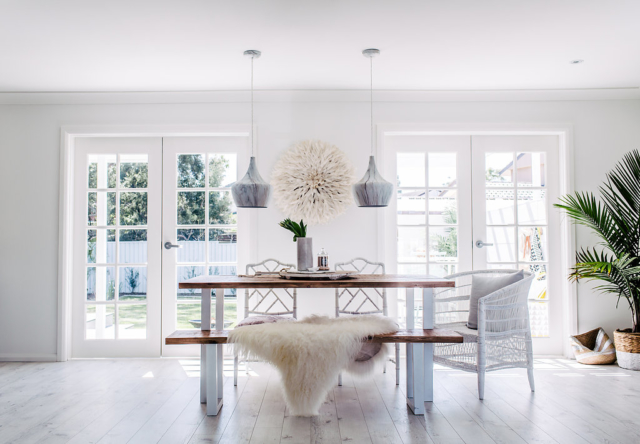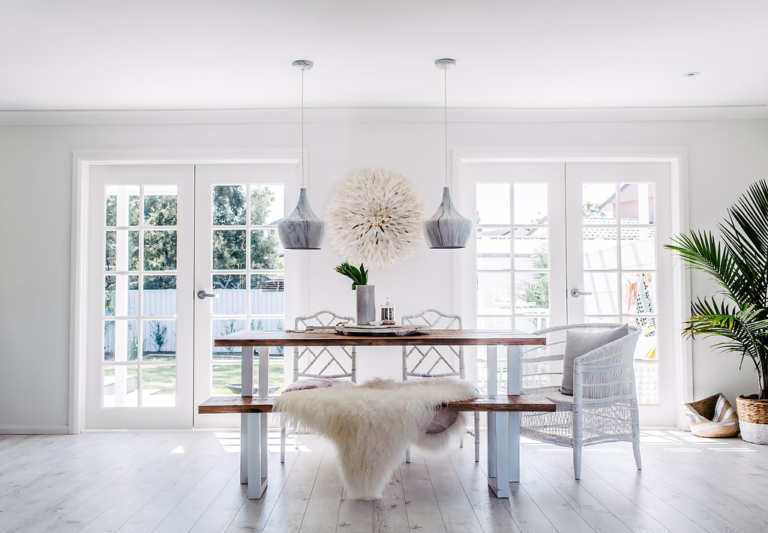 STAIRS
What did we do to the stairs? We actually didn't do much to the original staircase in terms of the balustrade and treads. We didn't touch them. We cut back the wall on the right to open up access to the kitchen and then used the recessed space underneath to build in a bench seat and create a welcoming reading nook with its own lamp. The Scyon wall cladding was the finishing touch to add further dimension and texture.
Are white stairs practical? We painted the balustrade and treads white but if you use the right paint like an Ultra-Enamel it should withstand the wear and tear. Having said that, the treads could be easily rejuvenated with a DIY fresh coat of paint twice a year to keep them looking amazing.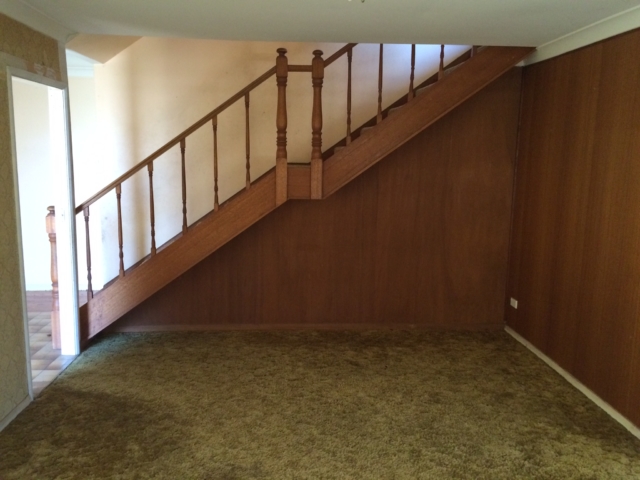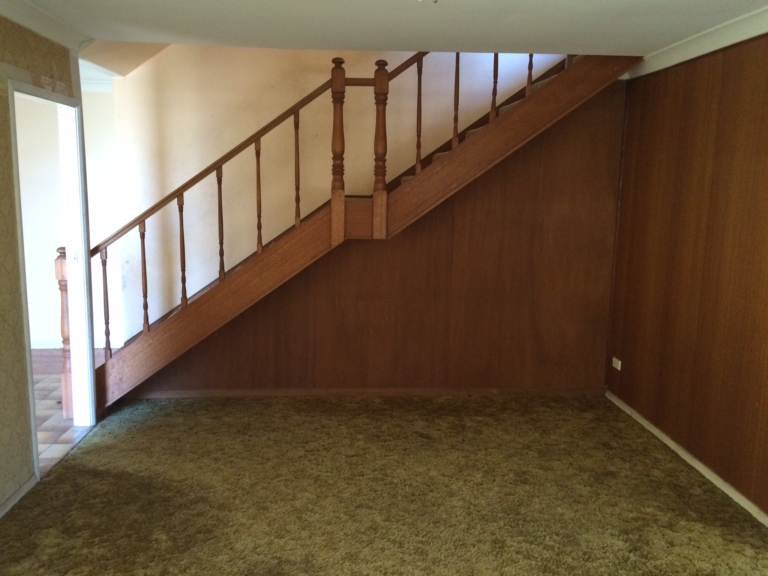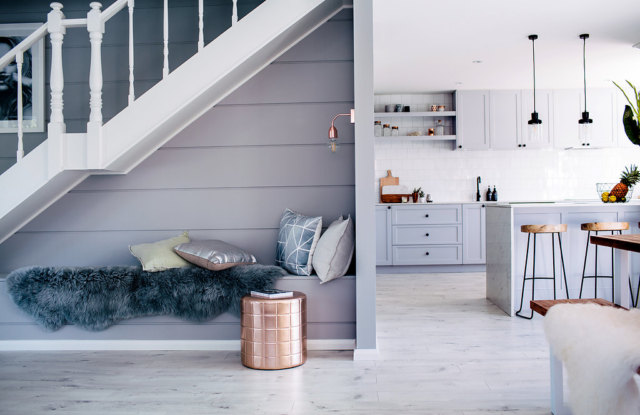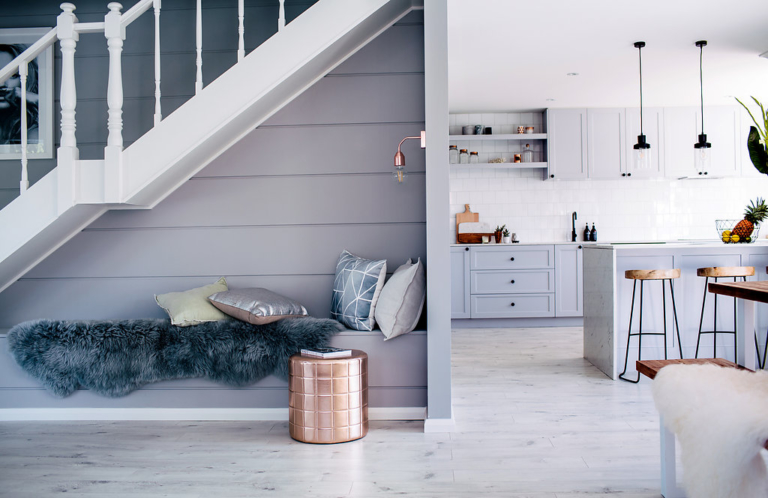 With House 4 complete, we're already busy working away on the next reno!To see how the first few weeks are unfolding tune into Three Birds TV here. Erin's far too calm as the foreman (is she serious? Bonnie's designing the house on the hop (is SHE serious?) and I continue to add little value onsite, providing a few too many "Oh My God!" moments (and the sad thing is, I'm serious).
–Lana Taylor is one third of Three Birds Renovations alongside Bonnie Hindmarsh and Erin Cayless, and one of our Resident Experts. The best friends and busy mums walked away from their corporate careers in pursuit of a more fulfilling life. They created Three Birds Renovations – a boutique renovation company where they buy, renovate and sell suburban homes. Their ultimate ambition is to build a life they love, hoping to inspire others to do the same.