Located in Port Melbourne, and attached to the rear of an existing heritage home, this light-filled extension was designed for a young family of five with the help of interior stylist Mel Sherwell of Soul Shapes Lifestyle Interiors. "The area is extremely popular for the dual lifestyle on offer given it's just minutes from both the city and beach," says Mel who designed the spaces around a 'clean and modern' brief while injecting plenty of gorgeous colour.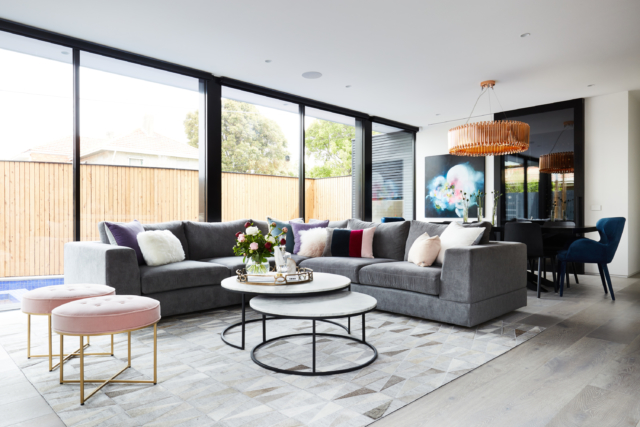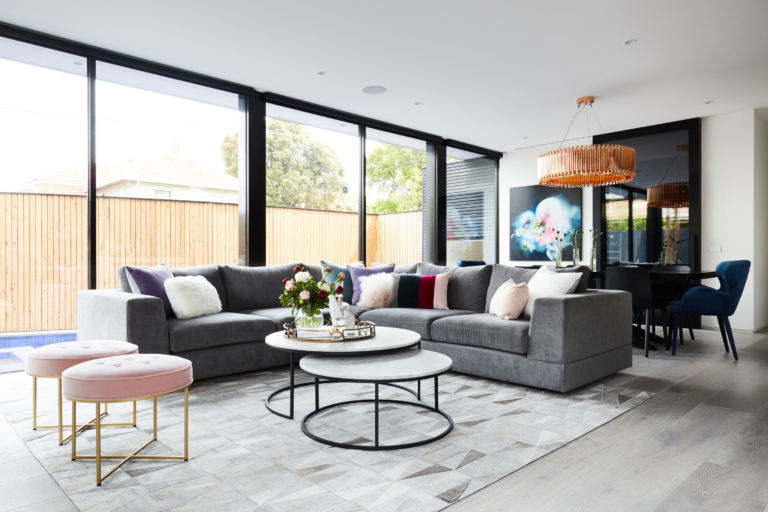 "I was tasked with creating a modern, contemporary home with clean, simplistic shape and form. I incorporated items and finishes that exude a sense of luxury, yet still offer practicality for an active family. The colour scheme resonates with the owners' personalities and busy city/surf lifestyle," says Mel.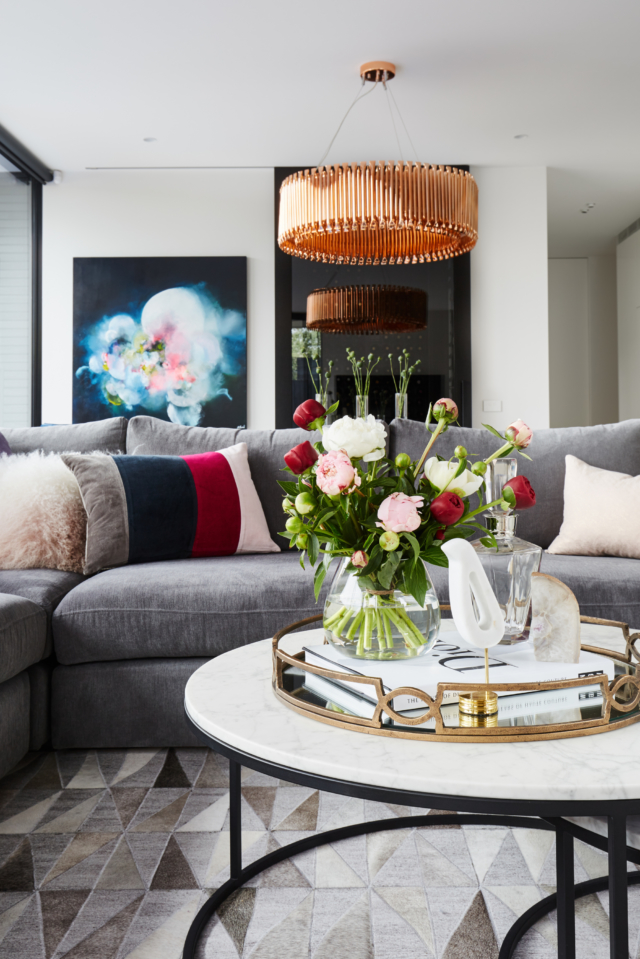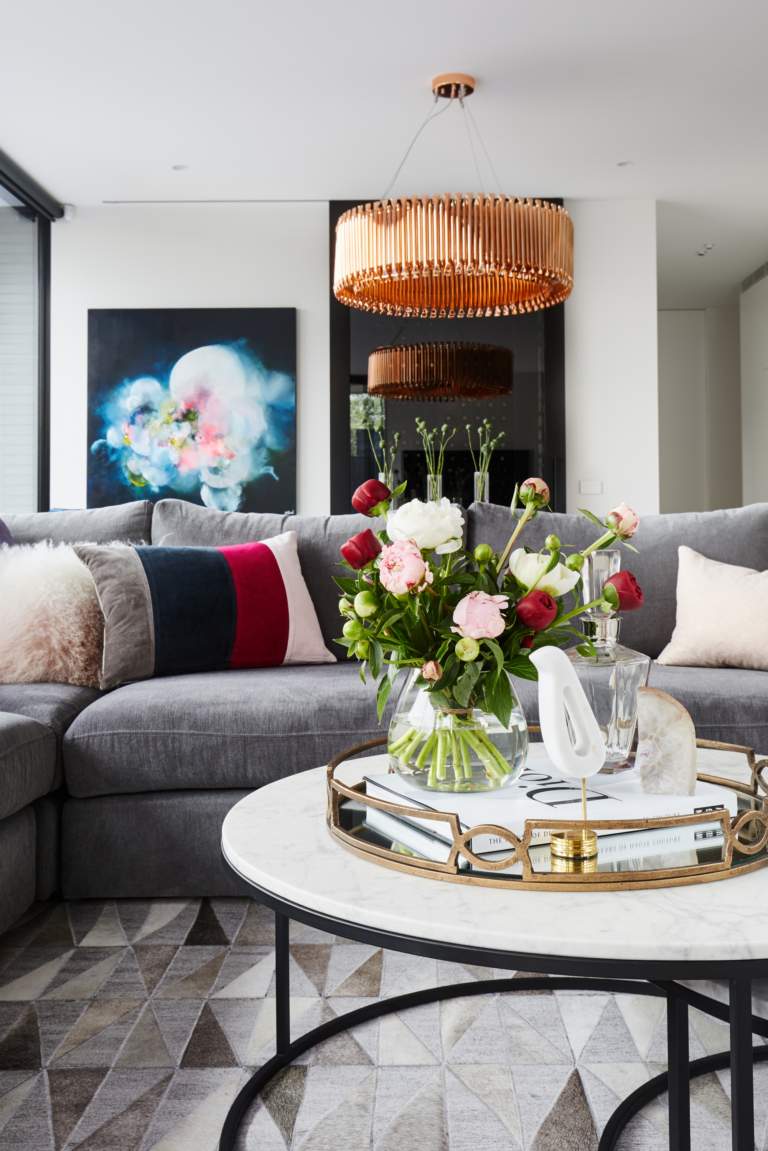 "The renovation included the addition of a two-storey extension onto the family's existing Port Melbourne bank home. Bank homes were a typical Port Melbourne style home built in the mid 1900's by the State Bank of Victoria for poverty stricken families," says Mel. The family lived in the original dwelling for five years before the renovation took place.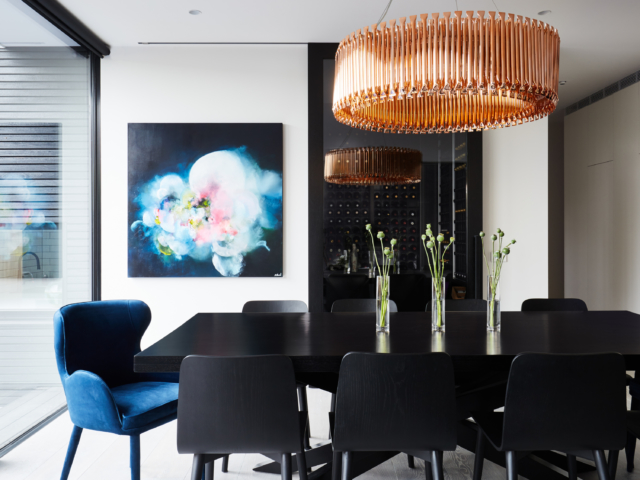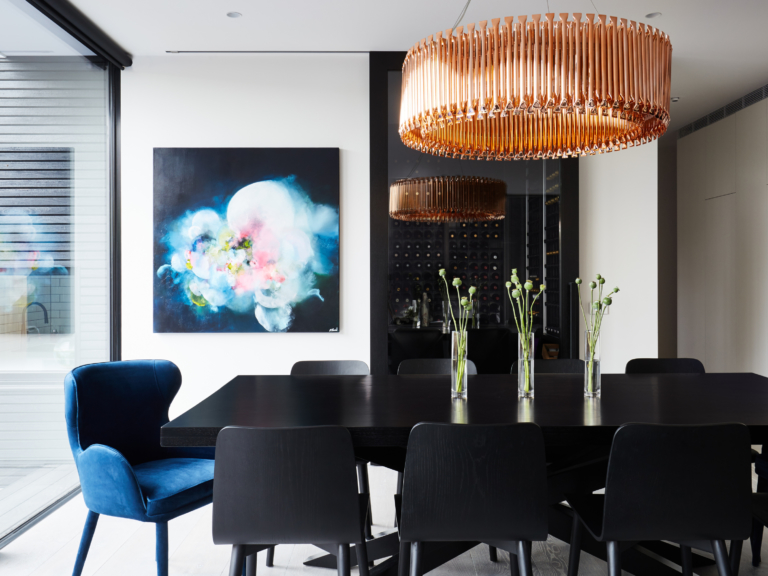 A highlight of the space, the extension is home to a stunning Michael Bond painting that sets a dramatic sartorial scene. "The Michael Bond work 'Moonstone' is a major focal point and sets the tone of modern, lighthearted luxe. It gave the space the lift it needed, but in a fun, not too serious way," says Mel. And like all of his work, it's the use of colour that really stands out. Mel was no doubt drawn to it as she has a particular interest in chromatics and colour therapy – an influence you can see throughout the home.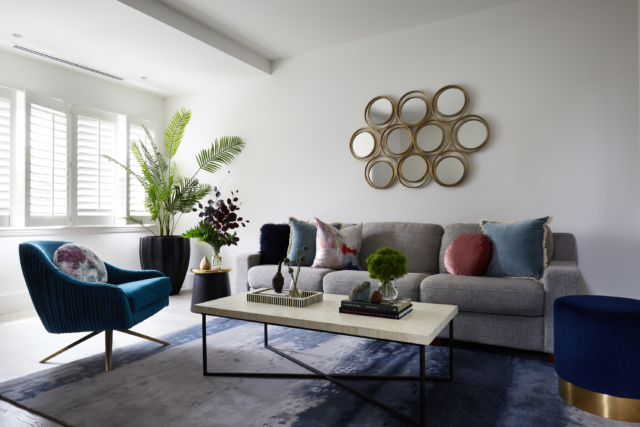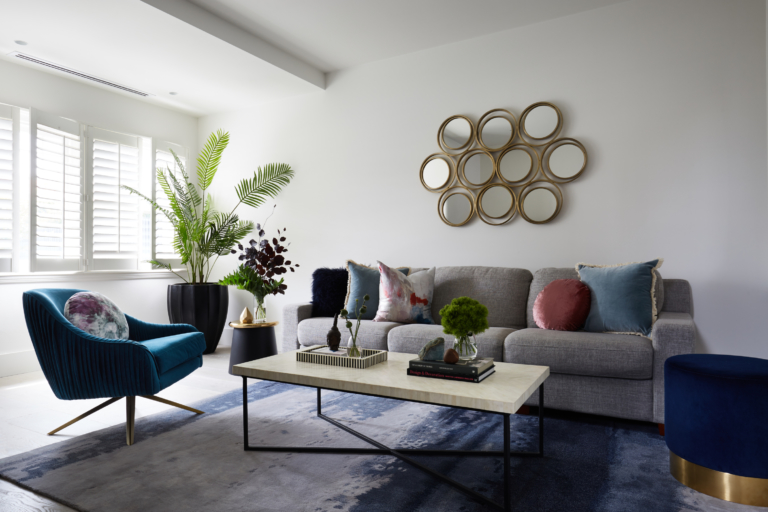 The formal lounge room is home to a fabulous bespoke area rug, the colour of which really complements the timber beneath. "The beautiful Bahia Rug from The Rug Establishment was a custom order, sized to fit. I chose this rug for its ability to bring in some lovely repetition and much needed depth. I love how it softens the bolder darker statement pieces like the art, dining table and dining chairs. I think this piece was one of the best design decisions I got over the line. It really is the hero in pulling everything together, whilst also cleverly receding nicely into the oak flooring," says Mel.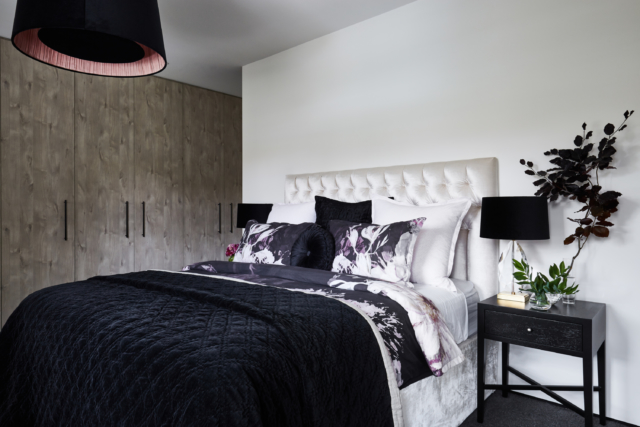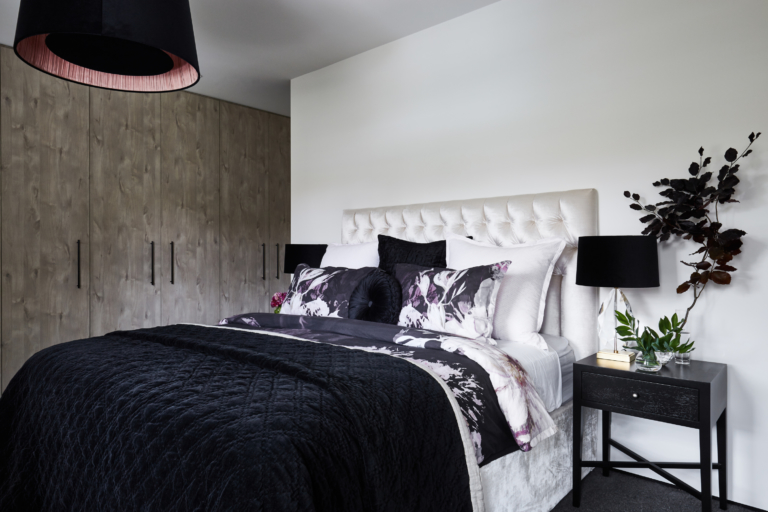 "The lighting in the master bedroom was custom made. I worked closely with my lighting manufacturer, finalising sizes and fabrics for the overhead lighting and the beautiful bedside lamps which we had fitted with our custom designed pendants. Both pendants and lamps are lined with a blush pleat and finshed with a black velvet exterior," says Mel.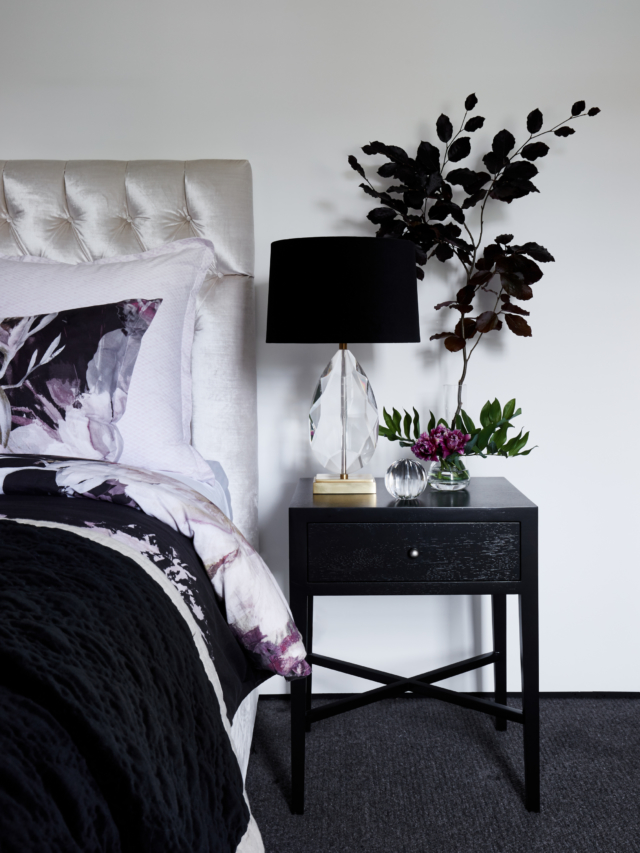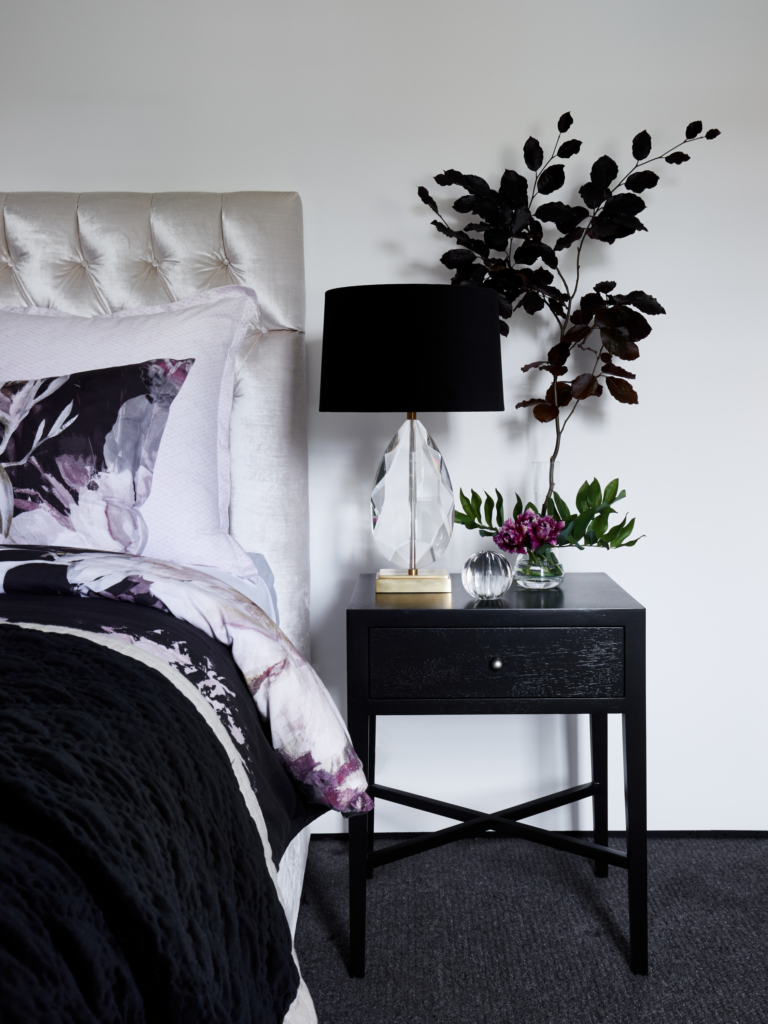 Photography: Stephanie Rooney