I think Real Living nail their covers, and March issue is no exception. I was so excited to tear the plastic off my subscription copy I gave myself a paper cut. Literally. And then fell head over heels in love with the reversible polka dot and floral quilt on the cover. So it should have come as no surprise that the brand of the quilt is… wait for it… Real Living, whose three new bed linen designs are now available at Target. Yes please!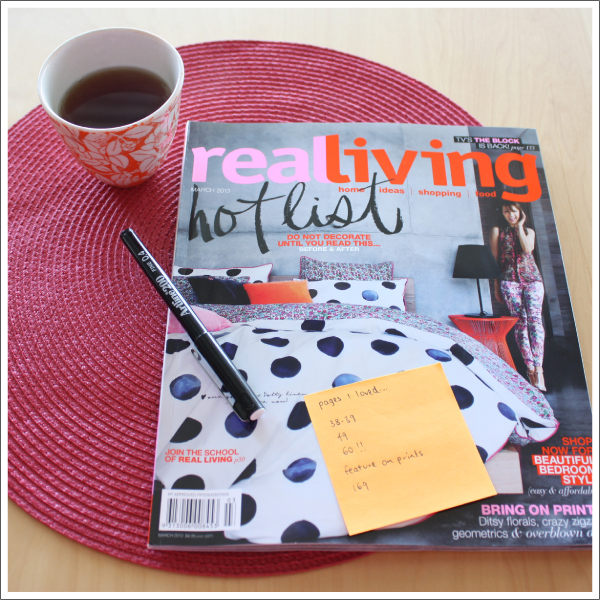 Highlights
The 'Bring on Prints' spread was five pages of sumptuous colour. I would love to be brave enough to make a splash like this in my home, but I think I'll play it safe and just incorporate some of the elements. I particularly liked the mixing of Anna Spiro's Higgledy Piggledy Stripe wallpaper in Ginger Jar Blue, with Armadillo & Co's Designer Collection Casablanca custom wool rug in Caribbean/White (editor Jen recently fell in love with Armadillo's new bright colour options at last week's Decoration + Design).

I found the story 'Steal His Shed' to be cleverness itself. How tricky to turn a garden shed into an outdoor studio?!

I'm attempting to wring every last ounce of outdoor time from the end of summer, and hence became besotted with 'Laid Back Beach Style' and the home of Frances and Wojtek Orzechowski. Epitomising stylish coastal living (let's ignore the fact I love in rural NSW), this timbered outdoor space is divine.
What I loved
The whimsical touch of overblown paper flowers by American crafter Brittany Watson Jepsen shown in Christina and Morten Mathiesen's home, titled 'Cabin Style'.

I don't even have a little boy, but I'm still tempted to create one of these dinosaur coat racks. Fun!

The 'Handy Woman' page is one I tend to flip to first, and this issue I wasn't disappointed. Real Living have transformed a plain chest of drawers with pressed metal and bright paint. I'm intrigued by the idea, and it's got me thinking of other pieces of furniture I can whack some pressed metal onto!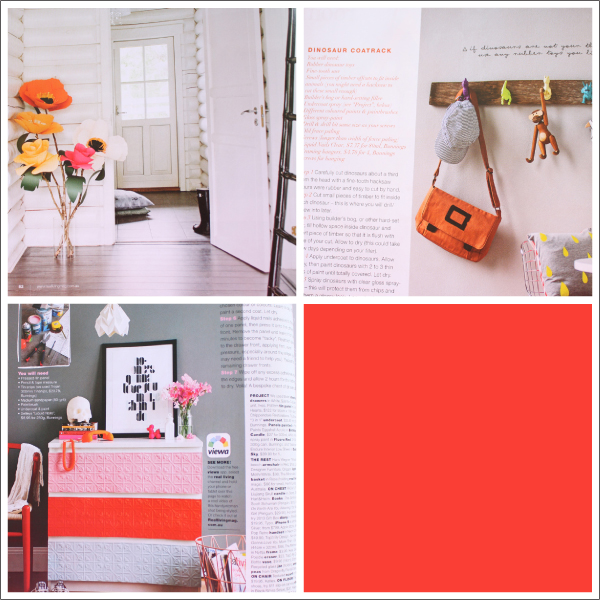 Things I'm coveting
The shirt that editor Deb Bibby is wearing on her Ed's Letter page.

The Orson & Blake 'Lola' 3-seat sofa seen in the Prints feature.
Melbourne painter Arite Kannavos, whose colourful work is an affordable way to start your art collection.