Home to talented artist Leanne Thomas, her GP husband Jo and their two teenage children, Bella, 19 and Will, 16, as well as two senior Daschunds, this Sydney renovation is a lesson in understatement. The minimalist home is also the perfect canvas for Leanne's artwork.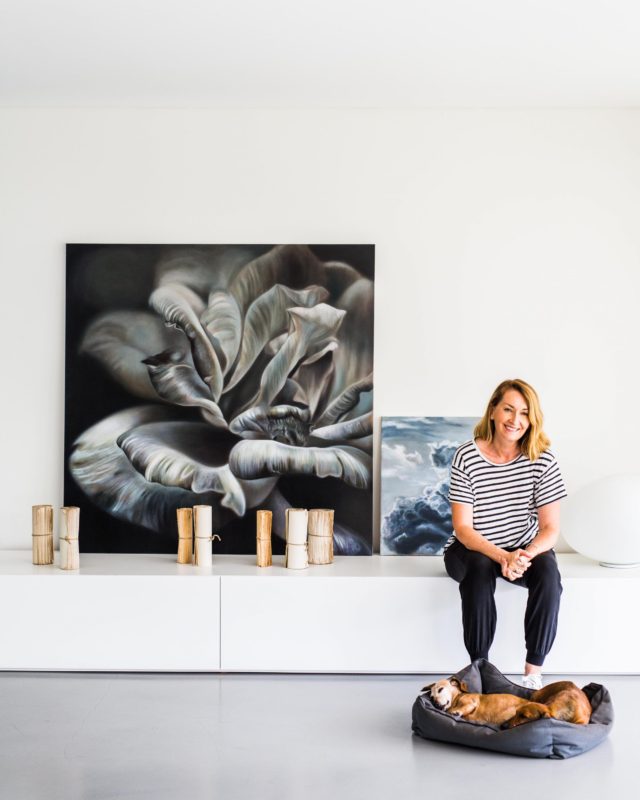 Owner Leanne Thomas with her artworks & beloved Daschunds
Built in 1983, the original home was typically boxy and lacking in natural light, so when Leanne and Jo purchased the property in 1997, it instantly became apparent what needed to be done. Initially, the pair did small renovations internally and completely gutted the backyard and installed a low maintenance landscaped garden complete with two-storey high hedging (Leighton Green Pine trees) as well as a vine covered arbor. Two children and 15 years later and the Thomases were ready for the major renovation their home so dearly needed.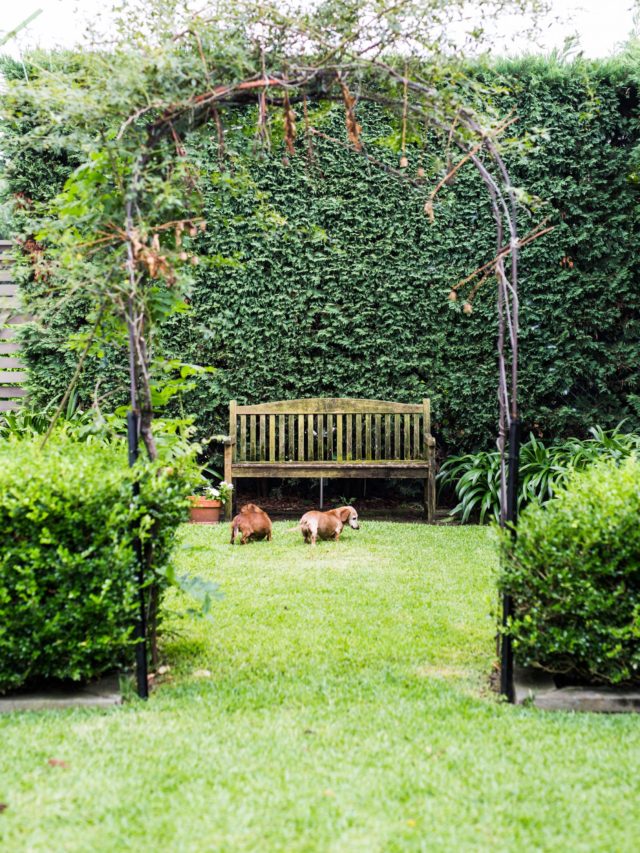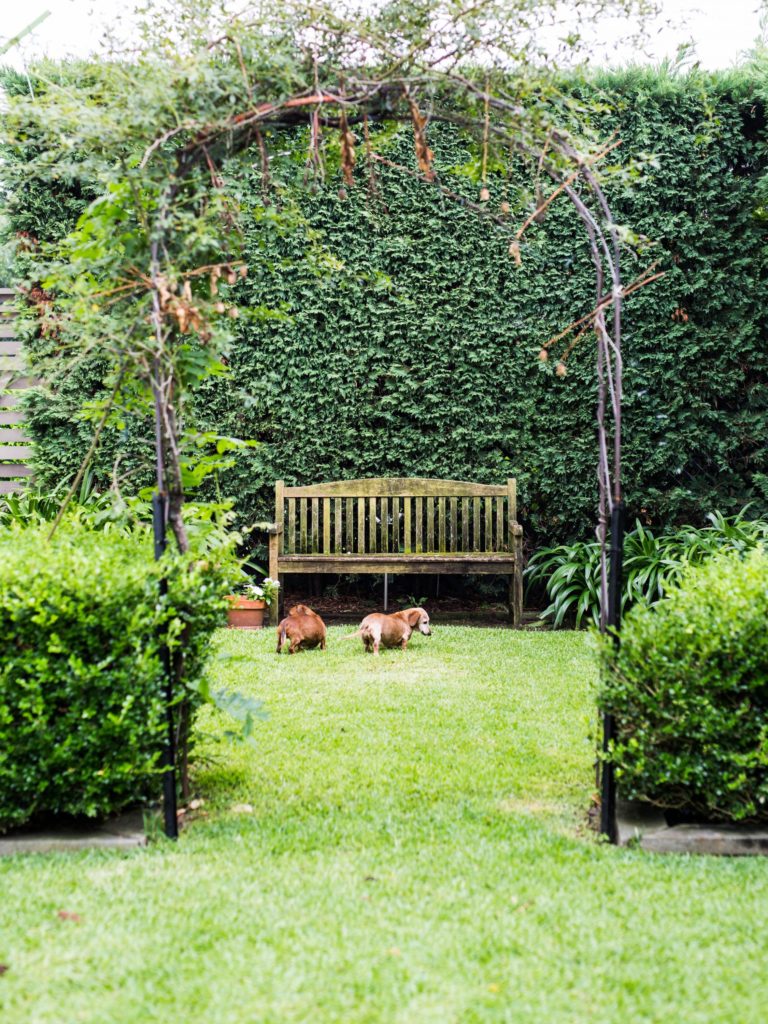 The lovely, green garden
"We wanted open spaces. The original design was quite boxy and not great for people to spread out. We found that groups of people would come for social gatherings and all congregate in the kitchen, which was a small space inside a much bigger space," says Leanne.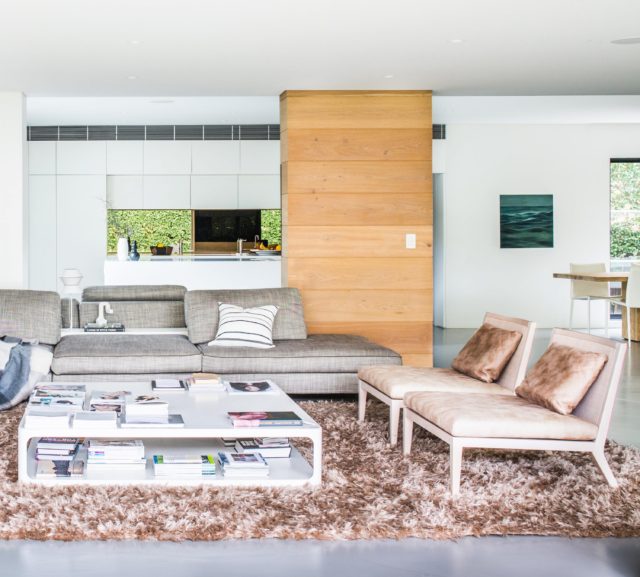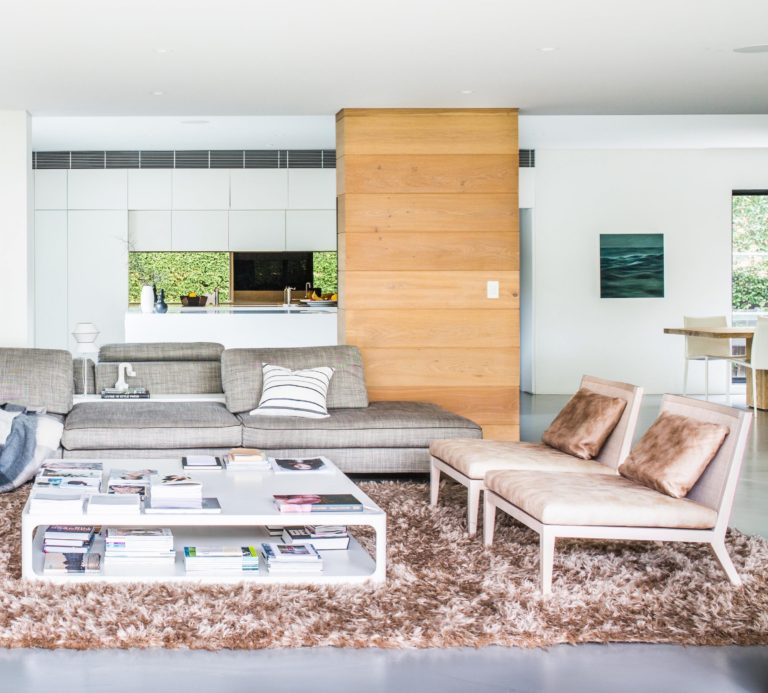 Living room
With the larger space not utilised, they decided to knock down the internal walls and completely gut the interior, creating an open plan living and dining space for the whole family. "We find that people tend to spread out now, but still have that 'together' feeling because we're all still in the one space — it's just a lot larger. We also have a lot more natural light reaching areas of the house that it didn't before," says Leanne.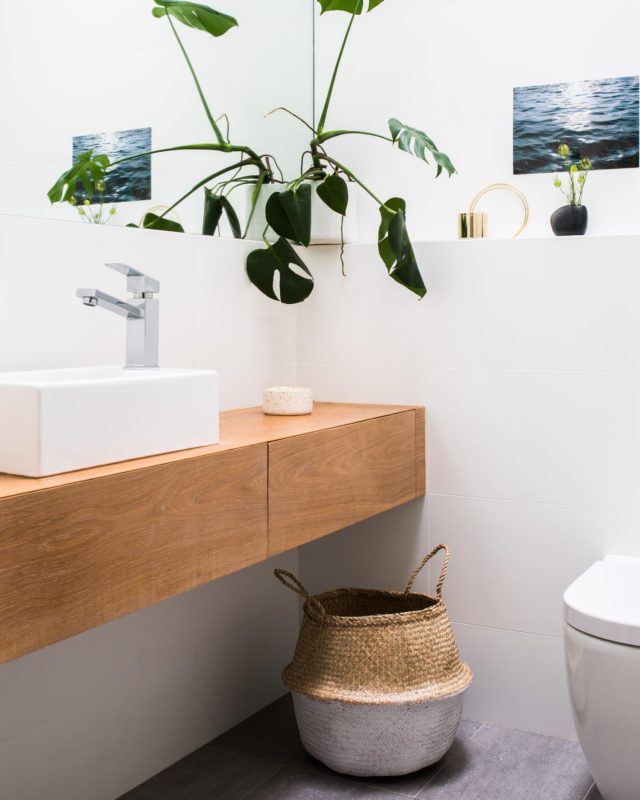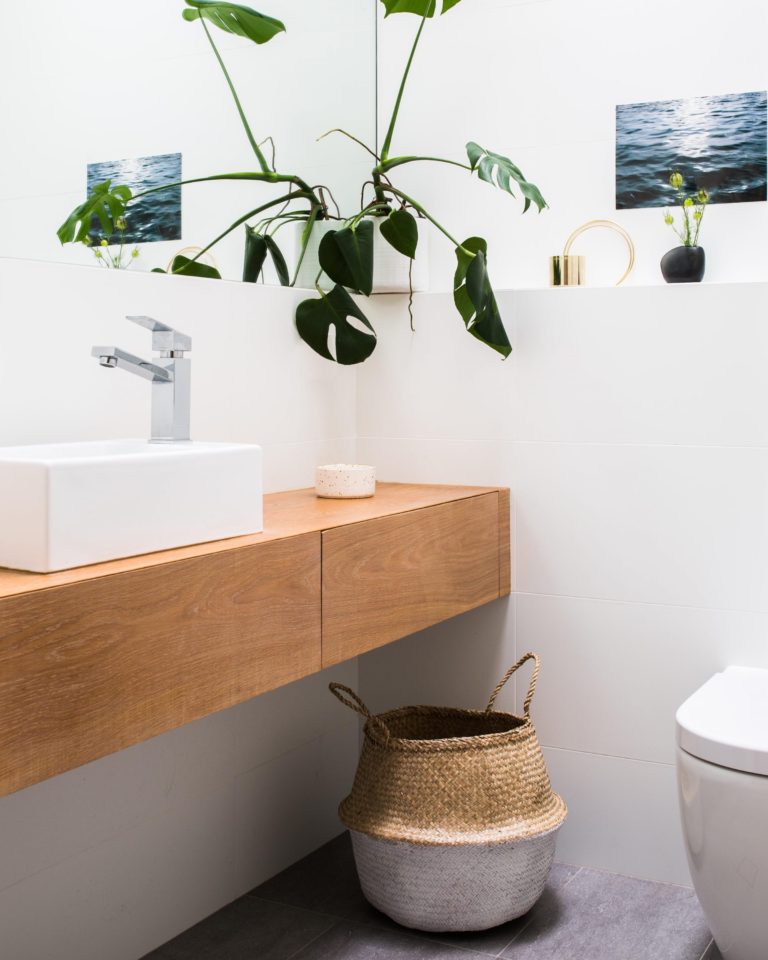 Powder room
Going through a renovation whilst still living in your home can be a chaotic time in any young family's life. "It was the hardest thing in the world! We converted three bedrooms into a mini apartment that we could lock at night, as the house was open for quite a few months. It was dirty and impossible to keep the dust out!" The renovation went very smoothly from start to finish. "Our builder was brilliant and he kept the job going day after day. There was always someone here during that time so we felt confident that the job was moving along at a good pace — something you need to see when you can't wait for it to end!"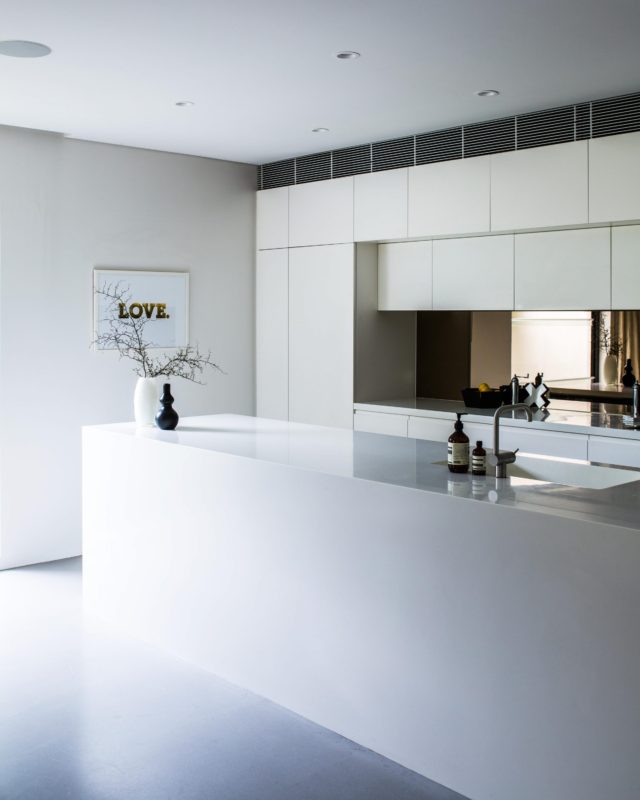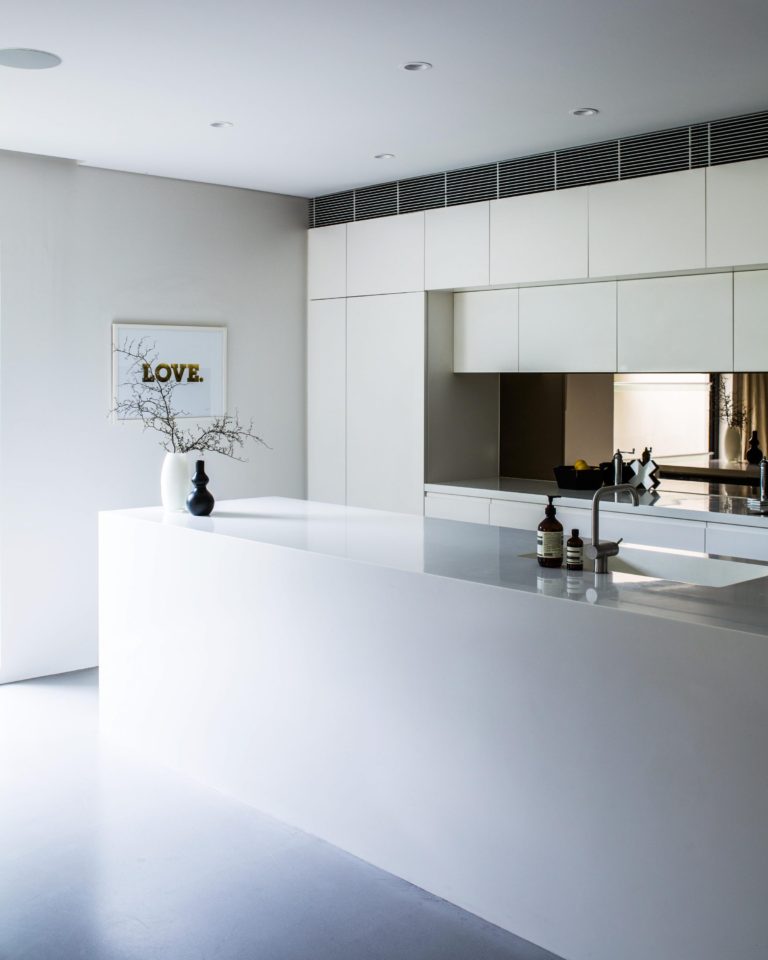 Kitchen
"People inspired our renovation. We always have loads of people in our house – there are usually an extra few at our dinner table and we love that. We wanted great, open and positive spaces for them to feel at home. People often remark at how relaxed they feel when they come in." The subdued colour scheme creates an innate sense of tranquillity within the interior whilst also allowing the natural light to bounce around the rooms. The lighting has been strategically designed to suit the family's preference for lamps and candles, which are dotted throughout the interior rather than focusing on intense overhead lighting solutions.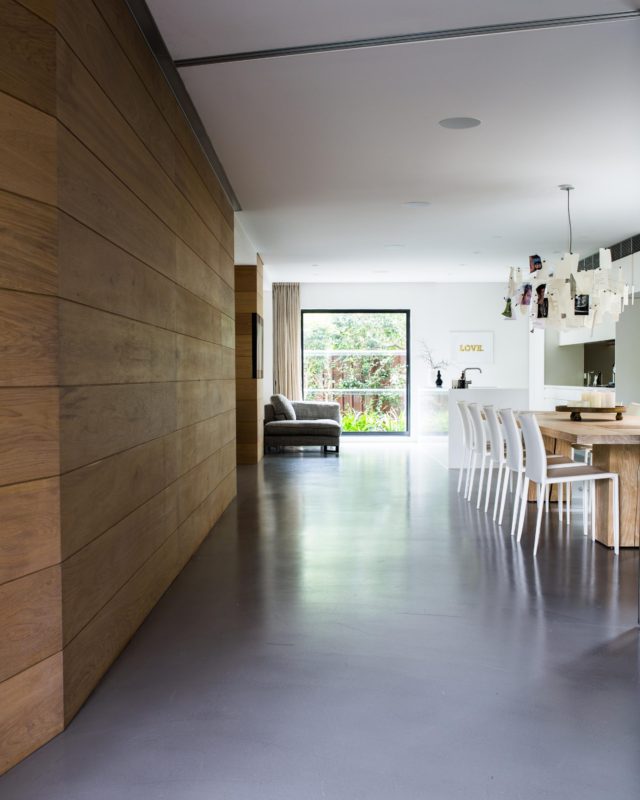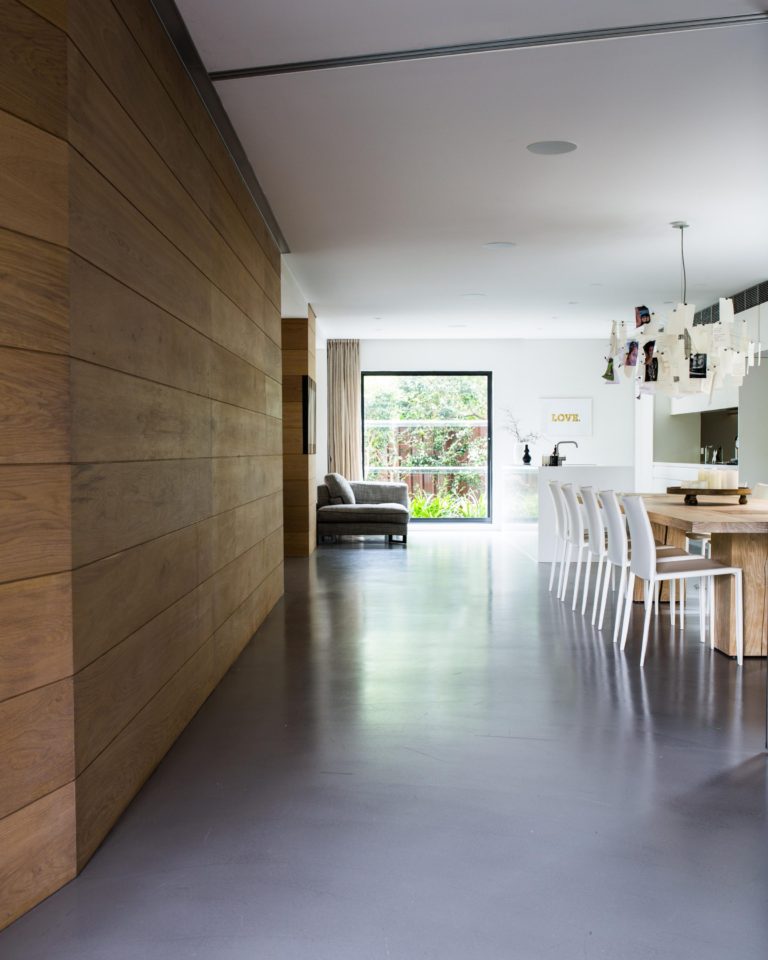 Every detail has been considered, especially with the kitchen design. "It has a hidden away pantry which is great for quick cleanups if people are coming over. Everything goes into the back room to keep the kitchen looking minimal. When I designed the kitchen, I thought about every item and made sure each had a place to be stored. I wanted everything quite minimal so the island bench is an altar-like shape, as simple as possible," says Leanne. She has also incorporated a rose gold, mirrored splashback, which intentionally reflects the green of the garden into the space and gives the appearance of looking through into another garden.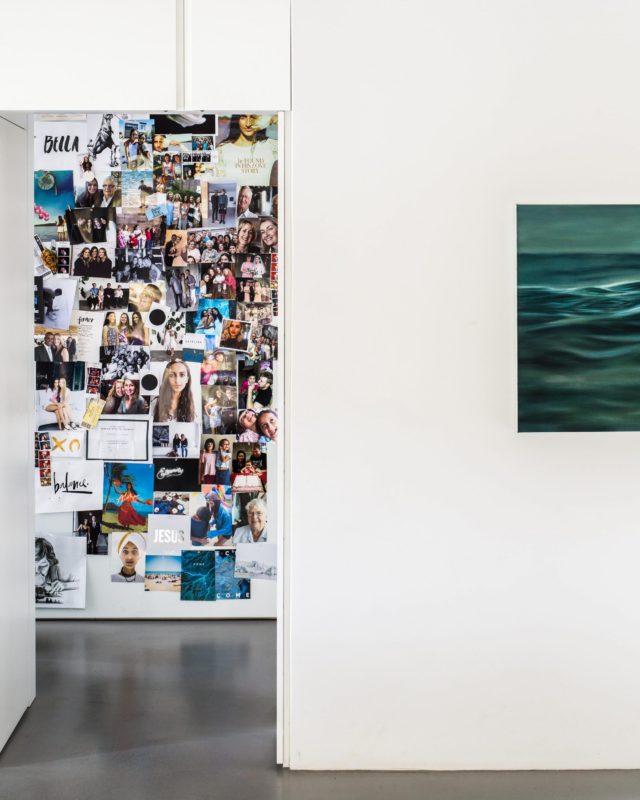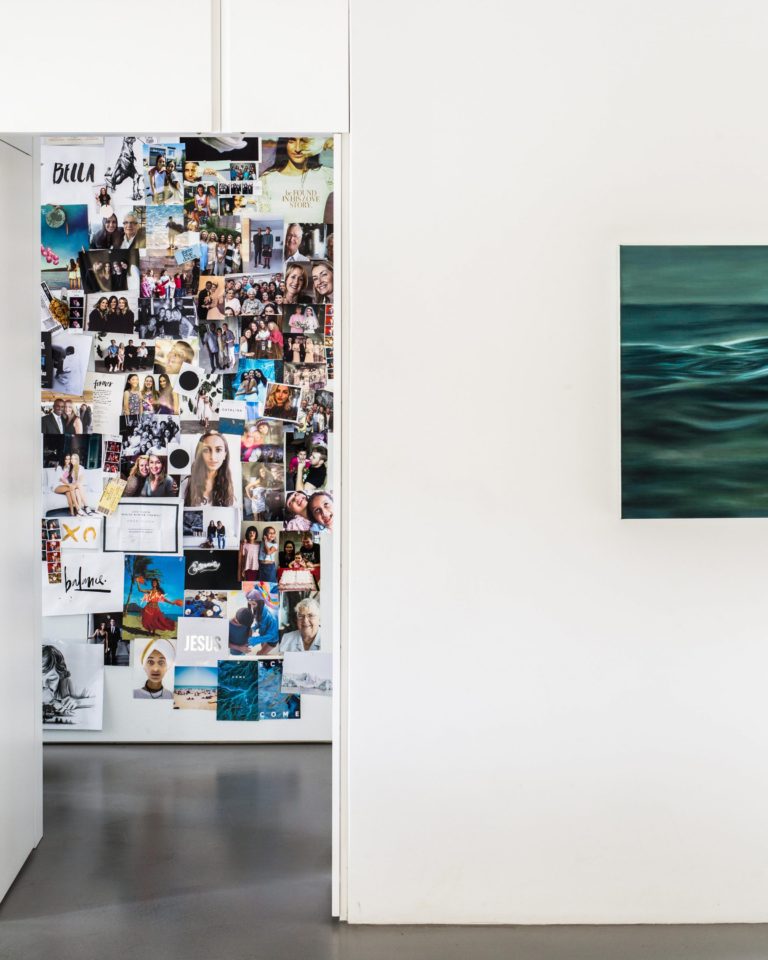 Walk-in pantry
One of the great surprises of the renovation is the addition of the walk-in pantry behind the kitchen. "You'd never know it was there! Within this room we also love our floor to ceiling pinboards, which are a great spot for family notes and loads of family pics," says Leanne.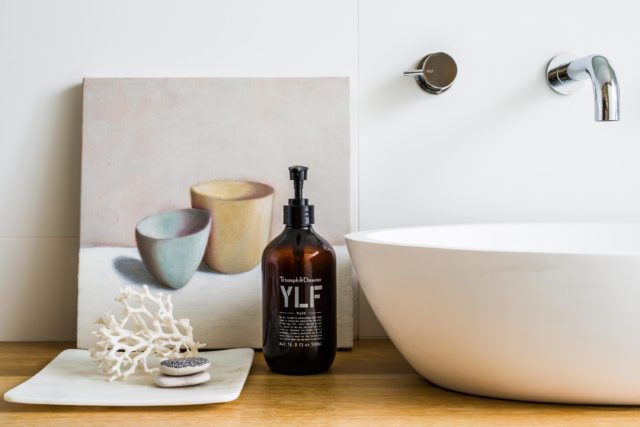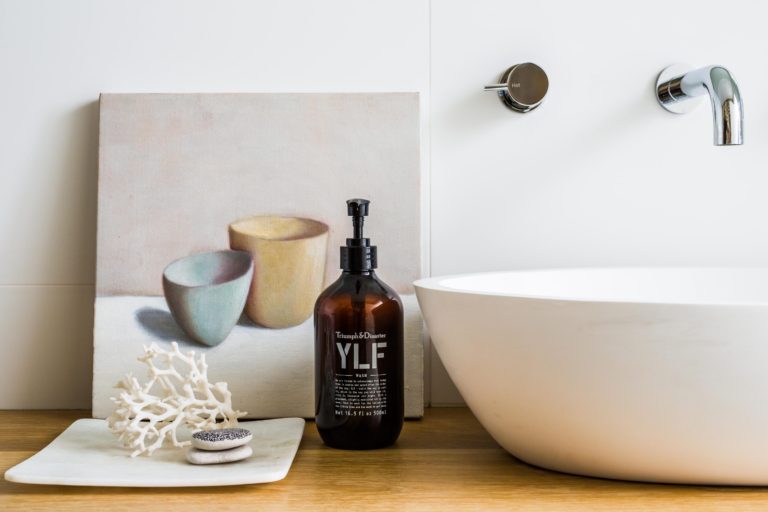 Bathroom details & Leanne's art
They wanted downstairs to be purely for entertaining and upstairs for the family. The bedrooms are all located upstairs along with an enclosed veranda which has been turned into a much loved gym and the family TV room. The only television downstairs is hidden within the timber pylon and faces the kitchen so Leanne can watch the news whilst cooking, whilst the laundry and downstairs bathroom are concealed behind a large pivot door off to the side of the living space. The layout really shows how in-depth Leanne and Jo thought about the new design. Even the precise location of power points was considered!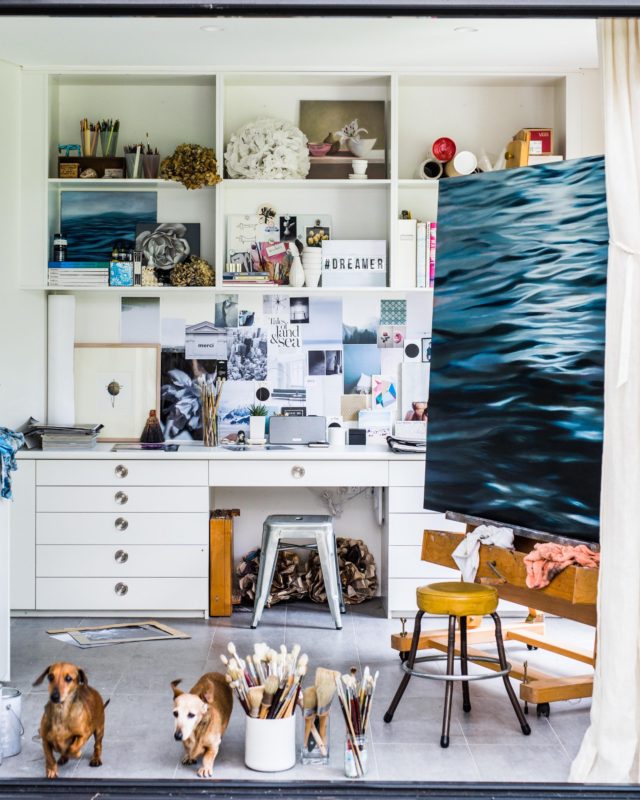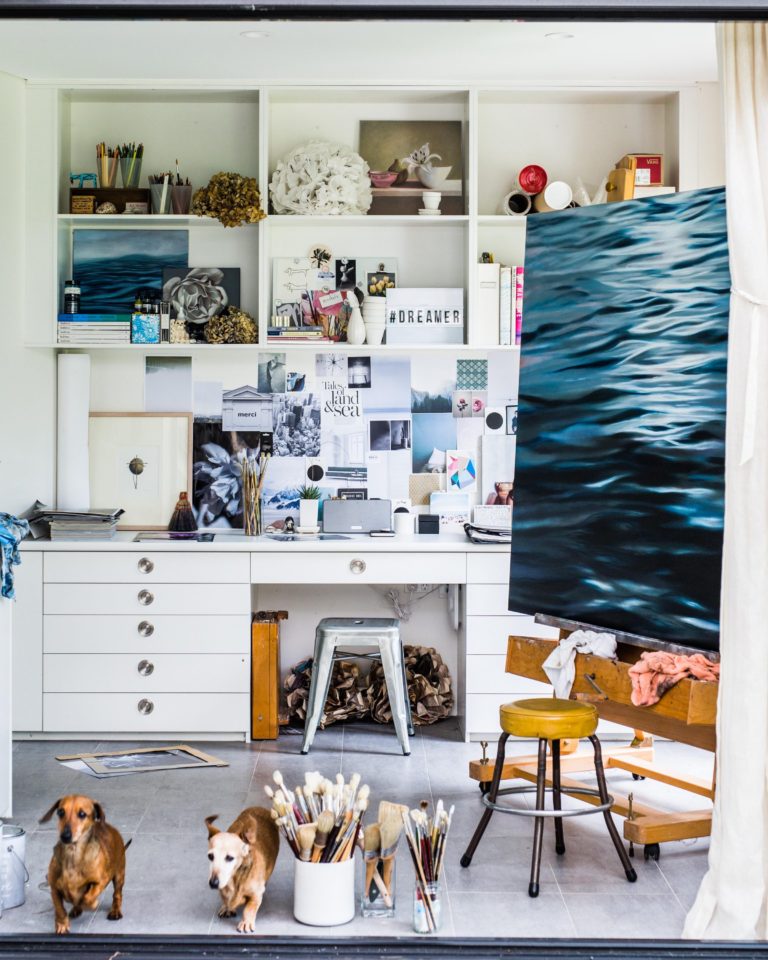 Leanne's studio
Leanne's incredibly realistic paintings are spread throughout their home, adding subtle pops of colour to the soft tones of the interior. "My aesthetics and sensibilities stem from a love of classical art, nature and the sublime. This combined with an interest in the relationship between light and shadow, bright and dark, blur and detail, near and far is what defines my work. Ultimately, I am committed to creating art that exudes light, life and hope in a way that resonates with every viewer."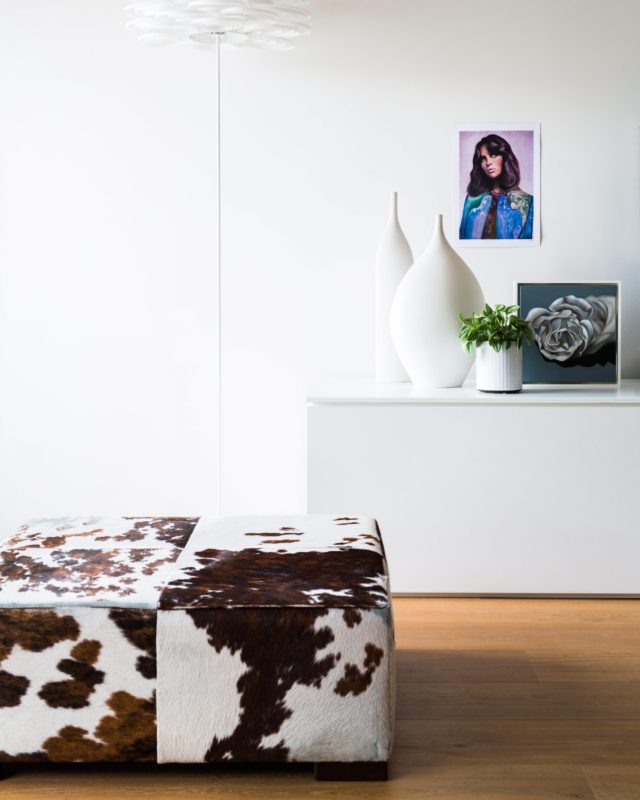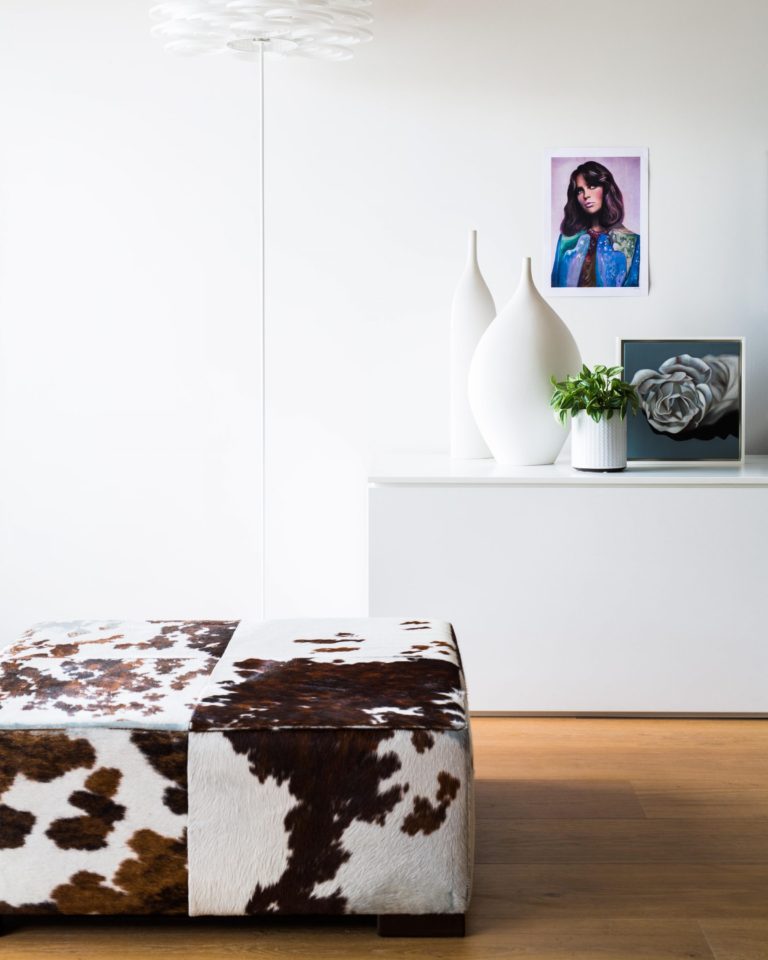 Before embarking on her career as a full-time artist, Leanne was an art director who worked in advertising and publishing for 10 years; a background that has played a subconscious but nonetheless integral role in creating the well designed home. When her children started school, Leanne enrolled herself in a three-year oil painting course at the Charlie Sheard Studio School in Redfern. "I set up in our garage and painted here for a couple of years before we did the major reno. We then divided the garage in half, opened up a wall to let in more light and added some good storage. It's a small space but I love it. It has good ventilation and bi-fold doors that I can open up completely."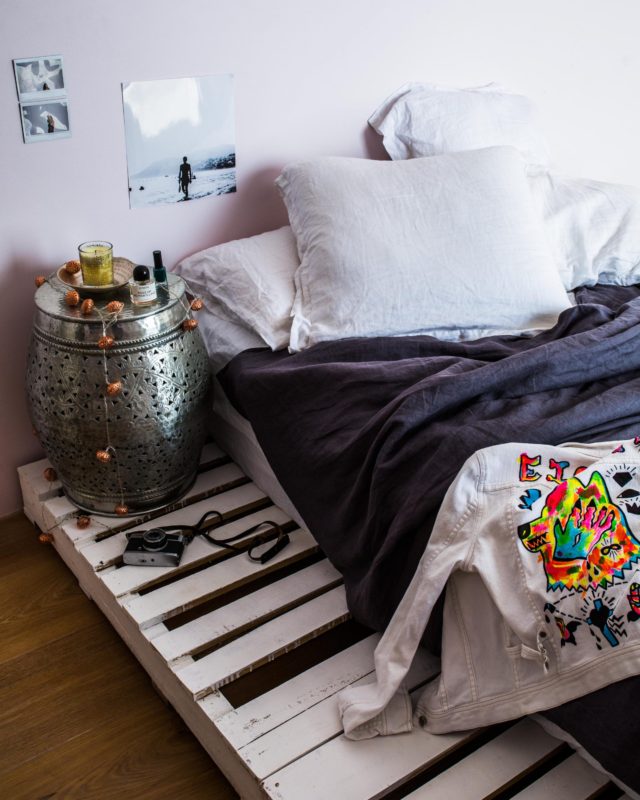 Bedroom
Guided by her desire to express beauty, Leanne's paintings begin first by capturing images through a photographic medium. These images, along with loads of other inspiration pictures torn from her favourite magazines, are dotted along the walls of her studio, creating instant moodboards to inspire new works, "I redo this at the start of every year. Sometimes I would have been thinking about themes or colours over the Christmas break and then I set about pulling bits and pieces out of magazines to match the mood; Kinfolk and Cereal are my faves," she says.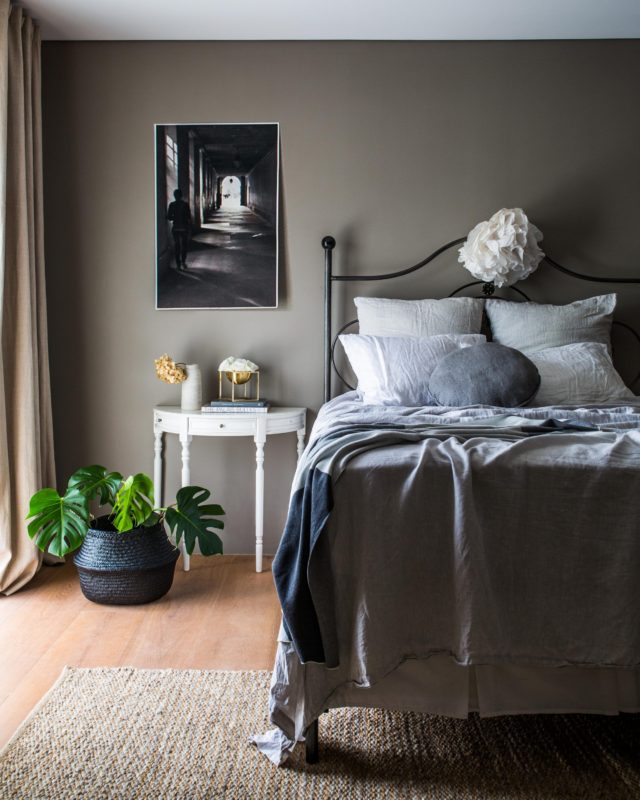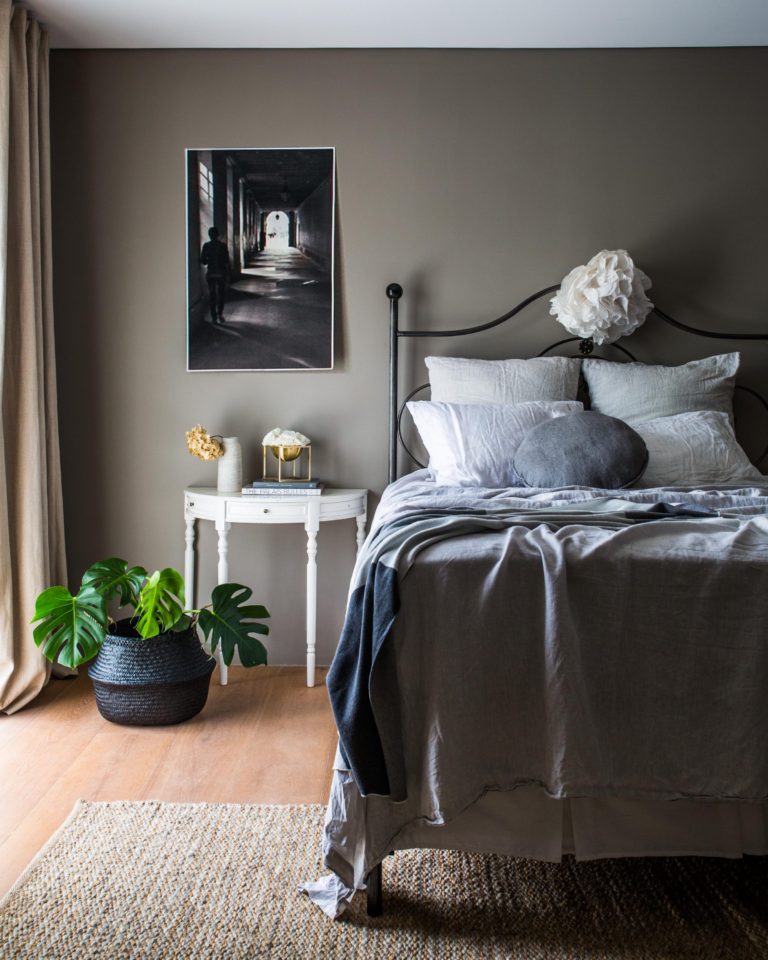 Bedroom
Check out Leanne's work here.
Photography (Lynden Foss), words and styling (Tahnee Carroll) of Citizens of Style