"It redefines what a 'beach house' can be, in its aesthetics, function and context," says this home's architect Luke Fry. And yes, it certainly does! There's nothing old-school about this beach pad – it's a clean-lined formation of raw concrete and exposed brick located on the Bellarine Peninsula, on Victoria's surf coast.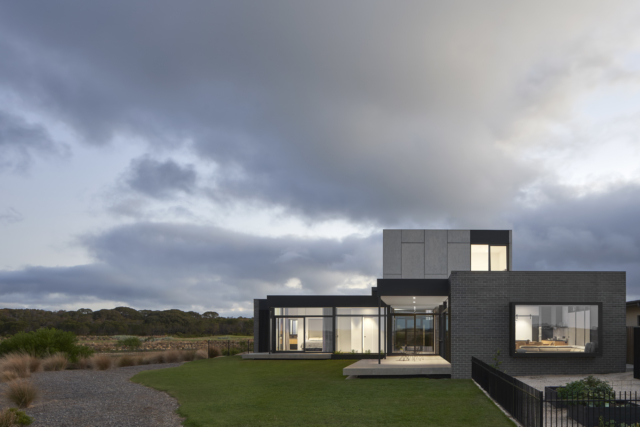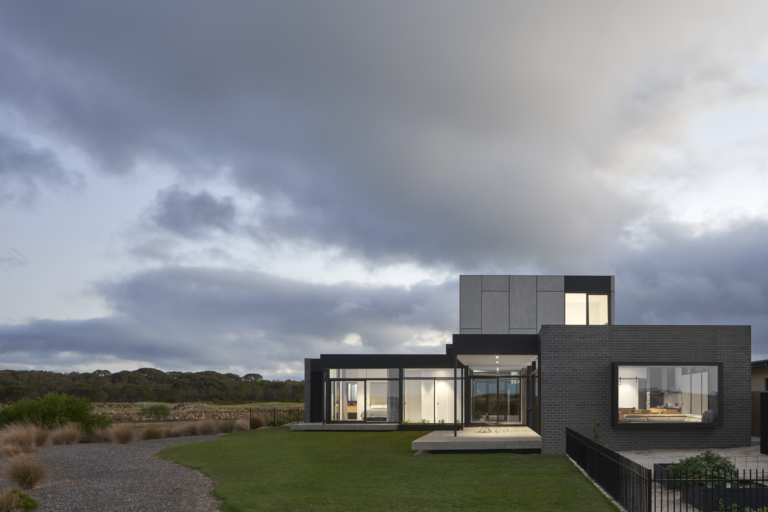 Home to a retired couple, originally from Melbourne, and their black Labradoodle, the home subtly references Palm Springs' mid-century modernism while challenging the idea of a coastal home. "Masculine neutral tones were part of the client brief and we pushed that to the next level. We kept it very simple with concrete, brick, stone, timber, steel and glass. It will look as good in 100 years as it does today," says Luke.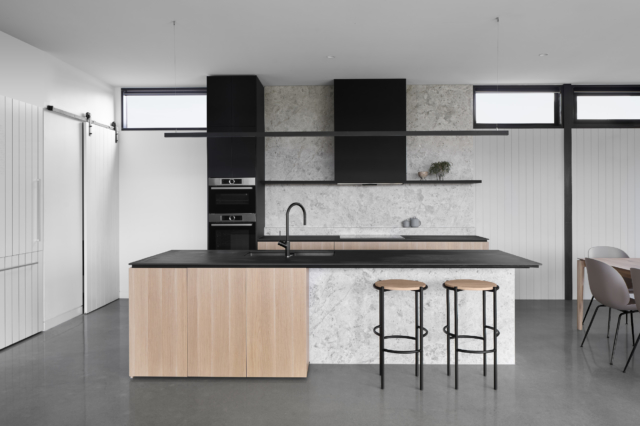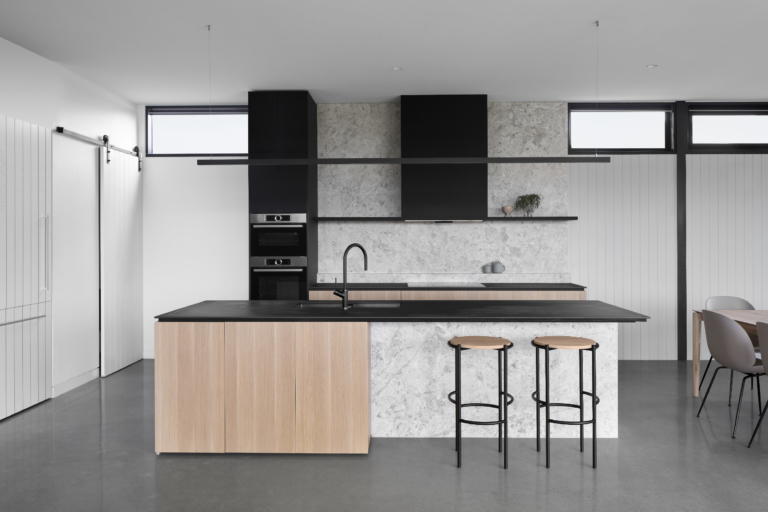 "The initial brief was for a low maintenance house, zoned living spaces and the use of exposed concrete which is a love of the clients and mine!" says Luke. The ground floor is the daily living space while the first floor features a separate zone for when guests come to stay – the owners have three adult children and four grandchildren living in Melbourne.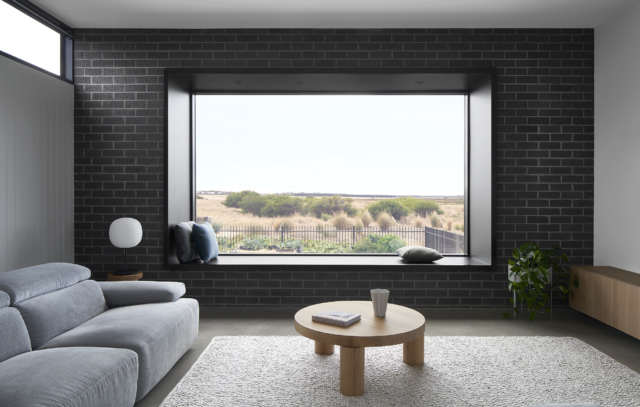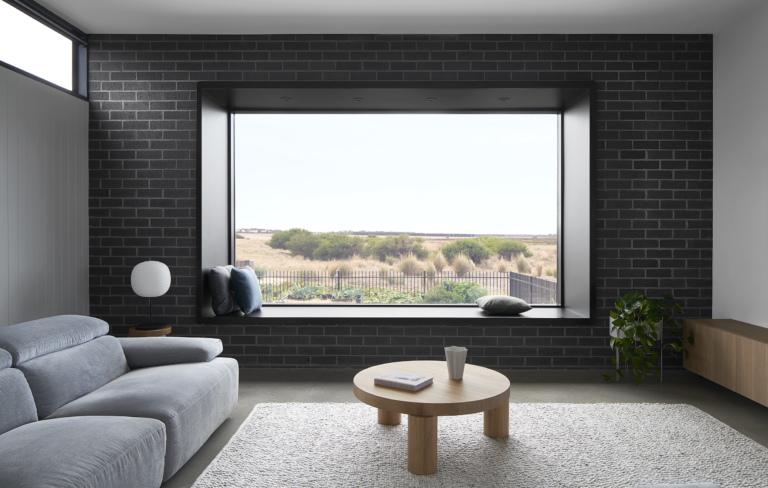 Situated inside a golf course housing estate, the brand-new build has uninterrupted views across nearby wetlands and sand dunes. "The orientation of the house maximises solar gain and protects from cold prevailing winds. High levels of insulation and high-quality materials means the house performs very well and will stand the test of time," says Luke. The private home sits at the end of a cul de sac and, once inside, there's not a building in sight.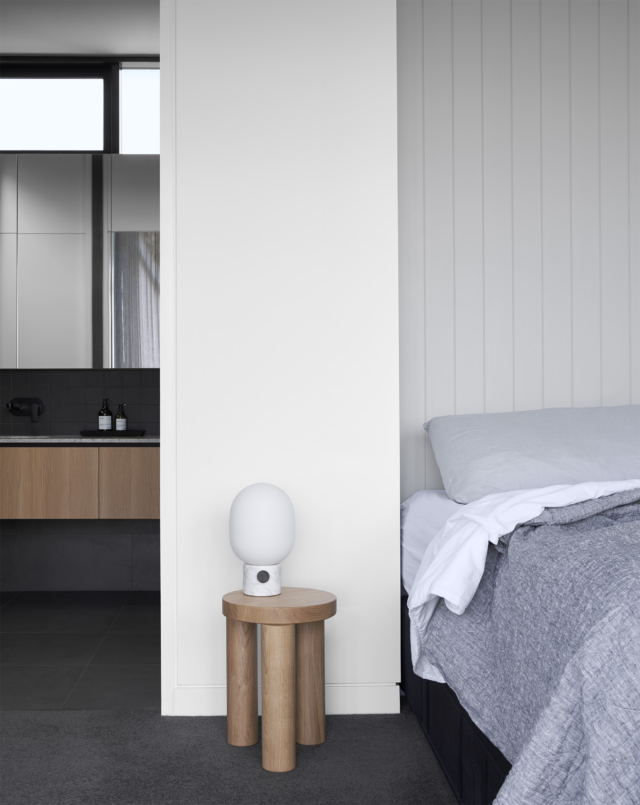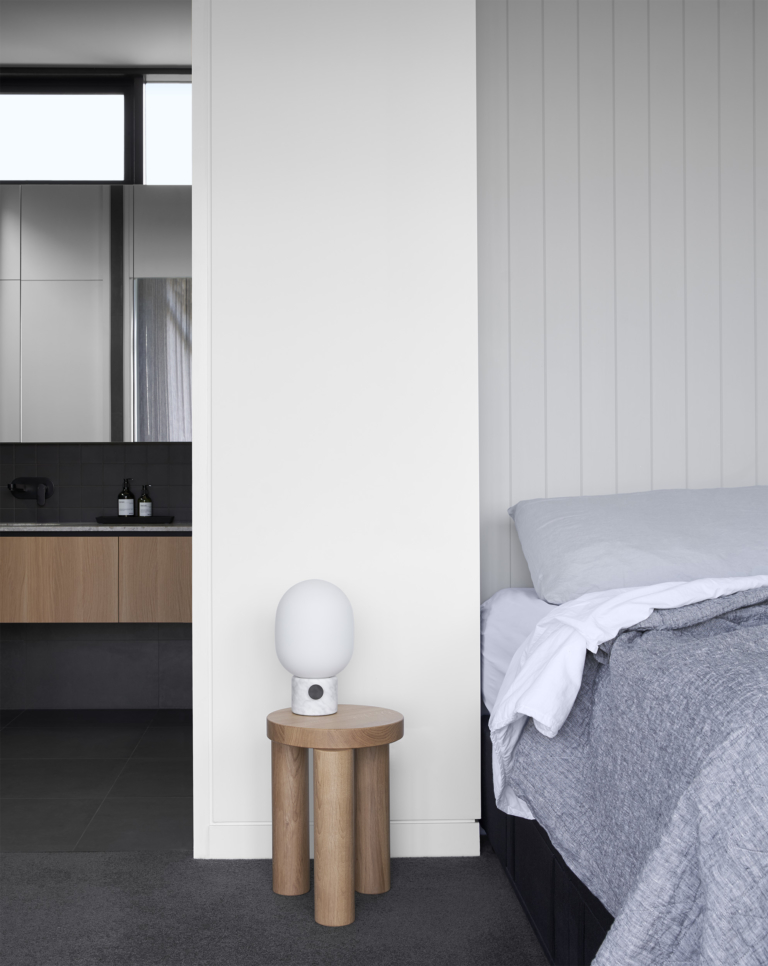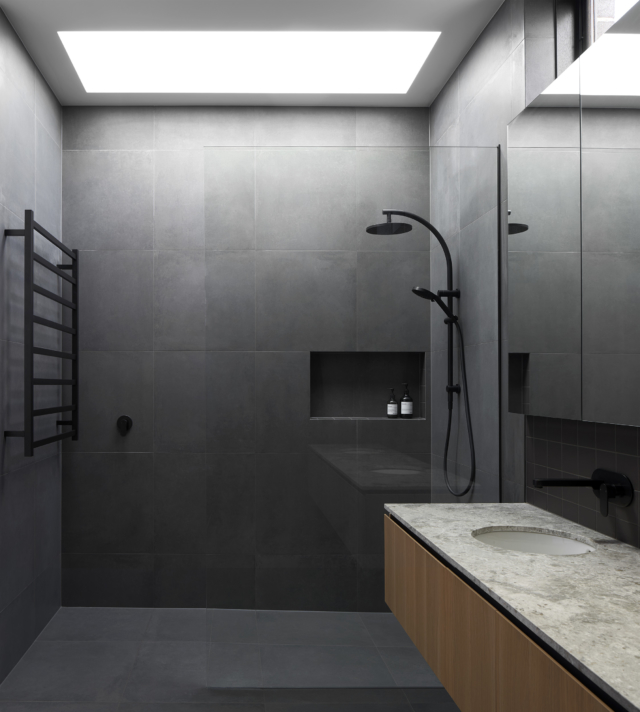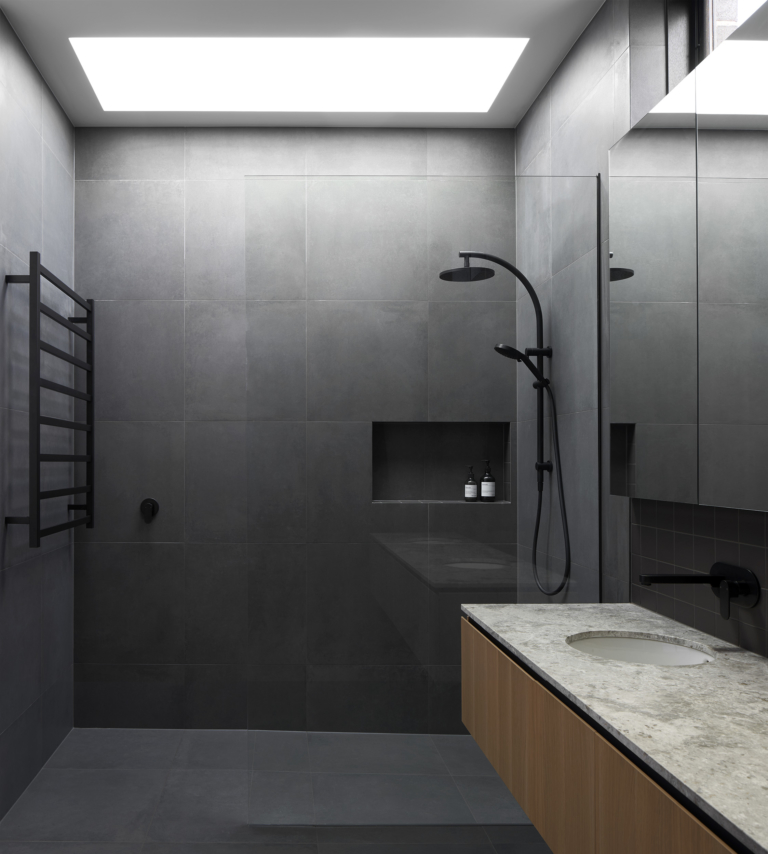 As for notable features, Luke points out the Japanese inspired charred timber battens that clad the outside of the home. "The profile was custom designed by me in collaboration with Eco Timber," says Luke. That finish is emblematic of the architect's general approach to design – he's a big fan of simple shapes and layered texture in creating a cohesive whole.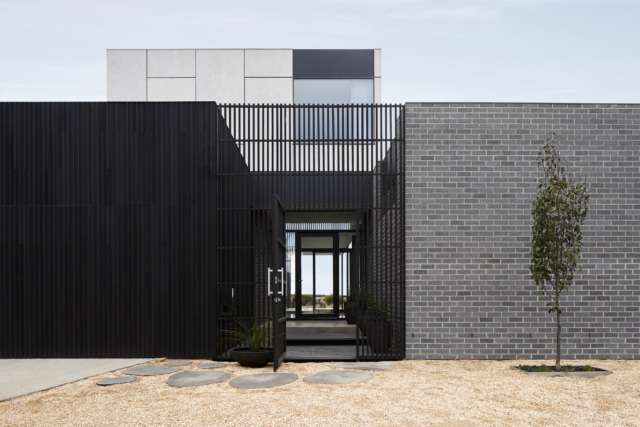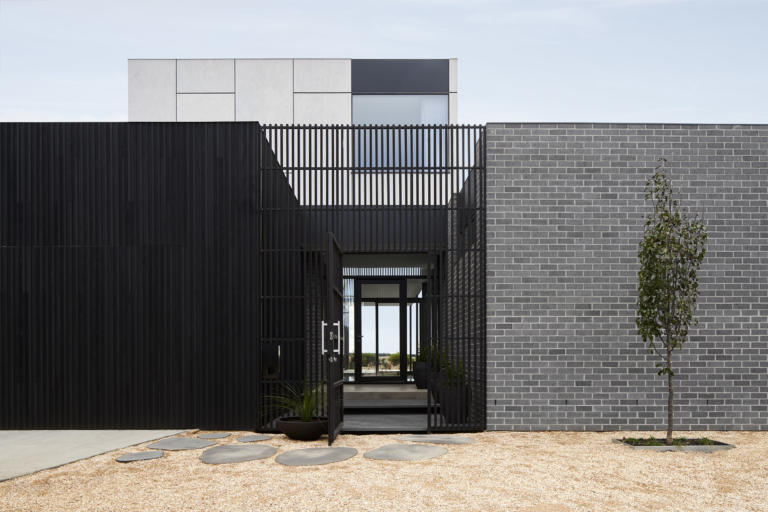 "Our projects are simple in their form, highly functional and detailed to a level which set them apart. We refer to our projects having a refined simplicity and being layered in texture. We achieve this through emphasising both architecture and interior design equally."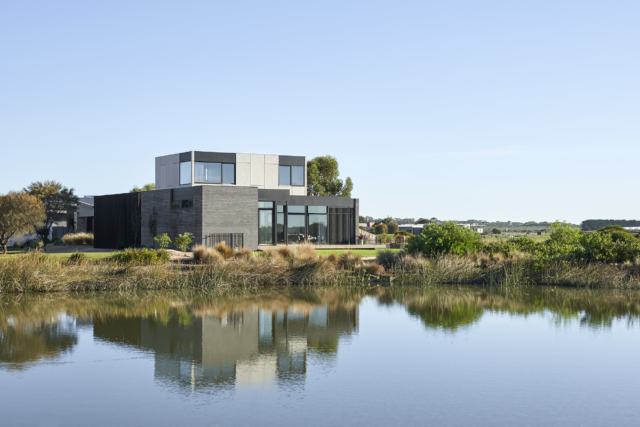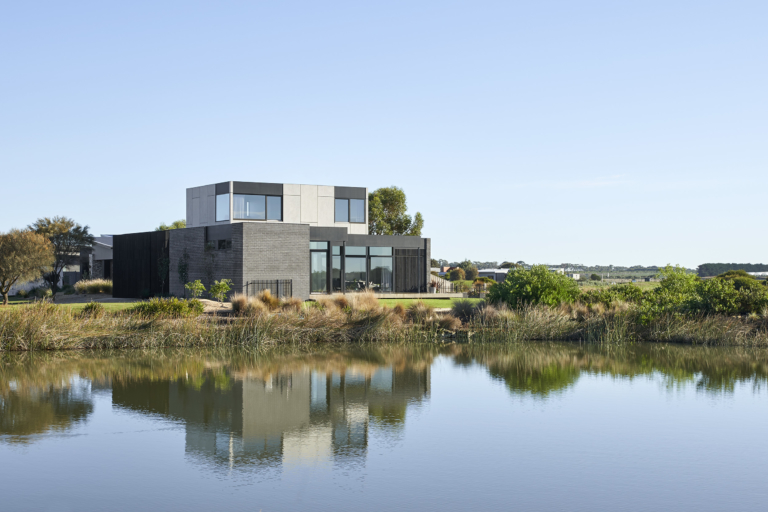 Photography: Damien Kook
For more on Luke Fry Architecture & Interior Design | How to decorate a beach house without the cliches