Summer may be over for another year but that doesn't mean outdoor entertaining has to be off the cards. Update your outdoor settings space with these top tips from Eco Outdoor on embracing eclecticism and creating an outdoor space that is perfectly imperfect.
Creating a garden or backyard that's as individual as your own personality, and perfectly suited to the way you live will radiate relaxed vibes, look effortless, feel comfortable and be filled with character. Whether you're starting from scratch or adding to your existing setting, Eco Outdoor has the following tips on creating your perfectly imperfect outdoor space.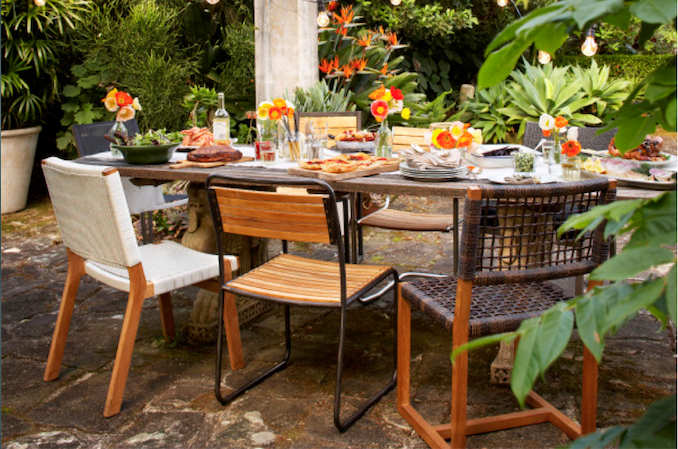 Take your time: Collect high-quality pieces over time rather than investing in a poor-quality outdoor dining set. Start with the centrepiece – the table – or a variety of chairs and seek out pieces you love and know will last.
Find a common element: 
Similar materials, upholstery, lines or forms can help pull together a look that's best described as 'eclectic elegance.' Eco Outdoor's
Balfour
and
Emerson
chairs have strong lines and robust forms with an H-shaped frame. But while the Balfour has a raw aesthetic with a textured, rich-brown open-rope weave seat and back and fine-sanded frame, the Emerson is more pared back with neutral-coloured olefin strapping and a teak structure.
Play with colour ways: Be adventurous with colours and shades and incorporate light and dark frames, upholstery or webbing. You can also play around with the type of seating you use; high stools, low seats, dining chairs, armchairs and footstools provide plenty of possibilities for mixing and matching.
Choose lightweight pieces for flexibility: Light and portable furniture is a versatile option for a variety of outdoor settings and uses.
Get multifunctional pieces doing double duty: 
Incorporating pieces that can serve as seating and tables as needed can help save money, while providing greater flexibility. The
Turon collection
offers old-school industrial style and its stool can double as a side table or provide a convenient option for accommodating more people around the dining table.
Buy pieces that can be easily stored away: It's always handy to have a few extra chairs stored away, should you need them, and you don't need to sacrifice style for convenience.
Tie it together with colour or pattern: Cushions and accessories can add accents to an outdoor setting, and choosing a consistent palette or style will help create that perfectly imperfect look.
Eco Outdoor's number one tip for mixing and matching is that there are no rules. Mixing and matching is about creating the perfect outdoor setting…for you.
For more information of the Eco Outdoor range, visit an Eco Outdoor store, view the selection online at
www.ecooutdoor.com.au
or call
1300 13 14 13