Modern art, heirloom furniture and imported lighting all hover in style and time inside this brand new home which wants to be old. This project, by Molecule, won the residential decoration category of the Melbourne Design Awards.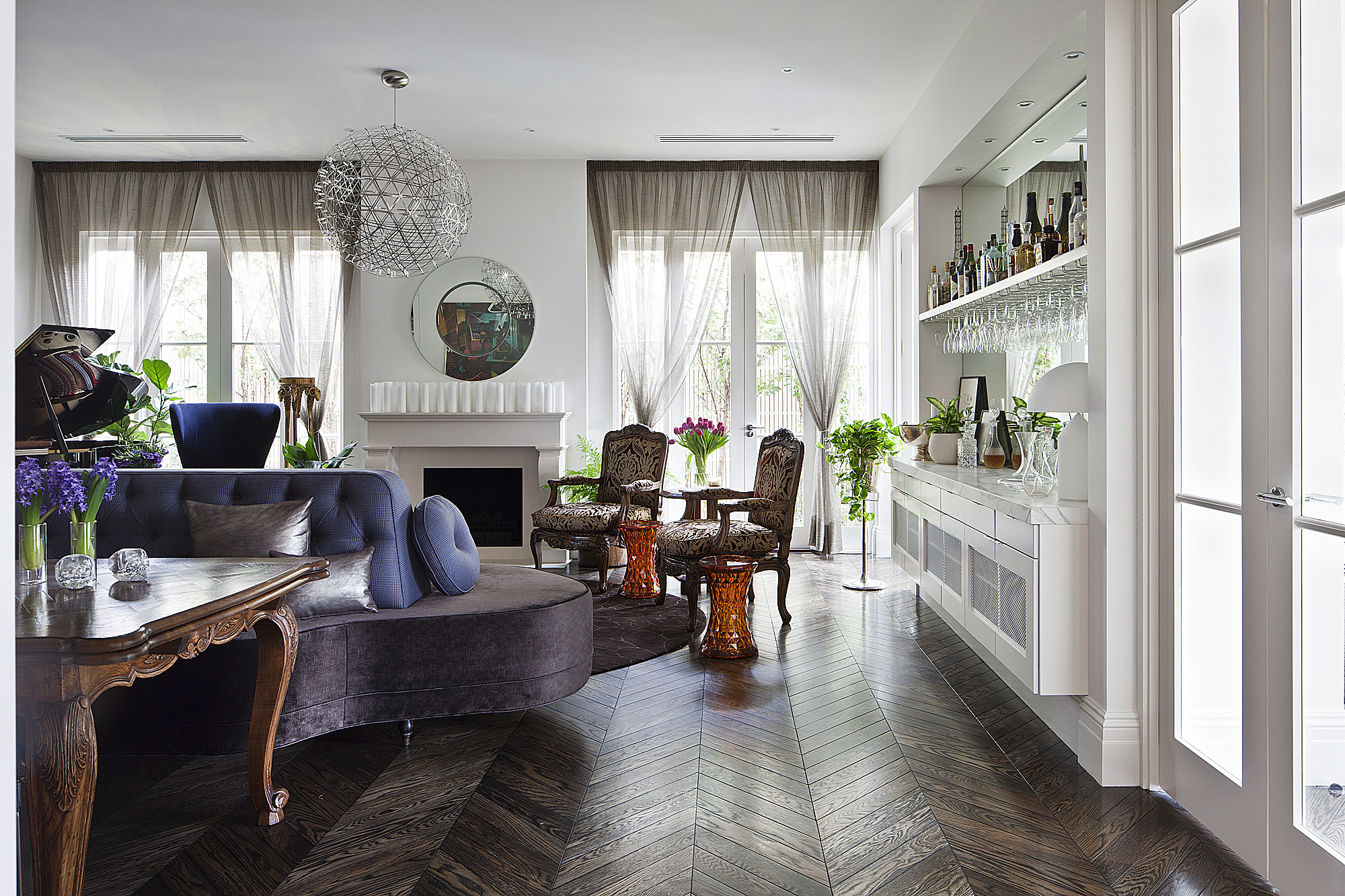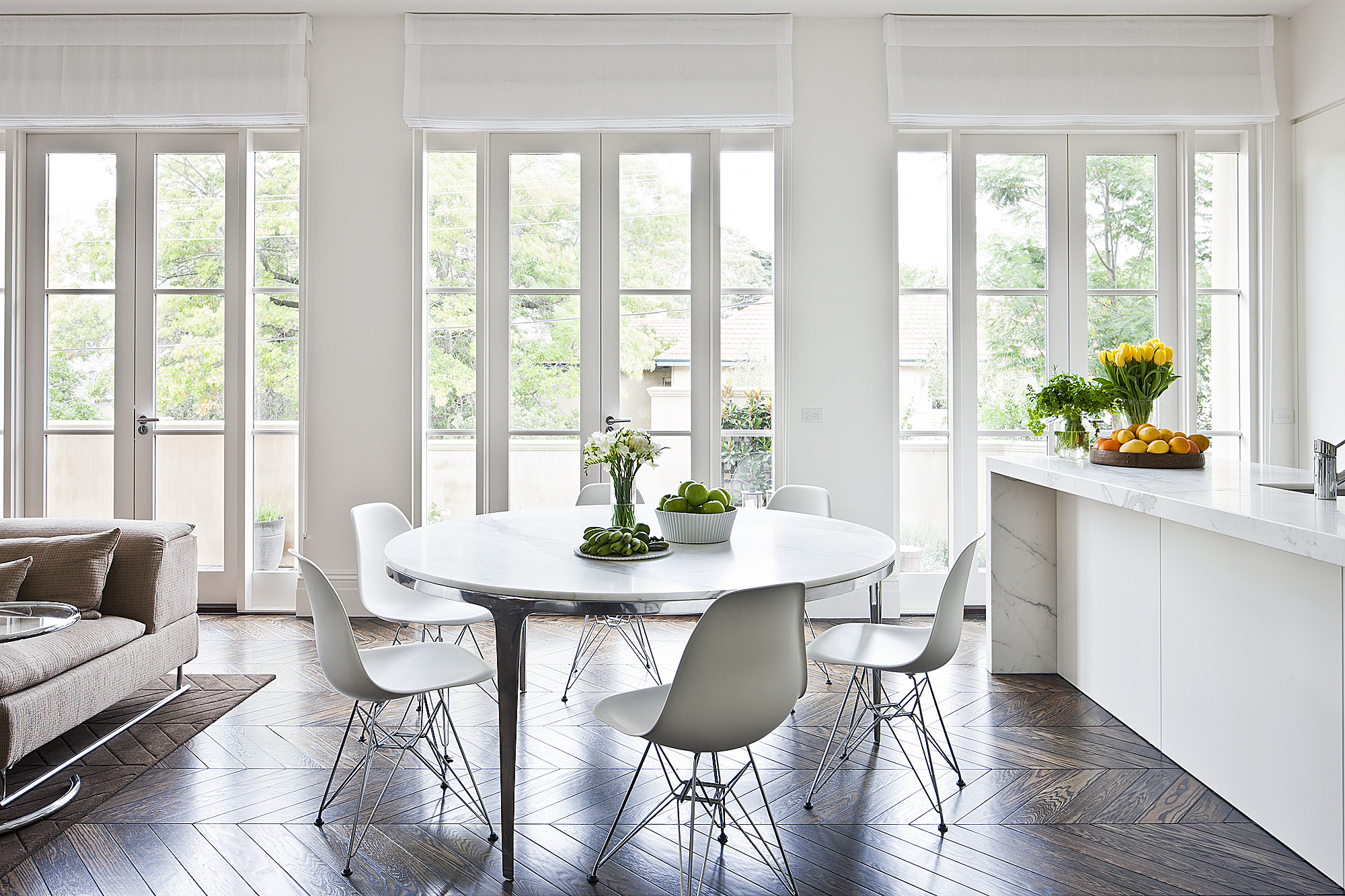 The ground floor is a tale of two worlds. Cross the threshold and be transported, Alice in Wonderland style, to a choice of the salon (glamour/public) or the living room (family/private).
 "Part palace, part bazaar and part Miss Havisham's house, the salon is a grand, luxurious room that takes seriously its 'private hotel' aspirations," says architect Jarrod Haberfield, of Molecule. "A fabulous bar sits alongside lushly upholstered custom furniture and major contemporary artworks. The salon is about glamour, excitement and aspiration; its look is fun, strong and idiosyncratic."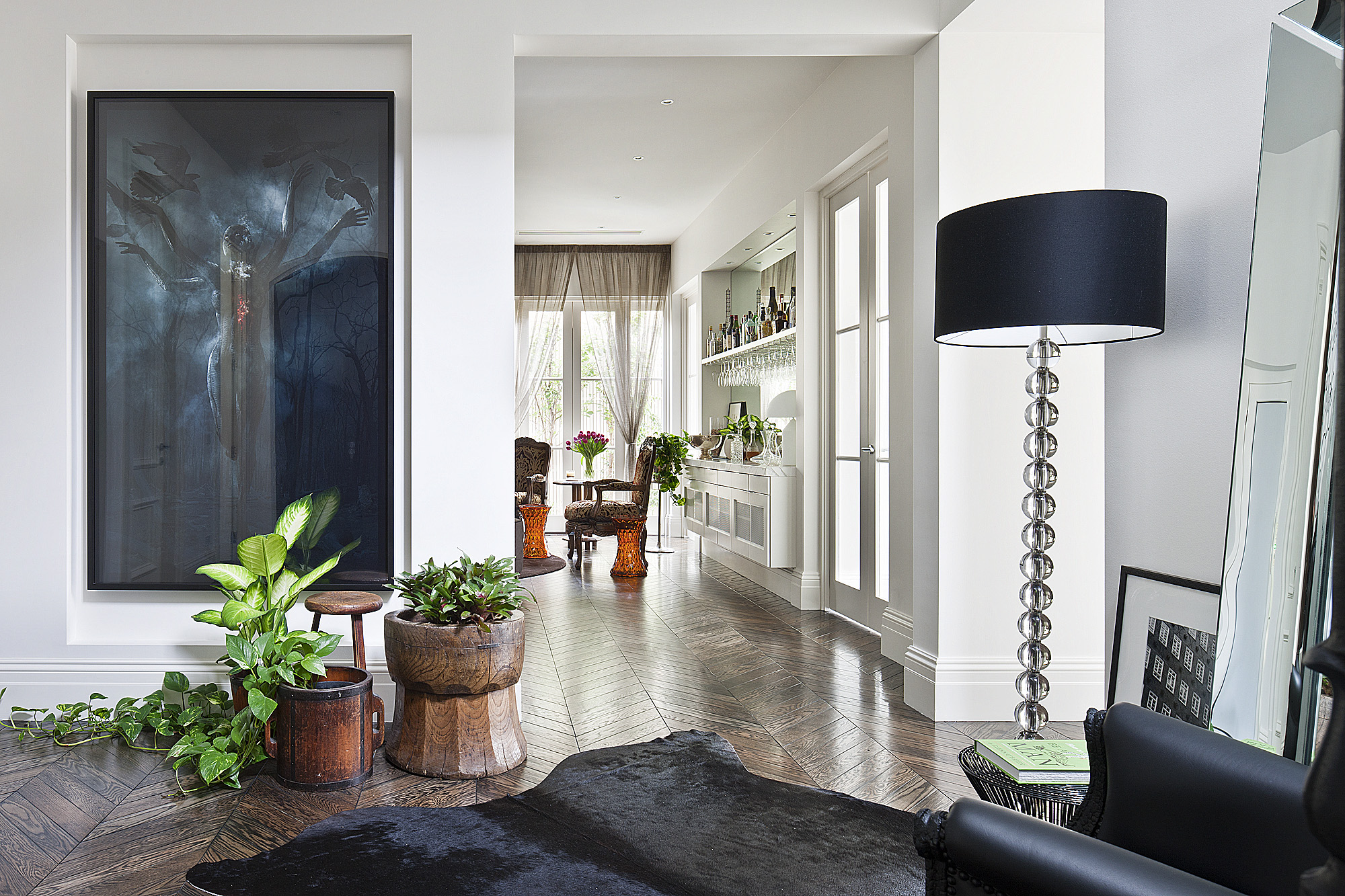 "With milder manners, the living room is serene and provides the backdrop for daily life. While the colours and textures dial back from the salon, the careful curation of varying objects retains the furnishing approach."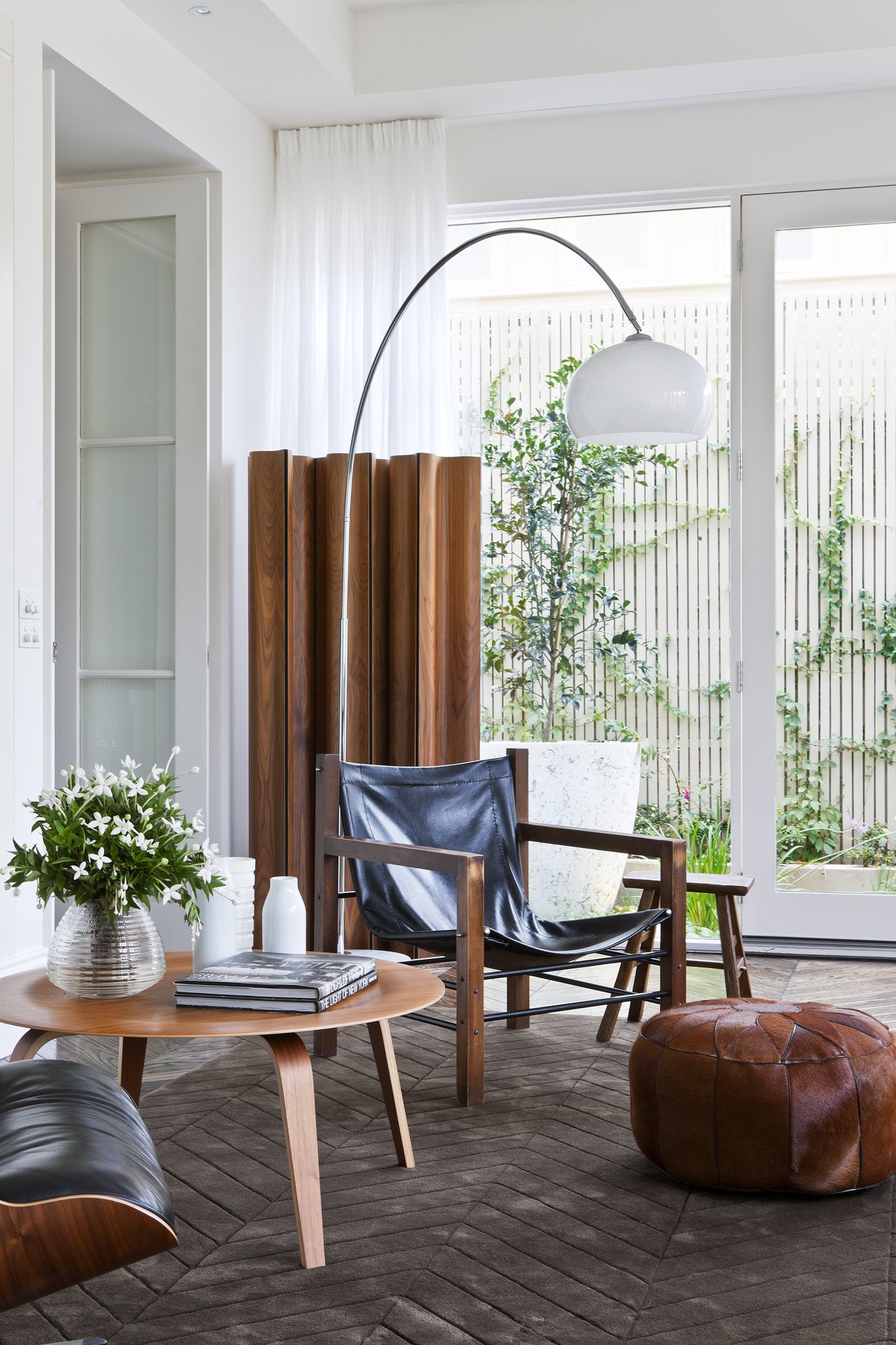 The house is a reproduction period house – a new building trying to look old – and typically in Toorak these are furnished with reproduction period furniture. The Molecule team decided to sidestep this "farce". Jarrod adds: "We announced to the building, 'We'll ignore your newness and treat you as the fin-de-siecle edifice you purport to be. Let's do a contemporary interior that references your supposed oldness.'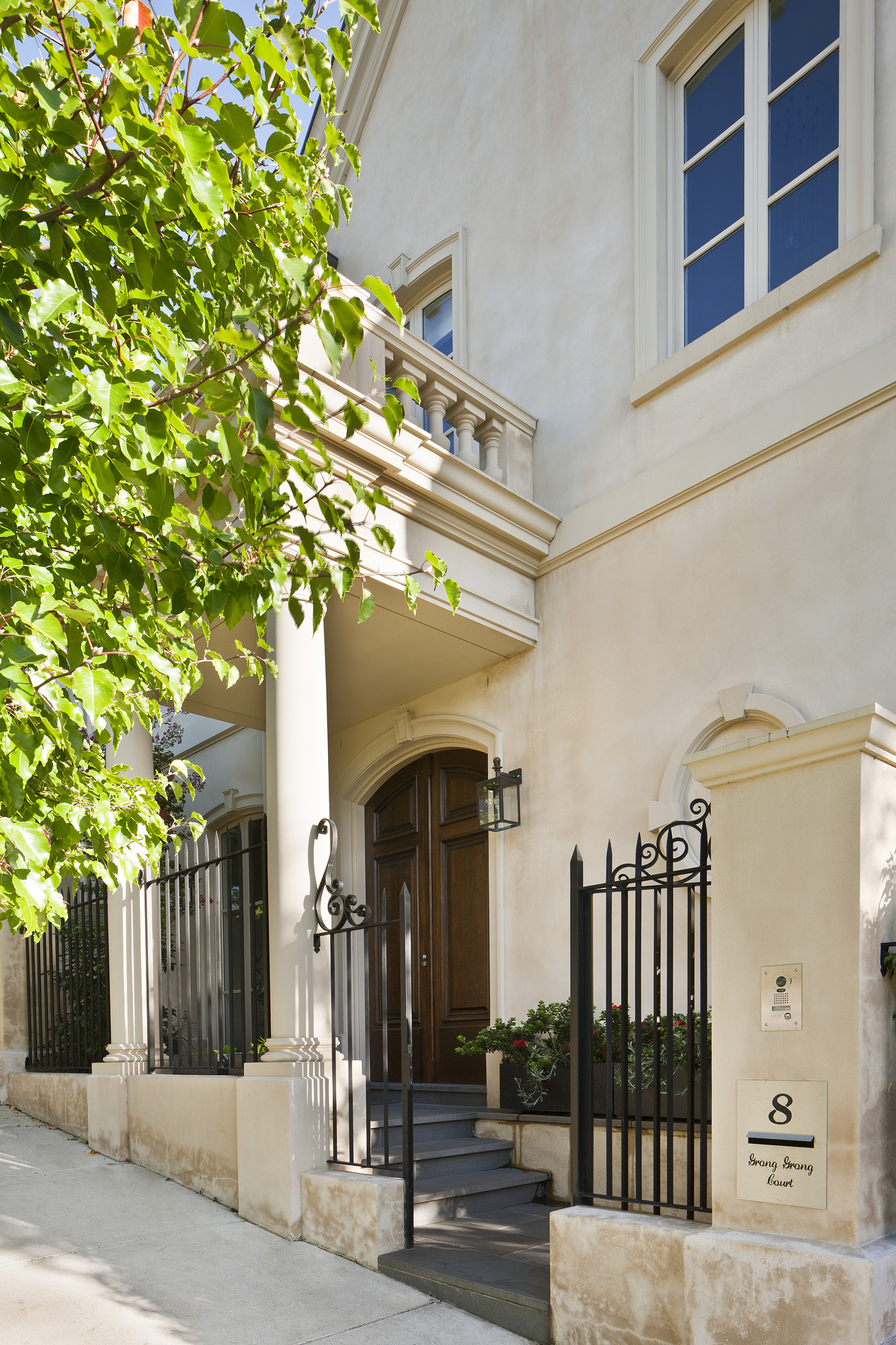 "A combination of real antiques is deliberately juxtaposed with new pieces that draw from history with an explicit wink. The immediate statement is that this is not a typical Toorak home, and unquestionably transports the visitor to an alternate reality that feels miles from the street outside."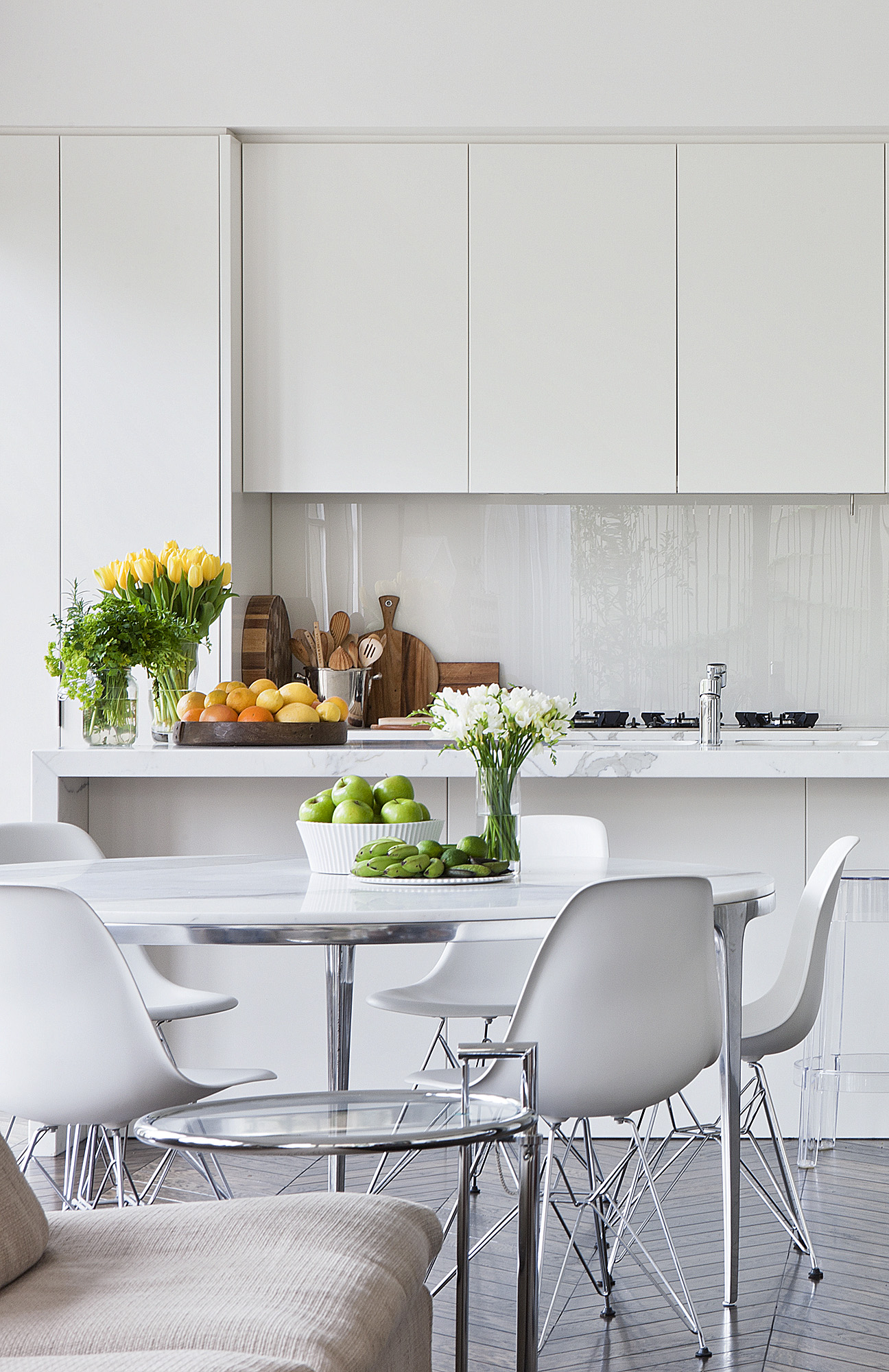 Tom Dixon's wingback chair in royal blue velvet recasts the 18th-century classic British gentleman's chair. The custom rug offers another contextual wink to the observant, as does a one-off three-legged table from Barbera that feels at once contemporary and vintage.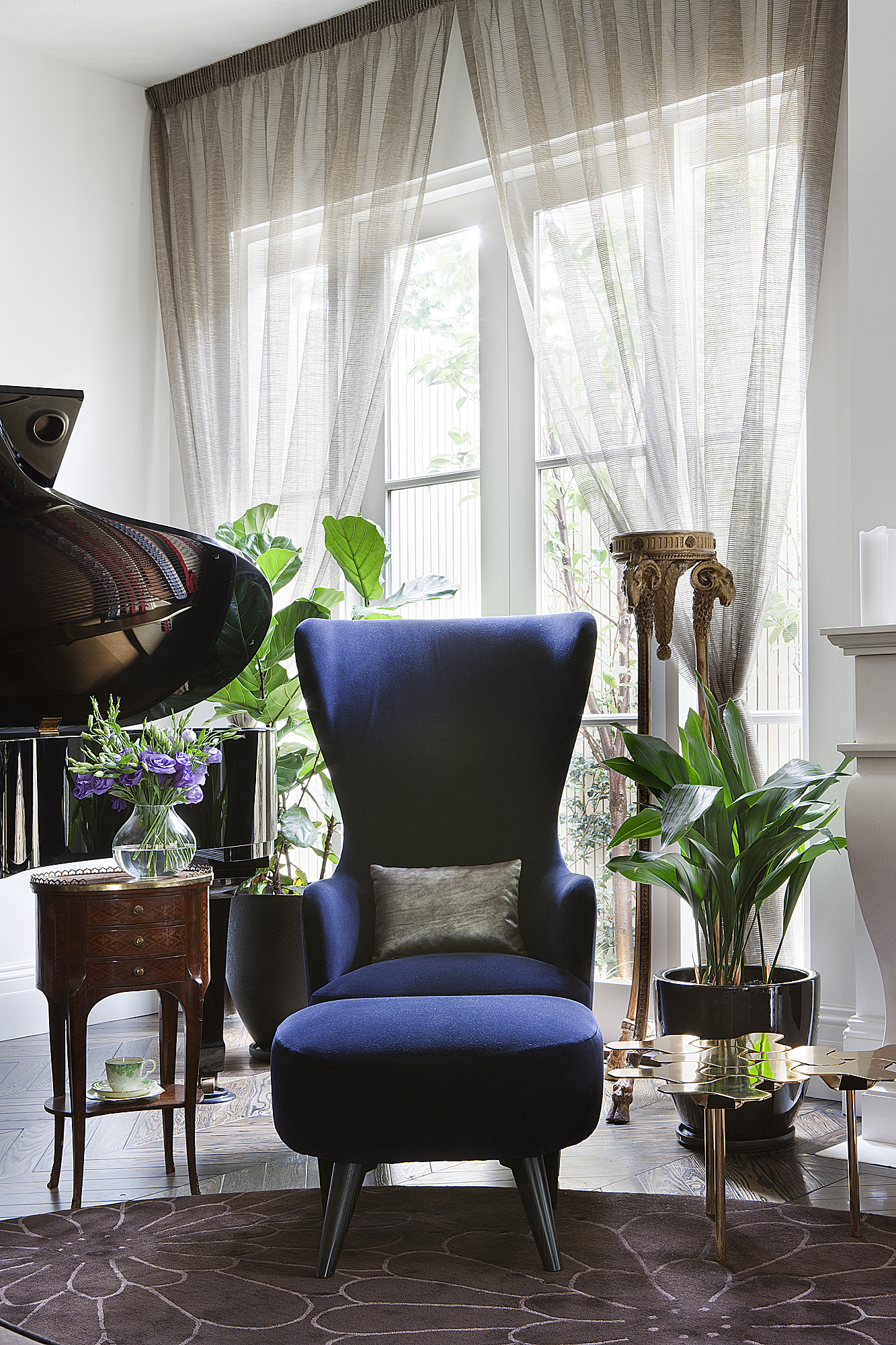 Against a wall of custom joinery and full-height windows, a new sofa joins Eames classics – a 1970s armchair and a 1930s Japanese slipper cabinet.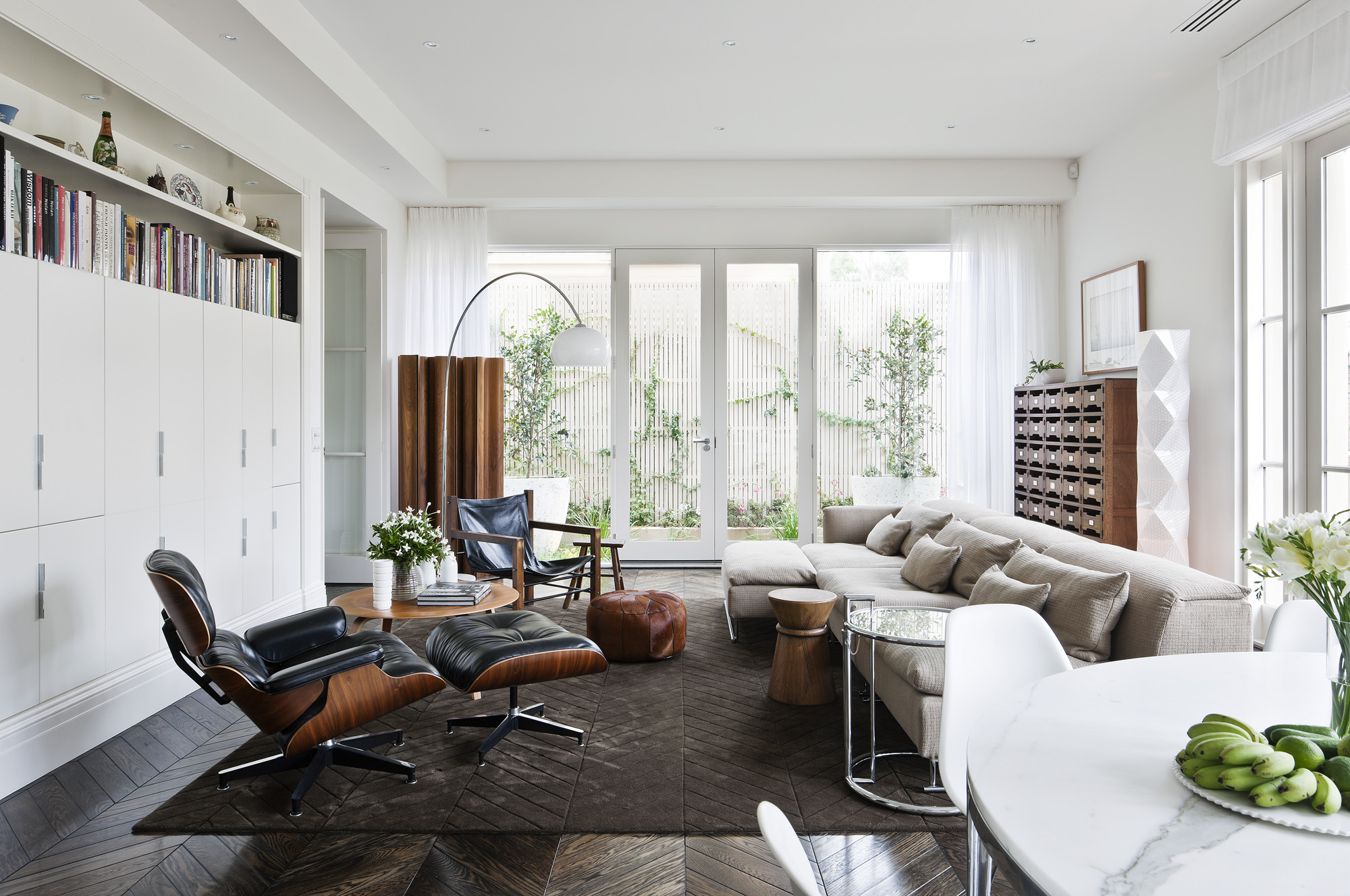 "Underpinning the atmosphere and contrast of experience desired by the client is an extraordinary art collection," says Jarrod. "Intriguing, inspiring or sumptuously decorative, artworks are used throughout the interior to enhance the palette of each space, and to surprise and confound." The challenge was to create an interior as practical for everyday living as it was dramatic and impressive to look at. "In volumes as grand as these, we rely on the fine grain of decoration to give it human scale and tactility. Decoration takes responsibility for rewarding the act of slowing down. From every chair is a view worth taking in."
Upstairs, bedroom suites and an elegant study deliberately retreat from the energy of the ground floor.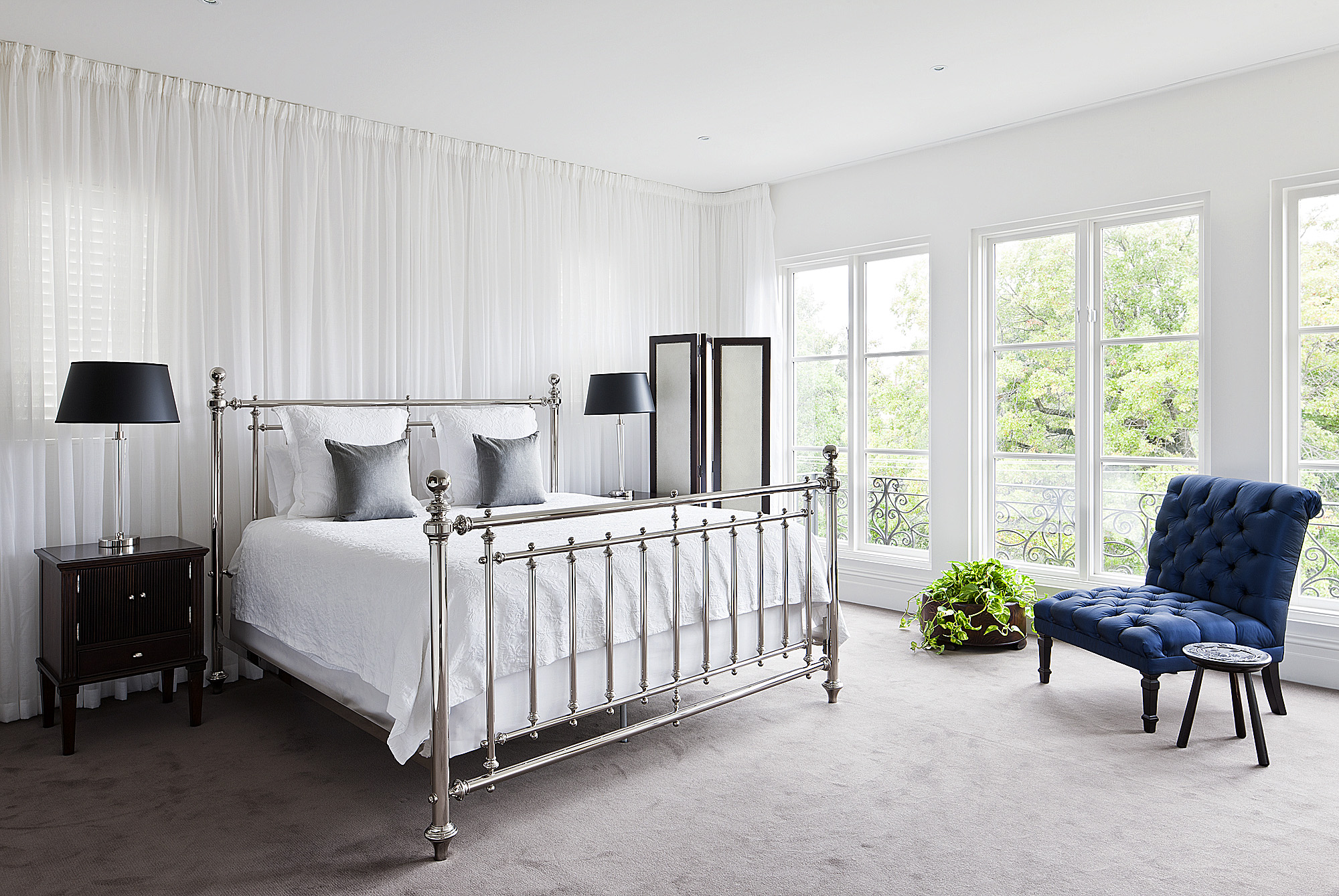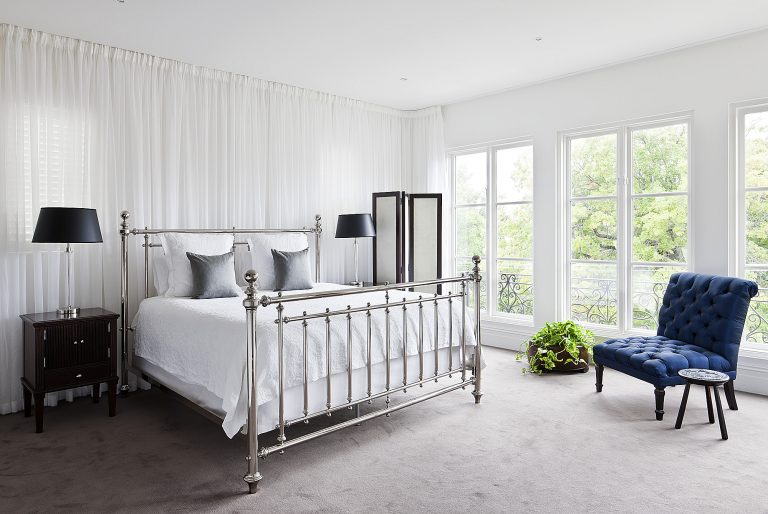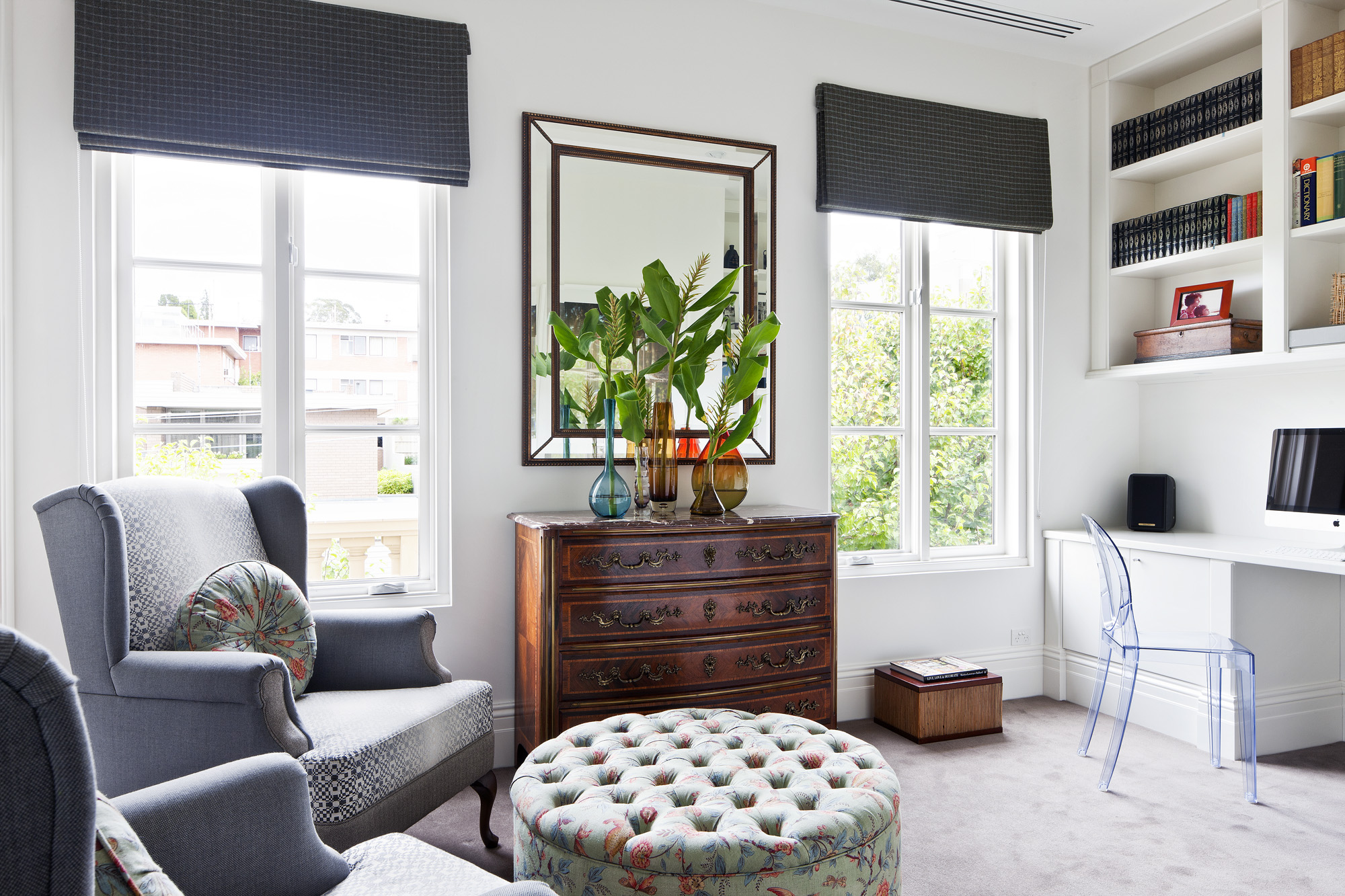 "Decoration emerges from our design approach, illustrated in the salon," says Jarrod. "A two-sided custom banquette resolves the two axes in the room, between the sitting and dining areas. Interior design extends as far as the bar, but it is the decoration – the bottles, decanters, glassware, silverware and framed memorabilia – that instils the bar's magnetic attraction."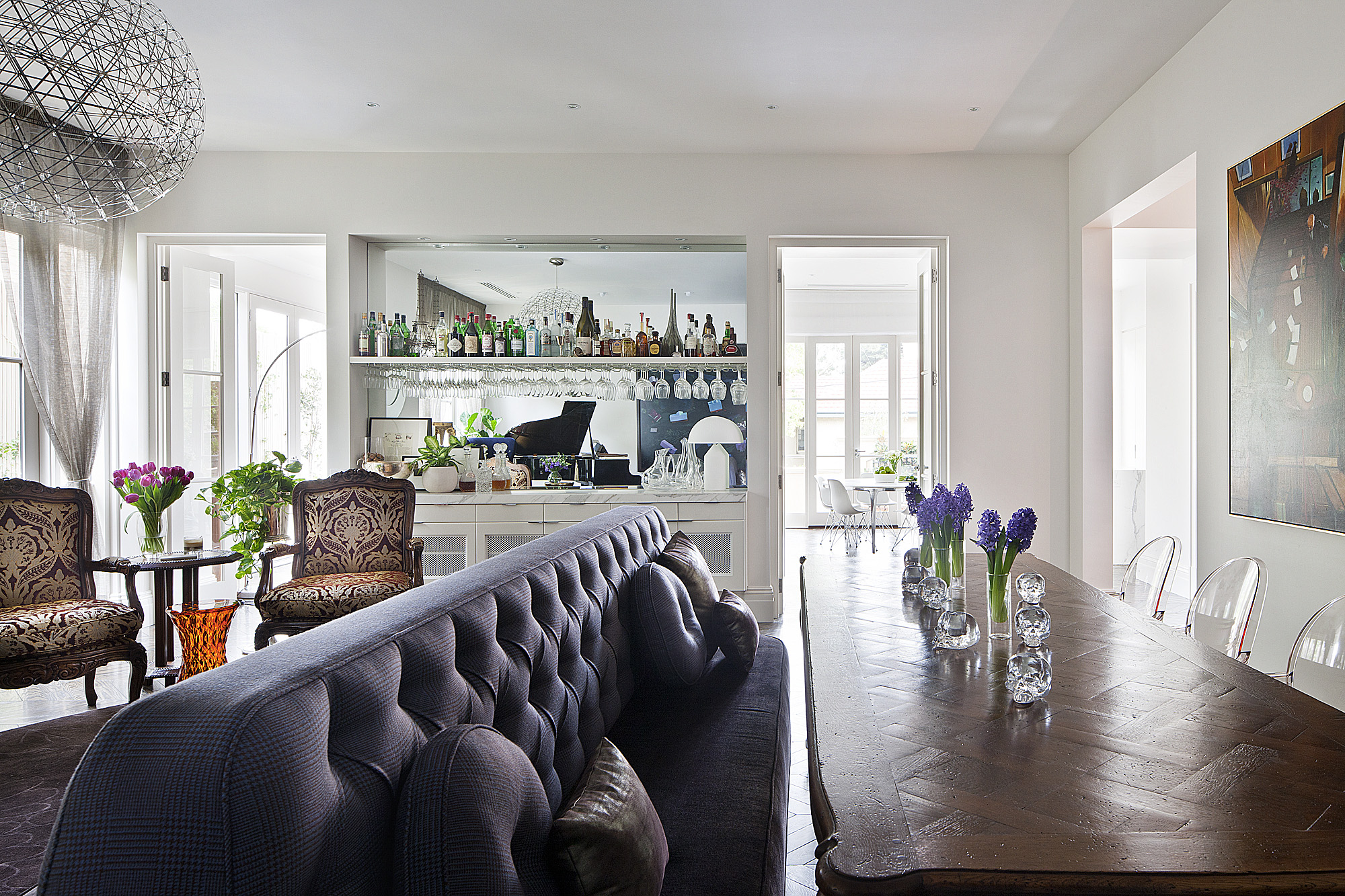 He says comfort comes in the form of careful art direction: objets with history, curated plants and flowers. "The spaces facilitate every home experience, from on-sofa reading to a seriously chic soiree. What, if not this, is a home for?"
Melbourne-based Molecule comprises architects Jarrod Haberfield, Anja de Spa and Richard Fleming.
Photography by Shannon McGrath