When it comes to summer, there's a specific colour palette that helps evoke memories from long, hazy days of the past. Whether it's that particular combination of blue you remember from your favourite swimming pool as a kid or the altogether more sophisticated twist of sunset orange in an Aperol Spritz, summer and bright, vibrant shades go together like hot days and the smell of Le Tan coconut suncream.
Now, thanks to Dulux, you can easily update your outdoor spaces for summer with a mouthwatering palette of shades that scream 'let's finish work early and go for a swim!'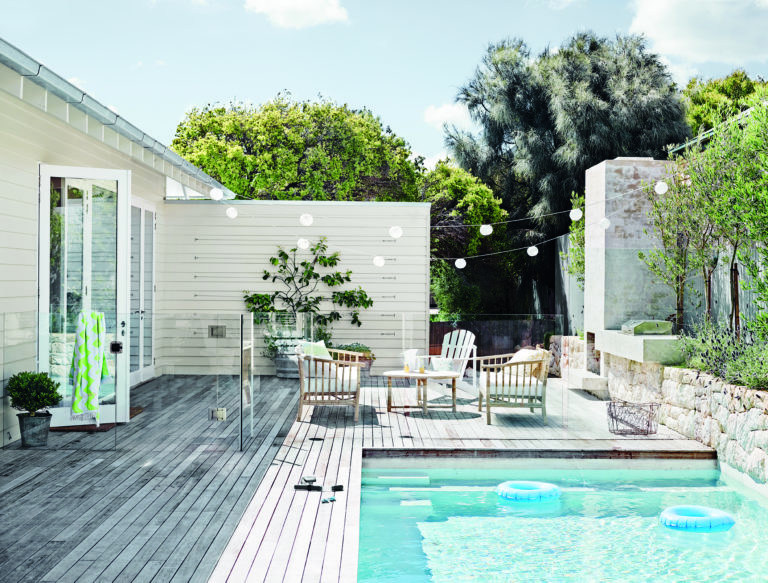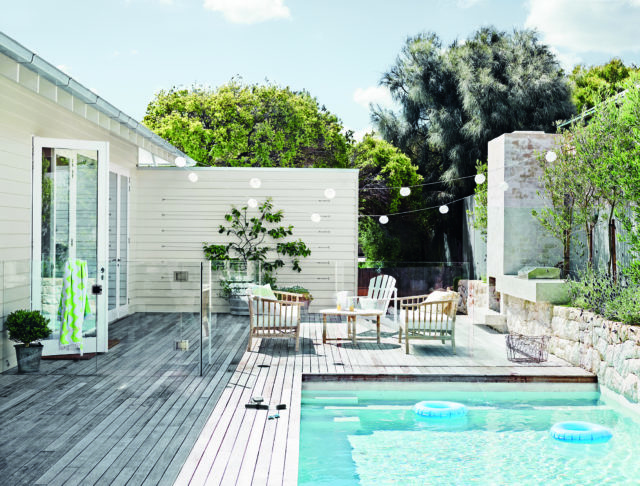 Dulux Colour Expert Andrea Lucena-Orr says that updating your backyard exterior can be simple with a mini makeover and a lick of paint. Here, she showcases two projects that take little more than a weekend and can make it easy to update your outdoor spaces for summer.
Poolside paradise
No matter what size your pool or the space around it, the right colour choice can have a huge impact. "Even a small quantity of an unexpected colour through a geometric pattern on a retainer wall, or a vibrant accent wall in your pool house can make a bold statement," says Andrea.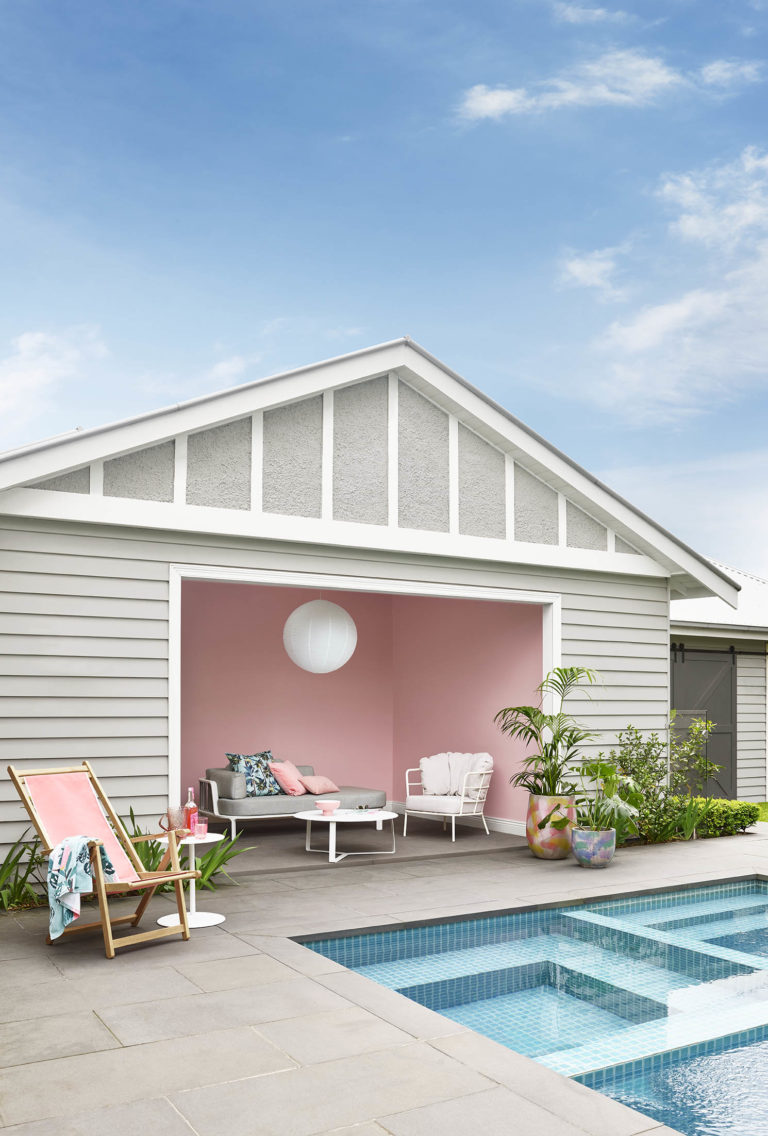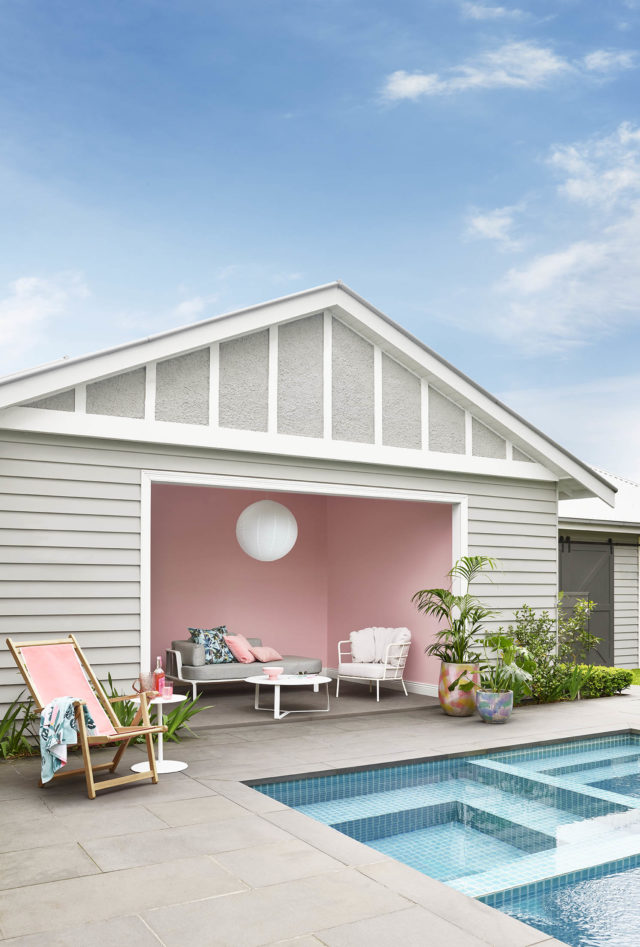 Lashings of pastels contrast sharply against exterior neutrals – crisp whites, concrete greys and natural stone in this poolside update and the end result is summer personified. "Incorporating pops of colours like Dulux Weathershield in Mint Twist or Pink Dust in conjunction with Dulux Vivid White in areas (like the back fence and pool house) can create a striking backdrop – evoking the sense of modern glamour, fun and energy associated with being poolside at a luxury hotel."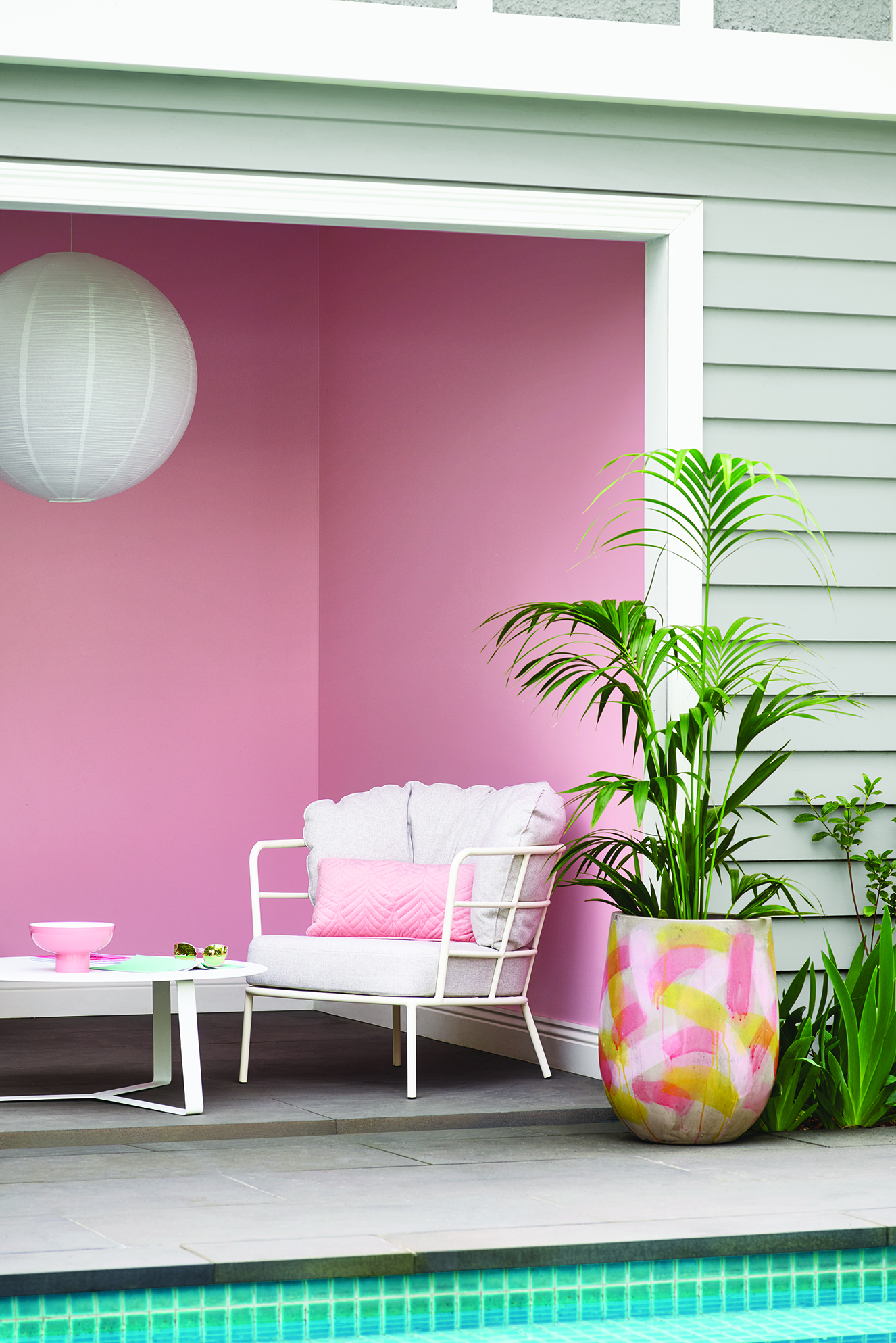 Cool, calm outdoor dining area
No pool? No worries! There are plenty of ways to summer-fy your outdoor spaces. This divine outdoor dining area incorporates the earthy elements of the outdoors with natural textures and rich, nature-inspired shades of rich turquoise green and deep blue-grey.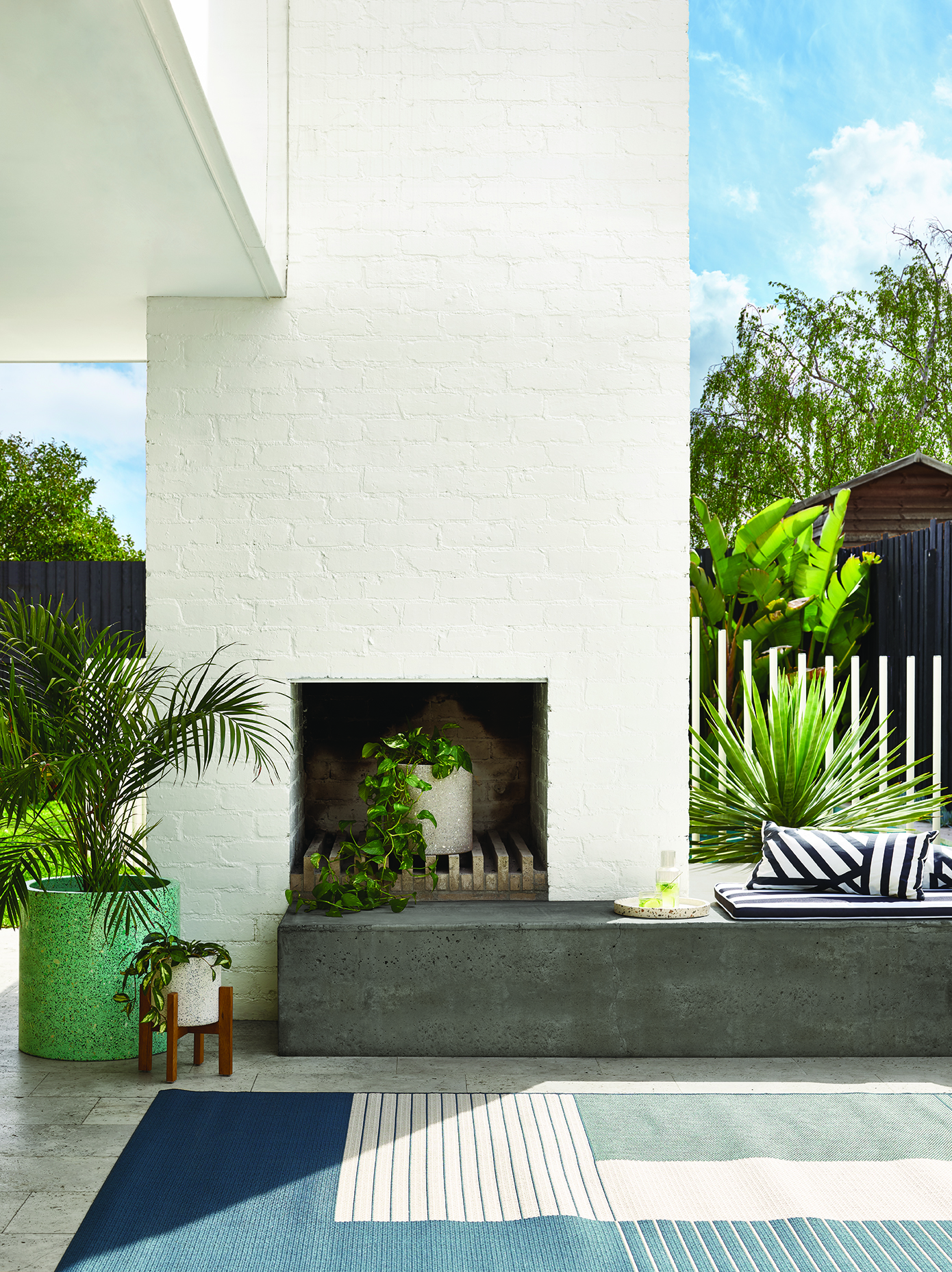 Continue the theme with co-ordinated outdoor furniture and decorative accessories, such as mats and plant pots for the perfect summer oasis.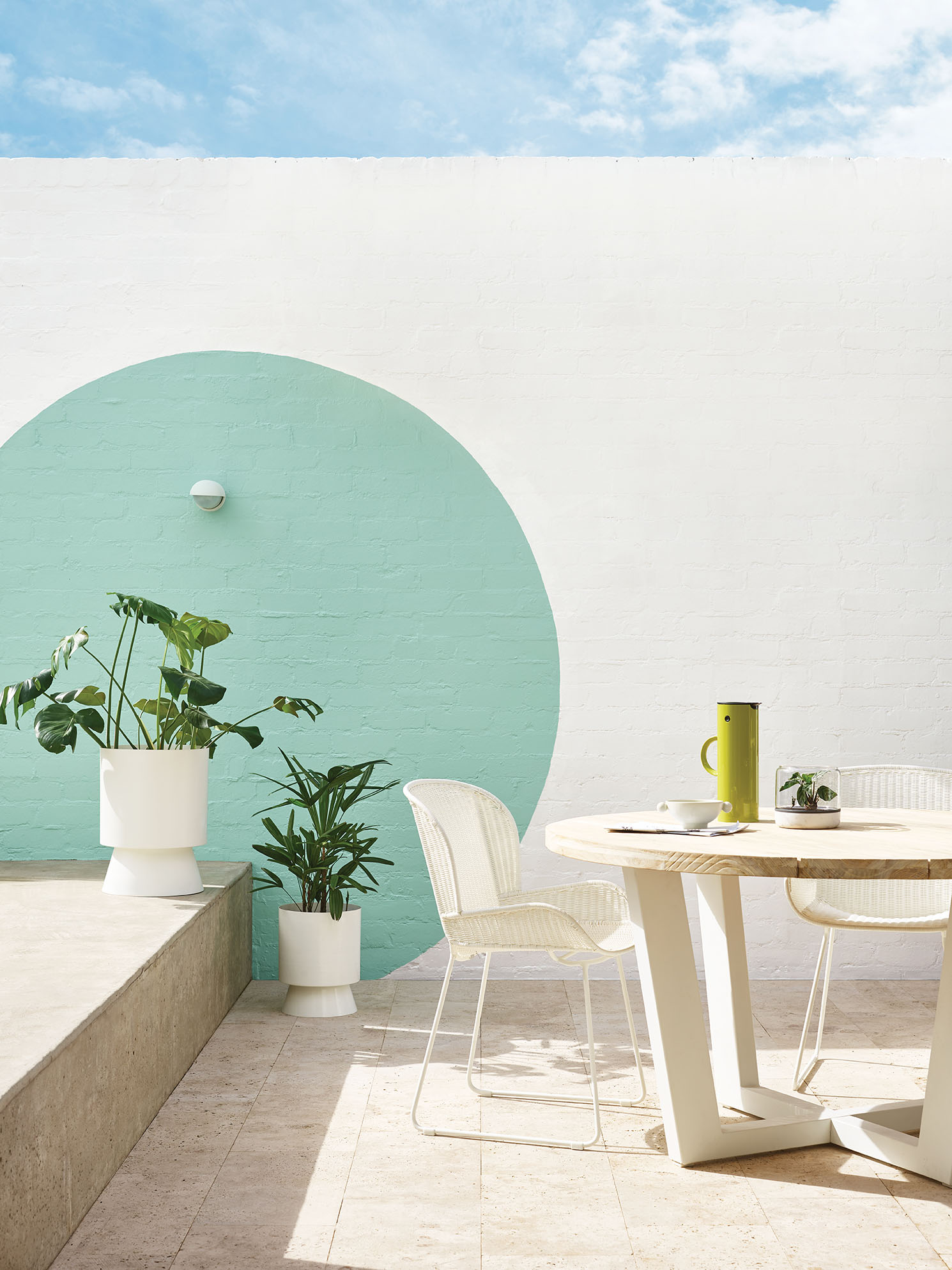 Make it go the distance
The Australian climate means our outdoor areas take a bit of a beating. For a finish that's easy to apply and lasts for years, choose a quality paint like Dulux Weathershield which goes on smoothly, dries fast and can be used on most exterior surfaces, including brickwork, decking, weatherboards and gutters.
 DIY steps and top tips for exterior paint jobs
Gather your painting supplies and ensure the surface has been properly prepared (sanded and washed) prior to starting to paint. Follow the label on the Dulux Weathershield can for more information.
Once the surface is dry, apply Dulux Weathershield to the surface using long brush strokes, starting with the inner panels and working your way out.
Smooth over the wet painted section with long brush strokes. Do not reload the brush when you do this, a few strokes should be enough to smooth the surface.
Repeat this process for the second coat. Allow to dry, then give the surface a light sand with 400 grit sandpaper and repeat for a second coat.
If painting bare timber a third coat will need to be applied.
 Save time and money by calculating the amount of paint you need before making your purchase. This will ensure you won't run out of paint during the course of your project and may help reduce the amount of waste. Head to Dulux's website to access their paint calculator.
Check the temperature for the day. Only paint if it's between 10ºC and 35ºC. The colder it is, the longer it takes to get the paint to dry.
It's okay to paint in the wind. Note, a light breeze is great to help the drying process, but if it's too windy, your paint will dry too fast.
For more outdoor projects visit www.dulux.com.au