So I'll let you in on a little secret. A couple of hours before The Block reveals air, we get the photos of all the rooms. The problem is, we don't get the judges' comments, so I spend a good 30 minutes trying to decipher who wins. I must say I'm normally pretty accurate — though I will admit I did not see Josh and Charlotte's 30/30 score for their master bedroom coming!
But my guessing game went into overdrive last week, when I got to see The Block's kitchens in the flesh (days prior to the reveal). Judge Shaynna Blaze led the tour, and though I attempted on countless occasions to get her opinion out of her, she kept mum (you should be proud, Channel 9)!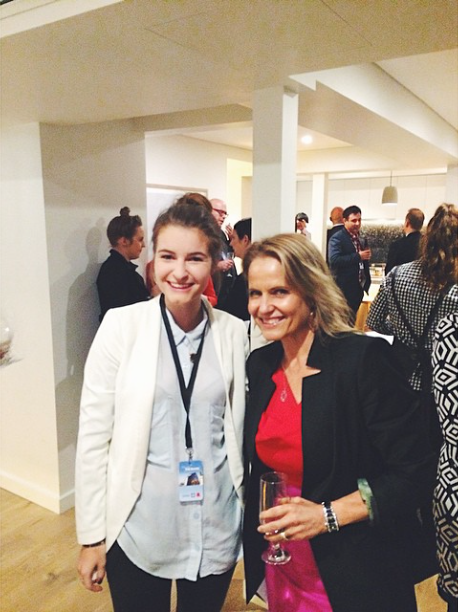 So below are all my views and all the product details, should you wish to try and replicate the kitchens in your own home.
Ayden and Jess: Modern traditional
Looking at the kitchen alone and ignoring how it fitted into the surrounding space, it was my favourite. I liked pretty much all of it bar the glass-fronted cabinets. I just don't see them as realistic. People have mismatched dinnerware; it just seems so messy!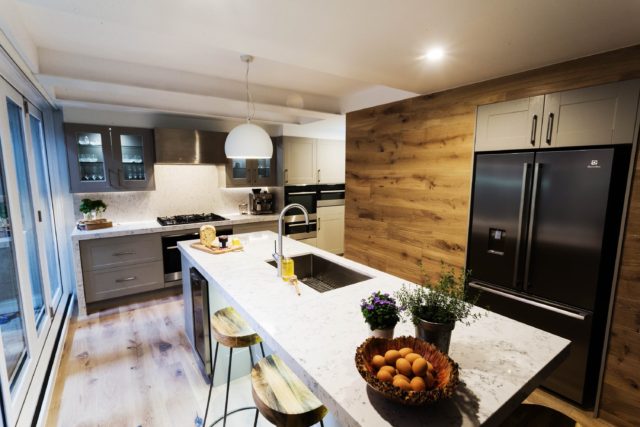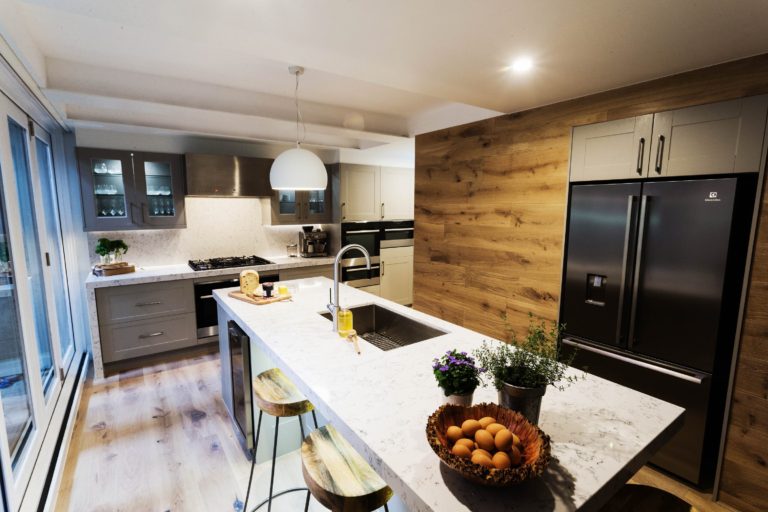 On-trend and functional, the profiled cabinetry in a Stone Grey brought an element of sophistication and the benchtop choice of Silestone Lyra added a natural feel to the classically styled kitchen. Designed and built to entertain, Jess and Ayden opted for Electrolux appliances throughout the kitchen, as well as Breville small appliances and Oliveri taps and sinks.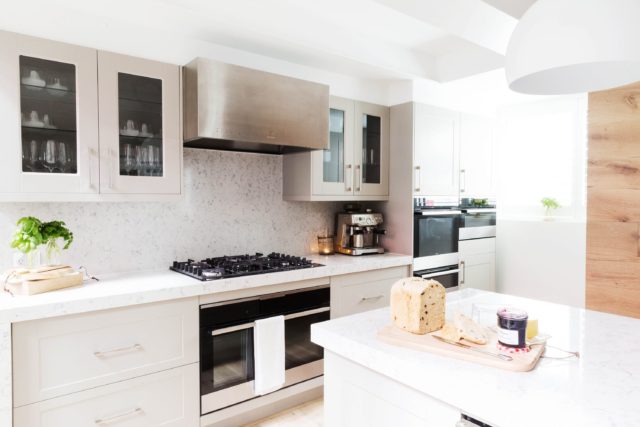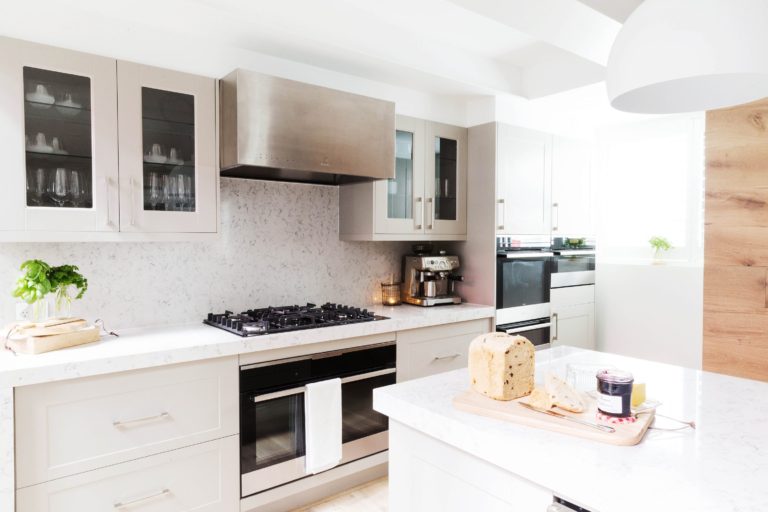 Dea and Darren: Urban glam
While I later found out how different my opinion was to the judges, the Double Ds produced my second favourite kitchen. And if you looked at the space as a whole (so the kitchen, living and dining as one), well then it shot straight to my favourite. Yes, the 'goalposts' were weird, but it was the only townhouse that actually had open plan living.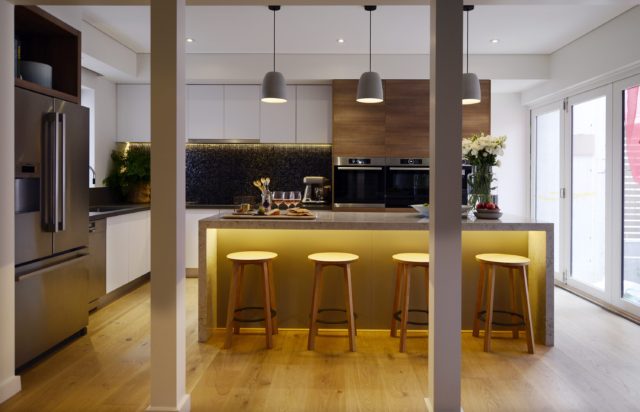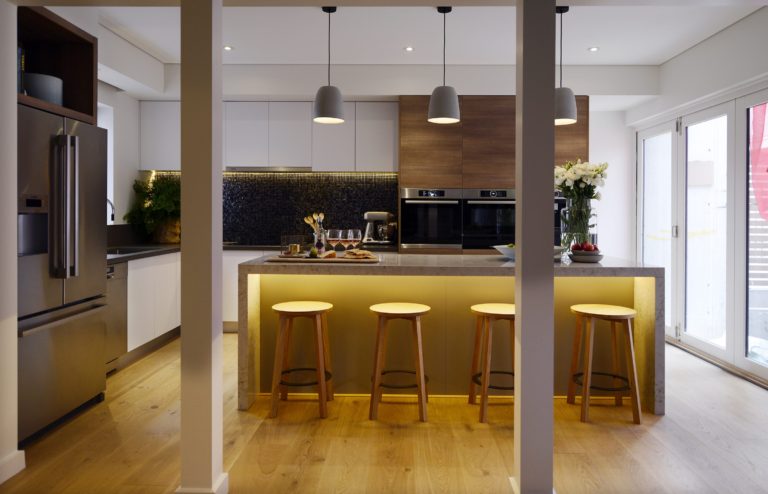 The kitchen is really the social hub of the home, executed through smart and functional design without compromising on style (though that mosaic tile splashback was a bit OTT). With Silestone benchtops in Cemento Spa and Pulsar, the appliances included an integrated Vintec Wine Fridge, a Bosch 762 litre French Door Fridge, a Bosch warming drawer, Oliveri sinks and taps and Breville small appliances.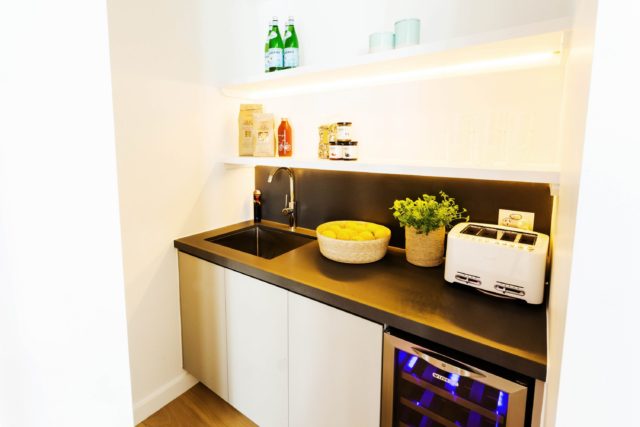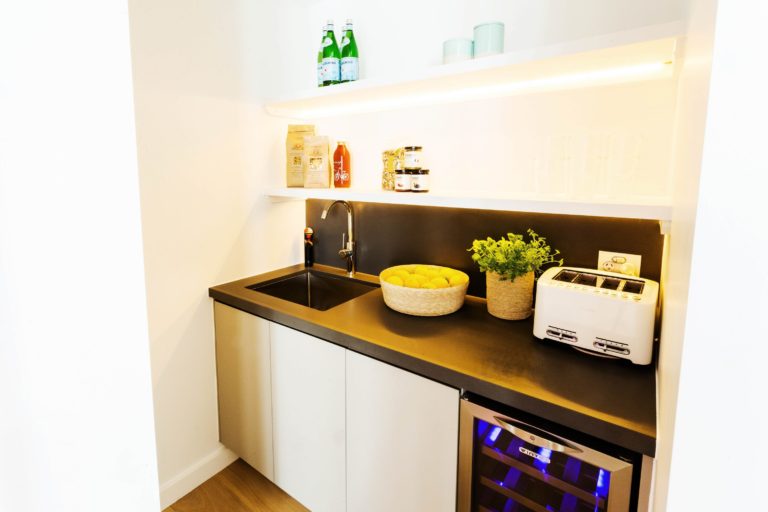 Tim and Anastasia: Modern monochrome
I found Tim and Anastasia's kitchen layout quite bizarre, what with it being almost like two galley kitchens attached in an L-shape. Standing in it was very cramped, though that said we were 50 or so people there! However, what I did really like was how they connected their kitchen to the terrace with bi-fold windows; perfect for indoor-outdoor living.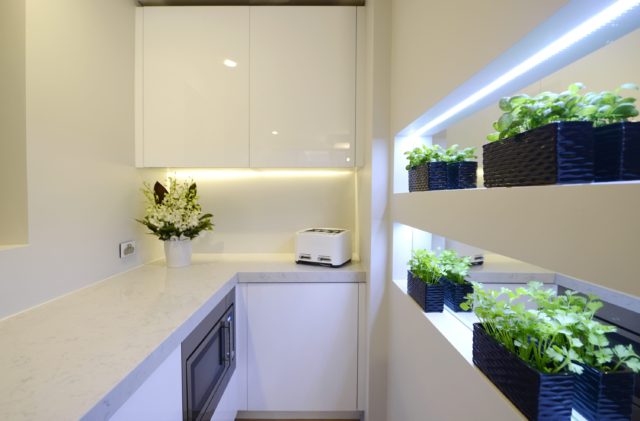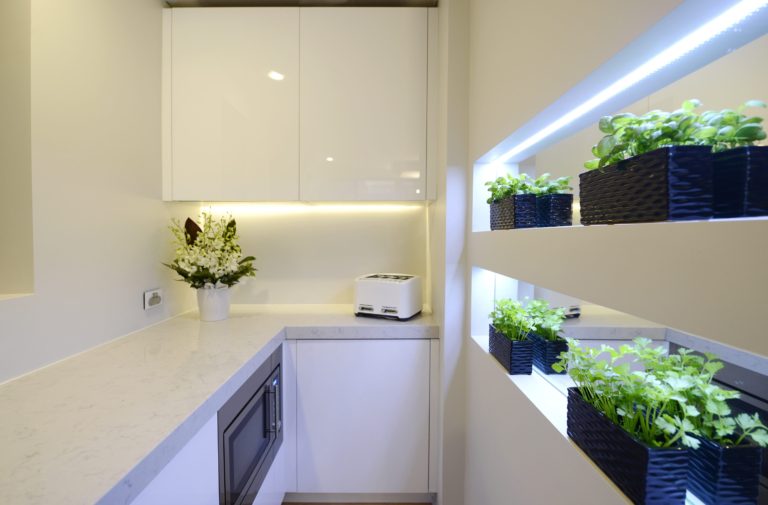 Using contrasting colours and textures of black and white and gloss and matt, the kitchen focused on modern elements like handle-less cabinetry and used soft greys — of the Silestone benchtops in Lagoon — to help balance the monochromatic scheme. Appliances included the Delonghi oven and built-in combination microwave, with a Samsung 636 litre fridge, Breville small appliances and Oliveri taps and sinks.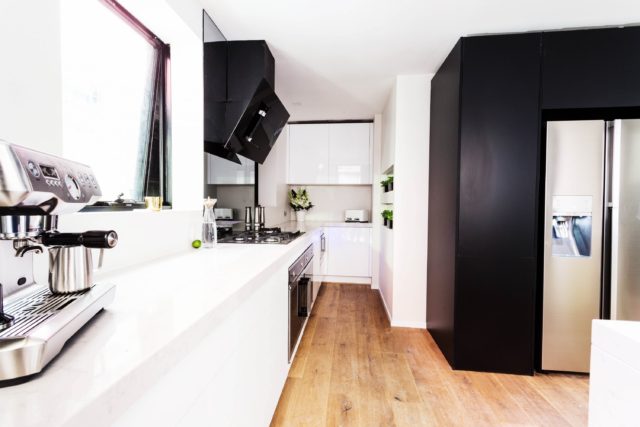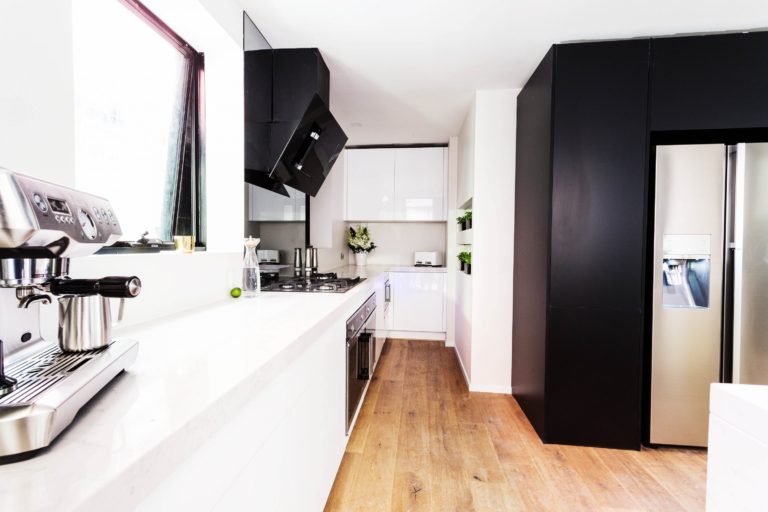 Josh and Charlotte: Minimalist
I totally agreed with the judges on this one. In person, I couldn't get over the huge blank space behind the timber bench. It looked so unfinished and cold. Josh and Charlotte's style is minimalism — which can be great — but I think this time it was taken too far.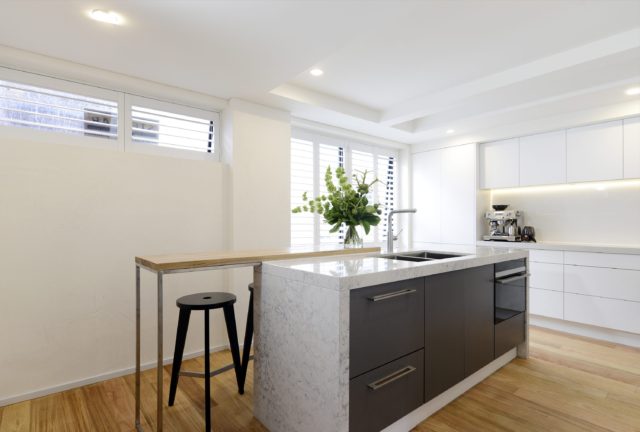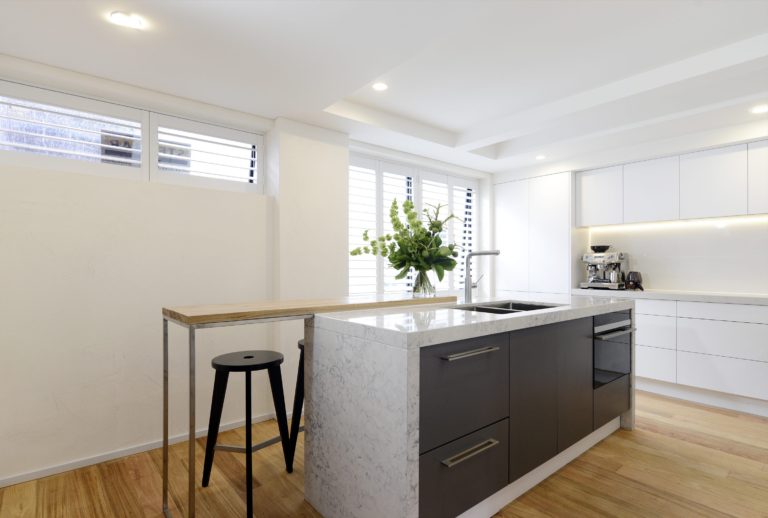 Using crisp white cabinetry, offset by a raised cafe style timber bench and Titanium drawer fronts, the kitchen also included subtle marbling in the Silestone benchtop in Helix. To complement this, Josh and Charlotte used Fisher & Paykel appliances, with an integrated fridge and a gas and ceramic cook top, Breville small appliances and Oliveri sinks and taps.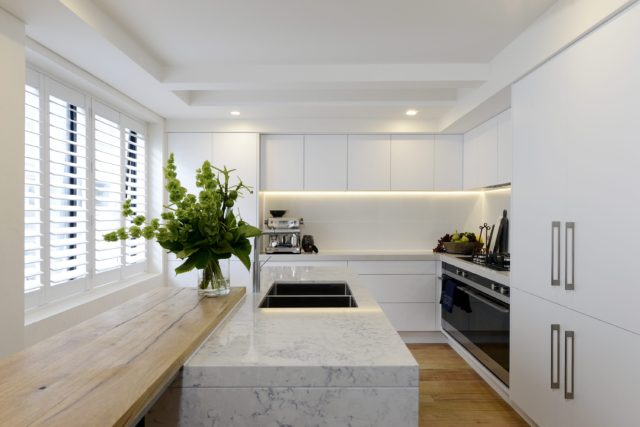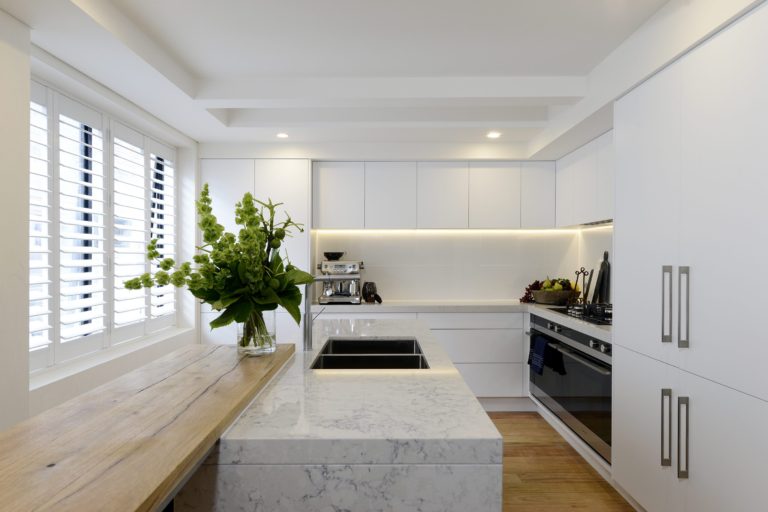 Finally, a special thanks to The Good Guys for flying me to Melbourne and giving me a behind the scenes look at The Block. I loved it!