Leading German shower and tapware manufacturer, Hansgrohe, have introduced a new collection of luxurious overhead showers and controls that introduce glass surfaces for a refined and elegant aesthetic, available exclusively from Rogerseller.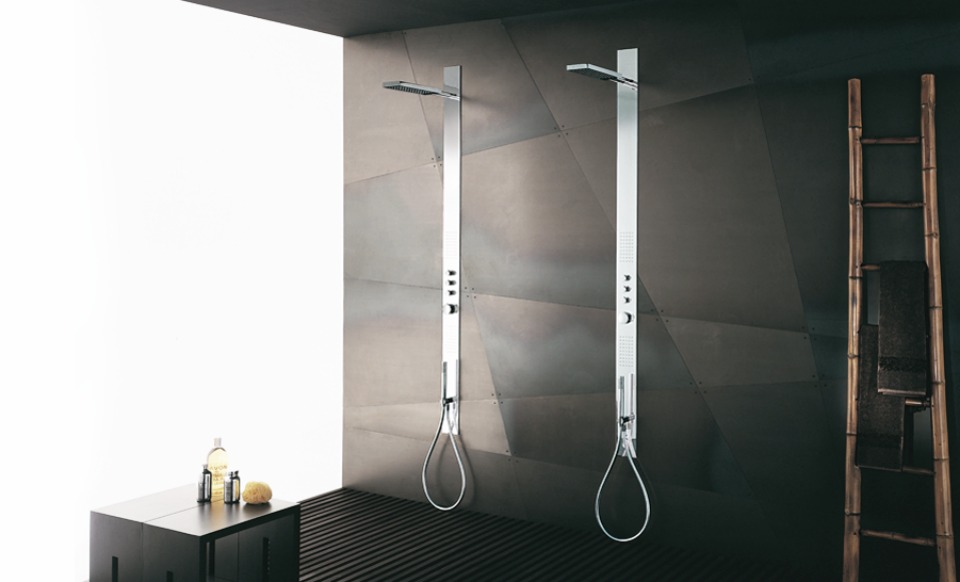 Boasting extra-large shower roses up to 460mm, the Rainmaker Select collection of ceiling and wall mounted shower roses are manufactured in sleek chrome, finished with a tempered glass panel – a sustainable material which transforms products into design highlights that significantly enhance the bathroom environment.
Because of its durable, hygienic and scratch-resistant properties, glass is among the most versatile of materials and ideal for flat surfaces. It reflects perfection, precision and lightness, making it a preferred material in contemporary design. Similarly, the materials selected in the Rainmaker Select collection emphasise a clear design language: the smooth glass, sleek chrome frames and rimless surfaces give the overhead showers a premium aesthetic that visually complements other bathroom elements and makes the range suitable for any environment. "Transparent interiors create a feeling of open space and foster communication. Today, everyday life without glass is inconceivable – even in the bathroom," says Tom Schönherr, Managing Director of Phoenix Design, who developed the shower in partnership with
Hansgrohe.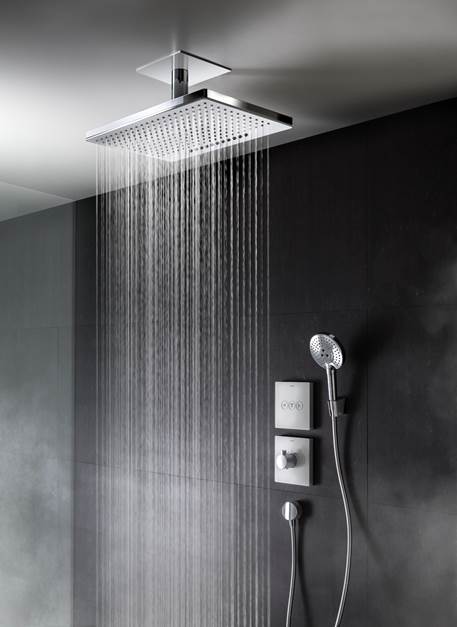 Tom Schönherr and his team were particularly inspired and fascinated by the timelessness of the material and the ways in which it could harmoniously be integrated into any space. "[Glass] creates a synthesis between the product and the interior design of the room," explains Schönherr. Despite their generous dimensions, Rainmaker Select showerheads are timelessly designed and understated. With the option of either white or black glass, they easily blend into existing ceiling and bathroom designs.
The range offers a choice of three indulgent spray modes for a customised and pleasurable shower experience: the full and refreshing Rain mode covers the entire body with droplets; the RainStream is made up of individual jets of large droplets of water, providing an invigorating massage; while the Mono spray mode targets specific points to relieve tension.
All spray modes incorporate Hansgrohe's unique AirPower technology, enriching water with air for a lavish, yet water-efficient shower experience. The collection of overhead showers can be paired with Hansgrohe rail showers and require Hansgrohe's Shower Select Glass Thermostatic Mixers that control the entire solution with easy-to-use push button technology.
The thermostatic mixer is much safer than traditional mixers, opening at a set temperature and auto-regulating the temperature if water is used elsewhere in the home – ensuring the temperature remains constant and eliminating the chances of scalding. Temperatures can be turned colder, but only warmer if the safety switch is used.
The control unit features a combination of buttons, depending on the specific solution chosen, which could include an overhead shower with three spray functions; two spray functions and a hand shower; two overhead spray functions; one spray function and a hand shower; or simply one overhead spray function.
"Hansgrohe have perfected the combination of practical functionality and a sophisticated aesthetic to present this stunning, premium collection that will stand the test of time in both design and function," says Rogerseller Brand Manager Tanya Sharpe.
About Rogerseller
Rogerseller is a leader in the finest bathware, kitchen cabinetry and living solutions in the market. Alongside their core line-up of exclusively imported brands, they also design and manufacture their own premium collections.