It's been just over a year of full-time blogging and I've never been happier! In what's a very nice way to end 2013, I'm very excited to have just signed with Bloggerati by Nuffnang.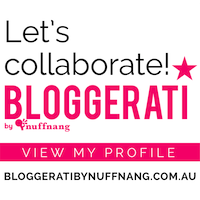 Bloggerati is the talent agency division of Nuffnang Australia. They work with the top bloggers from their community of thousands, and closely manage their successful brand partnerships, media relations and professional development. I'm flattered to be in great company alongside some of the country's most established bloggers.
HS3 Media will continue to look after my advertising sales.
Here's to my second year of full-time blogging! I really never ever thought I'd be saying that! Thanks, as ever, for all your support and for reading.