Wow, what a week! Melbourne was very kind to me this week, for all kinds of reasons! First off, it was a fantastic experience being a speaker at decoration + design's International Industry Seminar Series. What an absolute honour, especially when I met the other uber talented speakers from all over the world (no pressure!), who included international lighting designer Beau McClellan, Dutch trend forecaster Milou Ket and the fabulous Sydney-based interior designer Thomas Hamel, who I have known for some time and am a big fan of.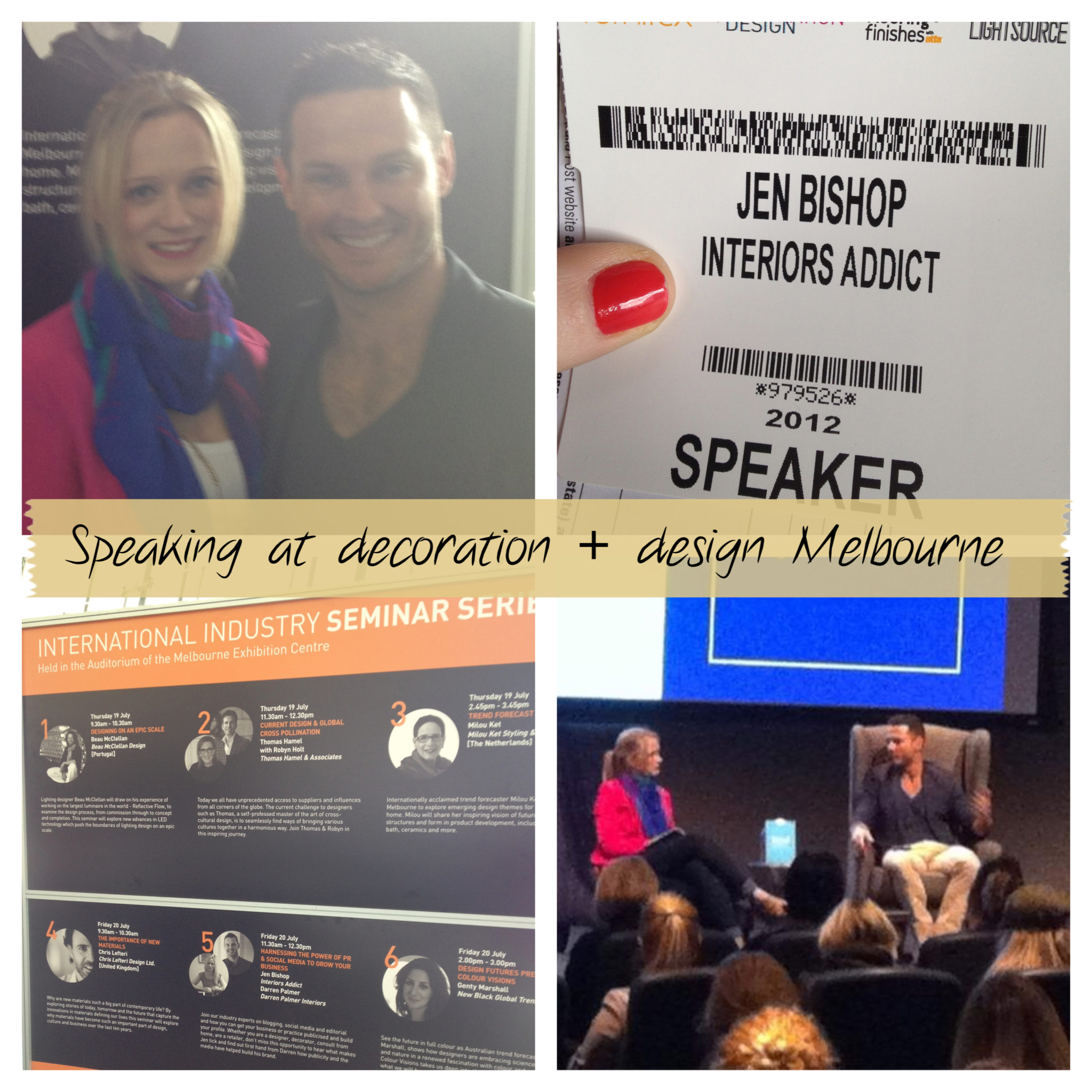 My friend Darren Palmer (interior designer and star of reality TV shows homeMADE and The Block) and I gave a talk on harnessing the power of PR and social media to grow your business. We were delighted that around 200 people came along to hear us and flattered by the great feedback we received. I was less nervous than I usually am when public speaking, probably because I know this topic so well and am passionate about it. Darren and I wanted our talk to be entertaining as well as informative, and like two friends having a chat! I hope that's how it came across. I was only slightly nervous to see belle's editor in chief Neale Whitaker in the front row as Darren and I talked about how to approach magazine editors!After the talk, many people who I've known only on Facebook, Twitter or Instagram, came up to say hi and even have their photo taken with me! Now that was a funny experience! But not as surreal as being out at a Melbourne bar with my girlfriends that night and having a fan of the blog come over and ask if I was Jen the blogger? You see, despite what Google Analytics says, I still sometimes find it hard to believe that so many of you read this! It is so nice to know you do and that you are inspired by the blog and such a pleasure to meet people with the same passion for interiors!
Once the speaking was over, I took the chance to walk the trade fair and there were a fantastic variety of exhibitors taking part. I have to say, the entire fair was really well organised.
Another great thing about these few days in Melbourne (I stayed from Wednesday night until today), was staying at The Blackman in St Kilda Road, one of the Art Series Hotels. It was officially the favourite hotel room I've ever stayed in, anywhere. Loved it! I'll blog all about the finer details next week, but for now, here are a few photos to whet your appetite. Speaking of which, the best meal during my stay was at Spice Temple in the Crown Complex. Delicious!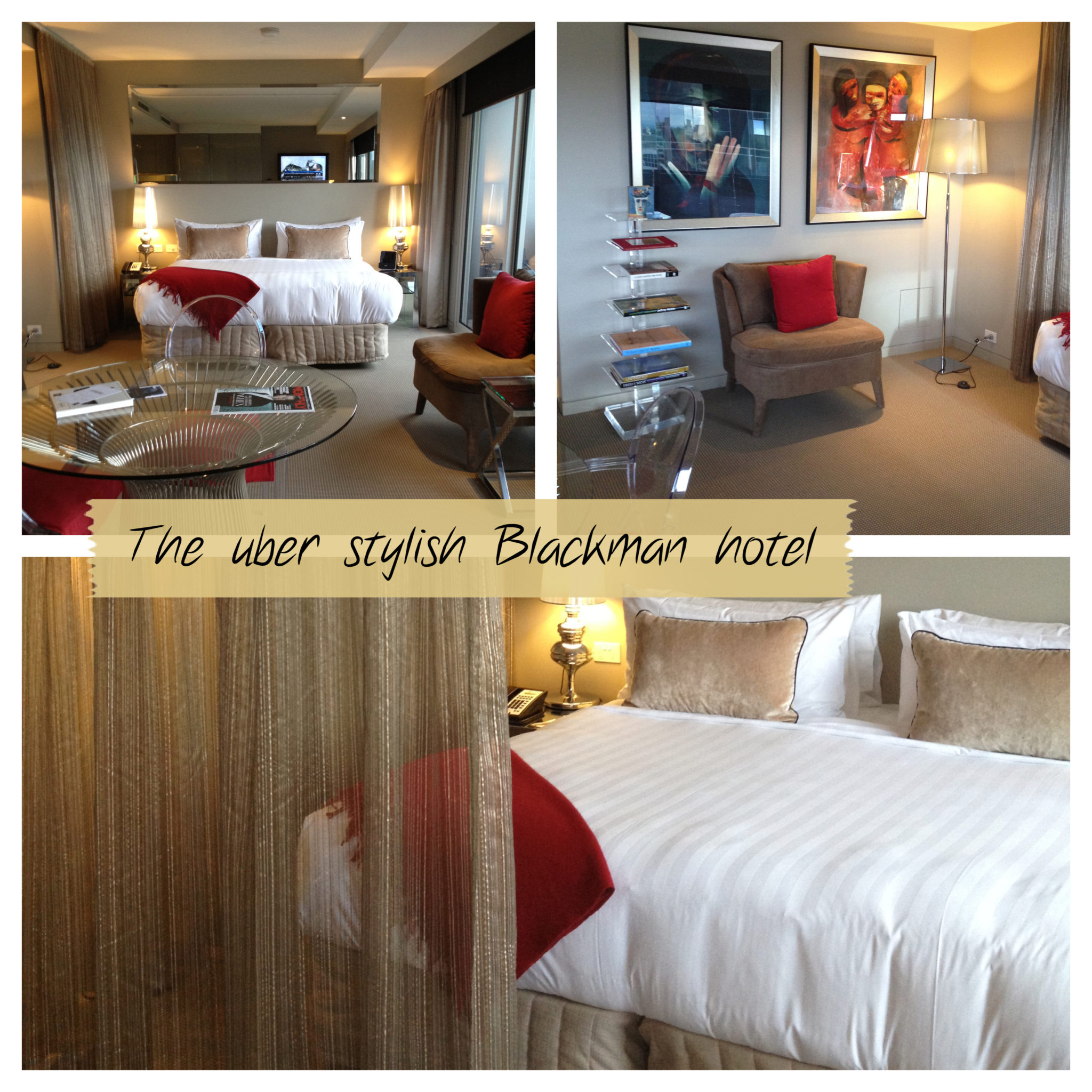 And as if all this wasn't enough, having been told it was FREEZING in Melbourne before I left Sydney, we just had two days of glorious sunshine! My fiancé and I had a lovely relaxing weekend drinking coffee, shopping, and all those other things you do in this great city. I didn't really need the woolly hat but any excuse to wear it!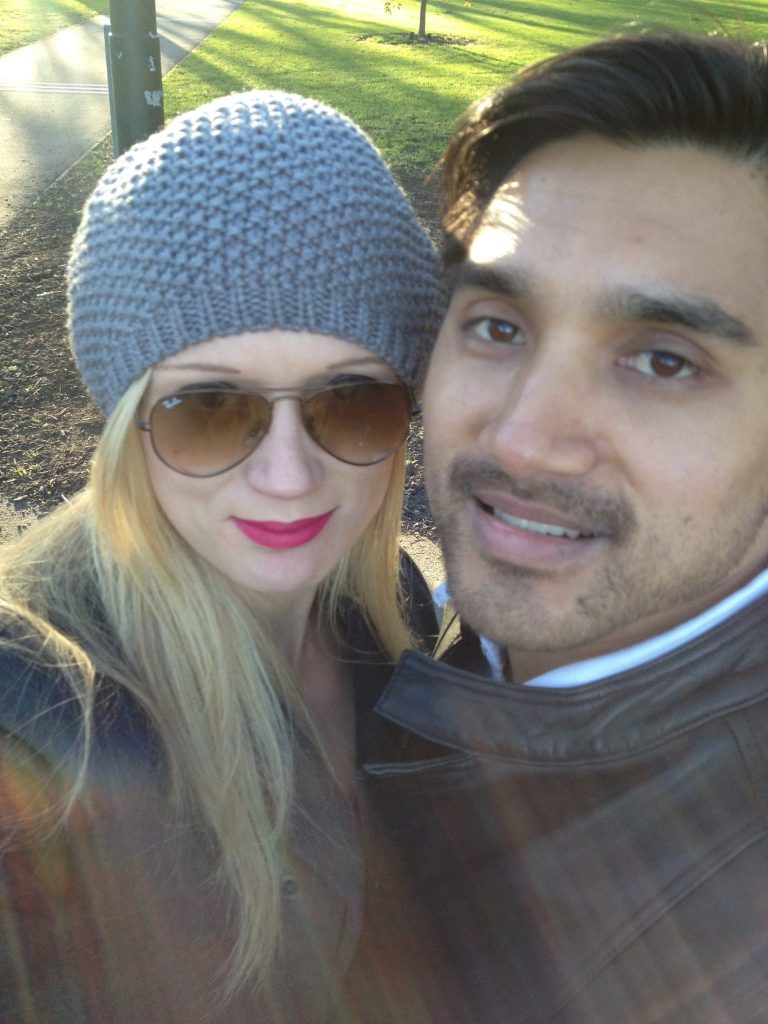 Many of you have asked if I'll be writing up notes from my presentation but I thought it might make more sense to run a series of posts on using social media in your business. What do you think? Let me know if you have any particular questions you'd like tackled.