We all know how important good tradespeople are to the success of your reno. They truly can make or break it with their skills and costs. Picking the right tradie is just one part of the equation however. Budgeting for them is the other and this is where many renovations either go full steam ahead or grind to a halt.
Working out how much to set aside for each of the tradies you'll need to hire can be a tricky process. With this in mind, ServiceSeeking.com.au recently released their quarterly Tradie Price Index which gives an insight into what you can expect to pay for the individual services required.
After taking a 2.5 per cent drop at the start of the financial year, tradie prices in NSW are back up 9 percent to kick off 2017. The Tradie Price Index released on the 23rd January revealed a significant hike in the cost of hiring a tradie in NSW. The weighted average hourly rate currently sits at $64.46 which is over $5.00 more expensive than the previous quarter.
Why the price hike? ServiceSeeking SEO Jeremy Levitt attributes it to the housing affordability crisis currently sweeping through NSW. "Housing affordability in NSW is becoming increasingly dire and we're seeing less and less properties on the market," says Jeremy.  "It only makes sense that people are choosing to renovate rather than upsize to a new place."
So who takes the prize for the most expensive trade in NSW?
Image source: Tradie Point
Plumbers still take the prize as the most expensive tradie, charging on average $70.46 per hour, up 5 per cent on last quarter.
Electricians take out second place across the state, with an average hourly rate of $75.43, a price which has increased by 7.2% since last year.
Landscapers ($70.46) and Painters ($50.49), however, are the ones to watch this year, both recording huge hikes in the last quarter of 14.2 percent and 13.2 percent respectively.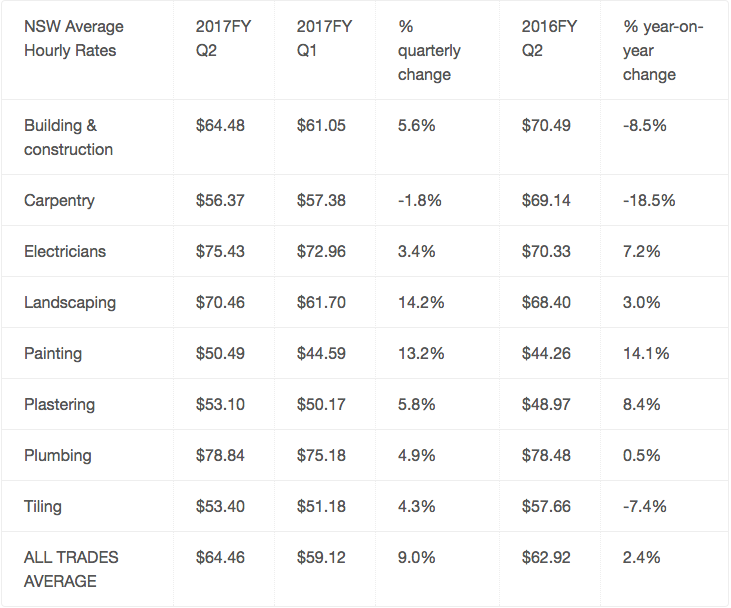 Image source: ServiceSeeking.com.au
Hourly rates are "gross" rates and aside from including the cost of labour, also cover the cost of running the business including insurance, tools, work vehicles, insurance and superannuation. The prices were derived by comparing a sample of 52,000 quotes submitted during the FY17 Q2 through ServiceSeeking.com.au
Want to find out how to pick the perfect tradie for your job? Check out Naomi Findlay's post on what to look for (and avoid!)