It's always exciting to discover an artist at the beginning of their career, especially when you find out they've made a big leap of faith to follow their passion. Such is the case with 31-year-old Christopher Broome, a Gold Coast electrician who decided he would rather live a more creative life, largely inspired by his mother Karen, fiancee Mel, and young daughter Chelsea. I now have two pieces of Christopher's work hanging in my home and they make me so happy I was keen to learn more about the man behind the paintbrush.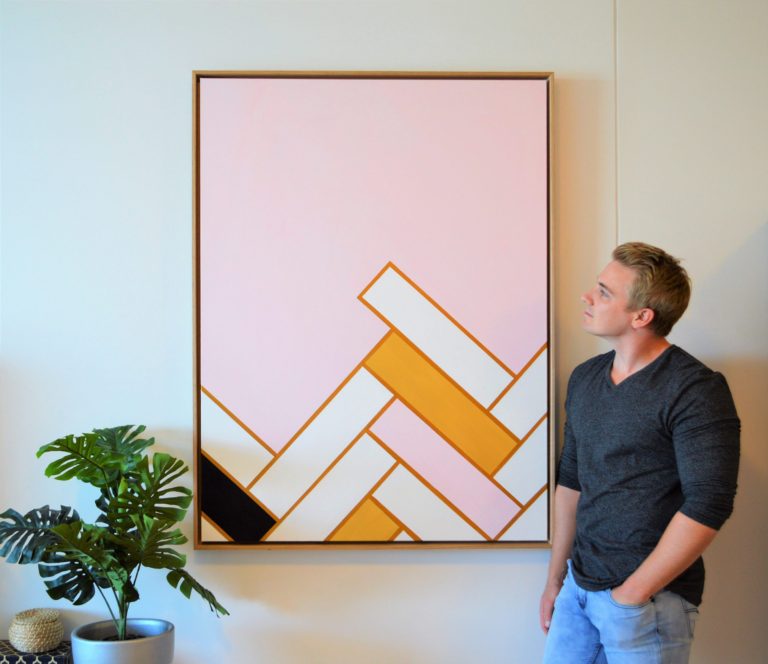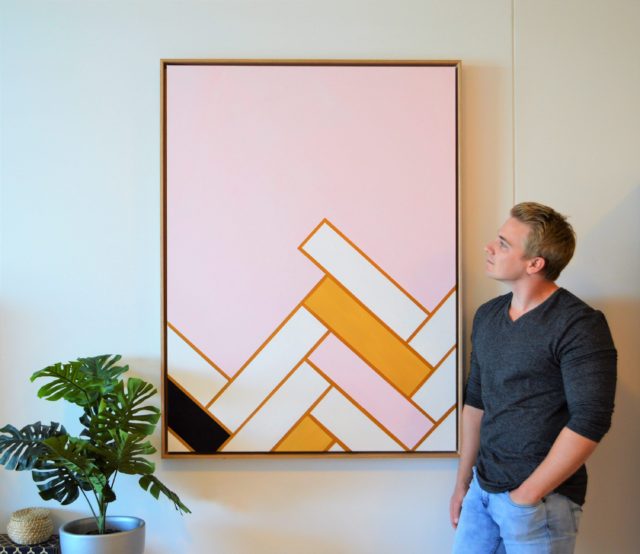 "I knew I loved art from a young age, but I only recently realised I wanted to do it as a career," says Christopher, who made the big switch last year. "As a kid, I wanted to be a comic book illustrator, so I was always sketching people and simple backdrops. Then I decided I wanted to do animation and joined art class when I got to high school. They didn't teach any of that there but that's where I learned the basics of painting! Then, once I was out of high school I pretty much stopped cold turkey and got a full-time job, so painting was just something I did in my downtime."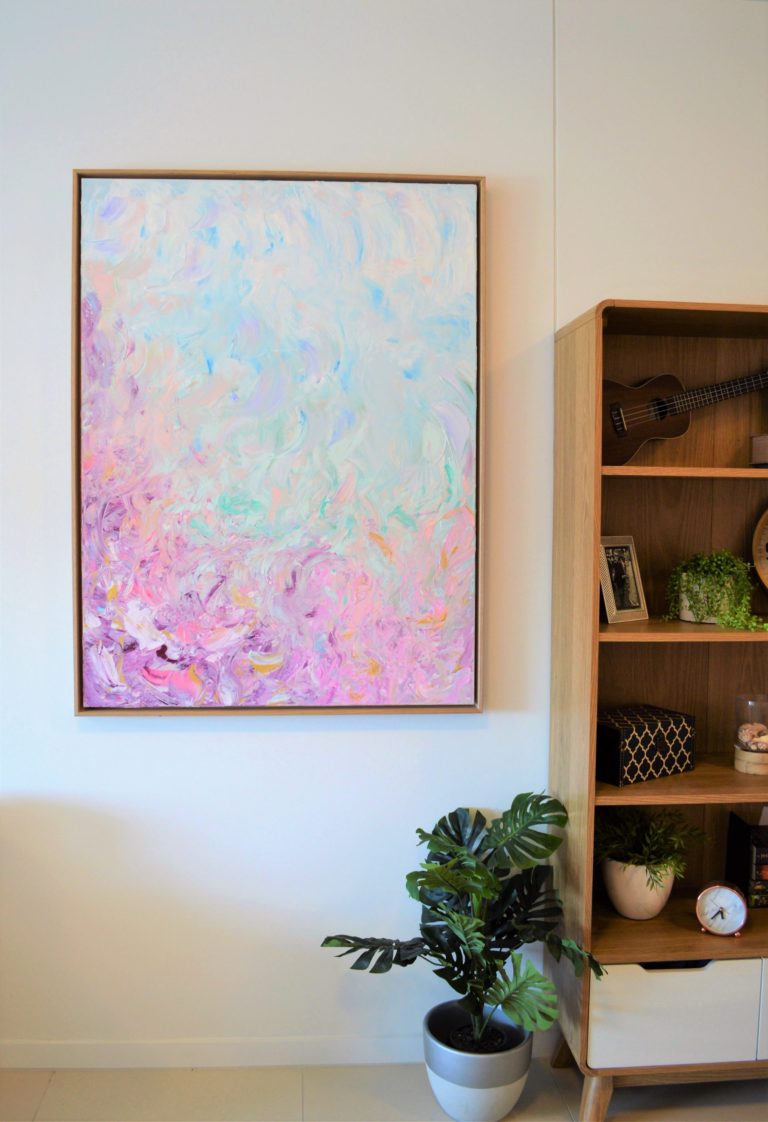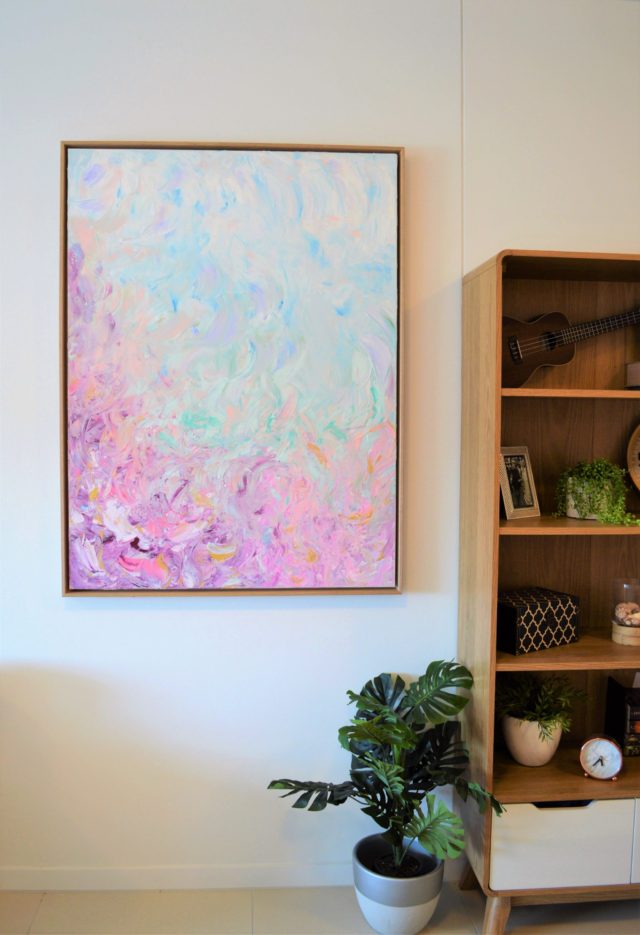 Christopher became an electrician, working 60-hour weeks. He and Mel had completely renovated their house, leaving them with a lot of bare walls to fill, so he picked up his paintbrush again. "I just got really fired up to paint again so once we sold it, we basically got in a position where I could take the chance at doing art as my career and I haven't looked back. Although I do want another reno project too now!" Becoming a dad to Chelsea has also kept him busy and he's loving the flexibility his new career affords him to spend time with her.
He definitely still considers himself an emerging artist and while her admits he's still experimenting with various styes, he can't imagine ever sticking to just one. "I'm still learning a lot and always ask a lot of questions to hone my skills. Abstract work is especially new to me, because I started out doing illustrations, but I feel like I have the most fun with it. I think my biggest challenge is I have too many thoughts running through my head so it's hard to just stay on one path and try to express how I feel, but that's the beauty of being able to work on multiple pieces at once!"
The ladies in his life have been a huge inspiration to Christopher. Almost losing his mum a few years ago, really made him realise that life could be short and you should give it your best shot. "My fiancee Mel encourages and supports every hair-brained idea I come up with and she's always behind the scenes, helping me achieve the things I want to. She also has no problems telling me rethink an idea or colour choice!"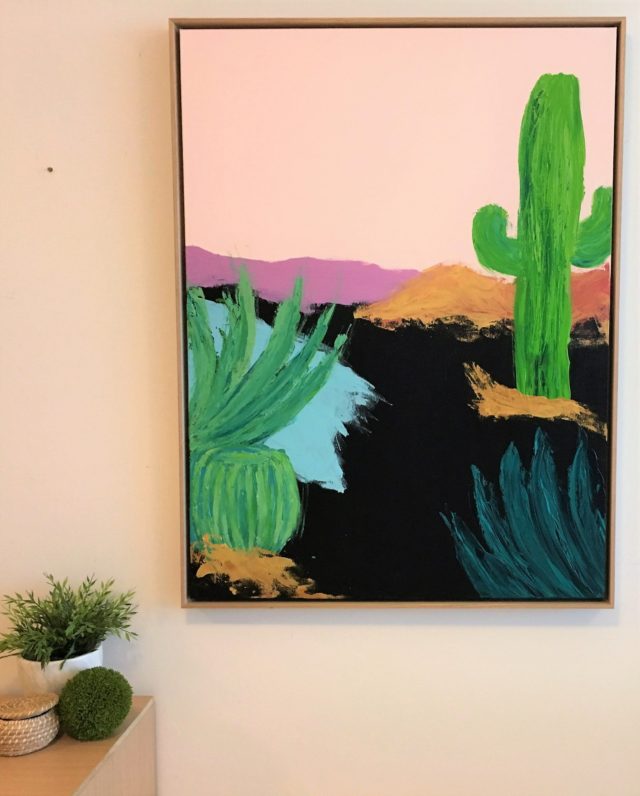 As for little Chelsea, she makes him want to be a very present dad. "Being able to work out of a studio from home gives me that ability. Her personality and spirit give me a lot of inspiration too. The series 'Peaceful By Name' is just like her, beautiful to look at but still plenty of chaotic elements!
"Women influence me by being some of the greatest supporters in my life. I wouldn't exist without my mum and I wouldn't be where I am today without my own family. My 'Luxurious Ladies' series started when we found out Mel was pregnant. Women really are amazing and what they go through to carry children is just mind-blowing. So I guess I just wanted to recognise the female form and based them off women that I think are positive role models for today's youth… I'm not going to tell you who though!"
While the Gold Coast art scene is full of talented artists and galleries, Christopher says it's definitely a smaller community compared to Melbourne and Sydney. He has recently started to sell a lot of work via his Instagram and says having a strong social media presence is important and like having an online gallery without the wine and cheese platter. "Social media's reach is immeasurable. My artwork is now in Tassie, Melbourne, Sydney, Perth and the Gold Coast, and I've had commission requests from London and LA too. It's really up there as a marketing and sales tool."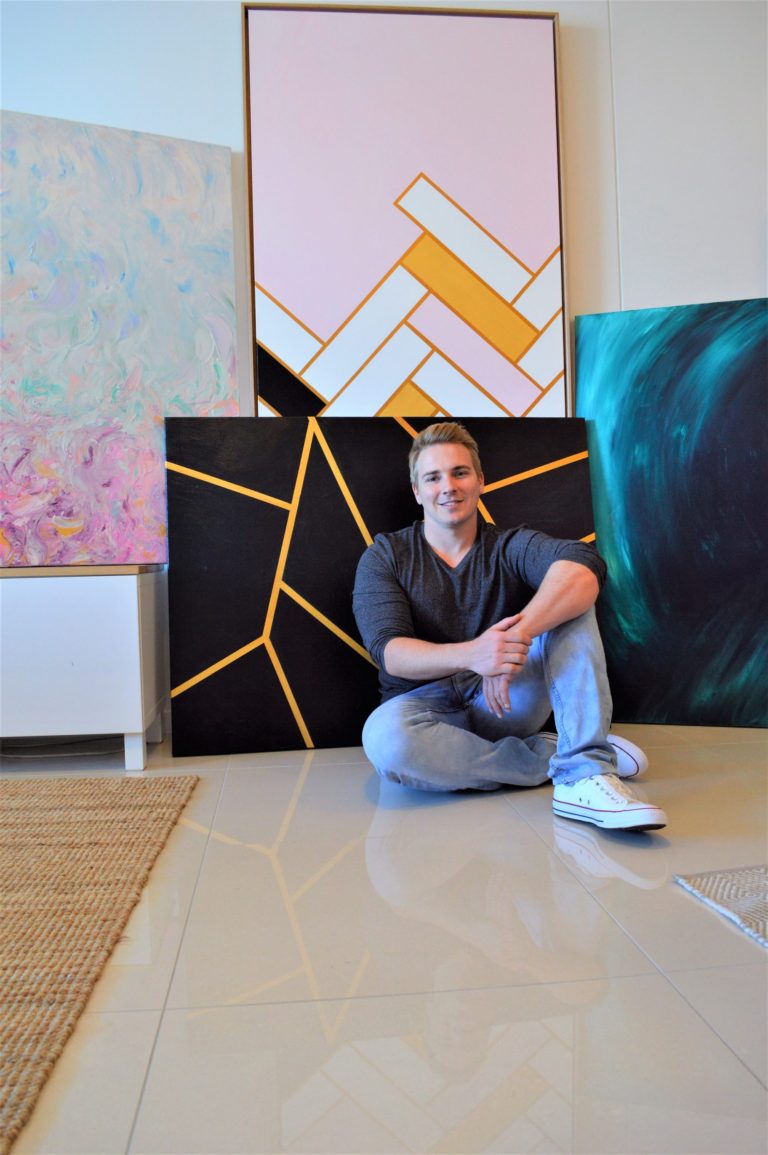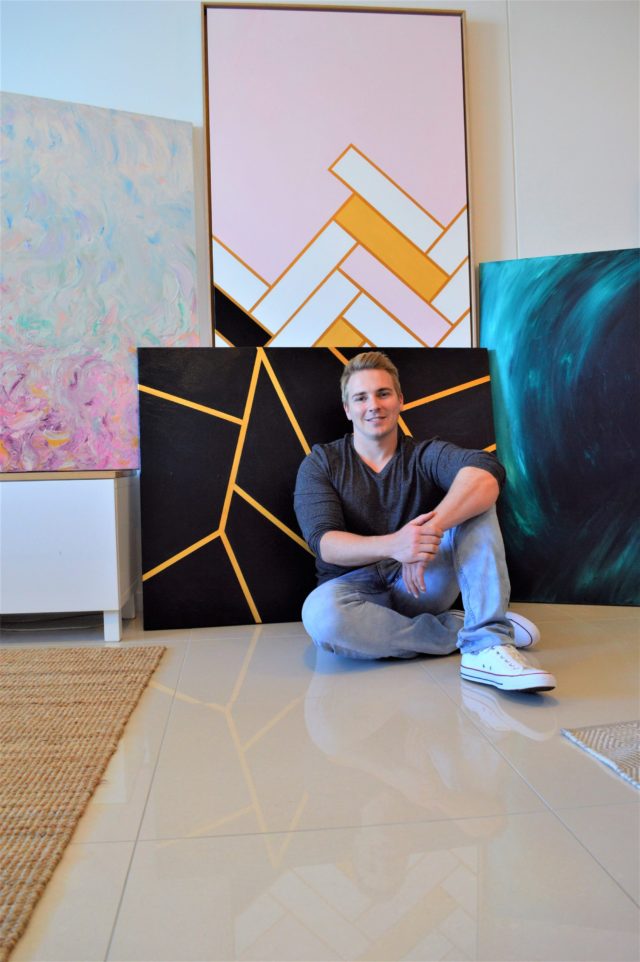 He describes the bulk of his work as energetic. "Then I have the pieces that are deeper tones with subtle highlights that are more moody. I'm not sure how to describe them. But I love trying to get an emotion into the work so you feel something when you look at it."
Christopher's inspired by fellow artists Tania Blanchard, Michael Bond, Marnie McKnight, Ruchi Rai and Jennifer Lia. "It's like I find a new one every day!"
So, what's a day in the life of a full-time artist and new father working from home really like? "Balance is probably the biggest challenge, but we have a good routine which I think helps a lot. I'm usually up first and get a couple of layers down across a few canvases and then take over dad duties while Mel gets ready. We basically tag in and out for the rest of the day while I order materials and do some marketing and Mel runs the rest of the house and reminds me to eat and stay hydrated!
She does an amazing job as Mum though, it's just so natural for her which makes focusing on my work much easier. The advantages are exactly what you would think they are; we get to hang out as a family much more, even while I'm painting we can have a chat. We always try to keep the weekend free though so we don't forget to have a break and just enjoy being parents and spending time with friends."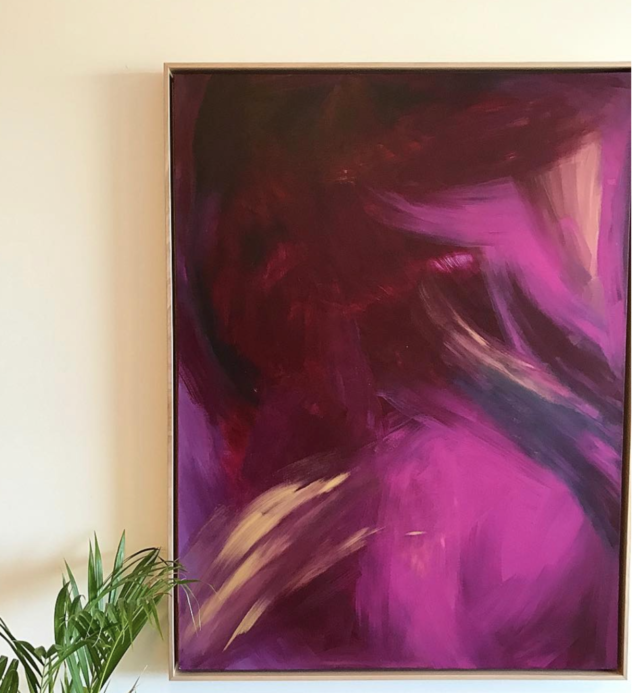 Most of Christopher's sales are online, the rest come from retail. "I will post a picture of a completed piece on Instagram and it can be instantly sold because of how much people use their social media. Art is definitely more accessible now. Again, I think we have social media to thank for that, because basically anyone with an Instagram account or internet connection can see what you are creating day to day and can be more involved in the process. This brings the masses into the art world rather than it being a kind of closed off industry like it has in the past. I also think being able to create prints of artwork has been great because it's so affordable. Limiting the number of prints so the piece is still somewhat exclusive is a great idea, and then, for those with bigger budgets, there is always the original. Nothing beats having an original piece, but having people just enjoy the work is the main thing."
He says art can be the icing on the cake of your interior. "Personally, I'm a big fan of a simple home that's kind of a blank canvas with the colours and softness of the home coming from the interior styling. That way your home can always adapt to the changes in your style without needing to literally renovate."
Follow Christopher on Instagram | Buy his work online at Design Twins or Blue Thumb