A French curve heated seat, one-touch remote control, sensor-activated cover and rimless bowl. Luxury toilets have come a long way in the last few years and two new designs from leading manufacturer Kohler do not disappoint.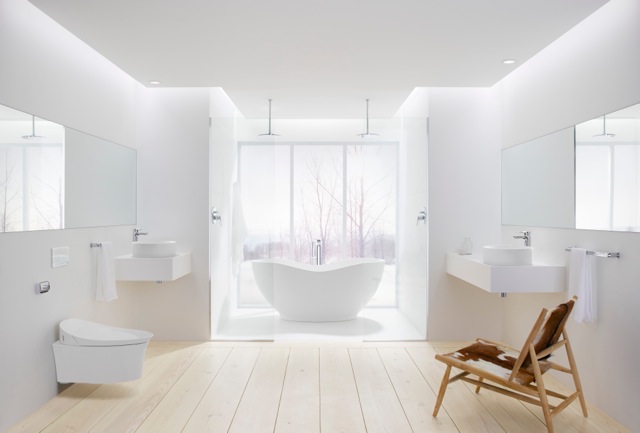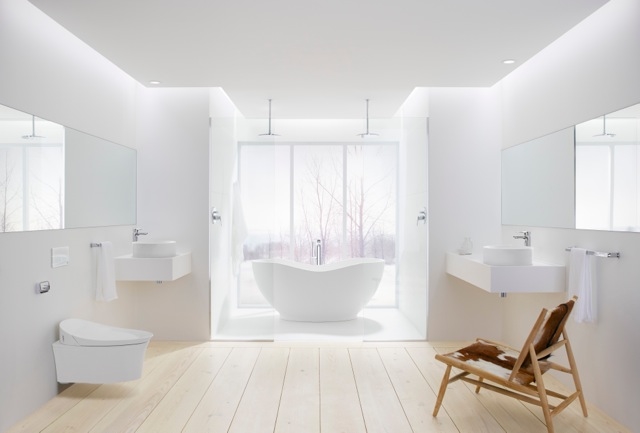 The 'unveiling' of Kohler's Veil smart toilet takes hygiene and comfort to a new level in terms of luxury and personalised convenience.
The Veil is a self-cleaning wall hung toilet with advanced bidet features controlled by a one-touch remote control. The design deserves special mention as its balanced curves and sculpted form inject a sense of beauty into the utilitarian toilet or bathroom space.
The French curve heated seat, with its gently dished shape, minimises pressure points for extra comfort while its antibacterial material enhances hygiene levels.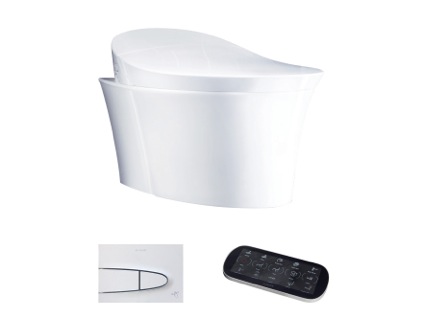 The ultra-responsive remote control offers a suite of customised features to optimise hygiene and personal comfort — these include a choice of soft, pulsating or spiral wash with instant air-infused warm water; choice of water temperature; warm air dryer with adjustable temperature control; and seat temperature adjustment.
The Veil's stainless steel spray wand automatically cleans itself with sterilised water after each use – and it automatically sanitises itself with UV light every 24 hours.
Further testament to the rich list of features are the automatic seat cover – sensor-activated with three adjustable distance settings to automatically open and close the lid – and the blue LED nightlight on the face plate of the toilet.
The luxury doesn't come cheap. Kohler's Veil retails for $4,449.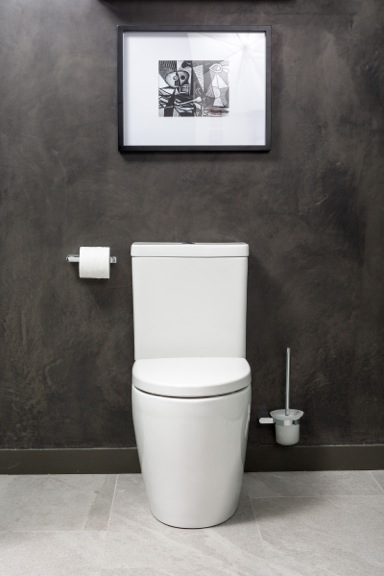 Kohler's Grande Back to Wall Toilet Suite features a rimless bowl with a smooth interior and ultra-efficient flush system – this not only improves hygiene but makes the toilet far easier to clean.
The rim of traditional toilet bowls — originally designed to optimise the distribution of water needed to rinse the toilet interior — creates a safe haven for germs and bacteria and makes adequate cleaning quite tricky.
The new rimless Grande, by Kohler, has no rim, just a very smooth interior that is rigorously cleaned by the toilet's ultra-efficient flush system. Basically the flush propels the water, very powerfully, around the bowl, but clever engineering and shaping ensures no splashback.
The compact, understated design of the Grande Back To Wall toilet suite means it will perform equally well in master bathrooms and ensuites and complement any interior design aesthetic. It projects just 650mm from the wall and is a mere 395mm wide.
Additional features include Quiet Close VQR (Vertical Quick Release) toilet seat – really easy removal for enhanced cleaning – and 4 star WELS rating (average flush of just 3.5 litres). It is suitable for both new builds as well as retrofit as it has back and side entry for water feed.
The Kohler Grande Rimless toilet suite is available nationally for $859.
And now our toilet lesson is done!
Find out more about Kohler here.