Sponsored by Officeworks
I've partnered with Officeworks to help Australians take control of their workspace as they embark on a new and exciting financial year. Here are my top 12 tips to mastering an organised and productive space…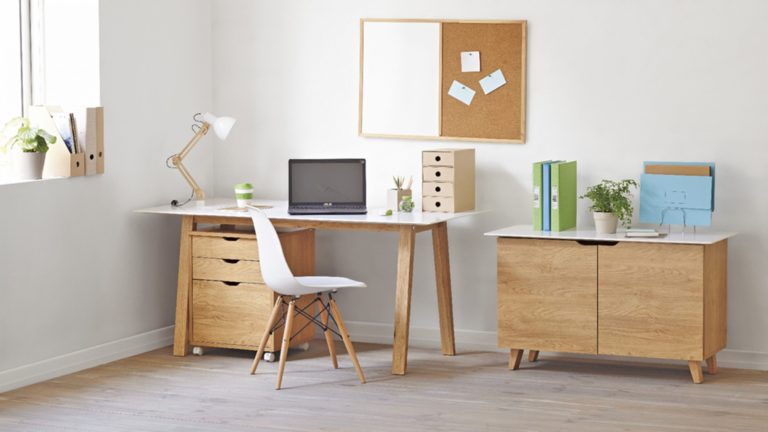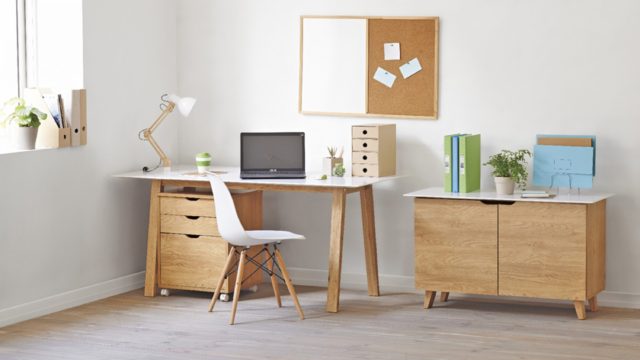 1. Choose the right chair Opt for a chair that can be adjusted to suit both the height of your desk and your body, such as the Hummingbird Baku Chair. If you're in a space with rugs or carpet, a chair with wheels can be impractical so consider your flooring when selecting one!
2. Measure up To get the most out of your office area, ensure the style and size of your furniture suits the room. Corner desks work well in small spaces, whereas a wall to wall desk may be better suited to a larger or narrow room. Make the most of under desk space with storage options like mobile filing drawers and pedestals.
3. Give yourself space Maintain spatial awareness when setting up your desk space – you don't want to be cramped up facing a wall day in day out. If possible, face a window that offers a long-distant view. This will give your eyes the opportunity to shift focus away from the screen, which is necessary at least every 30 minutes. You'll find that this simple exercise will boost both your concentration and mood.
4. Kick it to the side A sideboard can be a fantastic storage option, while looking great. They also provide benchtop space for desk lamps or the perfect spot for a wireless printer. These act as great 'work stations' which encourage intermittent exercise.
5. Look after yourself It's important to remember that exercise will increase both your mental and physical wellbeing at work, making you more productive and focused in the office. Stay stimulated by making a conscious effort to get up and move every half hour. A great way to monitor this is to wear a Fitbit Charge HR Activity Tracker.
6. Lighten up Have a variety of lighting sources available for your work space – we draw energy from our surroundings. A window offering natural light and fresh air is ideal however a desk lamp can be useful for task lighting, especially in the late afternoons or mornings (depending on which direction your window faces).
7. Less is more Choose multifunctional equipment such as an all-in-one wireless printer with scanning, faxing and copying capabilities. These devices will also allow you to easily print from computers, phones and tablets – wherever, whenever. Additionally, an all-in-one desktop computer with a built-in hard drive looks neat and frees up space under the desk.
8. Remove tangled cords Wireless tech will free up desk space, reduce messy cables and increase overall efficiency. Think cordless for your phone, keyboard, mouse – almost anything can be wireless these days!
9. Set the mood Know what sort of acoustic environment makes you most productive – are you more focused in total silence or thrive with music on? If no noise is your preference, invest in noise-cancelling headphones or if music keeps you motivated, a small set of wireless desktop speakers are perfect for the office.
10. Let the Mailman take care of it Keep on top of admin by ensuring an efficient mail system is in place. Setting up an incoming and outgoing tray will avoid small parcels being forgotten or lost – no one likes paying late fees! When it's time to post the mail, take advantage of Officeworks' new Mailman service. It allows you to buy labels online 24/7 and drop parcels off in your own time – no more long queues or rushing to meet business trading hours!
11. Manage for safe keeping Regardless of whether your paperwork is in hard or soft copy, it's important that you're filing and securing documents. Desktop filing is best kept within arm's reach for current projects, however old files should be organised into labelled storage boxes and stacked away. The same approach should be applied to filing soft copies and regular back-ups are crucial. Digital files can be saved using a number of storage solutions such as USBs, portable hard drives or via Cloud.
12. Maintain a 'to-do list' Set up a white board in your office to create a visual and updateable to-do list. Alternatively, make the most of the calendar app on your smartphone or tablet, by linking it to your mailbox diary – enabling you to receive deadline reminders and on-the-go notifications.
Head to officeworks.com.au/workstyle to find out more.