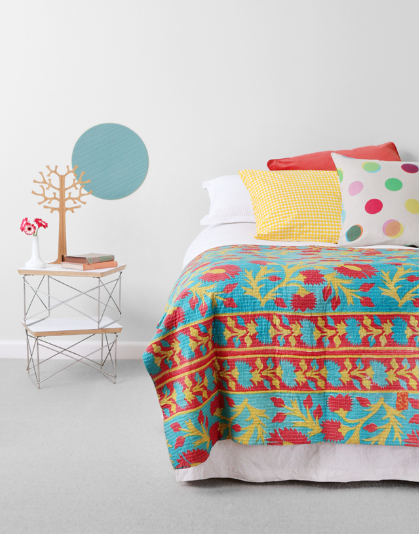 I've seen kantha popping up a few places lately. Could it be the new patchwork or ikat for beds? Laura Hanks-Ruttyn thinks so.
She hopes her new venture, Fossik, will one day feature a diverse collection of off-the-beaten-track wares from far and wide. But she's starting with Indian kantha quilts, handmade by local artisans from the Thar Desert region. "They're all handmade, some from new fabrics and others from vintage saris, and are covered in traditional kantha embroidery, which is a simple running stitch. Except for those made from new cloth, this means that all the quilts are unique," she says.
"These one-of-a-kind textiles wear their history with pride and may show signs of wear, small patches and uneven or loose stitching. Perfect in their imperfection, I consider these features as being inextricably connected to the inherent beauty and wanderlust loveliness of these pieces and believe they provide a refreshing contrast to the mass produced monotony of the west. I'm hoping others feel the same!"
If you're interested, check out Laura's blog, which celebrates "creative living inside and out of the home and other random feel-good fragments of life". I love love LOVE them. From $120 each. Enter the code interiorsaddict at checkout for a 10% discount.