I'm a huge fan of Greg Natale's work, you probably all know that by now. And I've interviewed Greg and know him well, but I was still keen to attend his session at Coco Republic Design School, especially when I heard he'd be sharing photos of never-before-seen projects. What a treat. And I wasn't disappointed. Friday morning was, for me, three hours of interiors porn! Loved it! Greg shared photos of some of his most beautiful work, talked about his inspiration, where he sources things, how he runs his business and what's important in creating interiors that work.
Starting at the very beginning, Greg told he us he was "one of those freaky kids" who knew what they wanted to be from a really early age. Dressing himself and having a very strong sense of personal style from the age of 10, he spent the summer of 1986 ripping down all his parents' seventies wallpaper. Can you imagine mini Greg doing this? I so can!
He went on to study at Enmore, where it was drummed into him not to copy other designers. But he freely admits to being inspired by the work of David Hicks (the English, not the Australian one) and, later on, Kelly Wearstler. "We are all inspired by the past and other designers but it's about reinventing things and making them your own," he says. What I wasn't expecting to hear from Greg, who loves retro, was how much he loves the Brady Bunch house!
In 2000, while everyone was into minimalism and white boxes, Greg transformed his sister's one-bed apartment with wall-to-wall custom wallpaper and got it featured in belle and the UK's Wallpaper* magazine. The interior design world started to sit up and take notice of his distinctive style. In 2001 he started Greg Natale Design and, three belle covers, more than a decade of work and an interior designer of the year award under his (Tom Ford) belt later, the rest, as they say, is history. And his sister? She doubled her money when she sold it!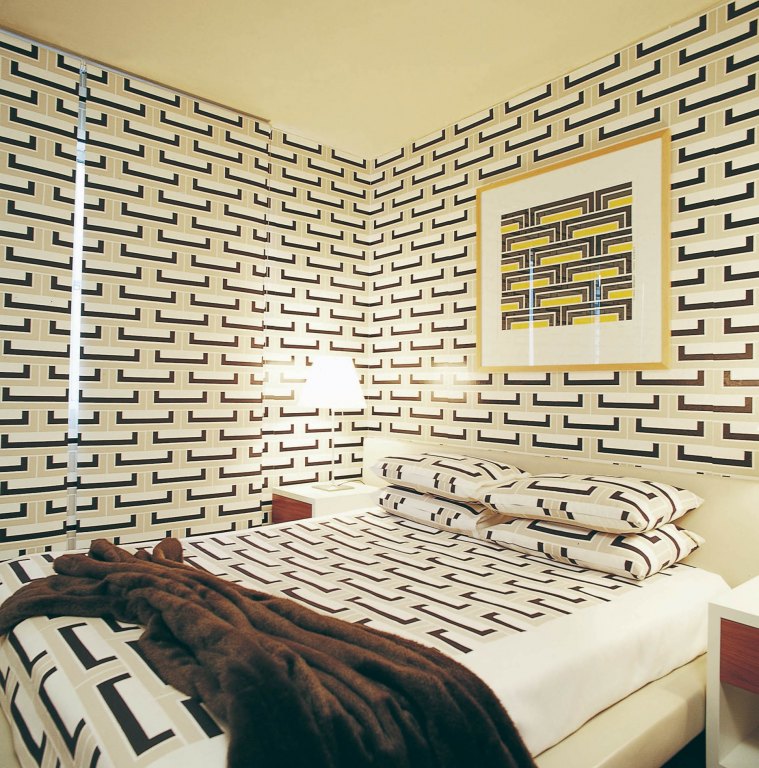 Greg's highly decorative style set him apart and his signature look (something all designers need to have, in his opinion) is instantly recognisable today. That said "if you break down our work there are a few key elements and we're constantly reinventing them for different projects." Cohesion, contrast, warmth and balance are all things Greg constantly comes back to. These days his geometric patterned rug range, in collaboration with Designer Rugs, can be seen in many of his projects, further stamping his mark on them. "I love mixing classic, new and vintage," he says.
At some point, everyone started using white again and many of Greg's projects start with a monochrome base. "Clients started calling saying 'please de-beige our lives'." In 2008, when Hollywood Regency became the look du jour, Greg finally felt like he belonged to a bigger movement. He started using a lot of Jonathan Adler furniture and Kelly Wearstler fabrics.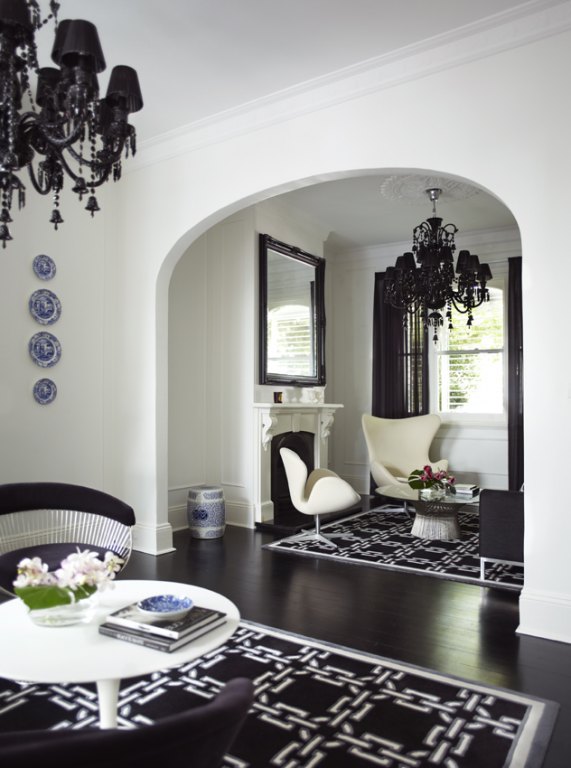 Highly strategic and methodical in his work and how he runs his business, everything is documented and spreadsheeted and clients have no surprises. "When you're dealing with hundreds of thousands of dollars, you have to get it right," says Greg, whose clients tend to have big budgets. Often huge budgets! He shared one project where the furniture budget was $180,000! "I storyboard everything so clients can see the bigger picture. Sometimes you have to fight for your designs like they're your children!" Greg currently has 25 projects on the go and credits his team of four staff with keeping the day to day running smoothly because he can't be everywhere. "I employ people even more talented than myself."
Greg told us starting points for a space are important and it's something he struggled with, admitting he was often handing in work late an university. The starting point for his much talked about all-grey bachelor pad were some fabulous coffee tables. When designing a space for himself the process is much more organic than when he is working for clients. "It's more strategic, it has to be." In that particular apartment he wanted his personal experience and his Southern Italian heritage to influence strongly. He brought a chair from the family home which, in the context of the room "became cool" and the chandelier was an homage to his aunt and uncle. "I was referencing the 70s, the era in which I was born."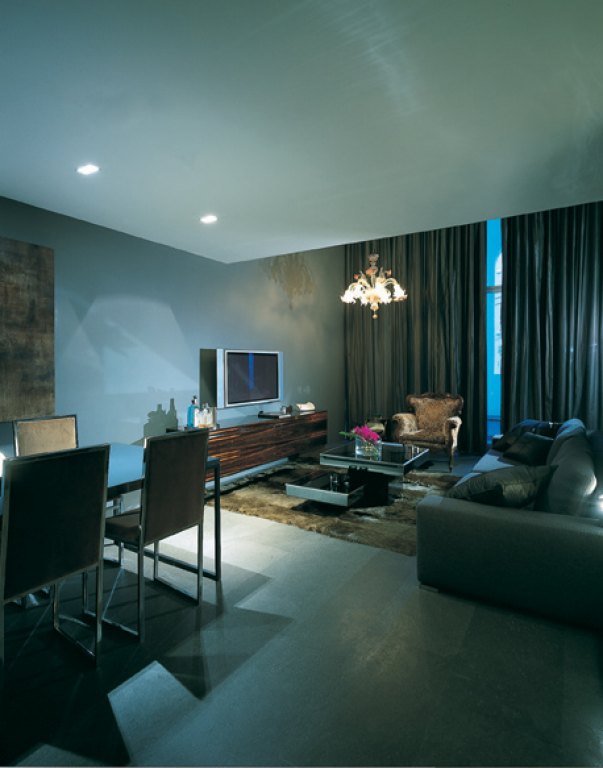 After talking us through many projects, the best part, in my opinion, was when he shared some before and afters. It was amazing to see the transformations as often interiors magazines don't publish the before pictures. I sat through three hours with a smile on my face as photo after photo of beautiful interiors were shared and the work behind them explained. It was so inspiring and I picked up so much useful advice. I'm glad I got in quick because the session sold out and had more than 30 on the waiting list!
If you're interested, Greg's white paint of choice is Dulux Lexicon Quarter ("It doesn't have much blue in it and it's quite warm") and he advises against black floors because they scratch and show dust and you can't walk on them! Speaking of floor coverings, he is currently working on a wall-to-wall carpet range with Designer Rugs which is in sampling stage.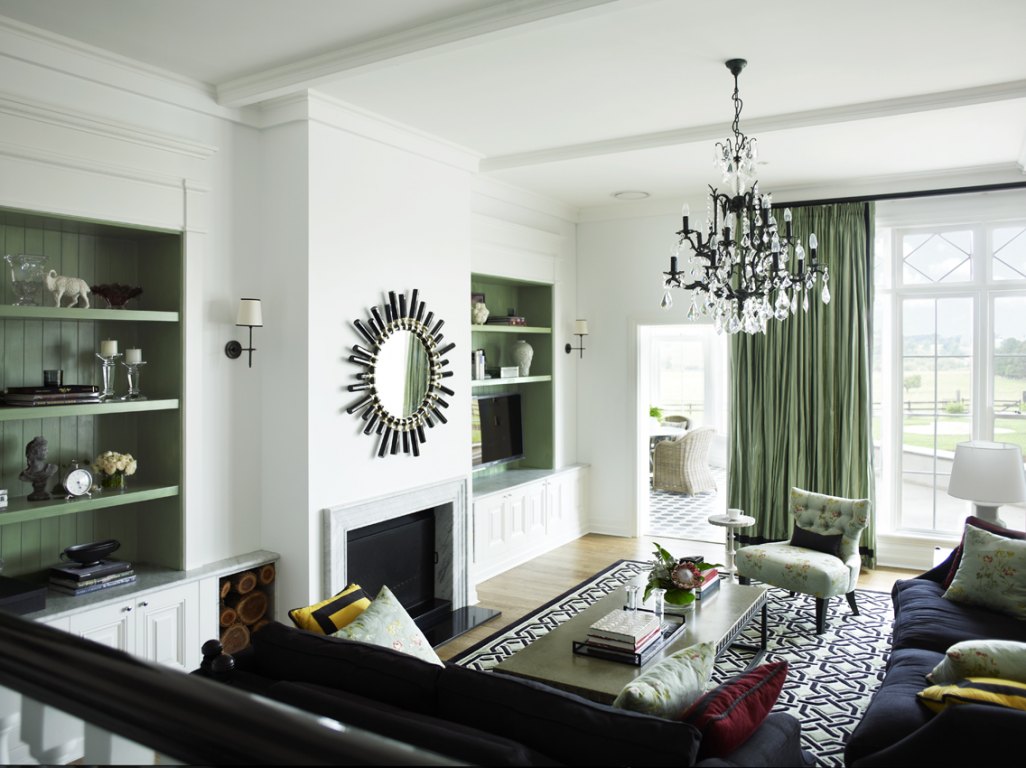 Thank you Greg for a fascinating talk where your talent and passion for your work shone through.
Some other key takeaways from Greg
Furniture can really let down a space. A chair can make or break a room.
I hate U-shaped kitchens. I want our kitchens to look like furniture.
I love love LOVE lilac and green together.
If you tie things in, anything can work.
Putting a room together is like getting dressed in the morning. You look in the mirror and make sure everything works together.
I tell my client I am not always right.
I've done kilometres of wallpaper in my time!