Last month, the other half and I enjoyed a packed weekend in cold but beautiful Daylesford. In fact, we took in Daylesford, Kyneton and  Trentham and the stunning countryside on the drives in between. If you love homewares and antiques shops, great local food and wine and friendly hospitality, I thoroughly recommend a trip!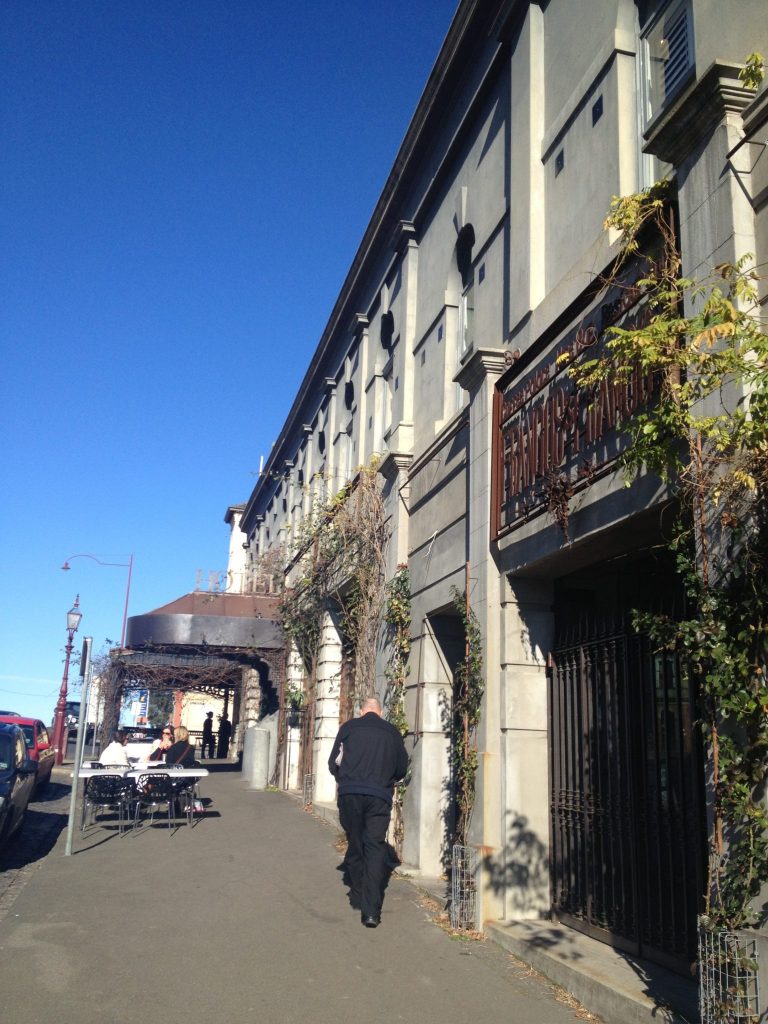 We arrived in Daylesford (just over an hour's drive from Melbourne Tullamarine airport) late on Friday night and had more than one scarily close encounter with a mob (that's the actual term!) of wallabies. It really is out in the country so do be careful if you're tired and driving after dark. We spent our first night at Hotel Frangos, which can only be described as pleasantly eccentric, in the Alpha Suite. It had the honour of being both the largest headboard and the largest hotel bathroom I have ever experienced. Frangos is definitely unique. It's part Alice in Wonderland, part Addam's Family, with a lot of black and red. It's very dark, and it's clearly geared towards couples (apparently some of the rooms have mirrors on the ceiling, go figure) and trying hard to be arty and romantic.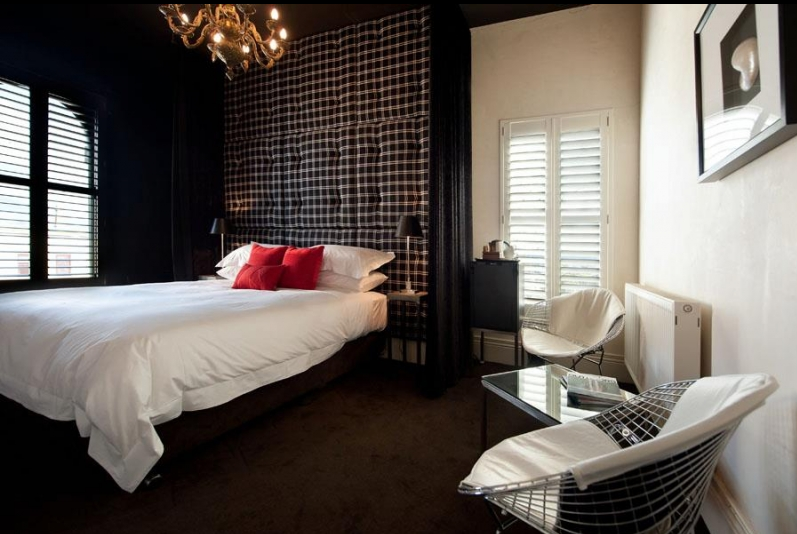 The service from general manager Bernard was faultless, the bed and goose down pillows, exceptionally comfortable. The only real downside was being woken at 6.50am by the fans for the kitchen below (I've been assured they're looking into a solution for this). Hotel Frangos is part of what can only be described as the Frangos & Frangos complex, comprising a bar, rather lovely restaurant (where I've enjoyed brunch on a previous trip), fashion store and Endota Spa. It's been tranformed by owners Jim and Diane Frangos over the years, with the hotel element opening in March this year. After the long trip and near misses with wallabies, and being a HUGE bath fan, I was over the moon to see the bathroom. I may have even done a little jump up and down and clap. It was about midnight but I had to have a bath and I thoroughly enjoyed it. Other nice touches about this hotel were T2 teas, sleep spray by the bed, a well stocked mini bar and shutters which kept all the light out. It is rather dark though, and with no windows in the all-black bathroom, applying makeup isn't easy, as I found out later when I caught my reflection in daylight. Eek!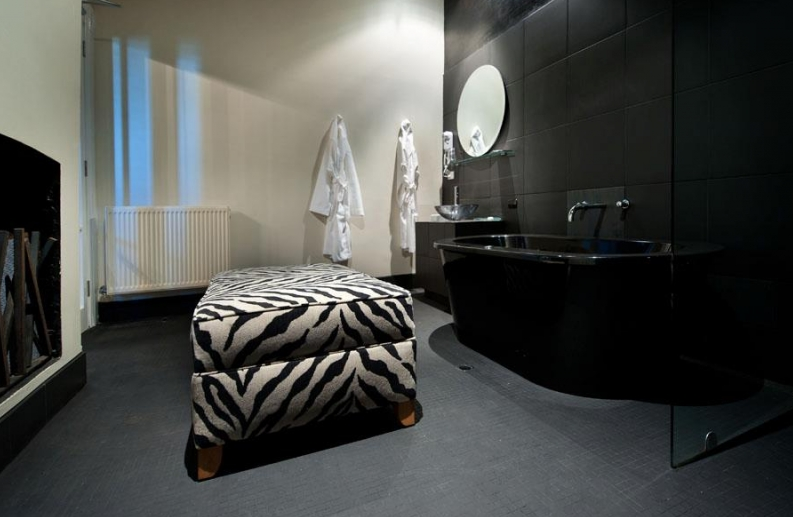 But, all in all, although an acquired taste, Frangos has big rooms and bathrooms, it's definitely full of character and comfortable. And the hospitality was fantastic. Our welcome letter assured us no request was "odd" and we should ask for anything we needed.
On checking out, we headed across the road to Larder for a late breakfast because it looked busy and there were cheerful yellow chairs outside. It was so lovely inside, with super friendly service and a very laidback Melbourne vibe, and we grabbed the last remaining free seats by the window. The food is all local and mostly organic. I had this amazing muesli with stewed rhubarb and ginger and yoghurt. Damian had perfectly poached eggs with a side of spinach. The coffee, importantly, was great, and there was a nice little selection of kitchenware for sale. Much of the furniture/decor is by local sculptor Jason Waterhouse, with the communal dining table for example, made from an old basketball court!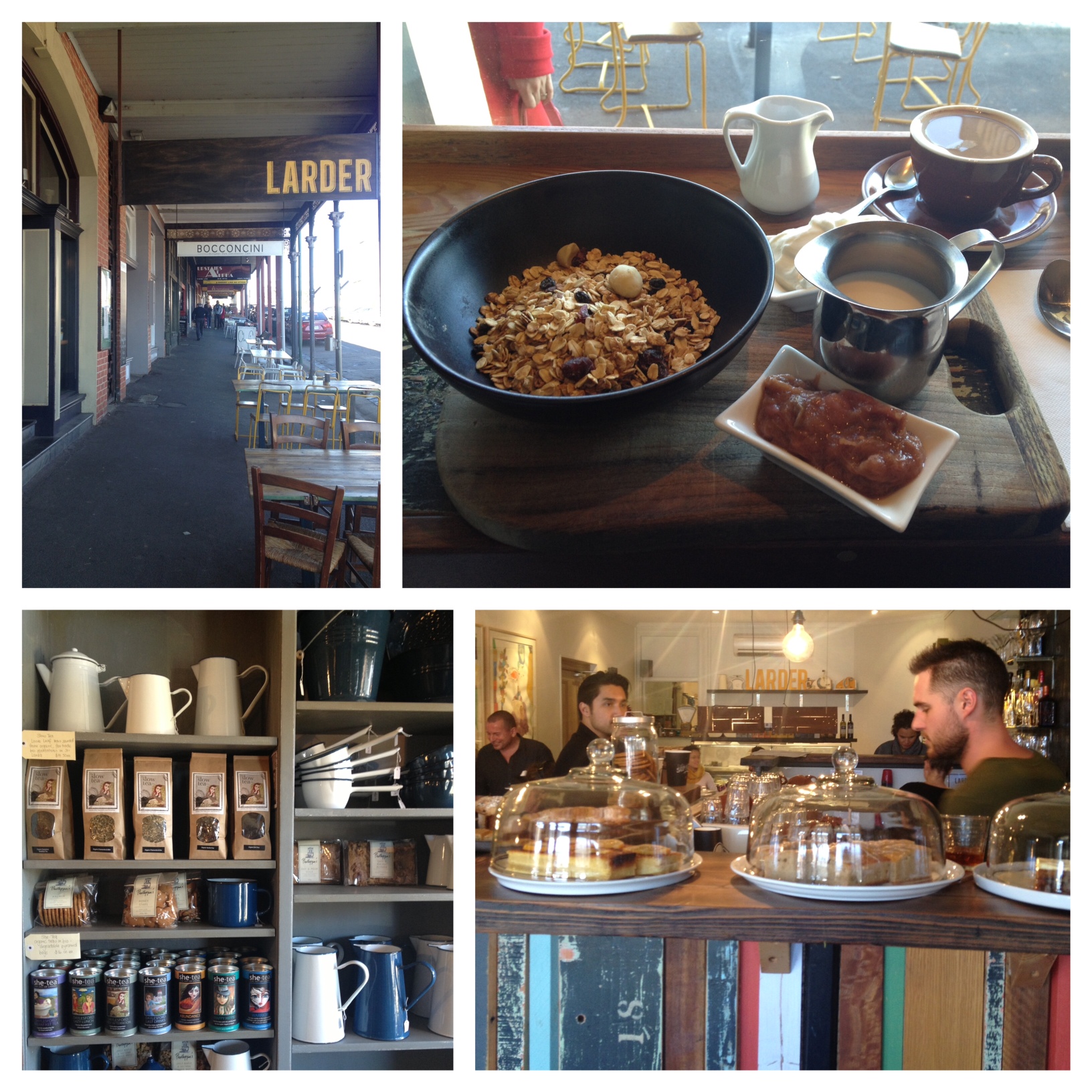 Pleasantly sated and caffeinated, it was time to drag Damian around some homewares stores. My favourite was Frances Pilley (below) where I found all sorts of gorgeous homewares, ceramics, beeswax candles, Portuguese toothpaste, Pony Rider cushions and much more. Divine. Could have bought up most of it!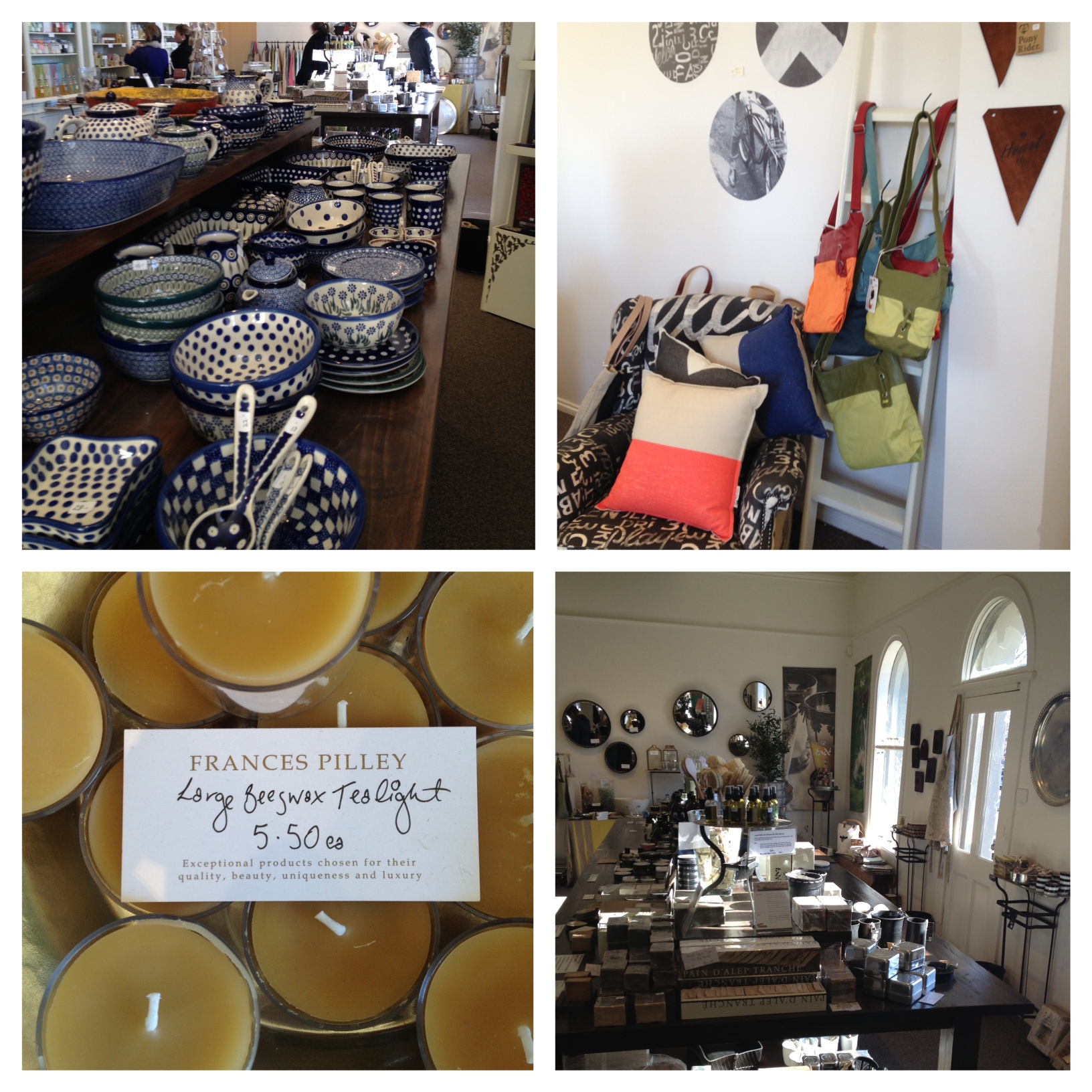 If there was one place EVERYONE told me I had to go it was Lark, which I know by its online store reputation. The bricks and mortar version is completely charming and full of pretty things. I think it has to be pretty to have any chance of getting stocked! Even Damian (who I couldn't resist snapping by the old Union Jack flag since I'm British and he's always making bad Pommy jokes) found things that he liked (toy Sydney ferries, but never mind)!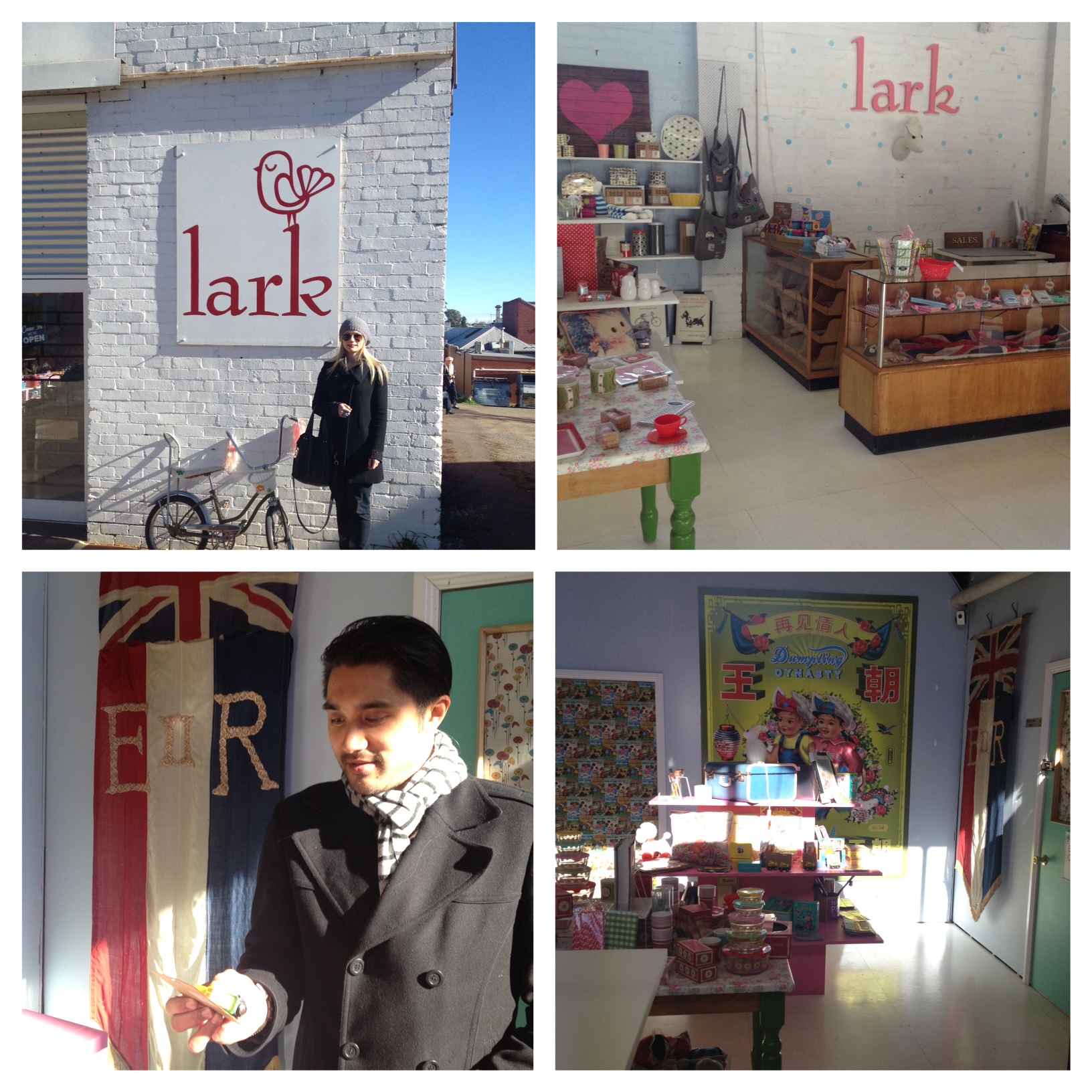 Here's a top tip. When it gets to the point where your other, less homewares-obsessed, half gets bored, head to Brick Lane Bazaar, where you'll find all sorts of vintage delights like Michelin paraphernalia and retro magazines and signage. He loved this place. And I picked up a couple of cute little crystal vases for just $14.
Next stop on our list was Kyneton so off we drove. This is the kind of gorgeous countryside and blue sky we saw all weekend.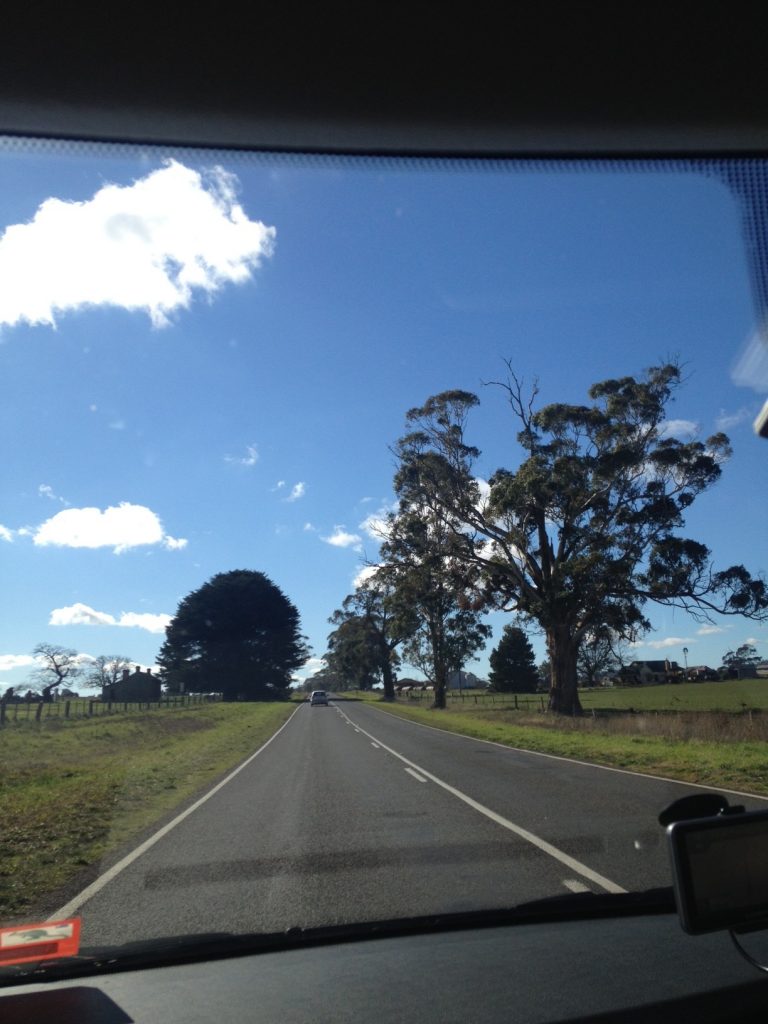 En route we stopped in Malmsbury for lunch at Small Holdings, which was my favourite discovery of the entire trip! It's a cafe and wine bar (open Friday, Saturday, Sunday) in a deconsecrated gold fields era church with a deck. Surrounded by beautiful old oak trees, it is one of the coolest and most unexpected places I've been in a long time! We walked in and were immediately hit by the smell of the spiced carrot suit bubbling away on the vintage AGA. Lunch decision: immediately made!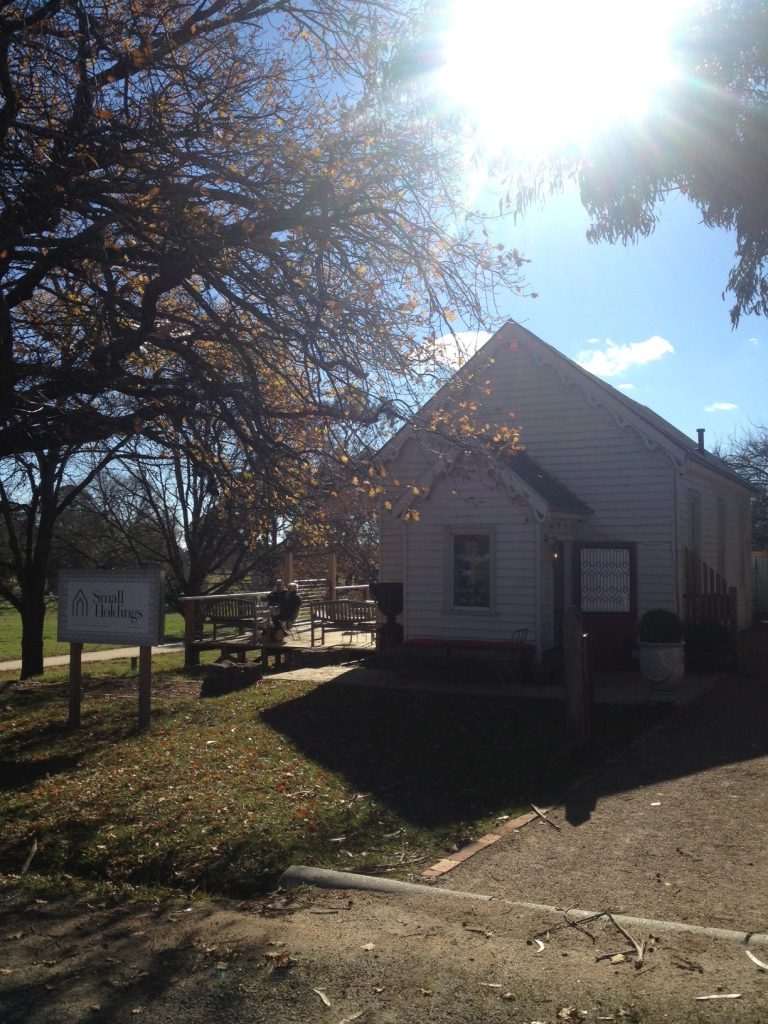 It's full of awesome antiques, many of which are for sale, and has a huge communal main dining table by the AGA and another in a nook near the open fire. Then there's plenty of seating out on the deck, where we made ourselves very comfortable in a sunny spot and could have stayed, enjoying the peace and quiet and cooking aromas, for hours!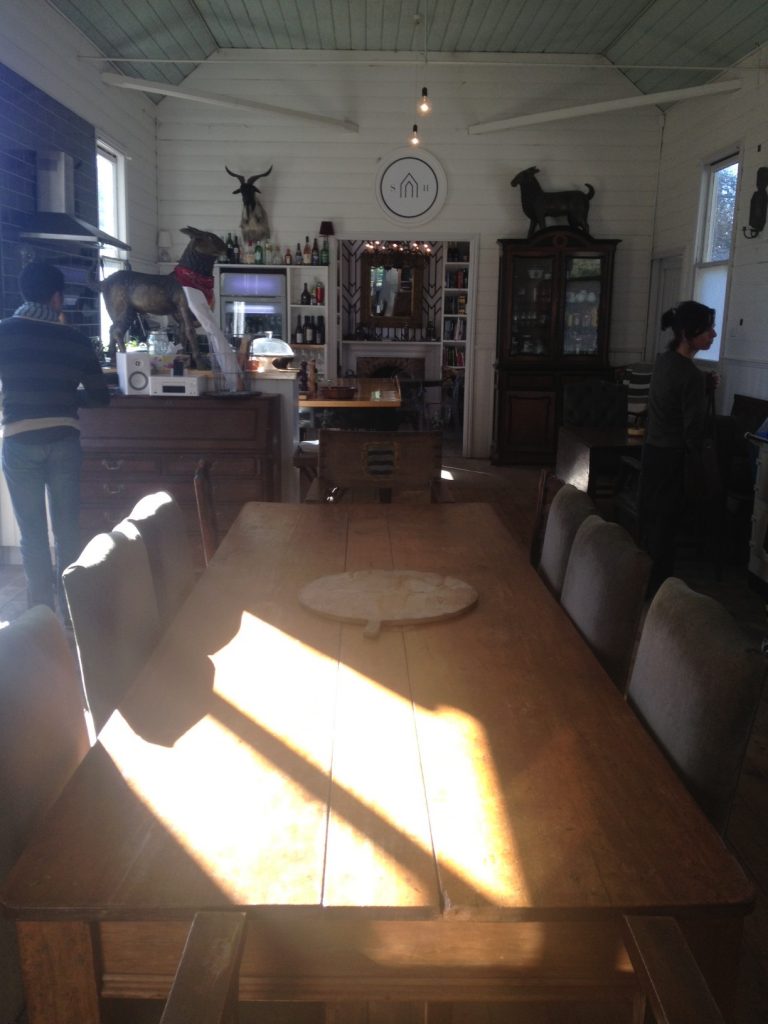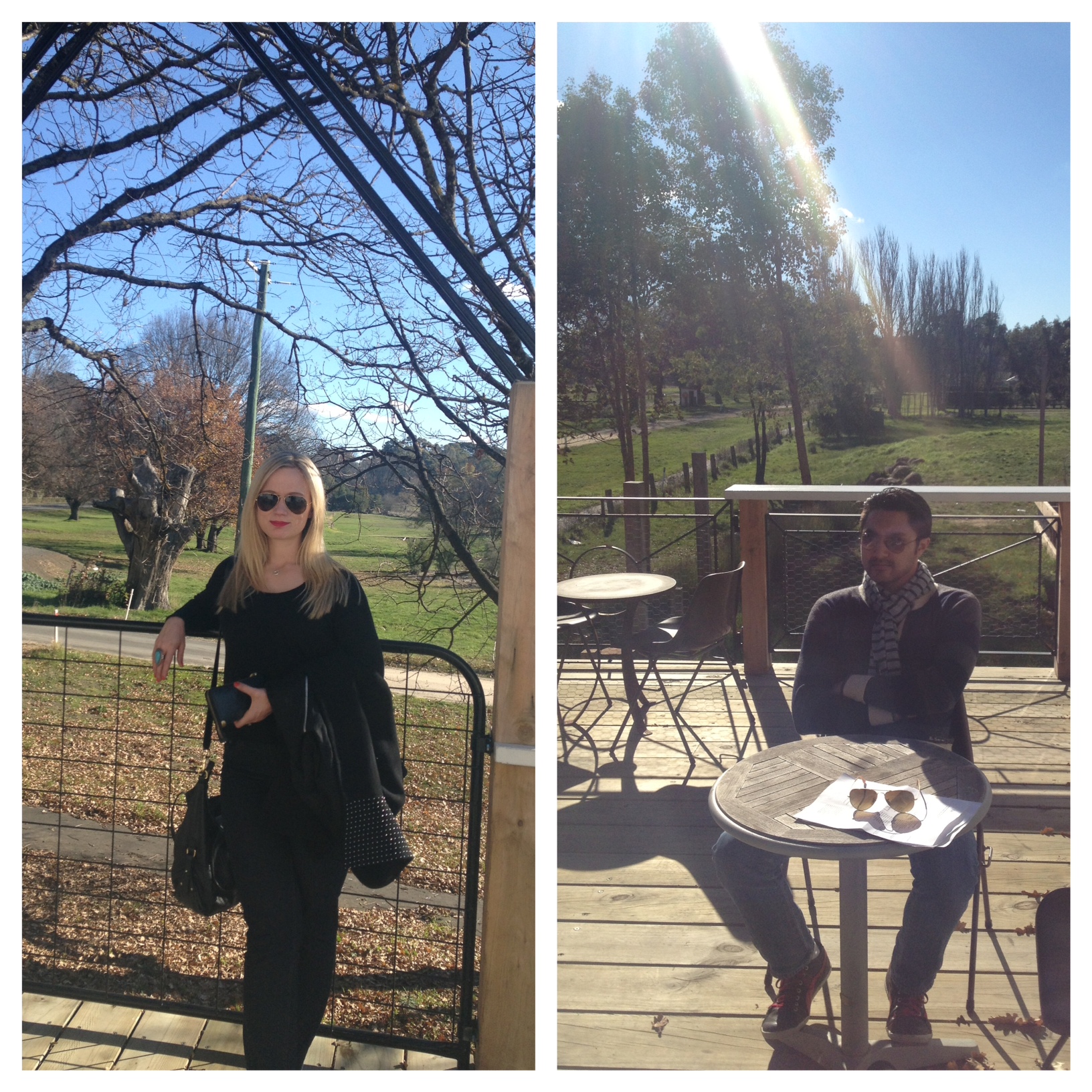 There's usually just one meat and one vegetarian dish every day and when it runs out, it runs out. The service is "sporadic at the best of times," the chef proudly tells us, while enthusiastically filling us in on the history of the place and how it's popular with locals and tourists and for events. There's even been a wedding there.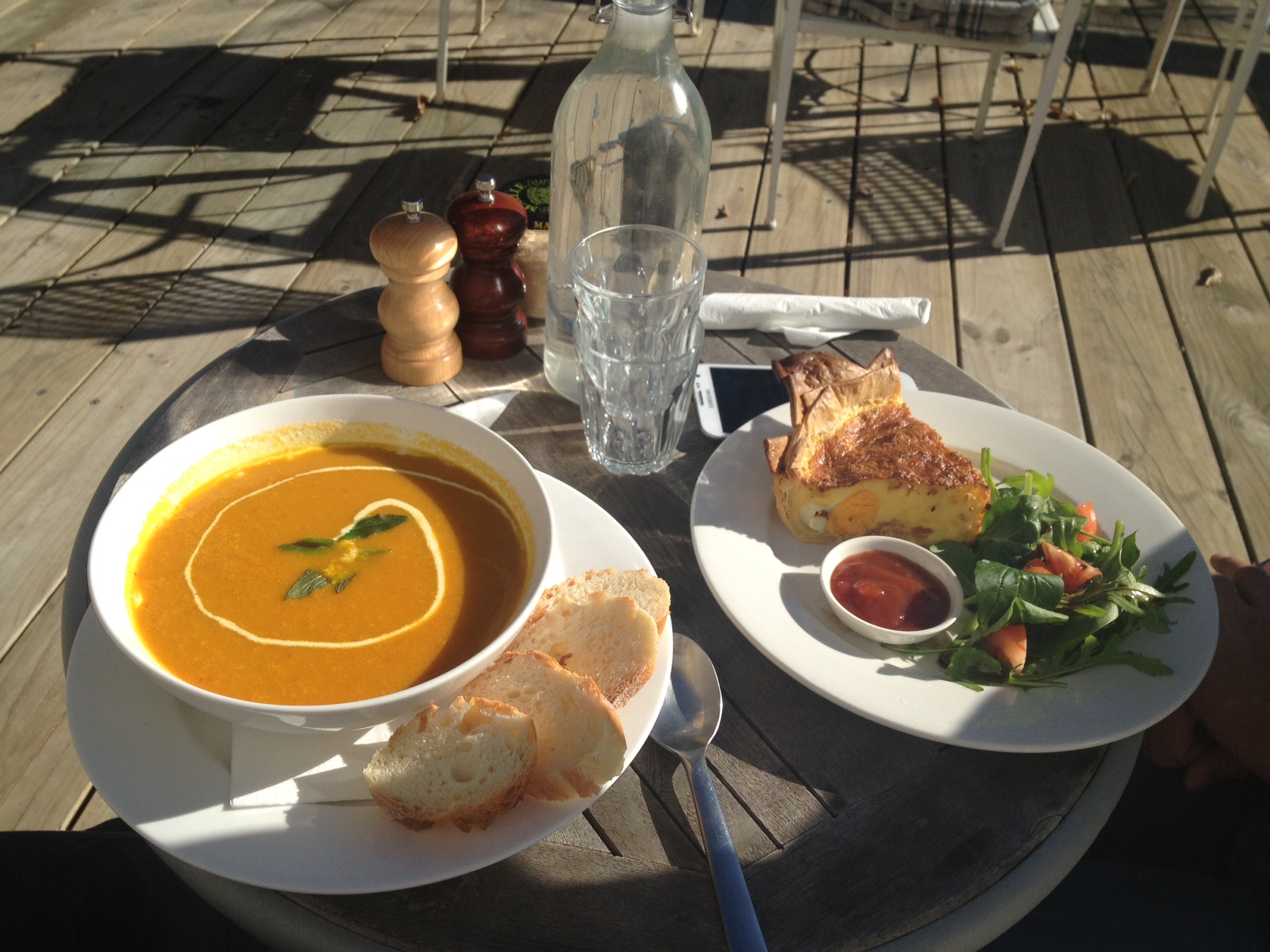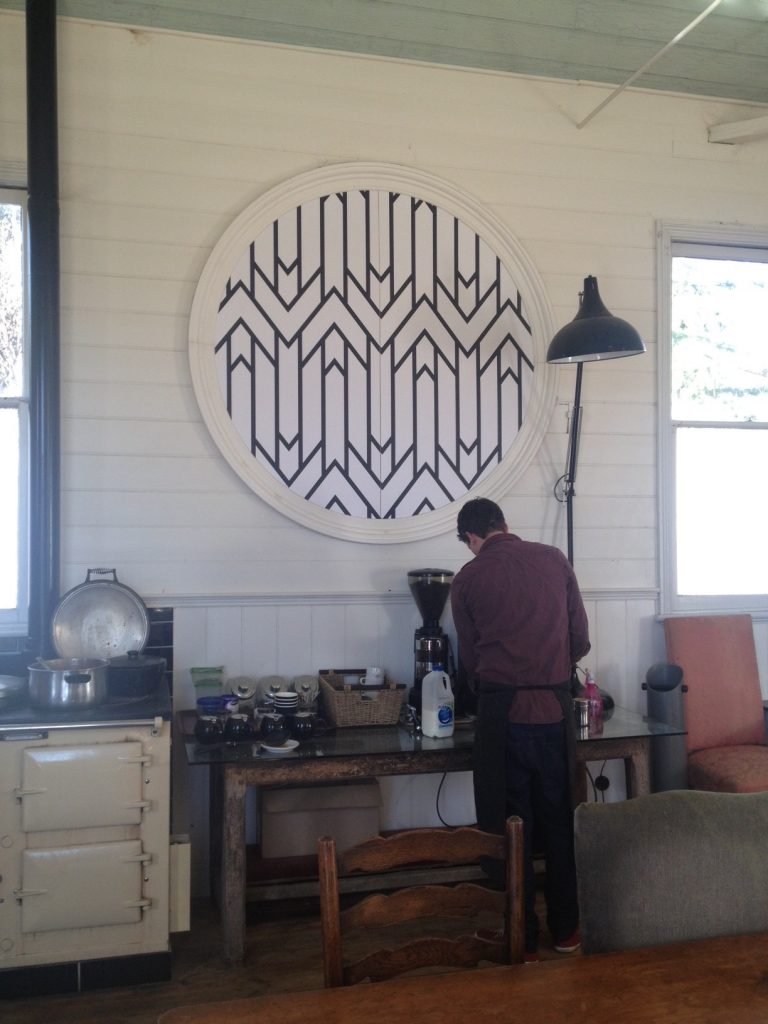 Suffice to say I absolutely loved this place, and was so glad I was tipped off about it as I'd never have spotted it, or indeed guessed what lay inside, otherwise.
We reluctantly left Small Holdings and got back on the road to Kyneton where we checked in at our home for the night: Mollison's, and were given the tour. The old Bank of New South Wales building is surely one of the finest in town. But wait until you step inside. Wow. Beautiful and elegantly done accommodation, lacking only in baths (I have been known to avoid hotels purely on the basis of them not having tubs, but I realise many people wouldn't care). Owners Debbie and Yvonne have a keen eye for interiors and have furnished the rooms with beautiful antiques, homewares and plenty of white linen. The great news is you can buy anything you like from your room so the pieces in each one never stay the same for long. There's also a gorgeous shop at the front of the building full of more tempting gifts and homewares. It's a nester's dream!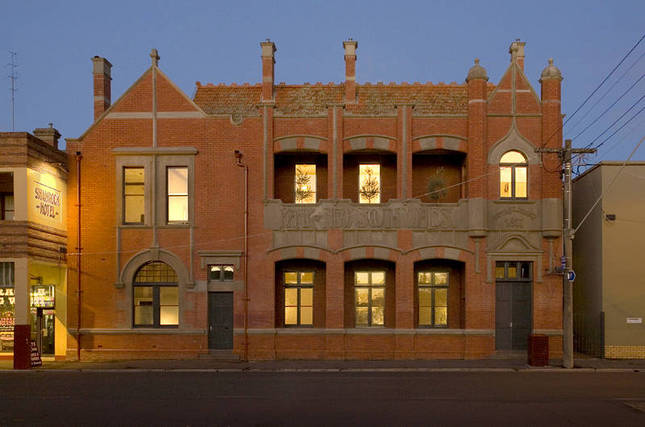 The rooms are so white and serene, you immediately feel relaxed and the beds are stupidly comfortable (they've sold a few). Nice touches include loose leaf tea and ground coffee (no sachets in sight), a decanter and two glasses for a night-cap, should you fancy one, a cleverly hidden fridge and a very modern and spotless, if small, bathroom. You relax in these lovely surroundings thinking "Hmmm… maybe an all-white interior isn't such an impractical idea after all…"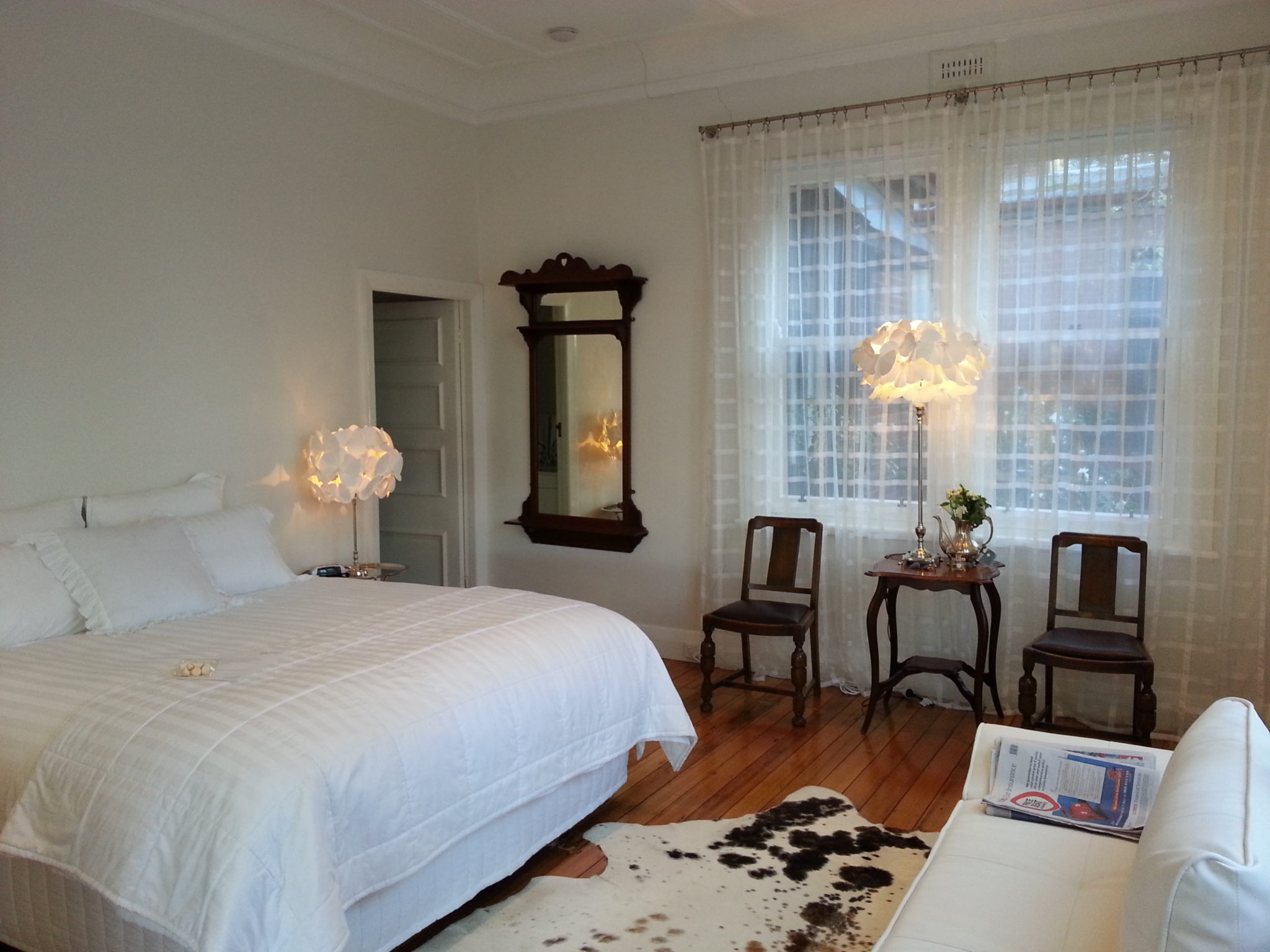 There's a 2-bed apartment, a 1-bed apartment, large king rooms like ours (which had a deck) and smaller rooms, all furnished just as beautifully. There's also parking and all the local shops and eateries are only a short walk away. I throughly recommend this place for a romantic weekend away. Just lovely!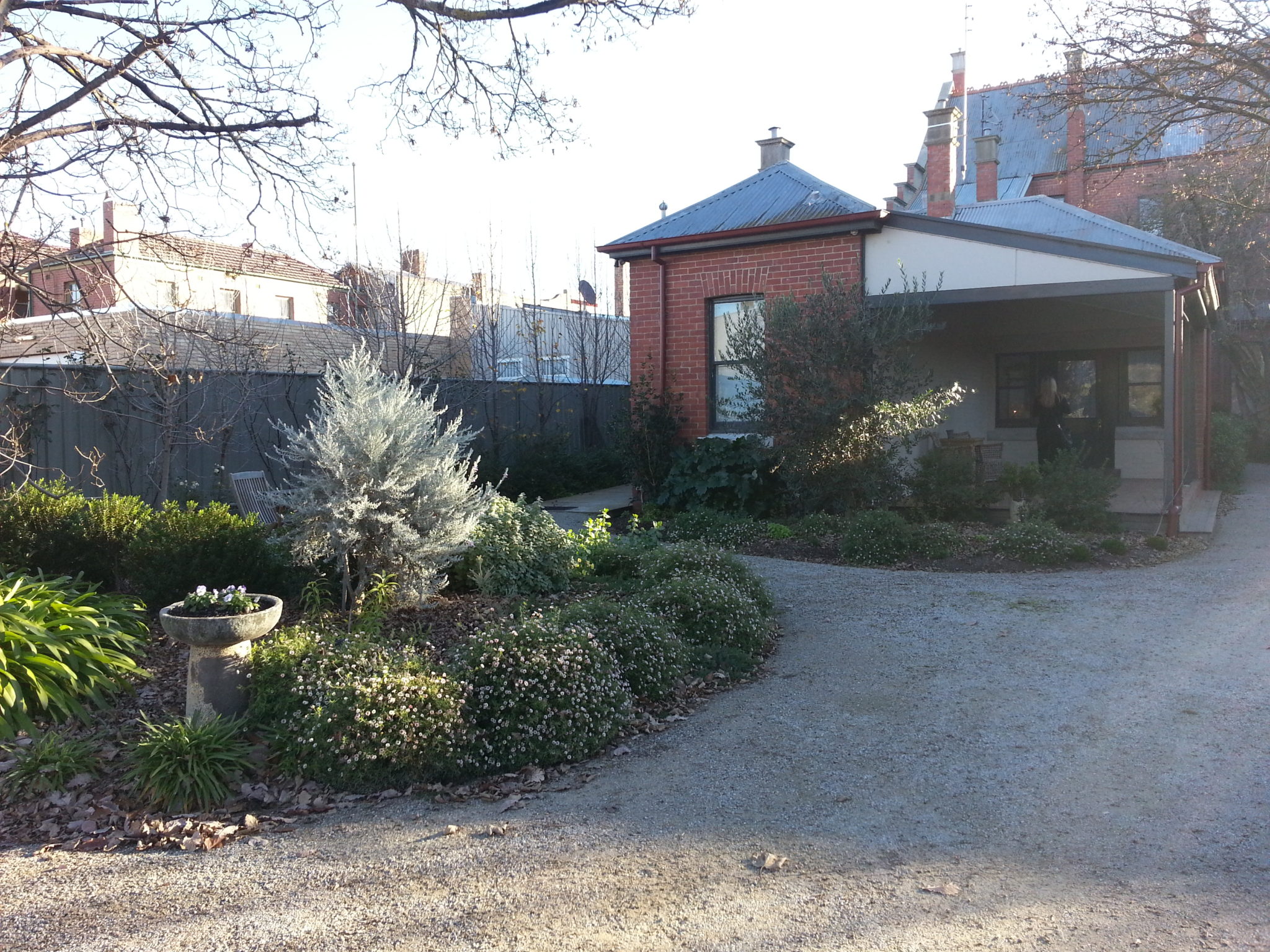 Kyneton itself was a lovely discovery; a very good looking town with great homewares shops and places to eat, with a less touristy feel than Daylesford. It has great transport links to Melbourne and a foodie reputation, even boasting a hatted restaurant (Annie Smithers' Bistro). Nicklebys Antiques has some beautiful things (very fancy!) and Macedon Ranges Interiors, with its open fire, has some lovely homewares and a friendly welcome, but probably more for the older customer.
We spent a very enjoyable evening by the open fire at The Royal George, which is currently undergoing some stylish renovations, where we ate the most delicious slow cooked lamb shoulder (to share) and organic roasted vegetables (all local), followed by pear crumble. Delicious! The service and knowledge of the staff is impressive and friendly. Even if you're not eating there, pop into the bar for a glass of local wine (I recommend the Patricks Vineyard Pinot Noir). It's so cosy and warm, with its fire, and really reminded me of a proper English country pub. A revamped fine dining restaurant has just reopened upstairs.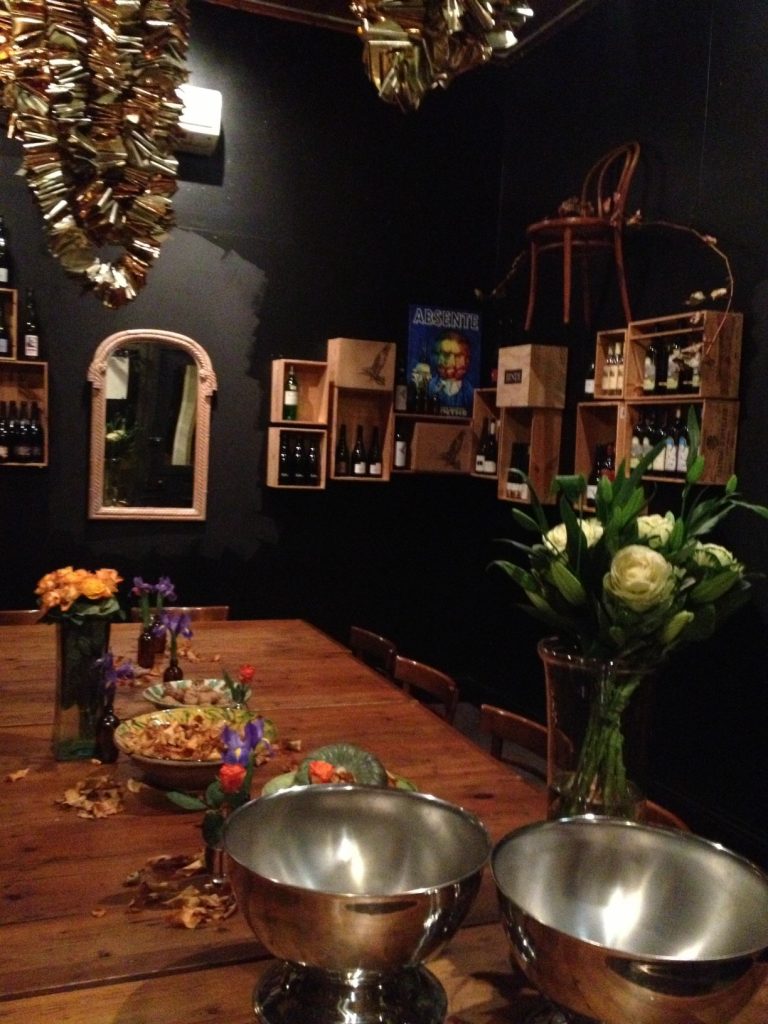 The next day we headed to the last stop on our whirlwind tour of the region: the gold rush town of Trentham, which many readers had told me was lovely. It was indeed, but be warned, on a Sunday, not much is open. Wooden Duck Antiques was a great place for a browse though (much more accessible than Nicklebys), with many well-priced finds (everything's always cheaper in the country!).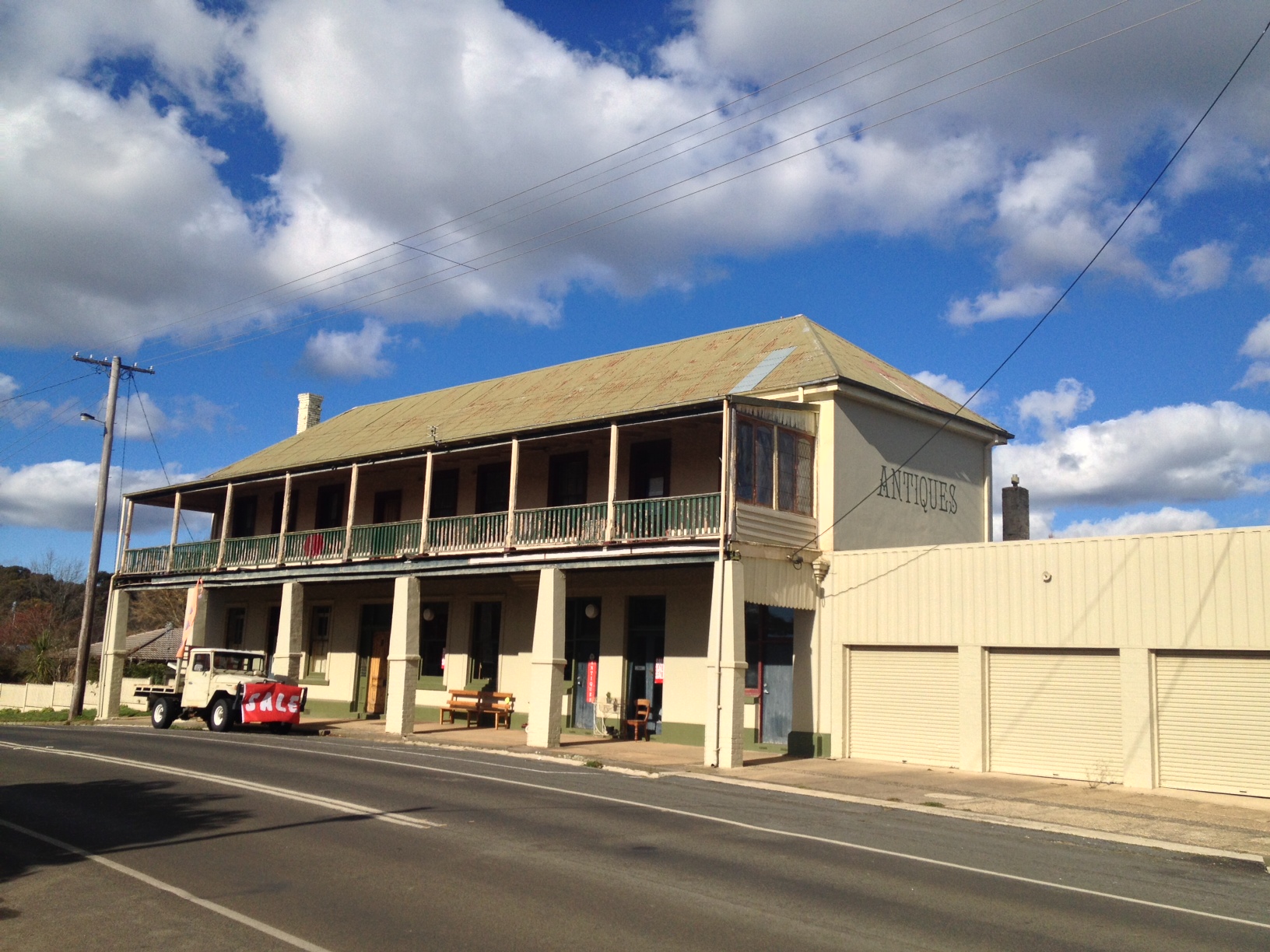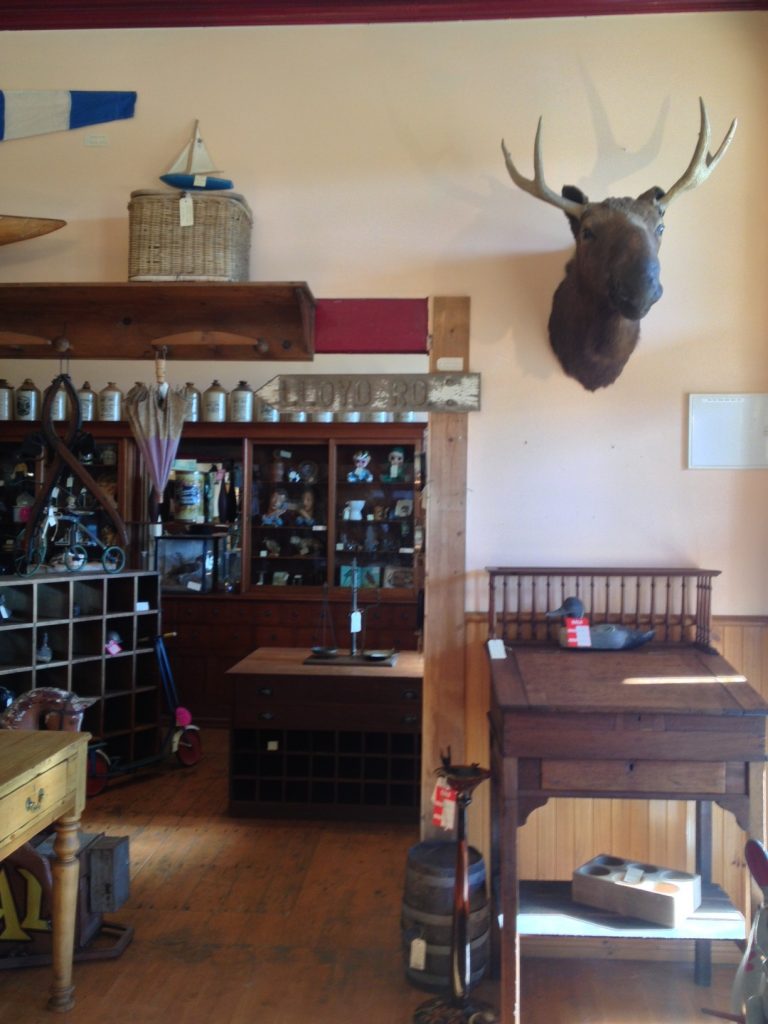 The Sunday market (fourth Sunday of each month), at the disused railway station, is very charming, and I bought some nice soap from a stall inside an actual railway carriage (sweet!), but don't expect to pick up anything too exciting! It was popular with transport nerd Damian though, who enjoyed checking out the disused railway carriages, and there's something rather novel about "playing" on old train tracks covered in grass!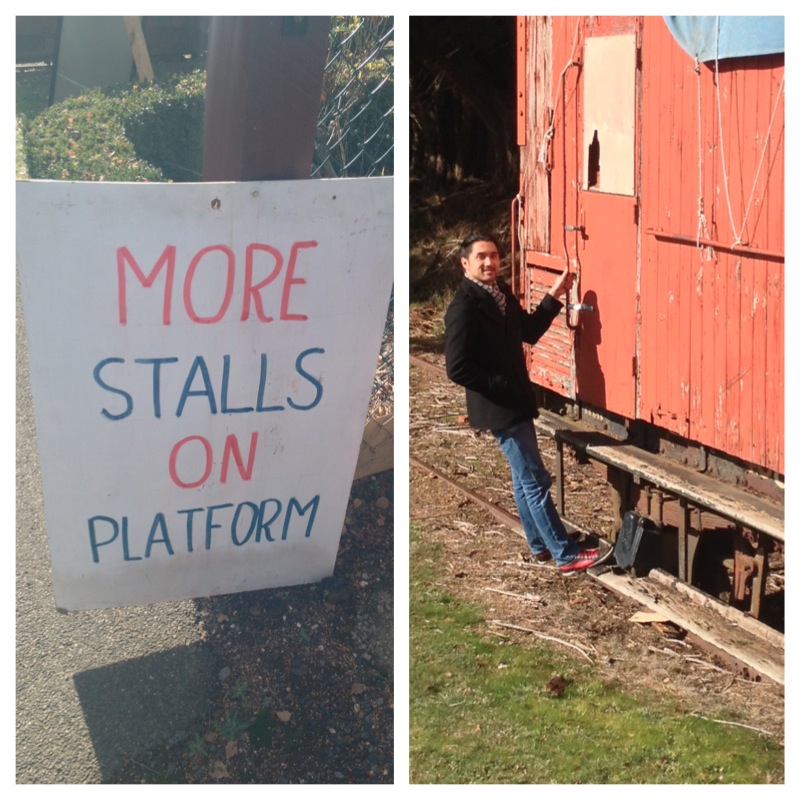 With a little time to kill before lunch, which took the short drive out of town to see Trentham Falls (the longest single drop waterfall in Victoria), which was very picturesque and would be great for a bushwalk if you had the right gear (my wedge heels weren't going to cut it). Trentham's also known as the gateway to the Wombat State Forest, where you can indulge in outdoor pursuits like mountain biking and four-wheel driving too.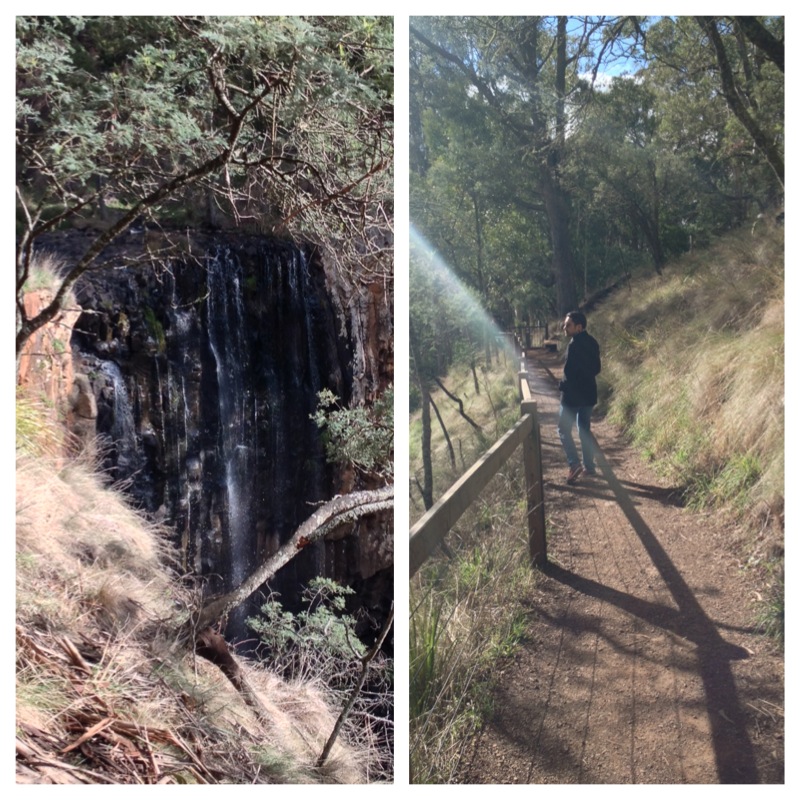 Probably the best thing about Trentham, is the Red Beard Historic Bakery, which was much hyped. It was obviously popular and when we ordered we were told to expect a 30-minute wait. No worries, we thought, it's always good when they tell you there's a wait and you know what to expect. We waited 50 minutes though, which for bread with cold meat and cheese, was a bit much. Maybe we're just impatient city folk, but waiting almost an hour left me irritable and hungry (all that country air gives a girl an appetite). We ended up having to eat lunch too fast and head to the airport with indigestion, but it was delicious and the atmosphere was great.
Maybe head there for morning coffee/afternoon tea and one of their delicious looking cakes rather than at peak Sunday lunchtime. Those into their bread, can purchase all sorts of different organic sourdough loaves, all baked in their 19th century Scotch oven. And most of the menu is seasonal, local and organic which I love. They also do behind the scenes tours of the famous oven and run baking classes.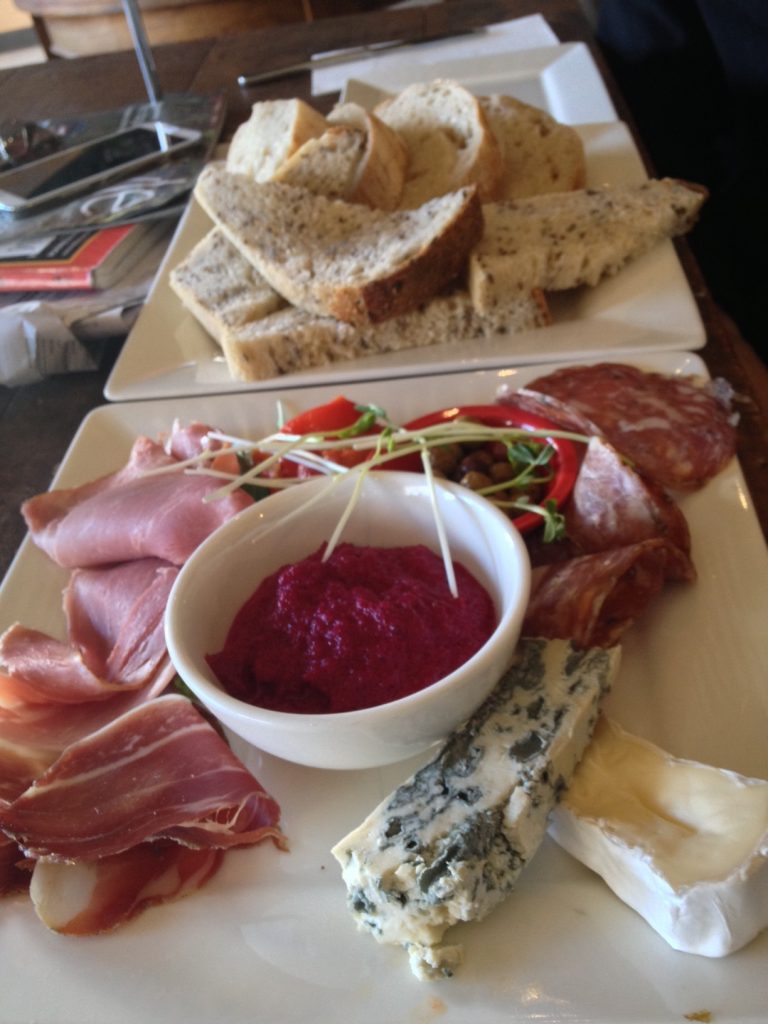 Despite ending our weekend with a very slow to arrive (yet tasty) lunch, we had a great time and got a lot done in just one weekend in the area and we loved it. The scenery was stunning, the hospitality friendly, the food local, delicious and often organic, and getting away from it all and breathing in some country air was just what we needed. I thoroughly recommend the area to those who love homewares, but there's plenty to enjoy, even if you don't! It felt a bit wrong to be in the Daylesford area and not visit a single spa, being that it's very much known for them, but it turns out wellbeing can be found in all sorts of other places and activities.
Disclosure: Damian and I were hosted by Daylesford and the Macedon Ranges Tourism Board. Thank you to Tigerair, Budget car hire, Hotel Frangos, Mollison's, The Royal George and Small Holdings.