From its vertical lines to its huge expanses of Carrara marble, contrasting tan handles and black accents, this monochromatic kitchen caught our eye recently and it seems that we're not the only ones. The kitchen, created by Melbourne's COS Interiors, took out the top prize in the third Australian Cabinet Maker and Design Association awards recently for the $35,000-$60,000 category. With more than 50 Australian projects vying for the top honours, this is no small achievement.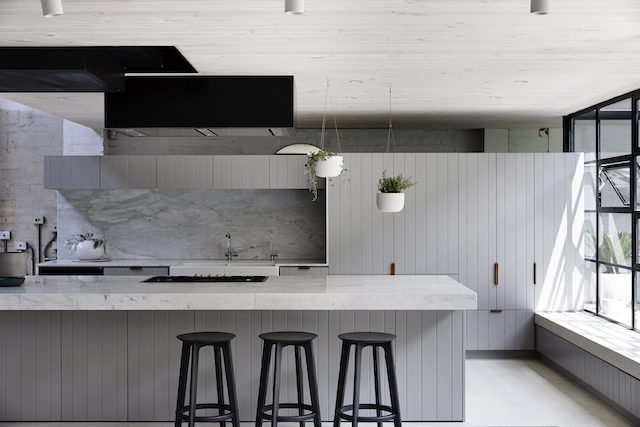 Situated in Melbourne in a vast warehouse space (that also happens to be the birthplace of the Freddo Frog!) this kitchen was created in collaboration with Architects EAT who were responsible for its design. "We worked together to achieve a contemporary industrial warehouse conversion. Our aim was to balance the kitchen within the large scale loft warehouse so it still holds its own as a cosy and welcoming environment to cook and entertain. It could easily get lost with the span of windows and the suspension bridge but it's understated and complements all other aspects of the home," says the director of COS Interiors, Adam Cordy. We couldn't agree more!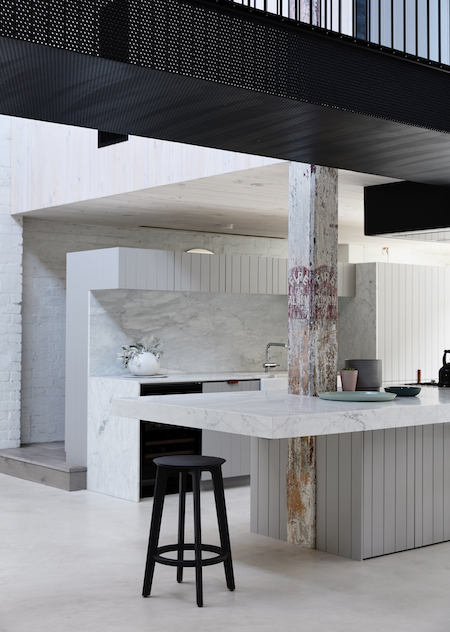 A study in contrasts, this kitchen combines industrial-themed design with soft organic accents – we love the use of Carrara marble and the tan leather handles in particular. "The tan leather handles give the kitchen a warmth and vintage feel to contrast the other modern elements," says Adam. With texture so big on the interiors scene right now, this space really is hitting all the right notes.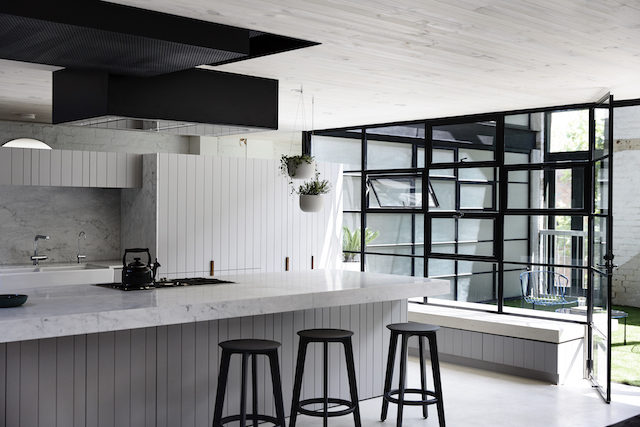 The most impressive contrasting feature though, is the gorgeous original wooden column that runs through the kitchen benchtop. "One of our favourite parts of the design is the smooth modern cantilevered marble bench top that was constructed around the existing warehouse structure – a column sanded back to expose the original beginnings of the factory," says Adam who is a big fan of the cupboard fronts too. "The texture the V-groove detailing gives on the 2PAC finish to the cupboards is another standout for me."
 Check out more of Cos Interiors' work here.