When you're planning a renovation to your home, it's always worthwhile to consider your overall design strategy.
What do I mean by this?
Well, before you even put pen to paper and plan out what you'll change, what you'll improve and what you'll expand, start with your strategy and the way in which you'll approach your renovation design. Renovation can be disruptive and expensive, and as soon as you mention to anyone that you're planning a renovation, chances are they'll have a horror story to share with you. However, there are ways that you can renovate economically, efficiently and to minimise unexpected challenges, whilst creating a beautifully designed home that is functional and works.
In my experience with both my clients' projects and my own renovations, I've developed a standard approach: a way I think about the design overall, to do exactly this. In projects of varying scales and budgets, I've used one or several of these methods together, to create great results in the renovated homes and improve the way the projects ran on site.
My overall design strategy includes four specific ways or methods to approach your renovations, and I want to share them with you. Here they are – my secrets to renovating economically and efficiently: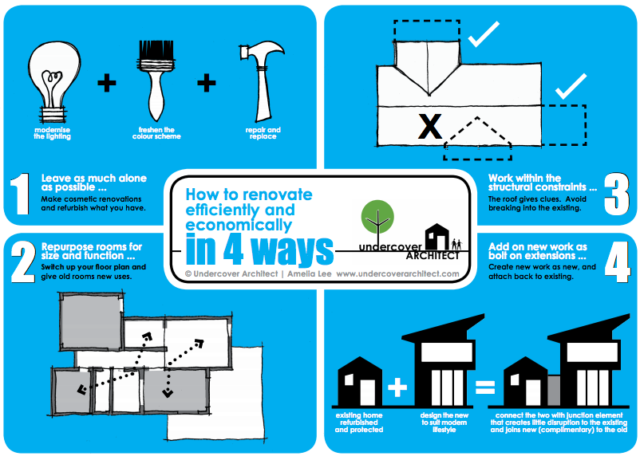 Leave as much alone as possible.
Now, this may sound quite obvious, but if you can minimise the amount of disruption, demolition and relocating you do in the existing home, it has massive ramifications on reducing cost and time. This includes structural work and removing or building new walls, and changing the size and arrangement of rooms.
What are the simple things you can do economically to improve the quality of your home? Have a look around and see if it's just a case of simple refurbishment that your home needs in certain areas, rather than a complete and utter renovation. Some of these cosmetic renovations include:
Pulling up carpet and polishing floorboards
Replacing the lighting with better quality and more modern fittings
Painting the interior or exterior with a new and fresh colour scheme
Replacing benchtops and cupboard fronts on the joinery in kitchens and bathrooms
Adding or replacing existing storage with new, more functional pieces and built-in joinery
replacing skirtings, architraves and other woodwork around the home with more modern profiles
repairing and replacing any broken or ageing items or fixtures and fittings (including things like toilets and basins, and door handles)
pressure washing down exterior surfaces to remove grime and dirt from grout and concrete
getting your old tile roof repainted and repointed
Insider trick: Get your old timber windows dipped and stripped. For quite an economical price (usually around $50-to-$100 per window panel) you can get them dipped to remove the years and layers of paint, reglazed with new glass, and re-puttied. Have all the old hinges and opening latches cleaned off too, and you'll dramatically change their look, and the look of your home overall.
Repurpose rooms for size and function.
Do you have existing rooms in your homes that could be given new uses? If your home has a design and layout that doesn't respond to the orientation of your site, can you rearrange your floorplan by switching the uses of rooms in your home?
Consider the floor plan of your home and the spaces that you know are the right size for another purpose that you can potentially create and convert those rooms into. Look for opportunities to re-use services – like turning an old kitchen into a laundry or bathroom – because this means you're not having to reconfigure certain services considerably (which comes at a cost).
Often, homes of a certain age were arranged based on how plumbing was serviced at the time they were built. For example, a lot of old homes have their bathroom at the rear, when plumbing was taken to a septic in the backyard. Modern lifestyles seek homes that have a better connection with their rear gardens, so can you repurpose that old bathroom into part of a new kitchen? Use this tactic also to preserve the original features of your home that have value in a future sale, such as original ceilings or a great fireplace.
Insider tip: In old homes, the kitchen and living can be too small or isolated from the rear yard. These spaces though, are usually the perfect size for a master bedroom and ensuite, and features like original ceilings can be worked well into the new design.
Work within the structural constraints.
The roof of a home usually gives you great clues about how the structure of the home is arranged. When you extend your home, and start to play with the roof by breaking it open, or adding new sections to it, things can snowball and get expensive. Old homes can be a Pandora's box when you start pulling them apart, with unexpected discoveries adding cost and time.
When you start playing with the form of the roof, you need to consider how you'll be changing where water runs off it, and how it is collected – and box gutters are worth avoiding due to their maintenance requirements and (when not built well or maintained) their tendency to fail and leak internally into the home.
Can you extend the home in alignment with current wall positions, current roof locations and its structural design? Can you add to one end of the roof, and just replicate the existing roof structure to take in those new spaces? Think about how you can do this without disrupting where the water runs, how the gutter is arranged, and how things are put together overall to get the extra space you're chasing.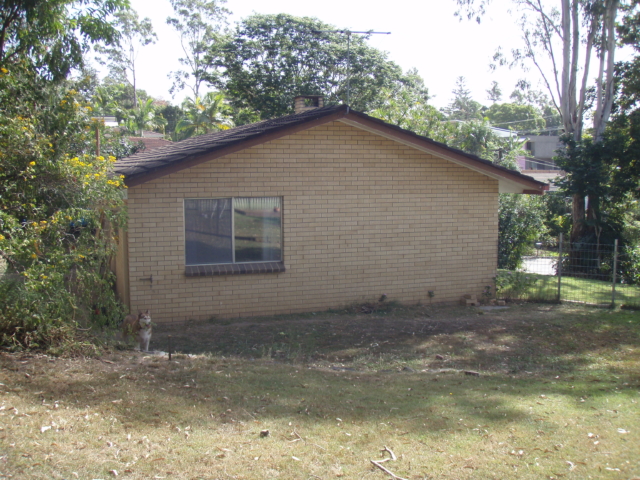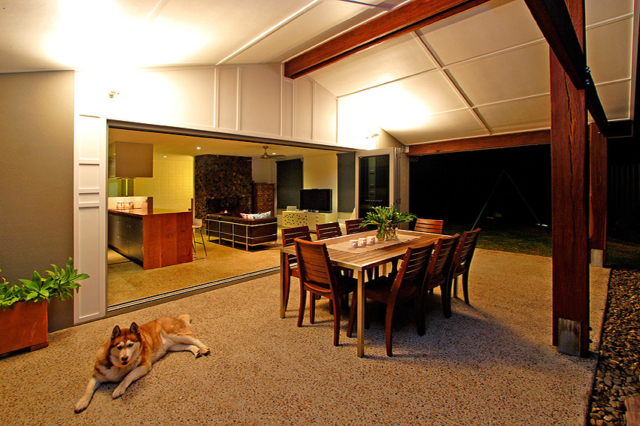 Insider tip: Sometimes you don't need to extend the roof for its full width and can just work with part of it to create new space you add on your home. Think about it from a water collection point of view (where gutters and downpipes will be) and it will help you create the overall picture.
Add new work as bolt-on extensions.
When you want to expand the size of your existing home, consider whether you have the room on your site to create the spaces that you want as bolt-on extensions; as new spaces that you build separately and just "attach" to the existing house. If the size of your home, and the land around it, affords an addition in this way, it is a great opportunity to create spaces that are not constrained by your home's size, design or materiality.
Where this works is in terms of creating spaces that suit your modern contemporary lifestyle in a flexible, functional family home. You don't really want to be constrained by the existing envelope of your old home or have to butcher it completely in order to create these new spaces. Building brand new work is always less expensive than significantly modifying an existing home. That's right: renovating an existing home will be more expensive than building from scratch. So, if you're wanting to grow your home's size considerably, and you can make some of your project a newly built element to achieve this extra size — i.e built from scratch — you'll find it more economical overall.
Consider whether you add on pavilions at the back of the home or on the side of the home to give you the spaces that you need and then snap them on to the existing house, connecting them through in a smaller way so that you're not disrupting the roof, and really tearing apart the structure in order to create these new spaces and make them work well.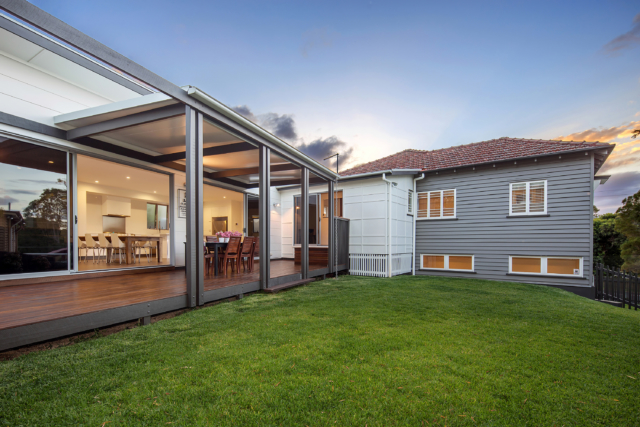 Insider tip: Great uses for these junction spaces between the existing and the new parts of the home include staircases and bathrooms or storage spaces, where ceiling heights can be a little bit lower, enabling you to tuck the roof of this junction under the roof of the existing home. This means you can separate the roof structures of the existing home from the new extension, and free up what you do with each.
See if you can explore these strategies and how they can be utilised for your renovation project. As with most things in life, it's the work you do up front to plan, strategise and prepare for your renovation that helps smooth the overall journey and improve the quality of the result you create. So think carefully about your overall strategy, and how you can use these four ways in your home to renovate it economically and efficiently – and create the perfect home for you.
–Amelia Lee is the architect behind Undercover Architect, an online resource to guide you in creating the perfect home for you. Undercover Architect provides the information, tools, products and services to demystify your journey and guide your way.
All photographs and drawings are copyright of Amelia Lee.