This post has been brewing for some time now. Today's the day I've decided to get it off my chest.
Being a full-time blogger is brilliant. I count myself as seriously lucky to write about what I love every day, to be my own boss, to meet fascinating and really nice people on a regular basis who I wouldn't come into contact with without being in this position.
The thing is though, I often feel like I have to apologise for my job; that being a blogger isn't a proper profession. Or that making money from it is somehow wrong or dishonest. I'll level with you readers, this has started to get my back up! More on this later…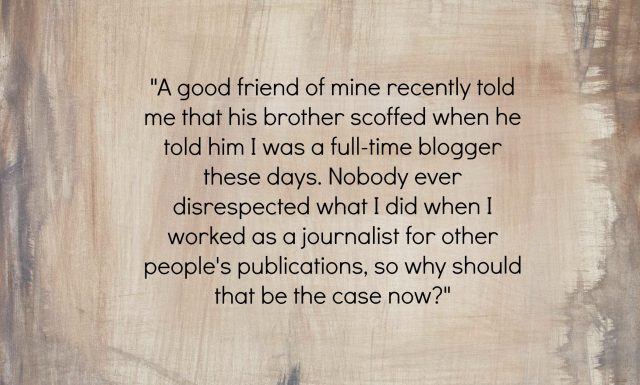 Since being back in the UK, I've had a lot of friends and acquaintances ask me about blogging. For my friends in Sydney, who see me often and have watched Interiors Addict go from hobby Tumblr to full-time, three-posts-per-day, commercially successful online publication, perhaps the idea of me doing this as a job is kind of normal. Sure, it is unusual to be a full-time blogger in most people's books (including mine!), but my Australian friends don't seem that stumped by it.
In England however, nobody seems to be able to get their head around it. Which perhaps suggests we are more advanced in the blogging world in Australia? Or perhaps people just haven't seen me since I've been doing this full-time or they're wondering how I can afford to travel and work part-time for six months (savings and continuing to work while away, incidentally). Maybe all of the above.
Last week, for example, I caught up with an old colleague I hadn't seen in six years. After our hello hug, about the very first thing he said was : "I have to ask, how do you make money?" It threw me a bit and when I reflected on it later, it made me wonder how many other people are wondering the same and not being so blatant about asking (and also if there shouldn't have been other, more important things to ask!). So I'll tell you!
It isn't rocket science. I sell advertising. Or rather, because I'm not very good at that stuff and would rather concentrate on what I'm good at (being a trained journalist) and enjoy, I have an agency sell my advertising for me, on commission. You'll see these ads on the blog and in the newsletter. And occasionally I'll send an email to my database on behalf of an advertiser. I only accept advertising from companies whose products and services I believe to be relevant to my readers.
So, that's how I make the majority of my money. When you have tens of thousands of readers and are a lean operation with few overheads, it can certainly earn you decent money. I'm actually better off than I've ever been.
The only jobs I've ever had since leaving school have been in journalism and publishing so I can safely tell you this is how almost all commercial publications make most of their money too: advertising. So for me, the fact my own publication, which just happens to be a blog, makes money this way too, is pretty straightforward. But perhaps for those of you who haven't worked in media, it isn't that obvious. So now you know. Cool?
I also publish sponsored posts from advertisers who want to get their message across in words rather than banner ads. I always disclose if they're sponsored right at the top because I believe you should know a message is paid for and decide if you want to read it anyway. Hiding the fact that a message is paid for until the end, when you've already read it without realising as much, doesn't sit well with me, but some bloggers do it and that's their call. If it doesn't say it's paid for, you can take it as read that I've written about something because I like it or think my readers will like it. Simple as that. Transparency is important to me. More on that later too…
So, now I've covered how I make money, which seems to be the question everyone wants answered (and don't get me wrong, I can see why you'd be intrigued and that's fine by me), I'll continue with my original point about feeling I have to justify/apologise for being a full-time time blogger and making money from it. Deep breath.
I suppose one of the 'problems' with blogging is that many people do it for the love of it or as a hobby and don't make money, so it's easy to see why it's not seen as necessarily commercial, professional or indeed hard work. Many people post every now and again for pure enjoyment and I love that everyone has the freedom to do that on a variety of free platforms. No two blogs are the same and it's hard to talk about blogs in a general sense. I myself blogged for fun and for the love of it for the first 18 months.
Just because many people blog because they enjoy it doesn't mean that there's anything wrong with making money from it though. If you have a big enough readership that people want to pay for a piece of it, and you do so with integrity and professionalism, good for you! I recently saw a post in a blogger forum asking whether people were blogging for the love of it or money, the suggestion being these things are mutually exclusive. I very much got the impression some people felt it was wrong, or had an impact on their integrity if they dared make some money out of their hobby. I simply don't agree. And I don't think people should feel ashamed of making money from something they enjoy. It's the best thing ever!
Now, I'm probably right at the other end of the spectrum from the hobby bloggers and not your typical example. I'm an ex-journalist turned full-time blogger, working (without doubt) more than full-time on turning this into a sustainable business and doing pretty well at it (I'm constantly learning and trying to improve things though and business owners are almost always working on their next big idea to make theirs bigger and better!). As I mentioned earlier, I trained as a journalist and I've always been paid to write and edit and help make publications (print and online) more commercially viable, so I see absolutely no reason why now, when I do this for myself and my own publication, I shouldn't get paid for it too. Is that very unreasonable?
A good friend of mine told me recently that his brother scoffed when he told him I was working as a full-time blogger these days. Now, nobody ever disrespected what I did for a living when I worked as a journalist for other people or when the publication didn't fall into the sometimes controversial blog category, so why should that be the case now?
There's definitely a large group of people who turn their noses up at blogs. My fellow journalists can be the worst for this! So much so, I'll admit I often skirt around calling Interiors Addict a blog and prefer to say website or online publication. And some would say, what it has evolved into, with three posts a day and being very news-based, isn't what many would consider a blog anymore (but I like to think the personal touch means it still is).
People definitely have an issue with people making money out of their passion too and a lot of that is an unfortunate trait of human nature, in my personal opinion.
People online can be very opinionated and say things they probaby wouldn't to your face. A few weeks ago, in reply to one of my advertiser emails, a newsletter subscriber sent me a rather blunt email saying something along the lines of "Are you an advertising medium for "insert advertiser name here" now? How very dull."
Well, um, actually, yes, I am, there's nothing covert about it. If I'm to do this for my job I need to get paid for it and that's how it works. Is it really that awful of me?
There was a time I did this for the love of it only, on top of a full-time job and it was really really hard work. With what was akin to two full-time jobs, a relationship, family and friends to divide my attention between, something had to give. Luckily for me (in hindsight), I was retrenched from my job and managed to turn blogging into a job, and I can tell you very confidently that the blog is a LOT better these days as a result. I also know my readers really enjoy and appreciate my blog and I doubt many of them have an issue with me being paid for providing them with a resource they love and find useful.
Last month, I received a lovely email from a reader in response to my third blog-birthday post, saying she got the impression I felt bad about making money from blogging (I hadn't said as much or thought I was saying as much, but it obviously came across). She said: "As a reader I'm happy that you make money. It doesn't cost me anything and it makes me feel like I am able to give you something back as you give me so much with the fantastic content you provide to me for free. Also I trust you and I know that you are not going to recommend something just to make a small commission." That's what it's all about, eh?
I work hard (I'm no martyr, I love what I do and I get paid for it), I have high standards, I try my best to provide a great resource and I try to do so  with transparency, professionalism and integrity. I don't think I should feel bad about it, and you know what, I don't, but it's a constant battle! I've decided it ends now. No more feeling ashamed or dirty about being paid for my hard work and many hours of it. There are much bigger things to worry about in the world!
I hope this post will change a few people's perceptions of blogs, or just give a little insight into how it all works! I'd love to hear your thoughts on the topic!