Sponsored by Planet Ark's Make It Wood
I'm a big believer that you can't go wrong when you use beautiful, solid timber in your home, whether it's a tabletop, furniture, bathroom vanity or floor. When I see beautiful timber, I just want to run my hand over it! I love that this durable, good-looking material comes from nature and never fails to add warmth and texture, in the most modern or traditional homes.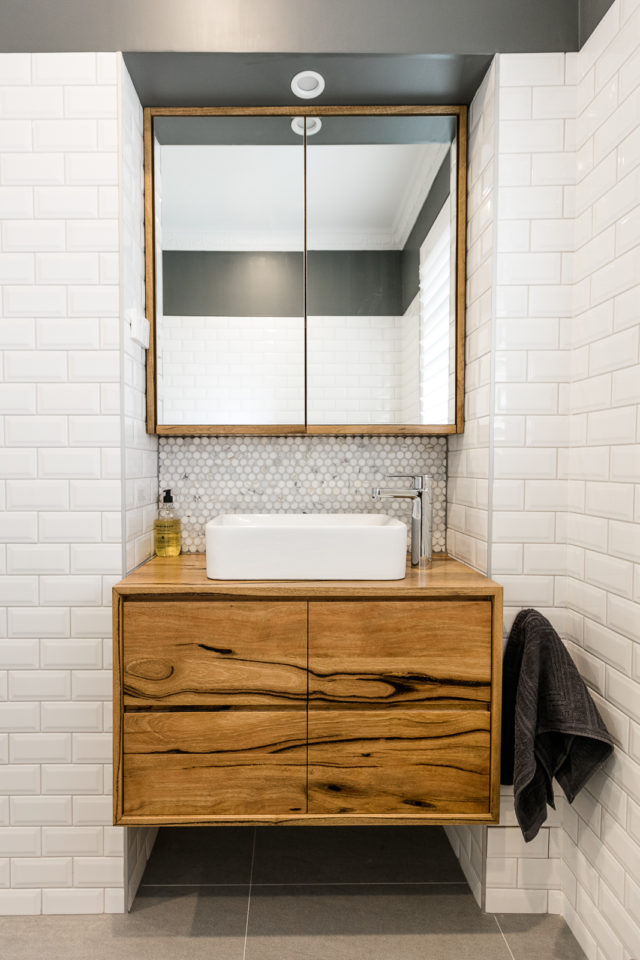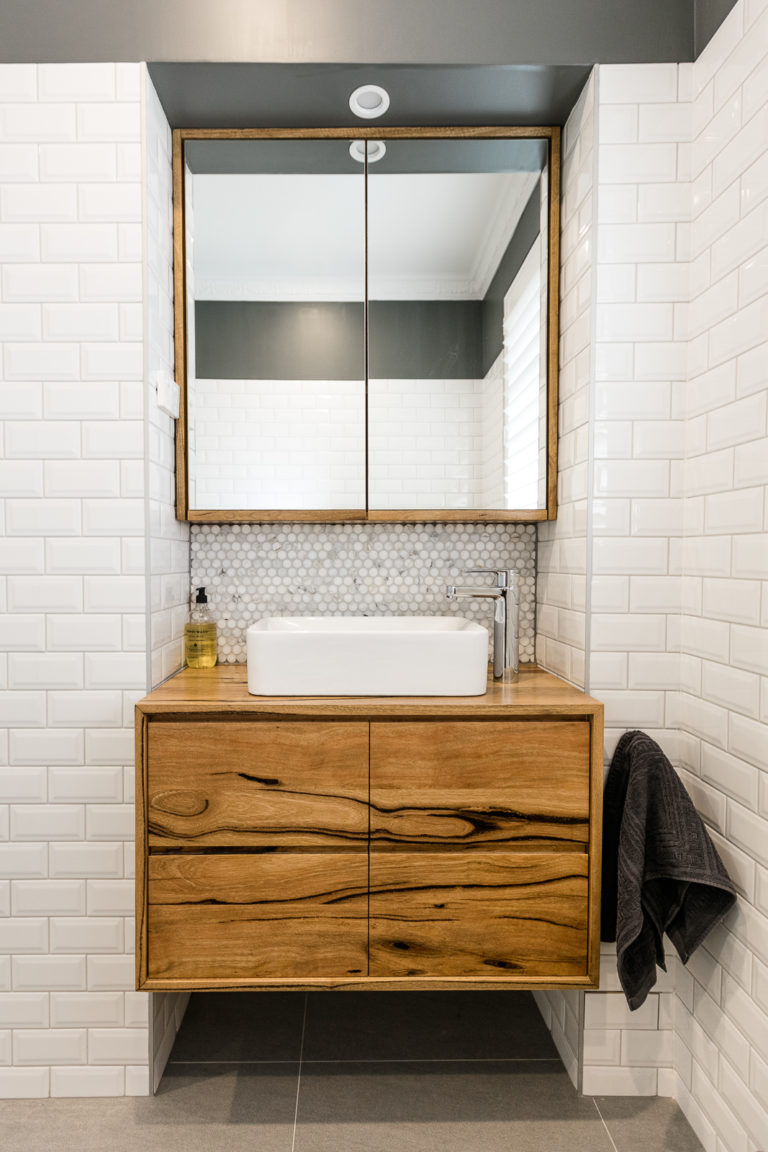 One thing's for sure, wood never goes out of fashion, but we do change the way we use it. Last year, I chose to make custom timber vanities the star of my own bathroom and WC. Faced with wanting something simple and timeless but not at all boring, it was the obvious choice. I kept the tiles and bathroomware white, chrome and very simple, with a few marble feature tiles. This let the timber do the talking, and there's no doubt that when we sold the apartment at Christmas (I still miss that bathroom, sob!) the bathroom certainly helped us get a block record price.
I was absolutely in love with our bathroom. Recently featured in Grand Designs Australia magazine, I wasn't the only one who thought it nailed the brief of simple, timeless, quality. I mean, just look at that wood grain! You just can't recreate that artificially! And yes, I spent a lot of time in there, stroking the timber!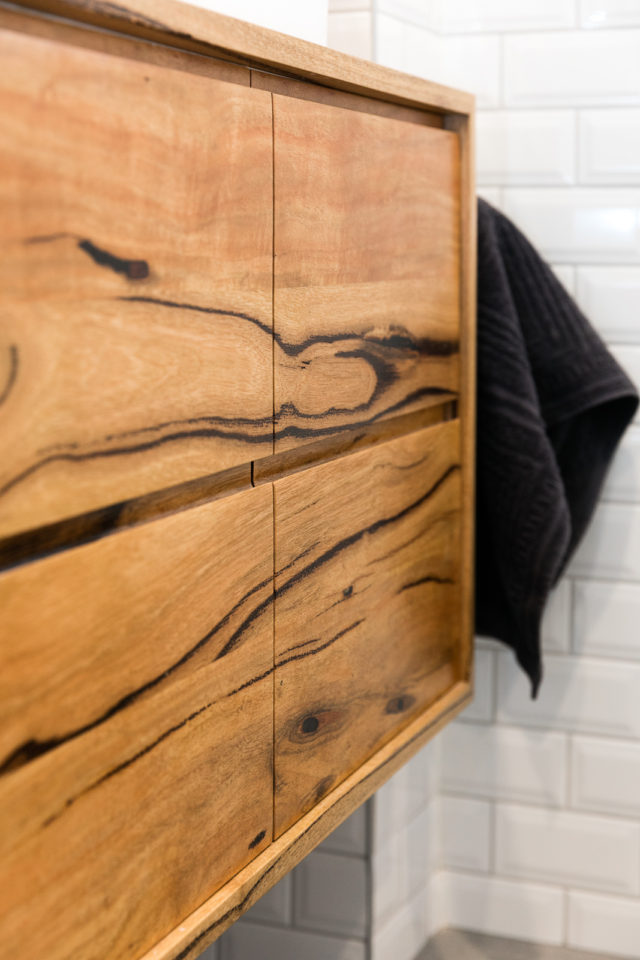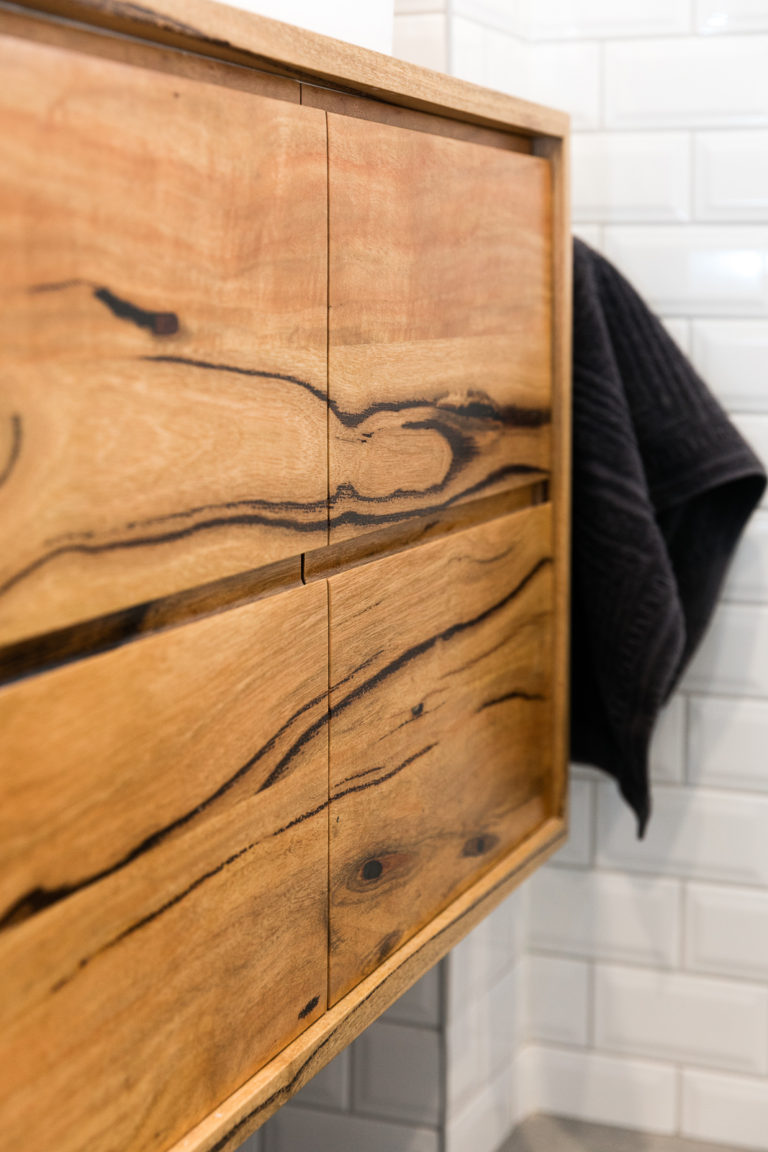 There are many misconceptions around using timber though. I was genuinely surprised how many people questioned whether timber was a practical choice for the bathroom. I'd done my research of course, but many people thought the vanities wouldn't last with so much exposure to water (more on that later). People also think that using new timber is bad for the environment (in that it's not sustainable to cut down trees) or much more expensive than other options. These are understandable and legitimate concerns and I hope I can shed a little light on these important considerations in this post too.
Wood + water can work!
Ben Purchase of Ingrain Design, who made my vanities, says: "Timber selection in the bathroom is important, and regardless of the timber you choose – new timber or recycled hardwoods – it's the way you seal it and protect it that ensure its longevity. Sealing prevents moisture getting into the timber, and can reduce issues with warping, movement or water damage. We use Osmo Poly-x because it's made with natural wax and oils, which absorbs deep into the timber without the use of any harsh chemicals.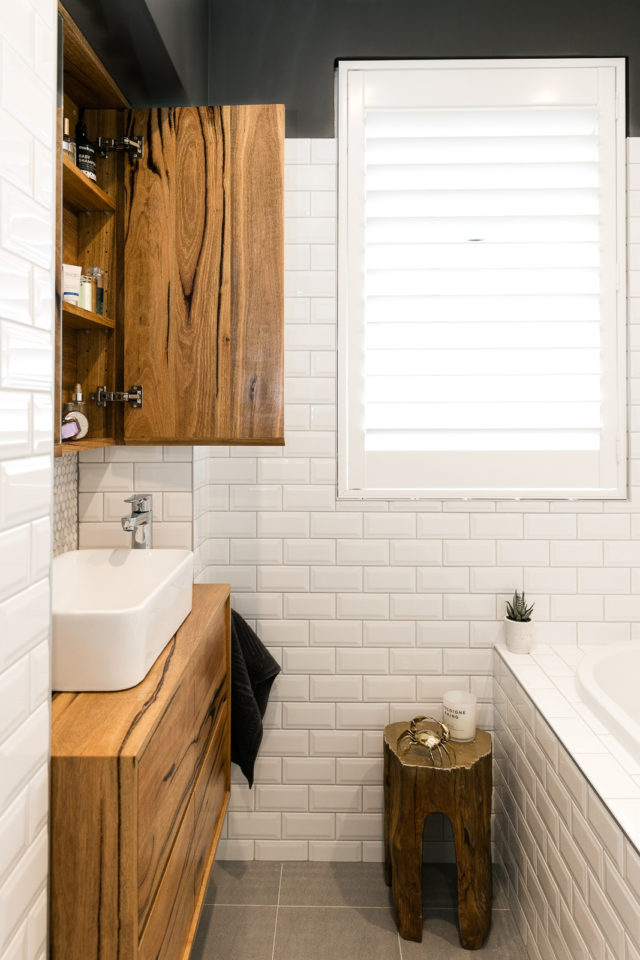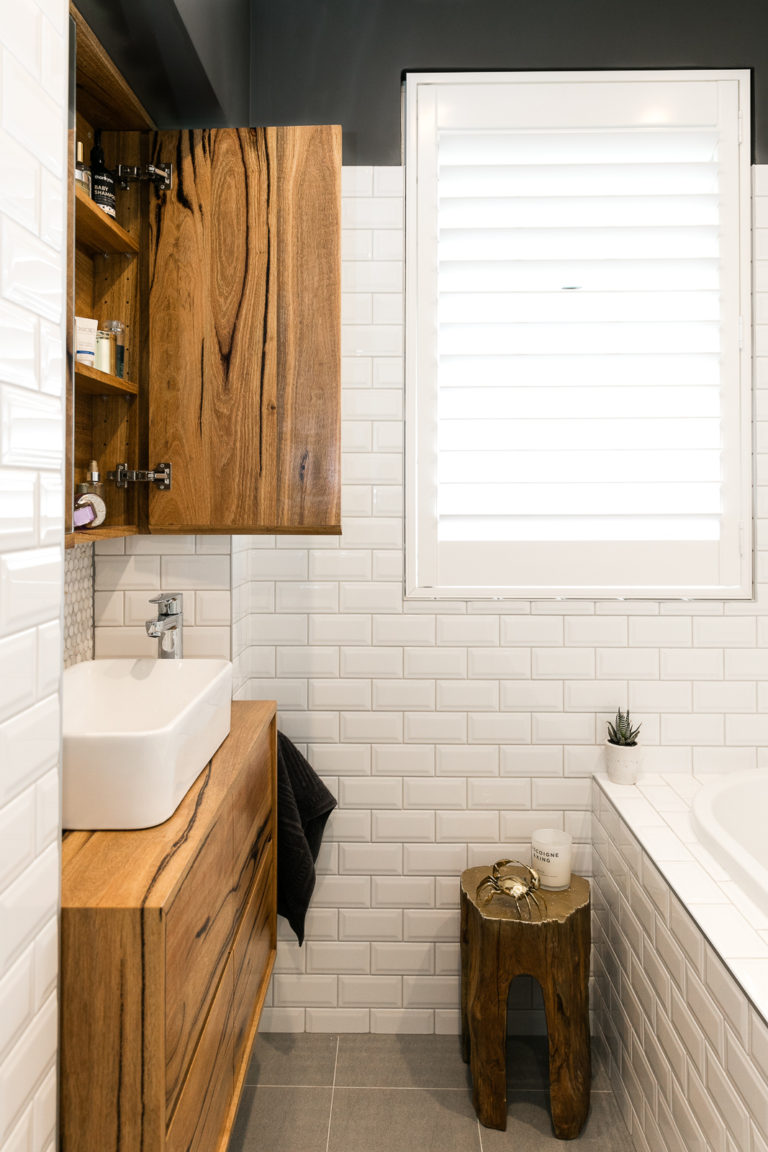 "Floating timber vanities are a popular choice, and they create the illusion of space. The benefit of a custom vanity is you can completely customise for each individual space, your family's needs and the amount of storage you require." That's something I really loved about the tiny vanity in my WC which could hold an impressive 12 toilet rolls!
Environmentally sound
Interior designer James Treble, star of The Living Room and an ambassador for Planet Ark, told us: "The fact that most timber these days comes certified from regrowth forests (which has a full chain of custody so you know it's the real deal) means we can all use and enjoy the benefits that timber brings in our homes as one of only 10 materials which is both renewable and recyclable! (More on choosing the right wood here). As for the cost, well quality timber flooring, furniture and cabinetry are made to last, and unlike other finishes they can be sanded stained and refinished many times over, meaning their value outlives many other products."

Make It Wood, a partnership between Planet Ark and Forest and Wood Products Australia, say when sourced responsibly, wood can play a big part in helping tackle climate change. This is because wood is a low carbon option for building; it sequesters carbon during the growth phase, it stores carbon for the long-term, it is renewable and it has a lower embodied energy than many other building materials such as concrete, steel or plastics. As a result, using wood allows us to live a low carbon lifestyle. Wood is unique among building materials because it is a natural carbon store – up to 50% of its dry weight is carbon. Responsibly sourced wood products store the carbon that the growing trees have removed from the air.
You get what you pay for
I certainly believe that a large portion of society is moving away from the cheap and disposable mass market furniture and homewares that flood the market, and are prepared to pay a little more for something quality which will last, or something custom made which is perfect for their home and their taste. I, for example, have quite a narrow dining room in my new house, and I'm considering having a table custom made to make the best use of the space. We'll be there for at least 10 years, so it will absolutely be worth it. You also cant beat a timber table top. My previous table was veneer and my toddler soon scratched and marked it at meal times! Solid timber can always be sanded back or re-stained if the worse happens or you change your colour scheme for example, but I personally love the look of a slightly gnarly, dented, well-loved family table that tells a bit of a story about the people who've eaten and done their homework at it so I wouldn't be too precious!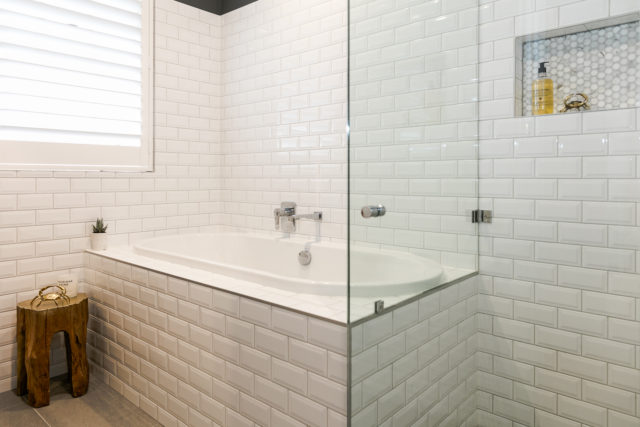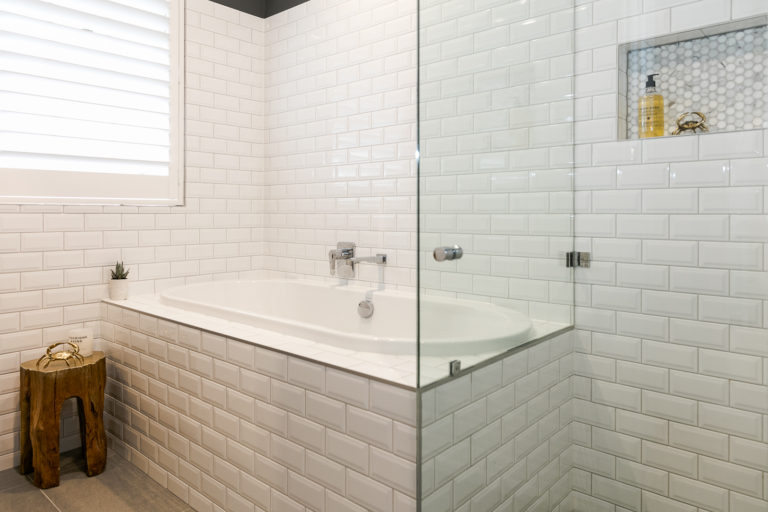 Ben adds: "We've found people assume a hefty price tag applies to custom made furniture, when in fact, commissioning your own handmade piece of furniture is more accessible than you think. By choosing custom made, you're doing your bit for the environment and a piece you can share with generations to come.
"Custom made is more affordable in the long run and people are cottoning on to the longevity you get out of a custom piece. Instead of buying several pieces of furniture over a period of time, you can have that one custom piece in your home – completely customised to your style and specifications, using sustainable, reclaimed or recycled timber, that is built to last and will stand the test of time."
Where and how to use it in your home
And how about some more unusual uses for timber in the home? While timber clad feature walls have been gaining popularity for a while now, James also suggests ceilings!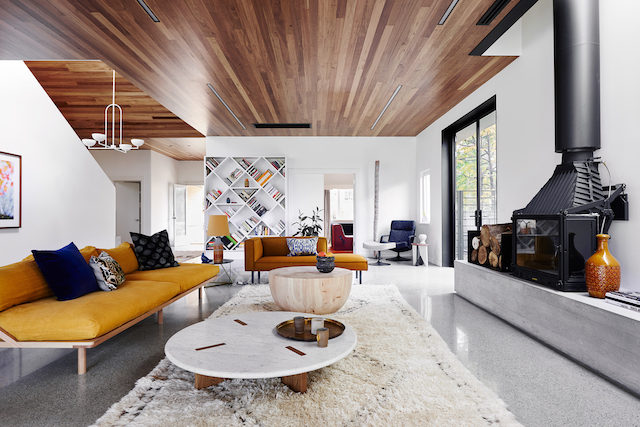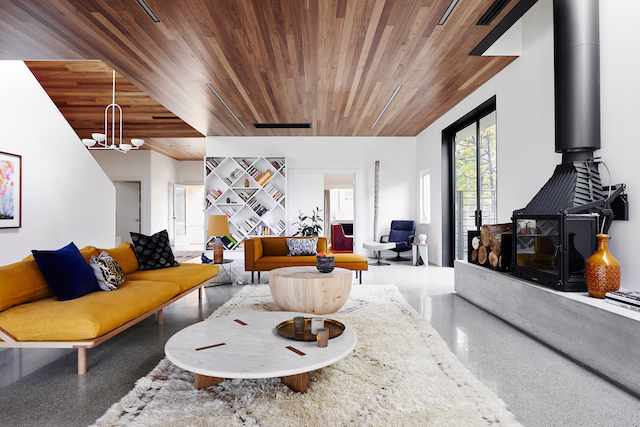 "It's a stylish and unexpected place to see timber cladding! It's great for alfresco, as a feature under the front portico, and can also work very well inside the home, like the foyer, to make a modern yet stylish entrance," James says. "And don't forget the humble timber screening, large recycled timber posts placed close together, are a great way to screen off the front entry into a living area, or to act as a room divider between the living and dining areas."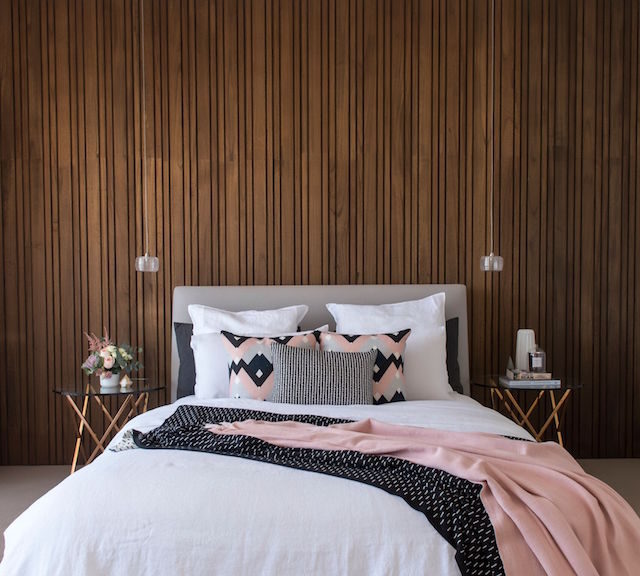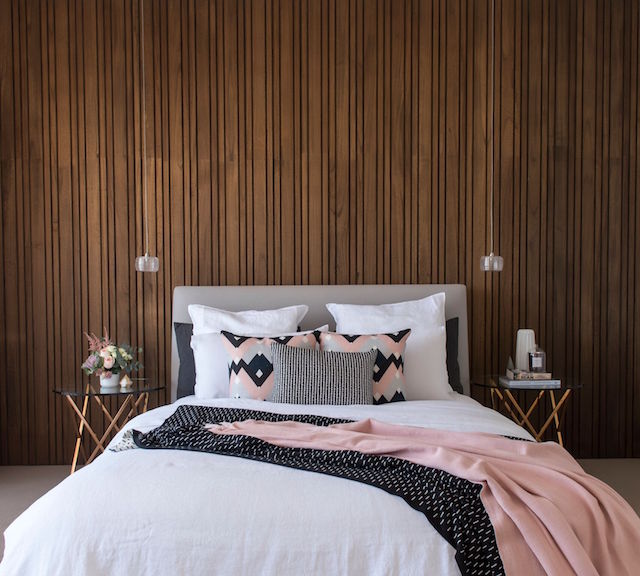 While recycled and upcycled timber furniture is an obviously environmentally friendly, you should know you can buy certified new timber pieces without the guilt too. Before buying furniture or planning renovations such as a new deck or flooring, follow this advice to help you avoid buying illegally logged imported wood or wood from forests of high conservation value.
James says: "Timber is the only product that provides shade and habitat for wildlife while it's growing, it can then be responsibly harvested, with a new forest to take its place. Those responsibly harvested trees can be used for a huge range of uses, and at a later date can be recycled and reused again and again! While all of this is being done, timber also stores carbon, so it's great for our planet and global warming, and just like a walk in the bush makes us feel recharged, it's proven that timber finishes in the home actually lower blood pressure and increase wellbeing! "
Ben adds: "We've seen a growing trend towards locally made, people are becoming more conscious of where their furniture is coming from, and they're making smarter buying choices when it comes to the environment. By choosing custom made you're reducing the amount of furniture going to landfill and supporting smaller makers in the process. Purchasing that one custom handmade piece will outlive any flatpack – you'll not only have a piece with your unique design stamp on it, you'll also have done your part for the environment. And that means one less flatpack on the street curb."
Disclosure: this post is in collaboration with Planet Ark's Make It Wood campaign which supports the use of sustainably sourced, certified wood based on the benefits to the environment and our health and wellbeing that it provides.
For more about Make It Wood  |   Like Make It Wood on Facebook.
Photos of my bathroom by Jacqui Turk