Dubbed their biggest renovation challenge ever, best friends turned expert renovators Lana Taylor, Erin Cayless and Bonnie Hindmarsh (of Three Birds Renovations) recently completed a three-storey, three-bedroom, three-bathroom, modern Mediterranean-style villa in Sydney's north. But there was some added pressure, with the house being Lana's family home! "It's been a beautiful house and I love it to death but the floor plan wasn't built for a growing family," explains Lana. "Our main aim was to build a beautiful home to last a lifetime."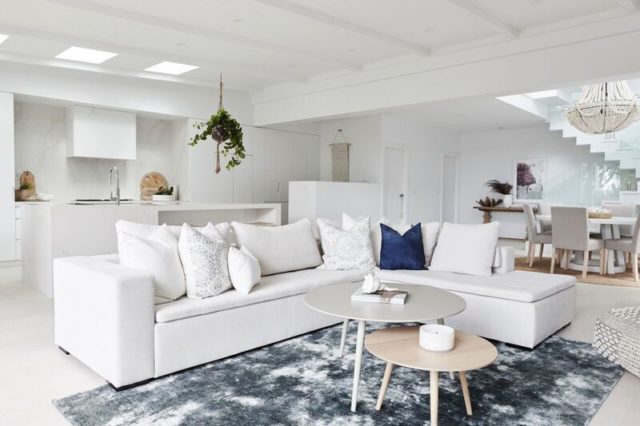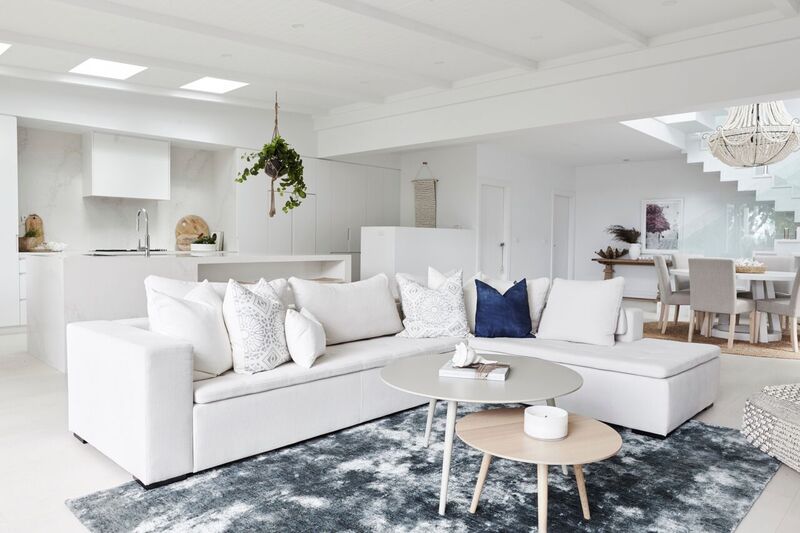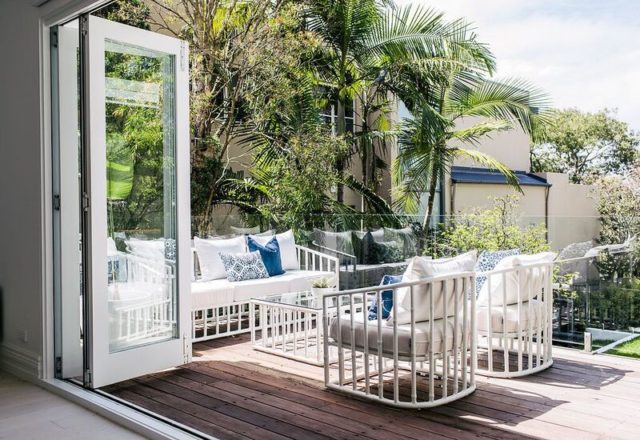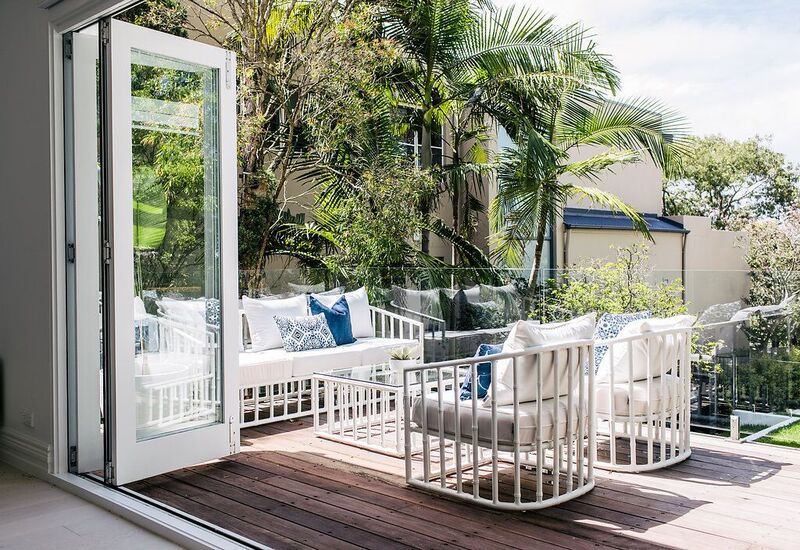 The new design involved completely flipping the house layout on its head, by placing the kitchen and living areas downstairs and linking it to the garden. The middle level, aptly named 'kid's world,' became the domain of Lana's two young children; while the top floor was converted into the ultimate parents' retreat for Lana and her husband Jason.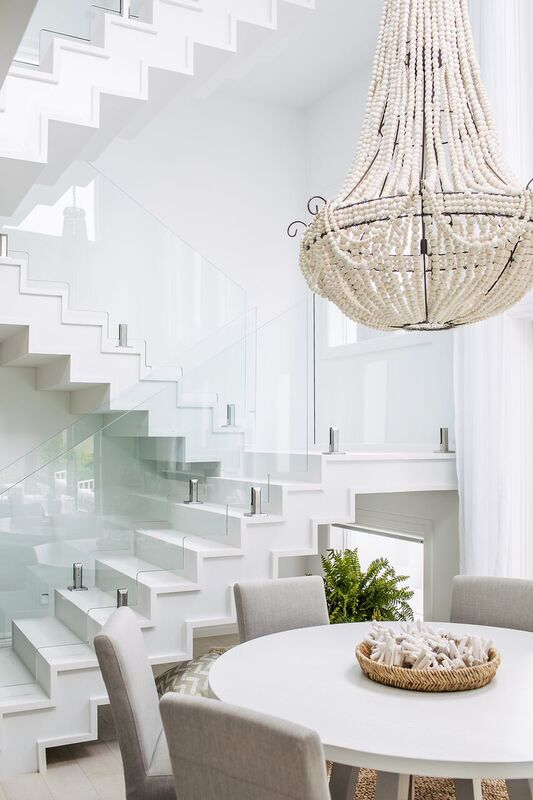 The parents' retreat boasts a luxurious master bedroom, walk-in wardrobe, ensuite, open-plan office space and a sunny terrace. Inspired by Greece, the ensuite is white with a turquoise fish-scale tiled feature wall and just like the beautiful white-washed Santorini homes, a skylight above the shower bathes the room in natural light.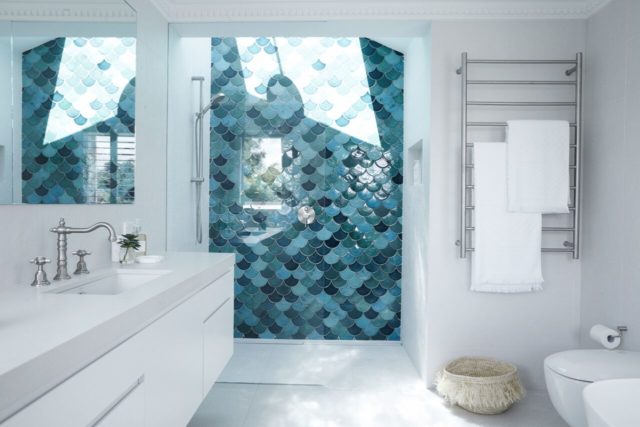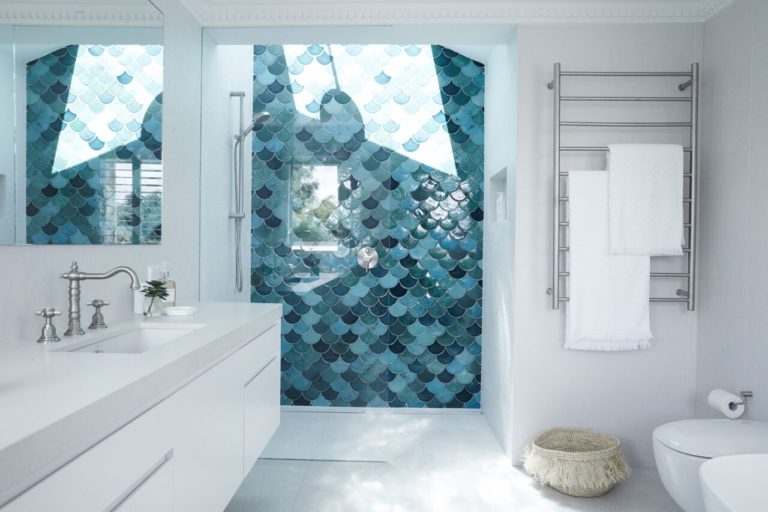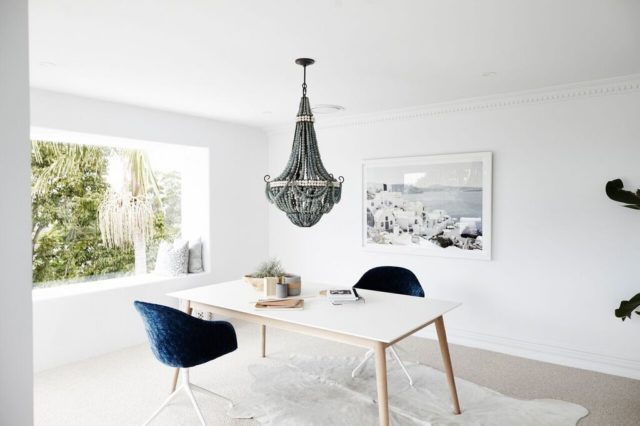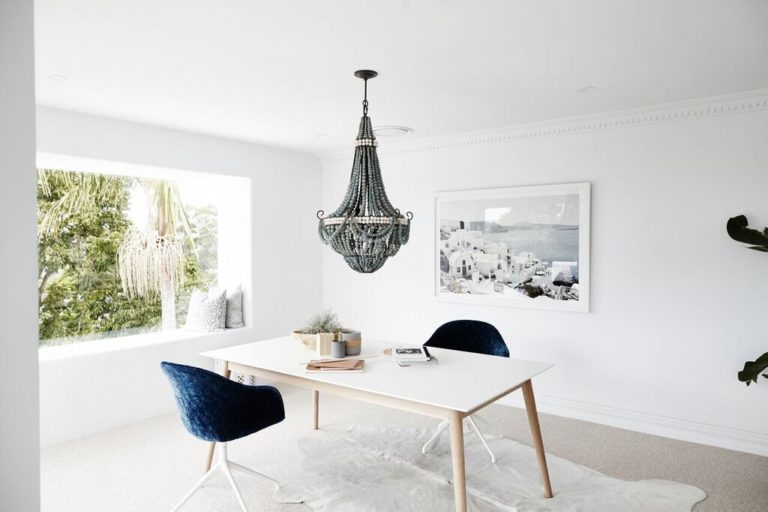 On the middle level, each child has a large bedroom, plus there is mud room, a large bathroom and a media room with glass balustrade that overlooks a void into the family area below. "I've always wanted a well-fitted out mud room," says Lana. "So I created an 'urban mud room' with floor-to-ceiling shoe shelves for my family to take shoes on and off and get rid of those bulky school bags."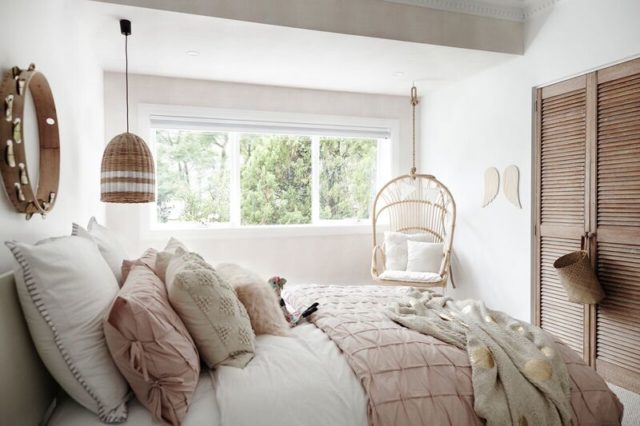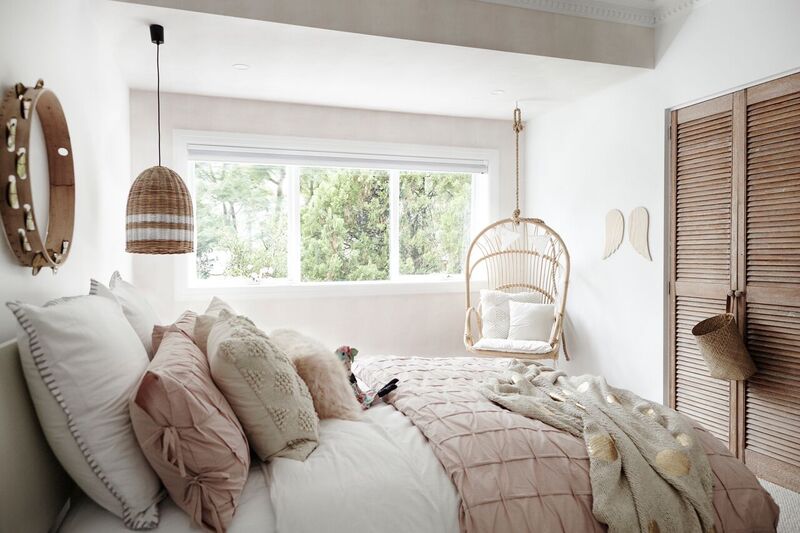 Once a self-contained granny flat, the bottom level is now home to an open-plan kitchen, living and dining area. Large windows, glass doors, high ceilings and white walls provide a light, fresh and welcoming space for the family to cook, eat, play and relax.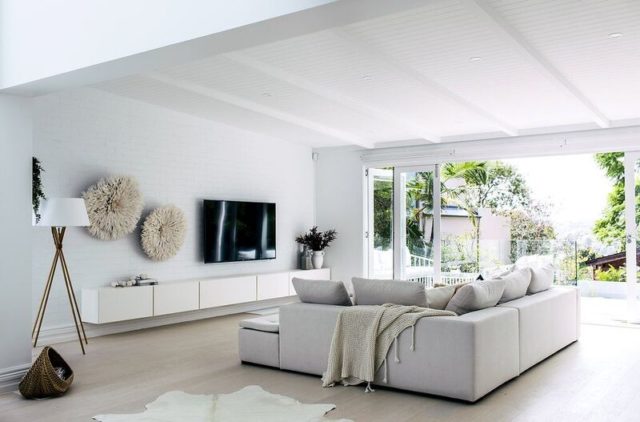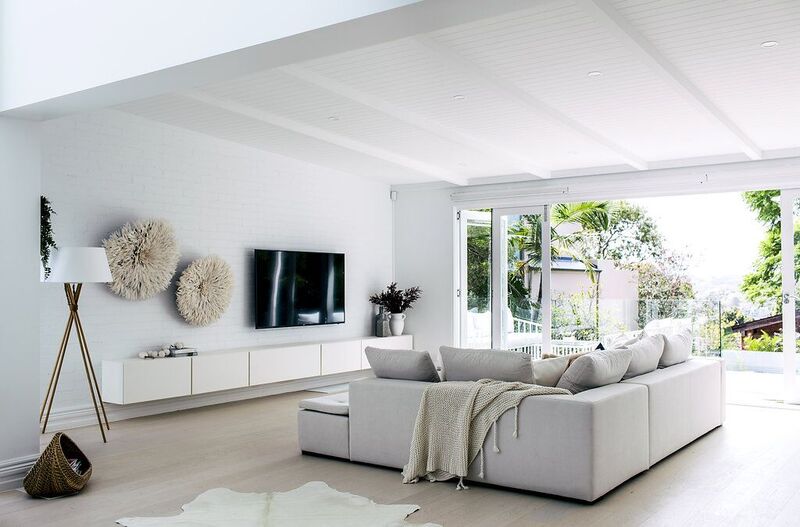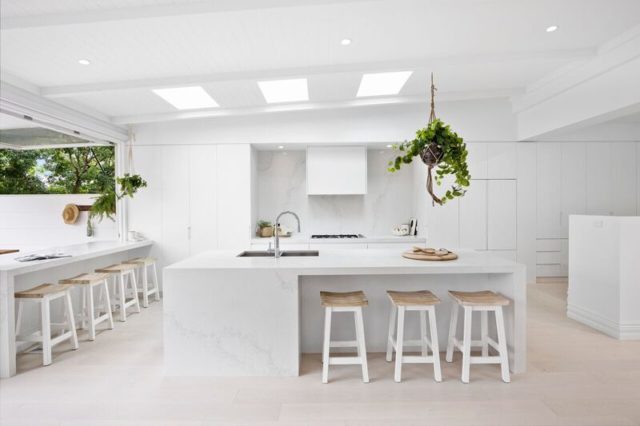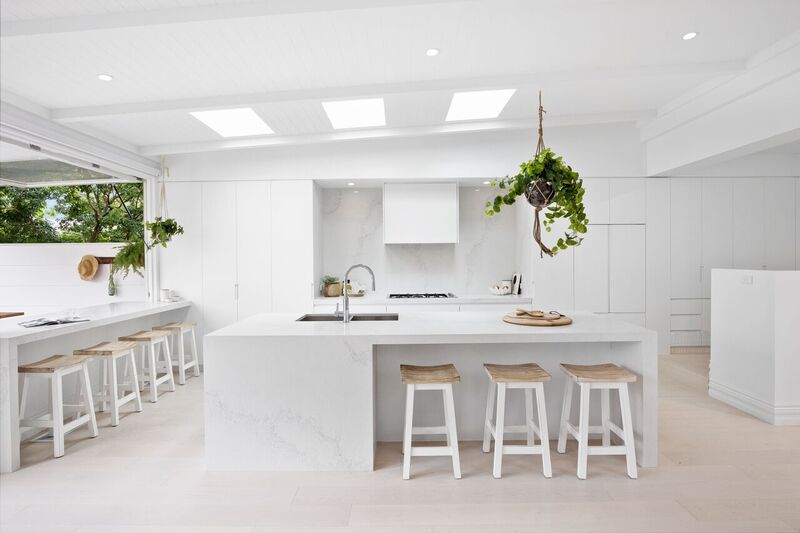 The all white kitchen is paired with neutral stone benchtops and a matching splashback. "I wanted the stone to be the hero of the kitchen," explains Lana. Connecting the interior to the exterior is a large gas-strut window, allowing for easy al fresco dining all year round. And on the other side of the kitchen is not a butler's pantry but a butler's office! "The butler's office was simply born out of the lifestyle that we lead," says Lana. "I'm always on my laptop and I don't want to be hidden away in a study when my kids are in the family space."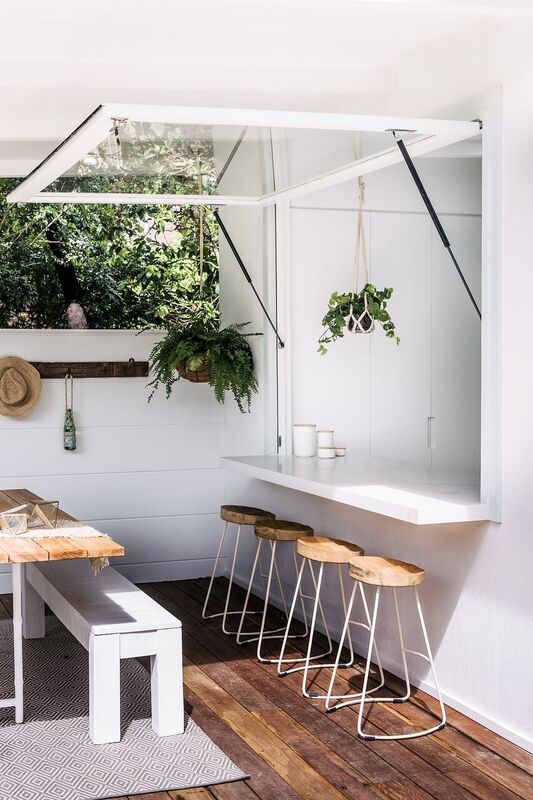 The finished home is beautiful (what we've come to expert from the girls at Three Birds!) and Lana couldn't be happier: "It's not just the perfect family home, it's also an expression of my style and showcases the expertise and attention to detail we have to all our projects."
–The Birds used Gyprock in this renovation. To create a private oasis for Lana and Jason, Gyprock Soundchek™ plasterboard was used in the master suite. A high-density plasterboard with increased noise absorption properties, Soundchek has been specifically designed for internal walls and ceilings to reduce noise transfer. Gyprock Sensitive plasterboard  was selected for the kids' area.  It's a revolutionary hypoallergenic plasterboard that is the first and only residential plasterboard to be approved by the National Asthma Council Australia's Sensitive Choice program as a better choice for asthma and allergy sufferers. Treated with a powerful but gentle anti-fungal agent, Sensitive is designed to resist mould growth.