We all love a house tour but I think we particularly like a look behind the front door of an interior designer's home, don't we?! Well, I have a treat for you today with Ioanna Lennox's 1879 Inner West Sydney terrace.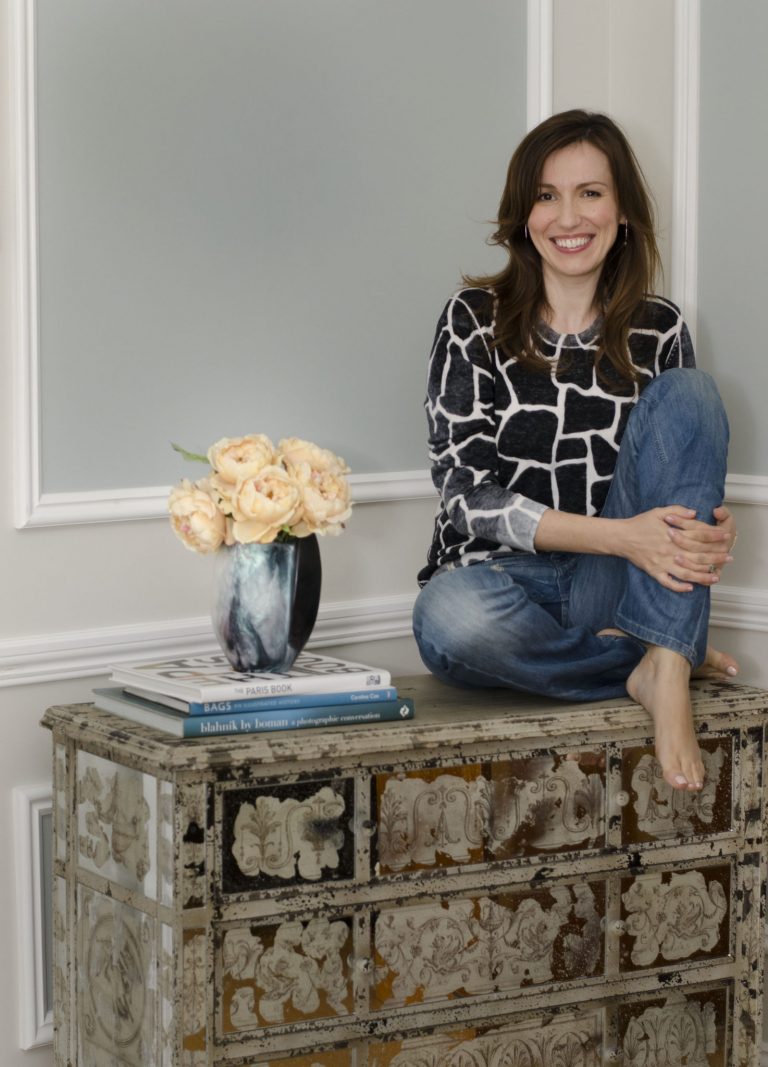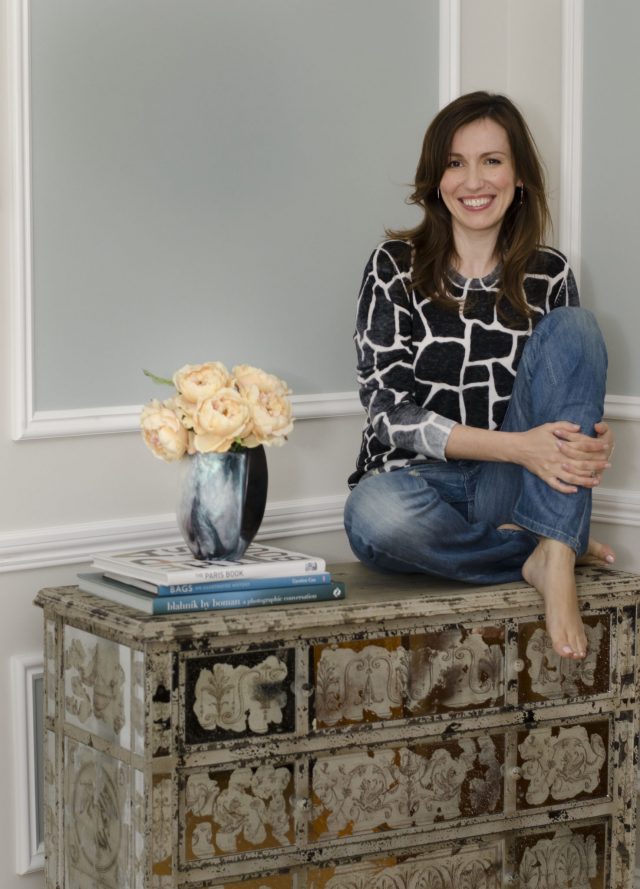 While it's still a work in progress (aren't all homes, really?), Ioanna, who left her corporate job to follow her passion and work in interiors, has done plenty to transform it. The painted striped runner on the staircase was a project she had been dying to attempt and thought she'd better try it out on her home before attempting the look for clients! She is thrilled with the result and we agree it looks spectacular.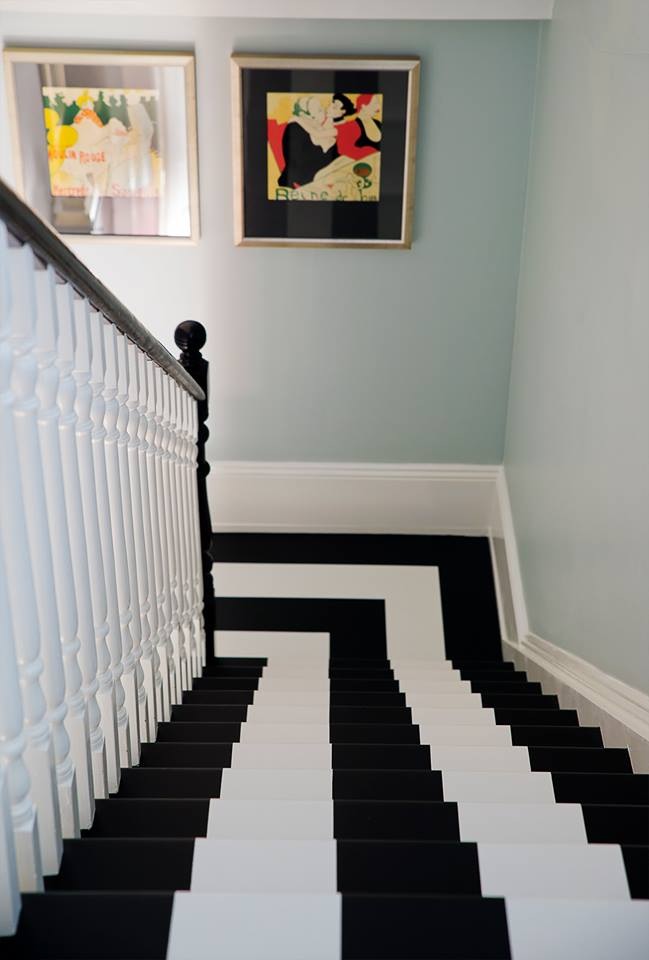 Being her own client was an interesting experience: "The brief kept changing but some things remained the same: it had to be classic, beautiful and elegant, without being over the top; glamorous but in a modern, contemporary way; respectful of the terrace's original features such as the high ceilings, cornices and fireplaces, but make these work in today's living environment.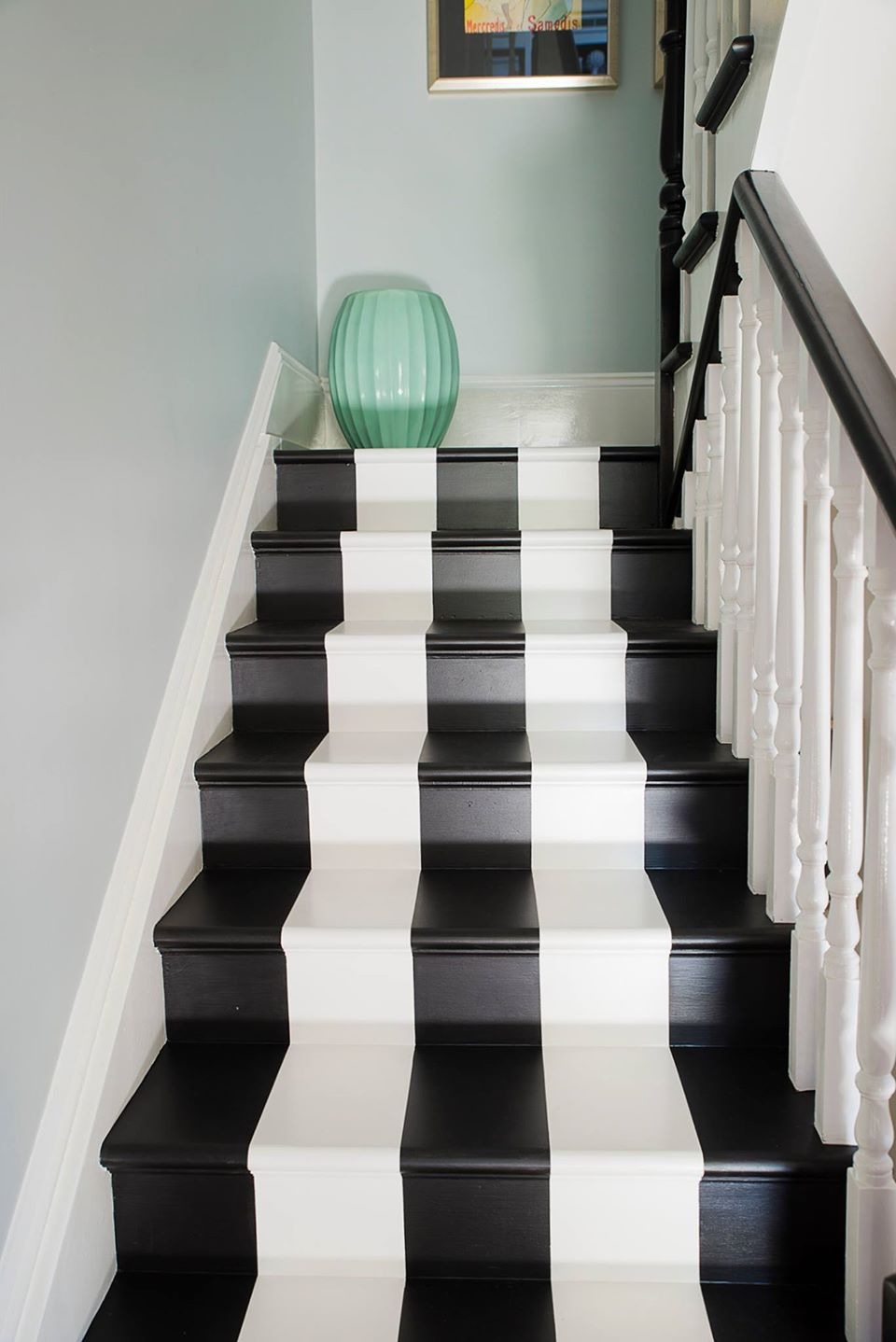 "I started out resonating with the modern French style, then switched to Hollywood Regency, where for a while, everything that I gravitated towards was shiny, shimmery, plush or mirrored! I think the end end result will end up being a nice mix of the two. The colours changed too. Initially, it was going to be all black and white – I wanted drama, lots of contrast and typical Parisian chic. I remember doing a concept board with the "client" being very happy, but six months later, it went out of the window.
"I came across my favourite Bromley nude at an art auction and I begged, begged, begged my husband for us to get it. When we found ourselves the last ones to hold up the little auction card, I almost screamed! I've loved and admired David Bromley's nudes for years and to finally own one was a dream come true. When we brought 'Chayenne' home with her striking aqua blue palette, I fell in love with blue. So started my blue phase, which I have to say I'm still in. This meant the formal lounge and dining rooms now had to have an injection of blues."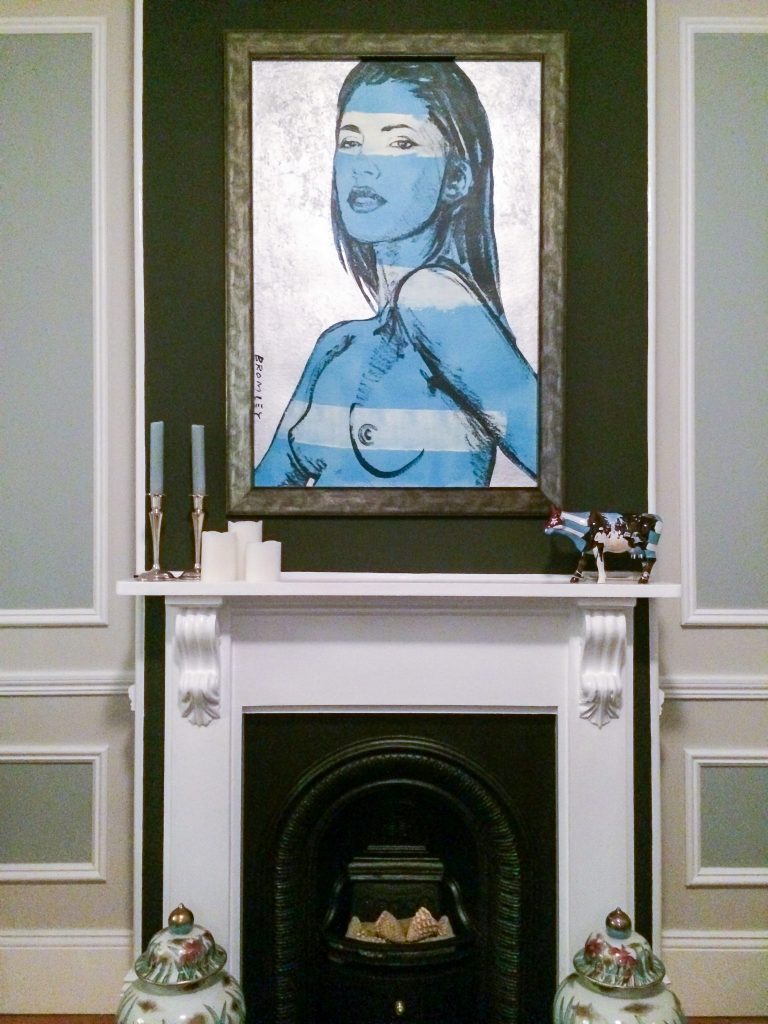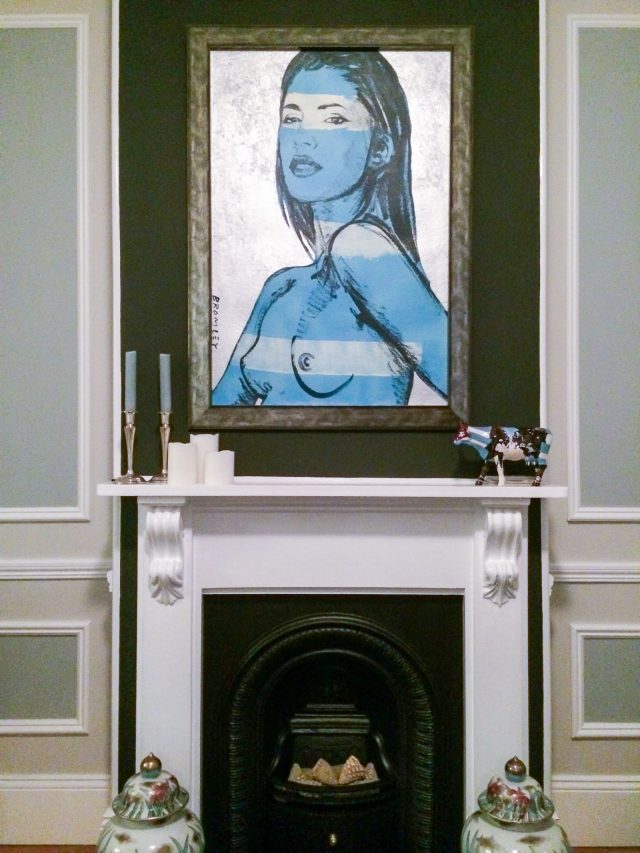 Somewhere in all this, Ioanna had to consider her husband, although he was generally happy to leave her to it, so long as it wasn't too frou-frou or feminine. "I started coming up with the original concept for the front terrace at least three years ago. Finances, Bromley purchases, leaving the corporate world and my mum's death all played a part in the snail's pace that things have progressed at.
"To be your own client as an interior designer has be the hardest job ever – I found it frustrating, painful and creatively thwarting. As the designer, I often had days when I just wanted to kill my client! As the client, I just thought the designer was too out there at times for this regular, Inner West family of four. I feel like we got there in the end and even though we're not yet finished, every detail is nutted out, all the fabric has been bought for the sofa and soft furnishings so nothing else is changing!"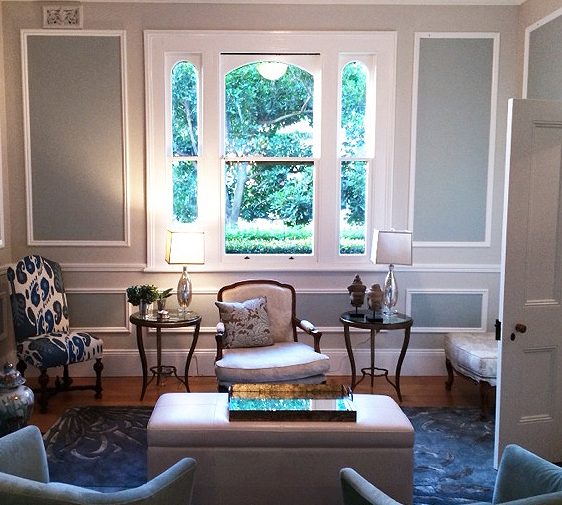 The French wall panelling, which makes such an impact, was at times a nightmare. "I decided to take this on myself just after my mum died. I had my cousin here from Germany, who's a tradesman but not a carpenter. He called my bluff and said if I was serious about panelling the front rooms, he'd help me. I measured everything up and drew detailed diagrams of the panels to the millimetre, then ordered over 150 metres of timber for the chair rails and panels. Over the next week, my cousin and I worked around the clock.
"When we started putting up the chair rail, we realised there wasn't one straight wall in the house! This made it all the more entertaining as we couldn't always rely on the trusted spirit level to hang the panels. In the middle of our little project, my cousin had to return home, so that left me with a very unfinished project. Out of sheer pity or insanity, my husband eventually stepped in and helped. That put him in my awesome husband books for at least 6 months!"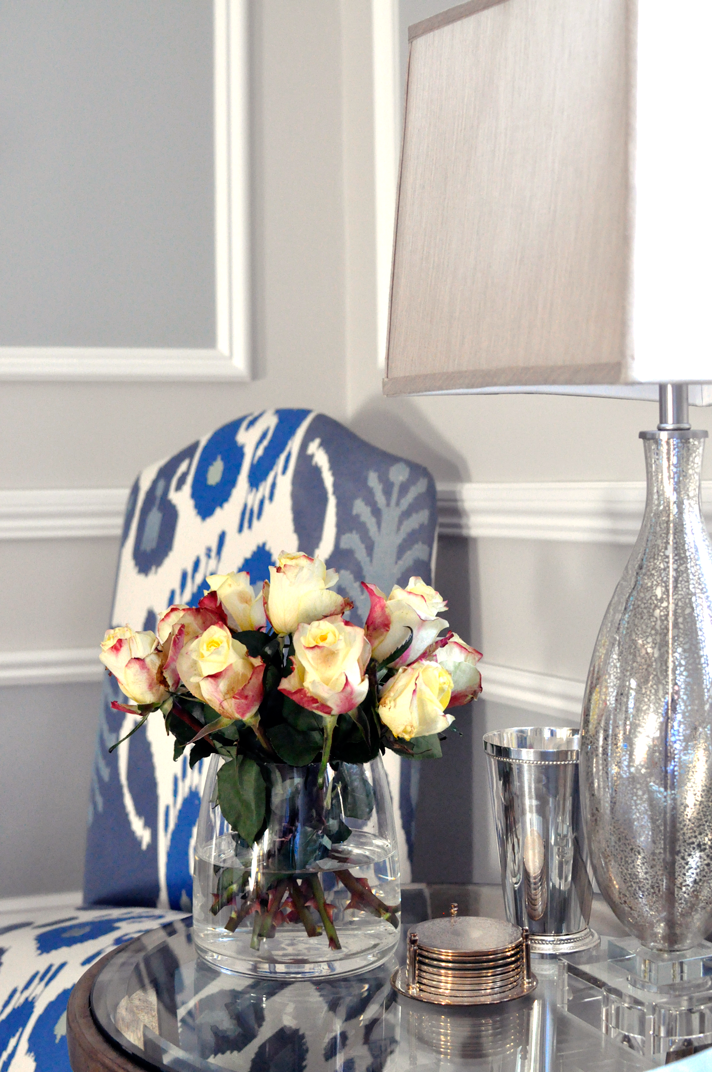 Ioanna selected a duck egg blue/green for the inside of the panels (Dulux Georgian Silver), which interplays with the soft grey background . "I'm beyond thrilled with the results, but knowing what I know now, I'm not so sure I'd take it all on again."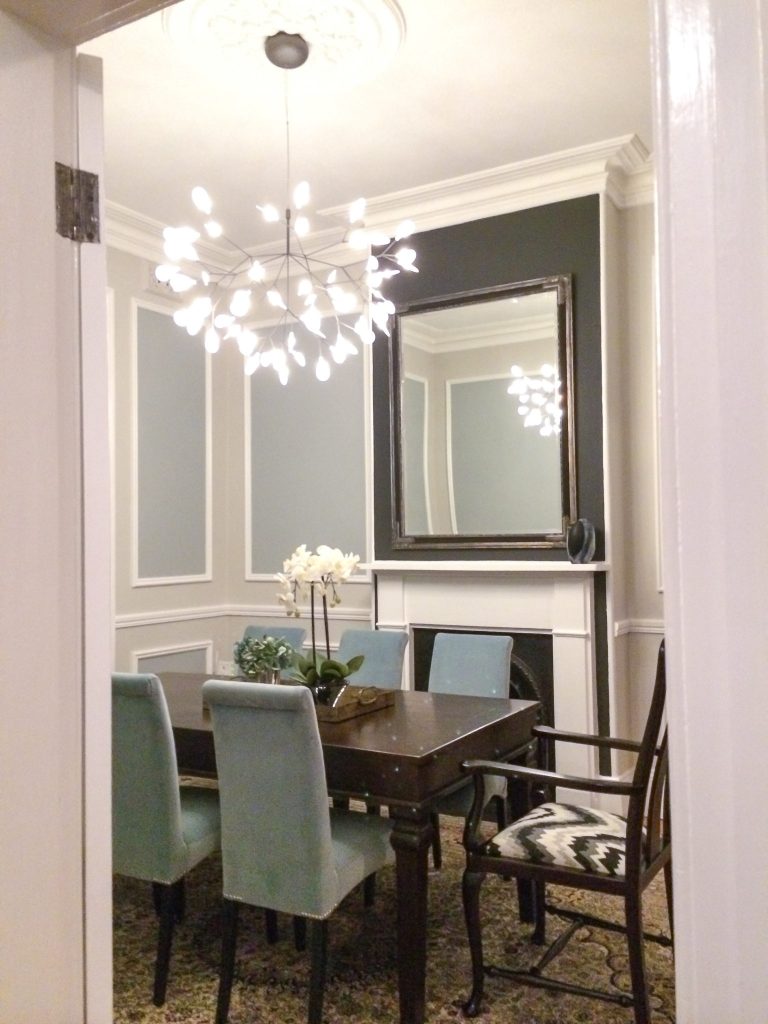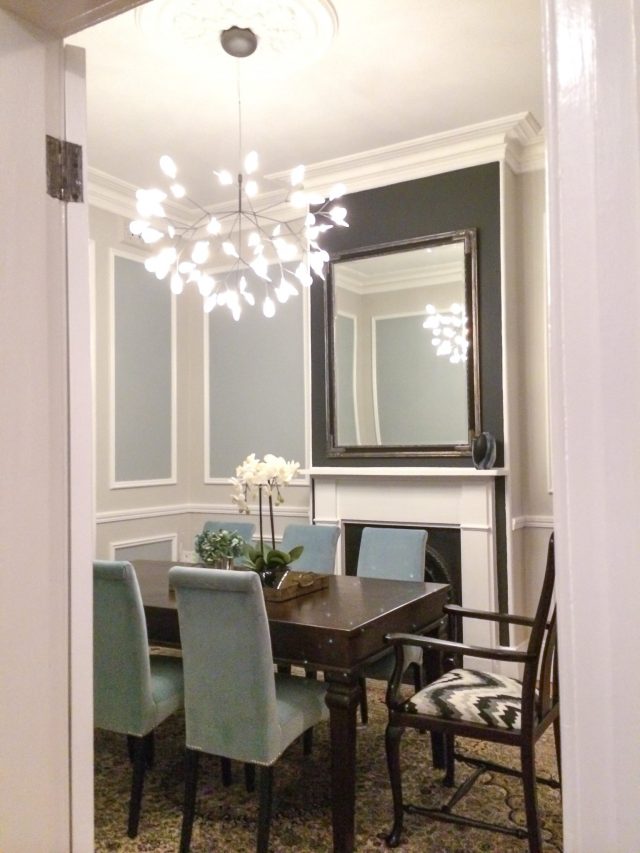 The entire front of the terrace — formal living and dining rooms, hallway and stairs – have been overhauled. The existing traditional yellow wallpaper, which had over the years become one with the render, was removed, parts of the rooms had to be re-rendered, and the cracked ceiling and ceiling roses reconditioned. Ioanna then chose a warm grey throughout and a dark charcoal above the fireplaces to turn these into a feature.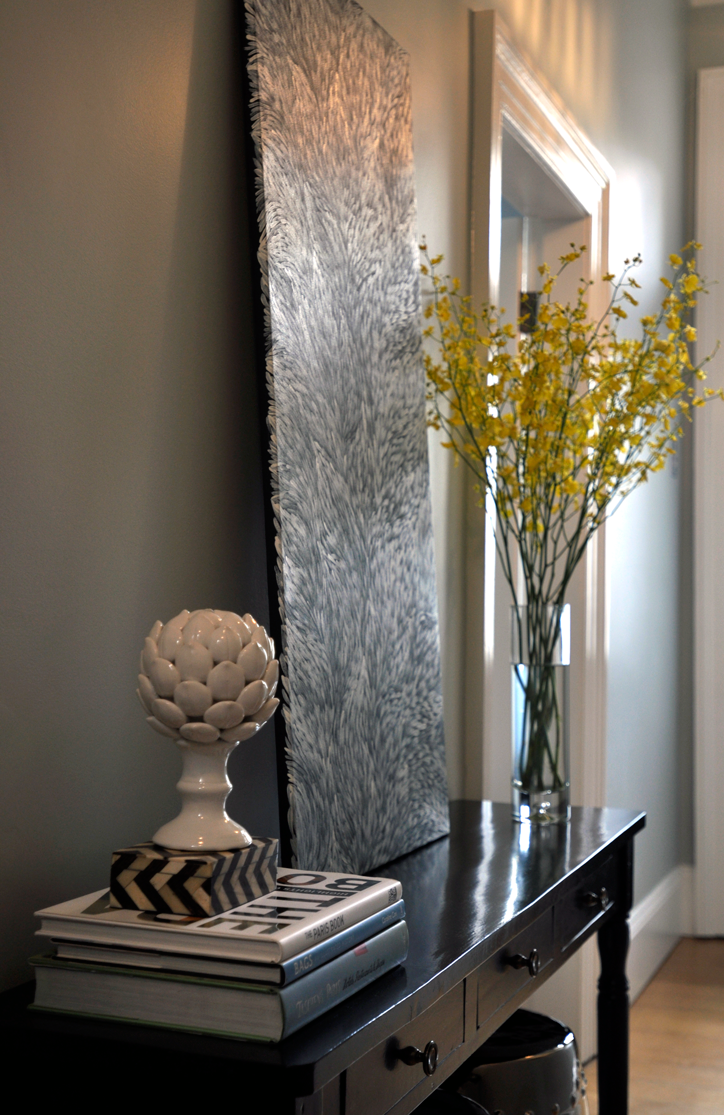 She kept some of the original furniture ("I had our old mango wood dining table stained a dark walnut with a French polish finish. So too with the dining chairs – I had them reupholstered in a soft blue velvet with nail trim detail. This kept the budget down and it looks like a whole new dining setting anyway.") Keeping the budget under control meant she could splash out on a Moooi chandelier for the dining room.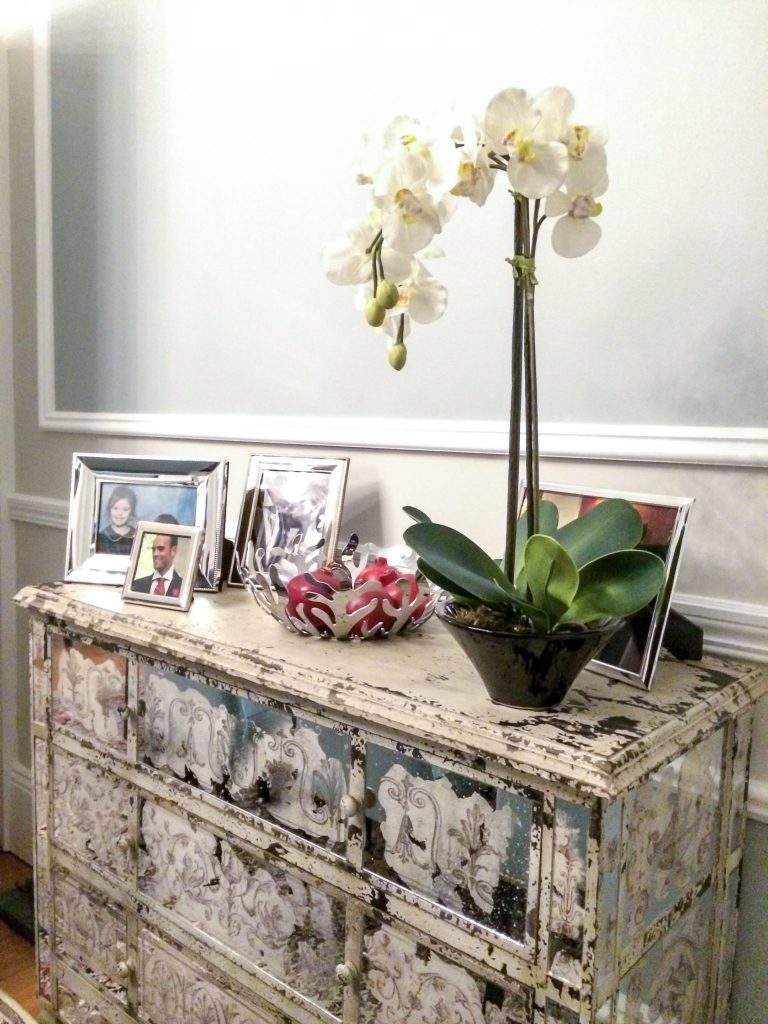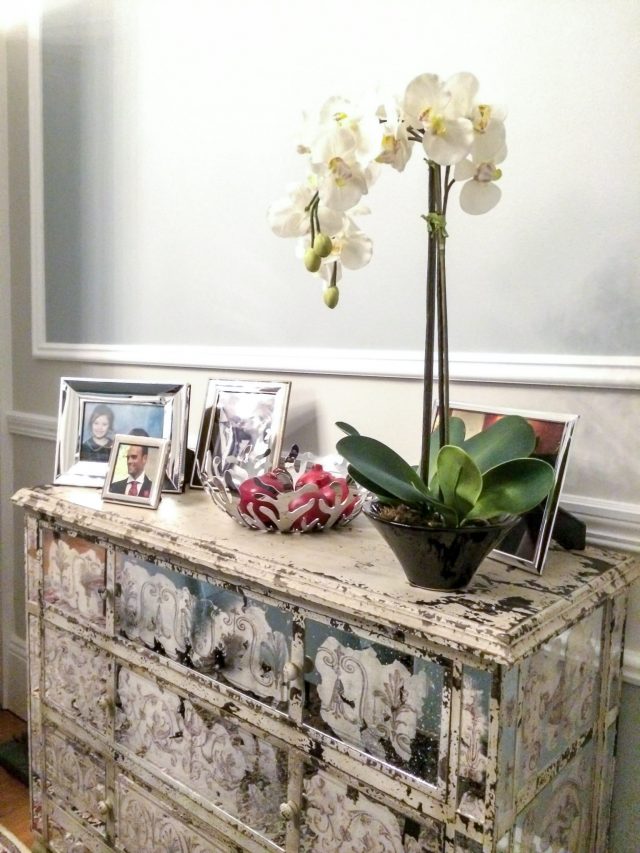 Every visitor comments on the wall panelling, which is Ioanna's favourite element. "It gives the room such presence and grandness, pushes the 3.5-metre ceilings even higher and makes the decorating effortless. Between that and the Bromley hanging on the wall, there's not much else the room needs – ok, maybe just a nice comfy chair to sip a cocktail in!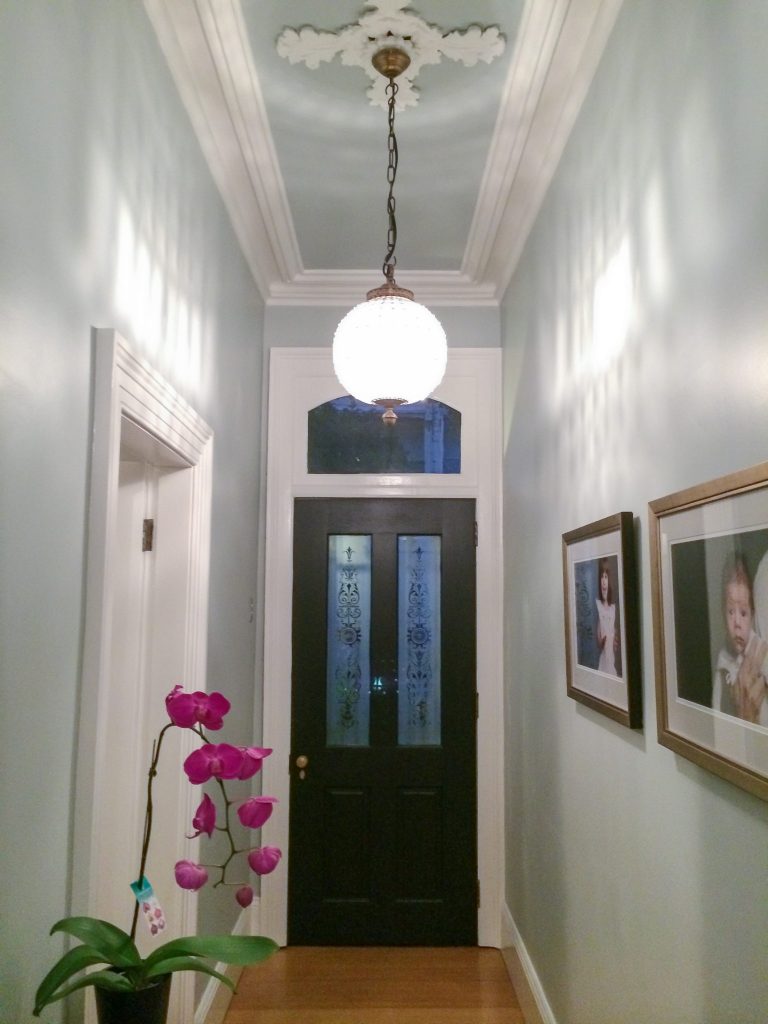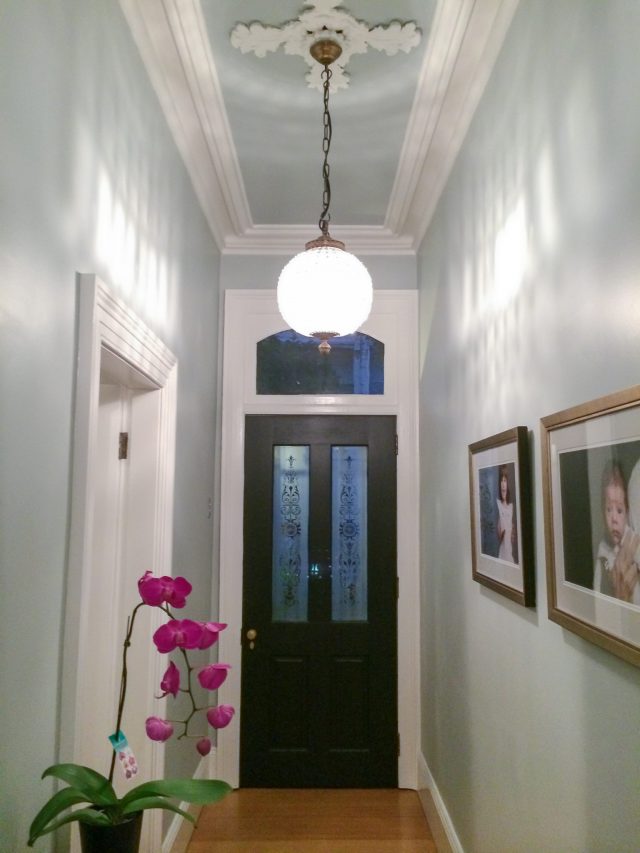 "So, is the client content? Yes, she's happy. But I'd probably never want to work with her again!"
See more of Ioanna's interior design work on her website. Photography by Stan Ngo and Susan Papazian.
Want to see some before photos? We thought so…