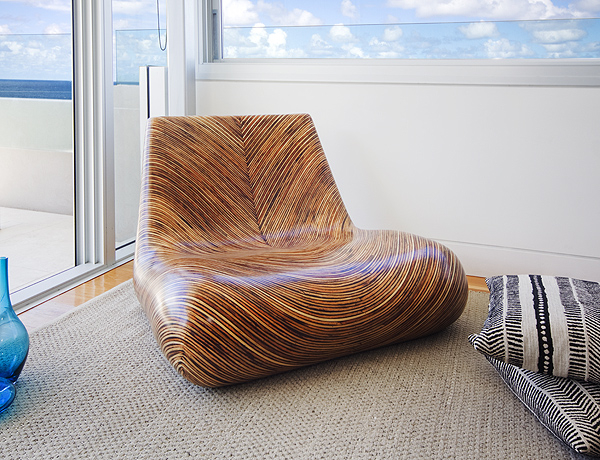 If you've always thought that an environmentally sustainable interior would only suit an alternative lifestyle, you're wrong. With a growing variety of beautiful interior products conducive to a better environment and to human health, sustainability is the next big chic! Here are some of my favourite and most recent 'must have' discoveries – enjoy!
At first glance, you'd think the pieces in the Samara range from Nicoya were made from wood – look again! These distinctively designed pieces are hand crafted from a unique combination of discarded materials, rattan and palm twigs, moulded and finished with a polished resin. This handmade collection equates to minimal energy waste and environmental impact as no machines are used in the craftsmanship, low allergy resin is used, and the pieces are made to Fair Trade principles. The philosophy behind the range is about providing well designed, unique, high quality, hand crafted furniture created from sustainable organic materials. LOVE IT!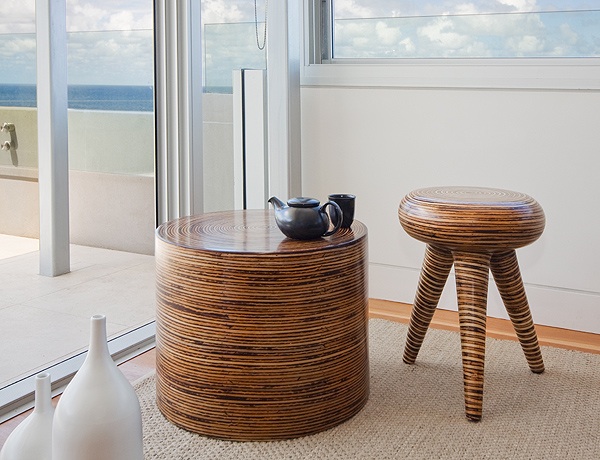 I'm enamoured by Sala Verde's product range.  The collection is so organic, free flowing and fluid and is based on an ethos of ethical and sustainable manufacture. Some of my favourite picks include the Edith candle holders, the Origami pendant light and the Bessa cushions, made from abaca fibres taken off the bark of a banana tree. The fibres are hand-woven by weavers whose workshops are set amidst lush banana plantations – sounds dreamy!
To finish off my list, Ronel Jordaan's felt range of accessories (available from Emily Ziz) are completely handmade. The process of manufacture and materials used are all eco-friendly. In addition to this, Ronel Jordaan is dedicated to Fair Trade with her factory staffed from local communities all exclusively trained by her.
So there you have it: my 'must have' list of beautiful, hand crafted pieces that contribute to the environment, to communities AND look great in your home!
Eminè Mehmet is an interior designer, sustainability ambassador, writer and speaker.  She is passionate about design and sustainability and intertwines these passions, making them easily accessible to everyone, not just the experts. She is a Green Star Accredited Professional and a Fellow of the Design Institute of Australia.