It was great to catch up with Australian interior designer of the year Greg Natale, who was guest of honour at a Zanui media event today.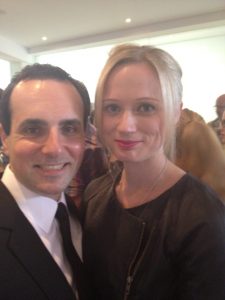 The Australian online homewares and furniture destination has grown to 130 staff since launching in October. And while Greg says he was at first nervous about aligning himself with the new venture, when he saw the kind of products stocked, he was happy to.
Co-founder and managing director Dean Kelly says Zanui is filling a gap in the Australian homewares space, and with everything currently offered with free shipping, it is making it easy for anyone, whether they're in metro Sydney, Broome or Thursday Island, to create a home with personality and style. A team of content writers make sure the product descriptions are just right and the buyers are led by buying manager Tina Rigoli, ex Freedom, Sheridan, Country Road and Taste.
Greg's top picks from the site
(You know my feelings on cushions so I was of course glad to see several!)
Ada & Darcy grey zig zag cushion
Batavia grey and yellow ikat pillow
Bambury Mongolian lambswool cushion
Zuster wooden lamp table or stool