Beautiful, fresh green artichokes worthy of a still life painting seem to be everywhere right now. They look pretty enough to pop in a vase on the table as a centrepiece, but to actually eat them? That just seems like a lot of hard work for very little reward, right? Wrong! Fresh Australian artichokes are one of spring's best treats and easier to prepare than you imagine.

Here, they're simply steamed until tender, then baked with a stuffing made from pancetta and crisp panko – which are Japanese breadcrumbs available from Asian grocers and select supermarkets. The result is a flavour-filled starter or side dish with a great contrast of textures, which will add visual excitement and even a little intrigue to your meal.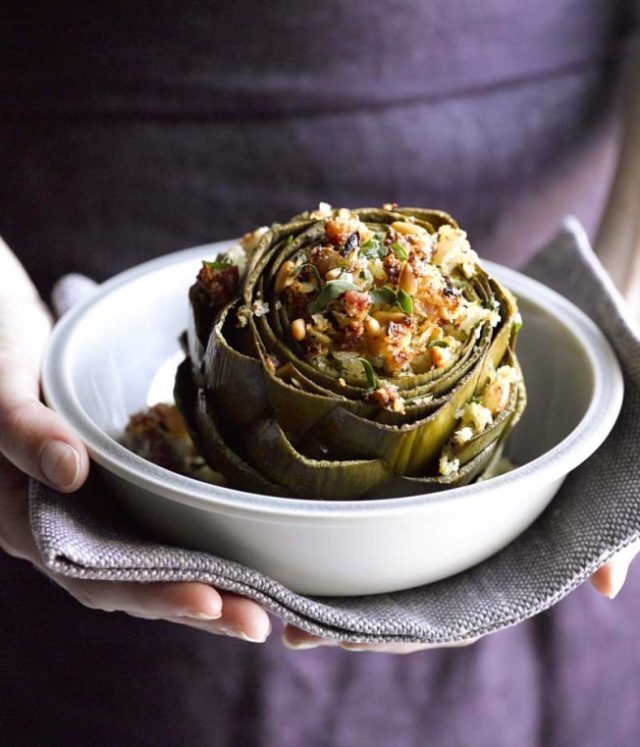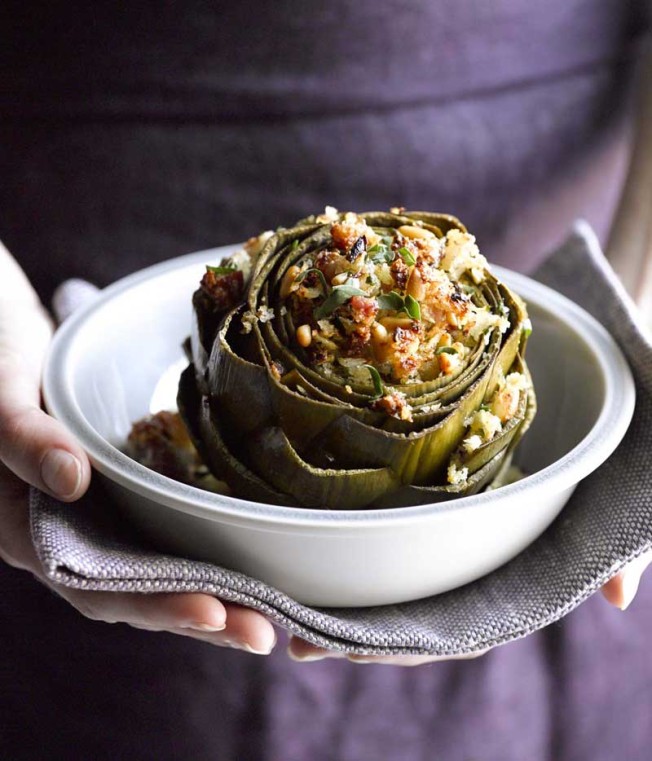 When selecting artichokes at the market, choose ones that feel heavy for their size. Look for tightly closed, olive green leaves and moist, healthy stems. A few purple streaks on the leaves are acceptable, but limp, brownish globes should be passed by.
STYLING TIP: The visual drama of presenting an entire artichoke head to the table means there's not much need to dress it up. Serve in small, deep bowls that fit the artichokes snugly (such as this). To take your styling to the next level, add a folded fabric square (such as a linen napkin) under each bowl to act as a charger or placemat. That way, your artichokes will serve as both appetiser AND table decoration – until they get eaten up, that is.
Ingredients
1 lemon, halved

1 tbsp peppercorns

5 garlic cloves, 3 smashed and 2 finely chopped

4 globe artichokes

4 tbsp (60 ml) olive oil

1/2 onion, diced

100 g pancetta, finely chopped

1/4 cup (30 g) toasted pine nuts

1/2 cup (60 g) panko

1 tbsp chopped fresh flat-leaf parsley

1/2 cup (60 g) grated Parmesan
Method
Preheat an oven to 220°C.
Fill a large pot with 5 cm of water. Add one of the lemon halves, the peppercorns and smashed garlic cloves to the water and bring to the boil over medium-high heat.
Meanwhile, working with 1 artichoke at a time, trim the stem even with the artichoke bottom. Snap off the small, tough leaves around the base of the artichoke. Cut off the top third of the artichoke; then, using kitchen shears, trim off any remaining thorny leaf tips. Gently pry the centre leaves open and, using a small spoon, scoop out the prickly choke and discard. Repeat with the remaining artichokes. Rub the cut surfaces of each artichoke with the remaining lemon half as you trim them to prevent the artichoke from discolouring.
Add the artichokes to the boiling water and cover the pot. Steam the artichokes until a knife easily pierces the bottom, 15 to 20 minutes.
While the artichokes are steaming, make the stuffing. In a sauté pan over medium-high heat, warm 2 Tbsp of the olive oil. Sauté the onion until tender and translucent, about 5 minutes. Add the chopped garlic and continue cooking 30 seconds more.
Transfer the onion mixture to a bowl and add the pancetta, pine nuts, panko, parsley, Parmesan and the remaining 2 Tbsp olive oil. Toss to combine.
When the artichokes are tender, remove from the pot. Gently spread open the centre and the rows of leaves of an artichoke and push a little of the stuffing mixture between them. Repeat with the remaining artichokes. Place the stuffed artichokes, stem side down, in a baking dish and bake until the stuffing has browned, 5 to 7 minutes. Serve immediately. Serves 4 to 6.
Click through for more simple spring artichoke recipes (and many non-artichoke recipes!) from Williams-Sonoma, or book yourself into a cooking class in their Sydney Cooking School.