Fancy mixing things up a little this Christmas? Temple & Webster have you covered. They have many festively styled tables to choose from in their Christmas one stop shop online. We love the seafood and sangria styled delight! It's a casually elegant mix, with layered linens, organic-inspired patterns and contrasting gleaming copper and crystal. It works if your Christmas is headed outdoors, but you still want to create a special setting.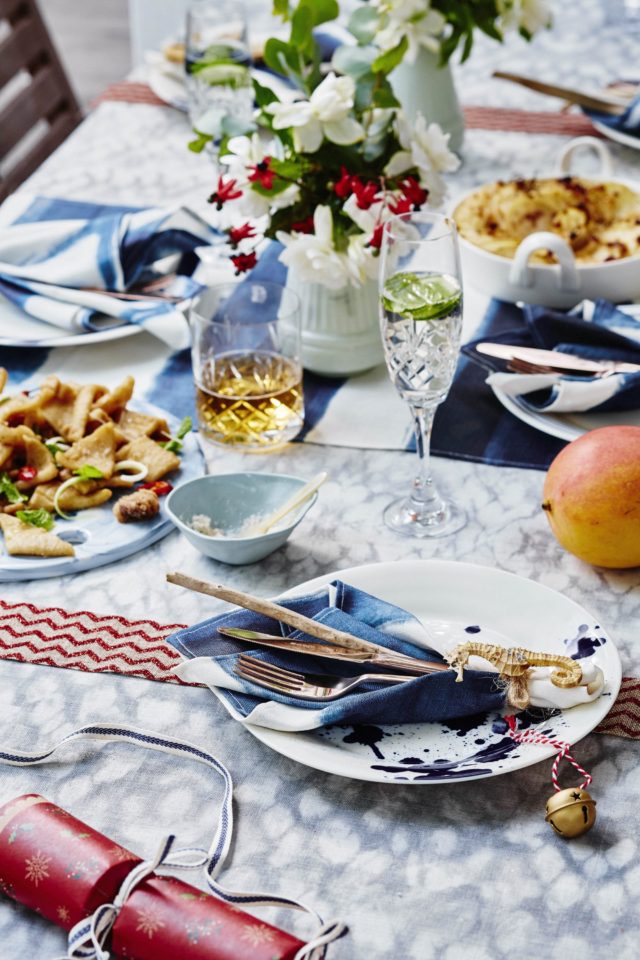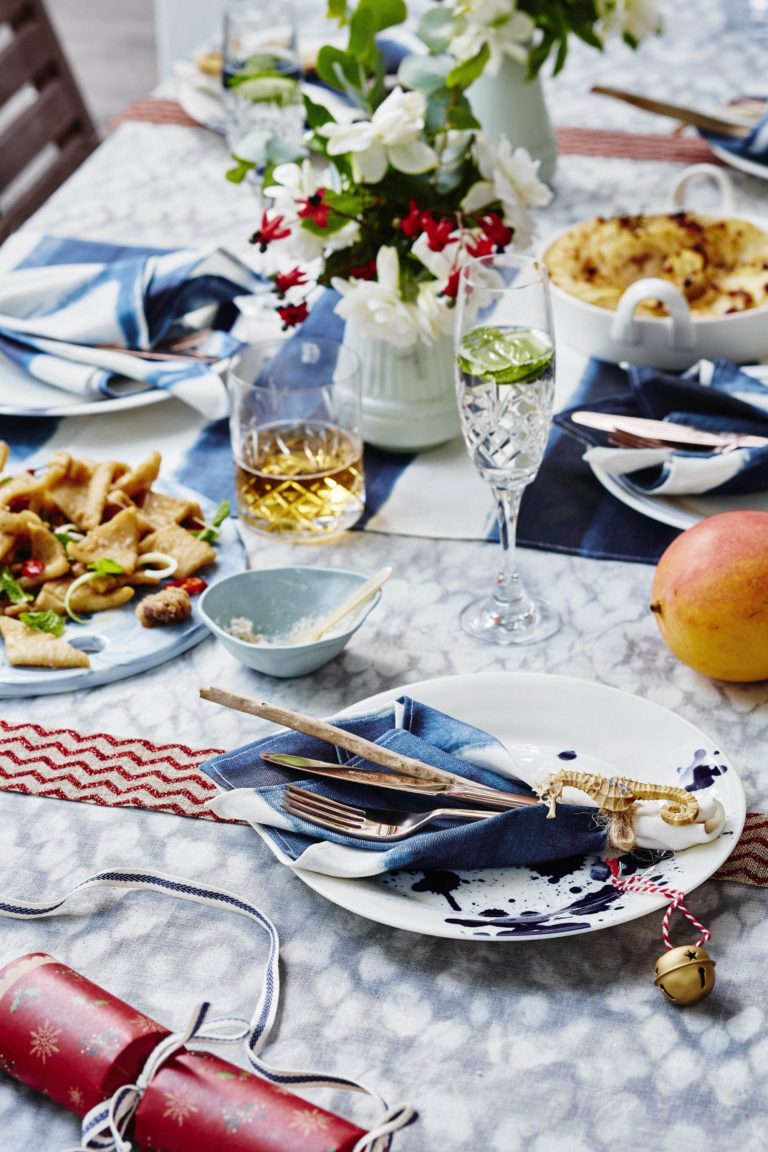 To complete the scene, Temple & Webster's food expert Jono Fleming has shared his recipe for salt & pepper squid with a spicy kick, and a refreshing Prosecco cocktail that could easily work any time from breakfast onwards…
Salt and Pepper Squid
Ingredients
½ bunch of mint
3 shallots
2 teaspoons Chinese 5 Spice
2 teaspoons salt
1 teaspoons white pepper
100g plain flour
400-500g of fresh squid, or squid tubes, (you can get your fishmonger to clean them for you)
2 cups vegetable oil, or enough to fill a medium pan to around 8cm
4-5 small red chillies, sliced
Method
Pick the leaves off the mint and wash them. Slice the white parts of the shallots down the middle and slice into 3cm strips. With the green parts, cut into small pieces on an angle. Place the mint and shallots into a small bowl with iced water, set aside.
In a mixing bowl, add the 5 spice, salt and pepper and flour, mix together and set aside.
With the squid, cut the hoods into triangle shapes, and score lightly in a criss cross pattern. This will help the squid curl up when fired in the oil. Pat dry with a paper towel and coat them in the spiced flour mix.
Heat the vegetable oil on the stove to about 190 degrees, and fry the squid in batches until golden brown. They will cook pretty quickly, in about 2 minutes or so. Remove from the oil with a slotted spoon and rest on paper towels. Throw the chilli slices in with the last batch and remove when they are a bit blistered, which should take about 2 minutes.
Drain the mint and shallot, toss together along with the cooked chilli and season the cooked squid to taste.
Prosecco Sangria with cucumber mint syrup
Ingredients
1 bottle Prosecco, chilled
1 cucumber
10 mint leaves
1 cup of caster sugar
1 cup of water
Method
Peel and slice the cucumber, wash the mint leaves and set aside.
In a small saucepan, add the water and sugar and on a medium heat, stir until the sugar is completely dissolved. Add the cucumber and mint and continue on the heat for 2 minutes. Remove from heat and set aside for about 10 minutes. Strain and pour into a small jug and place in the fridge overnight. The longer the mixture sits the better the flavours will mix.
To serve, pour about 2 teaspoons of cucumber syrup into each flute or glass, top with Prosecco and garnish with a slice of cucumber, some mint and a few blueberries.