It seems to me that nobody really loves their spare bedroom. Am I right? I'm about to embark on my spare room project. I have been putting it off since we moved here in October but I have to sort it out now. The reason is that this  October my dad is coming to stay from the UK for two weeks, followed by another friend in November and another couple in December (yes, all the Poms come in summer!).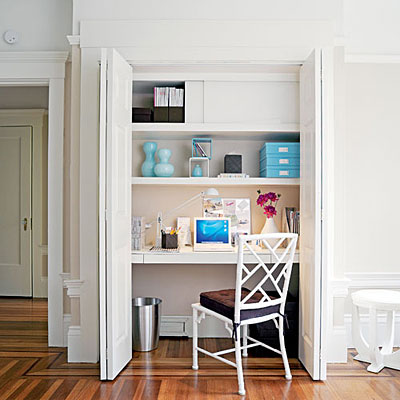 I am always apologising for my spare room. When people come round for the first time they always, on account of me being into interiors and all house proud, request "the tour". Hell, sometimes I even suggest it myself… But when it comes to the spare room I'm always saying things like "I haven't started on that yet" or it's a bit of a dumping ground or a laundry. It strikes me I have never ever loved the spare room in any home I lived in. And when you think about the fact that you pay a lot more for a two-bed apartment than a one-bed apartment, especially in Sydney, it seems a real waste not to use this room.
I don't think we are alone in having a spare room which is a guest bedroom/home office. And perhaps that's part of the problem. Multi-use rooms can be tricky. And like many other spare rooms, it's not a great size and shape. It's long and narrow and not very  big.
I need a bed big enough for two guests but a double is going to take over half the room. A sofabed might be the obvious choice but the ones which are actually comfortable and not ugly can be quite expensive; often more than our own bed, which we use every night! And there's the other argument: for the amount of time that second bed will actually be used, is it worth spending a lot on it?
Recently, I've been looking into those trundle beds, which are like a single bed, but when you have a couple come to stay, you pull another single out from underneath and raise it up on legs so it looks like a double. These ones are expensive too, especially once you add mattresses. And the ones where the two beds sit at equal heights (which is what a couple wants, let's be honest) are few and far between. Then again, if people are taking advantage of your hospitality, they should be happy with what they're given, right?!
And then there's the desk and fitting that in, with room to move a chair in and out. And storage, for officey things as well as all those other things that are stored in the second bedroom of a two-bedroom apartment (vacuum, ironing board, clothes airer, laundry etc.).
And to top it all off, I'd like it to look stylish and neat, please. And not ugly like an office  office! And I'm renting, so I can't build in any storage. You see why I keep giving up?
I've got two months until Dad and his girlfriend arrive. Any top tips or inspirational stories of successful spare rooms would be much appreciated!